Our first and best advice to find cheap business class flights is to use our tutorial on How To Use Google Flights to Find Cheap Business Class Flights (And Cheap Economy Flights Too!).
But it can be exhausting spending all day searching Google Flights for the cheapest business class flight to plan your next trip (although sometimes we do!).
The good news is that you are not the only person in the world looking for cheap business class flights. So are we – and thousands of other people around the world. So working together, we are able to crowdsource cheap business class fares and share them for everyone's benefit.
That way all you have to do is sit back, relax and let great business class fares come directly to your email inbox.
Here is how you can passively keep an eye out for cheap business class flights!
FlyerTalk: The Granddaddy of Them All for Cheap Business Class Tickets
One of the very best ways to passively find premium fare deals is on FlyerTalk, an internet bulletin board dedicated to talking about flying, points and miles.
The FlyerTalk Premium Fare Deals forum crowd-sources cheap premium economy, business class and first-class fares.
We found our Air Italy business class fare, Brussels Airlines cheap business class fare and our Hong Kong Airlines cheap business class fare on the FlyerTalk Premium Fare Deals forum!
There is a fairly strict posting structure that requires posters to put most of the information you need in the thread title.
Here is what that forum looks like on any given day: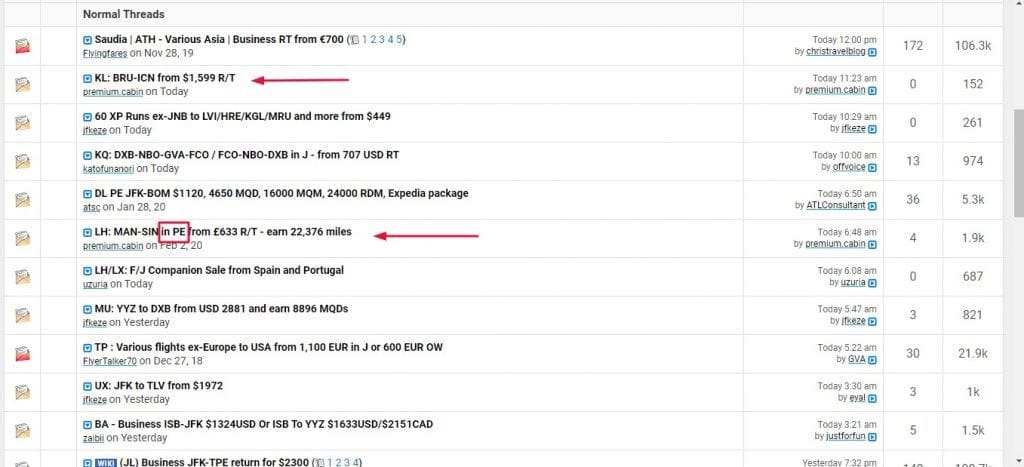 In the examples above, the top arrow points to a post about a KLM business class fare from Brussels to Seoul (get to know your airline and airport codes!). The second arrow points to a Lufthansa fare from Manchester to Singapore. But note it says 'in PE'. This means that fare is in Premium Economy class, not in business class. Remember, this forum is dedicated to cheap business class fares but also cheap premium economy fares and cheap first class fares!
Many posters also include how many airline miles you would accumulate on the flight, as that's a high priority for many FlyerTalk users.
Looking at the Cheap Business Class Fares
Lisa and I prefer business class flights to premium economy flights, so let's click on that KLM business class fare BRU-ICN above and take a look!
Again, just like for headlines, the formatting of posts is fairly strictly regulated. You will see the routing, the fare and the dates available. Mileage earning is an optional datum that is often included. You will also often see what aircraft the route uses and a link to an example of a booking engine or Google Flights Search showing the fare.
You'll also often (but not always) find a source for the fare. Typically to one of the websites mentioned below where the fare will also be posted!
Remember, this is a crowdsourcing project. So I encourage you to join FlyerTalk. And, when you find a great business class or premium economy fare using Google Flight Search or other means, post your findings for all to share!
Just be sure to read and follow the posting guidelines for that forum.
Making FlyerTalk Premium Fare Deals Passive
So you can visit the FlyerTalk Premium Fare Deals forum and find great fare deals. Great!
But remembering to do that every day is a pain.
So the key to using this cheap business class travel hack is to passively make the deals come to you!
Fortunately, FlyerTalk makes it easy to follow their forums passively.
First create an account on FlyerTalk. This should take you less than a minute. Be sure to use an email address where you want cheap business class fares delivered.
Then all you have to do is click on the 'Subscribe' button a the top of the form or in the Forum Tools dropdown.
When you click to subscribe to a FlyerTalk forum it gives you the choice of immediate notifications of new threads or daily digests:

Ok, I Subscribed. Now What?!
Now you just wait for the new thread notifications to arrive in your email in-box!
As you can see, the email subject lines don't tell you much…just that there is a new thread. You have to open the email to see the post detailing the business class or premium economy class good fare.
You should click on that link. Other FlyerTalkers will be discussing details of the fare in the thread and you may miss important information such as restrictions – or even better fares or similar fares from other cities – if you don't visit the thread! So be sure to visit the thread by clicking on the link if you are interested in the fare.
That's how easy it is to start getting emails containing cheap business class fares! An email will be sent to you every time someone posts a cheap business class or premium economy class fare!
Of course, you won't be able to use most of the fares sent to you. So it's a little annoying that you have to open the email to see the deal.
Use Points and Miles for Business Class Flights
A great alternative to cheap business class flights is to use points and miles.
Unfortunately, most airlines restrict the availability of business class seats for purchase using points and miles.
But Straight to the Points sends you alerts when business class seats are available for purchase with points and miles.
It's a terrific service that allows us to fly business class for free!
Cheap Premium Fare Blogs: The Fresh New Approach to Having Cheap Business Class Fares Emailed to You
As airlines continue to devalue frequent flyer points and miles it has become somewhere between difficult and impossible to use airline miles for business or first class flights. And when you do they often charge fees that can add up to hundreds if not thousands of dollars.
A few clever bloggers have noted this shift. And realized that there is a growing market to show people that they can often just buy a business class ticket for the same price as the fees on award travel.
These bloggers spend lots of time searching for affordable premium flights so you don't have to!
Lots of bloggers talk about cheap business class flights among other things. But I am highlighting these blogs because their main focus is on cheap premium fares.
Premium-Flights
Premium-Flights is entirely dedicated to cheap business and first class tickets.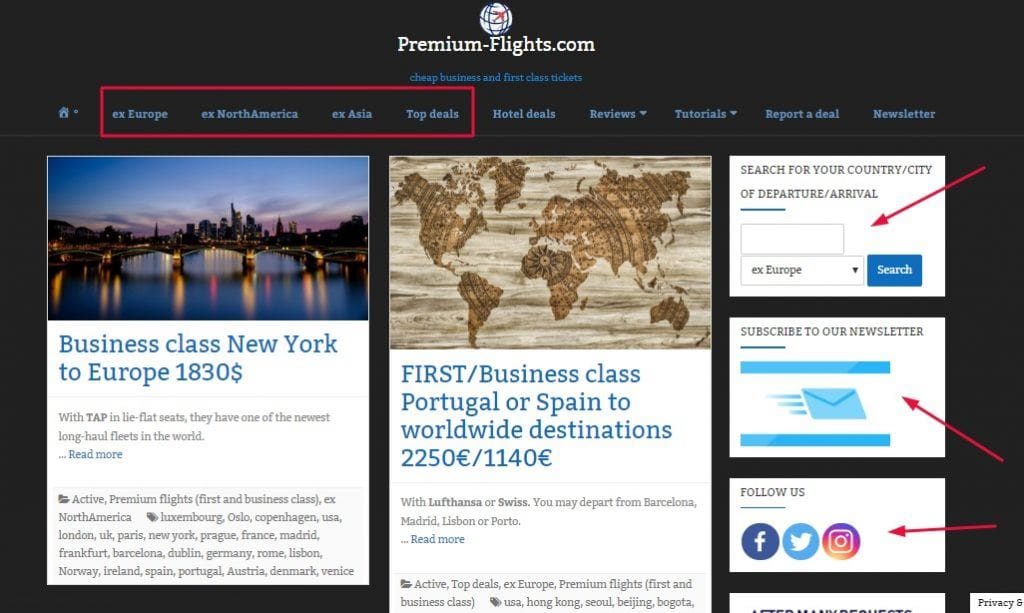 It is constantly scouring booking services, websites and the entirety of the internet searching for good deals in business or first class. As a result, they are a major contributor to the cheap business class forum on FlyerTalk.
But my recommendation is that you visit Premium Flights and then follow them on social media and subscribe to their newsletter.
You can choose North America-based premium fare deals, European-based premium fare deals or all premium fare deals for either a subscription, a search or both!
Once you have subscribed, Premium-Flights will deliver cheap business class fare directly to your email inbox!
Premium Cabin
A newer friendly competitor to is Premium Cabin.
Premium Cabin is a blog for premium aviation. They post about:
Like ReadyJetRoam, reviews for business-class or first-class flights
Premium cabin deals
News related to the aviation industry
Mileage guides and more
They also provide free and friendly help with finding deals or answering any other related questions.
But here we will focus on their 'Deals' section.
Premium Cabin also offers a subscription option that will deliver cheap business class fares to your email inbox.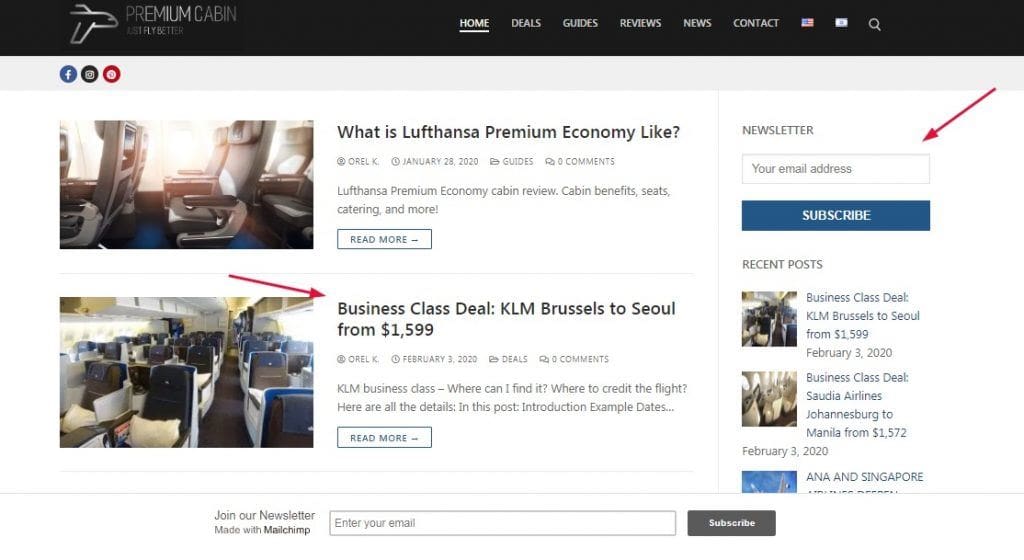 Flashpacker Max
I like Flashpacker Max. She brings a UK/EU centric perspective to finding cheap business class flights and she provides more of a personal touch. She travels the world searching for the ultimate value high class experiences, tips and tricks and then gives them away for free!
And her Deals Section is a fantastic resource for cheap business class fares out of the UK and EU.
You can also subscribe to her blog to have great premium fare deals delivered directly to your inbox.
Bottom Line – Passive Ways to Find Cheap Business Class Flights
Whenever we are in the mood for a cheap business class flight we always head over to Google Flights and follow our own tutorial on how to find cheap business class fares.
But one of our favorite things in the world is when a cheap business class fare that we can use gets delivered to our inbox. We always feel like it's the universe telling us to get out and travel even more!
And by following these tips on passive ways to find cheap business class flights you can get that feeling too!