We have flown Ryanair Flexi Plus several times around Europe on our affordable luxury adventures including Berlin Germany to Sofia Bulgaria, Porto Portugal to Faro Portugal, Seville Spain to Malta, Malta to Bristol England and Manchester to Milan.
One question we always hear is: is Ryanair Flexi Plus worth the cost?
The answer is: it depends. Read on!
Ryanair in General
Like other ultra low cost carriers, Ryanair has a well-earned reputation for terrible customer service.
But man-oh-man do they have cheap fares!
In fact, we could fly from Berlin to Sofia on a nonstop Ryanair flight WITH the Flexi Plus add-on, for example, for less than we could fly connecting flights on other airlines.
So despite its terrible reputation we do end up flying on Ryanair using Flexi Plus an affordable luxury travel hack.
What is Ryanair Flexi Plus?
Ryanair Flexi Plus is a bundle of add-ons that are packaged to create maximum benefit to the customer.
It's similar to AirAsia's Premium Flex package which we used when we hopped around southeast Asia. Or Frontier's Stretch Seating. Or Spirit Airlines' Big Front Seats.
The benefits include:
Any reserved seat including row 1 and exit rows
2 Cabin Bags
Airport Fast Track security service (at participating airports)
Flexibility on ticket changes
So it takes a budget airline experience and puts some whipped cream and a cherry on top!
Using Berlin to Sofia as an Example to Analyze the Value of Ryanair Flexi Plus
Airport Transfer
After dropping Lisa's parents off at the Krakow Airport, we drove back to Berlin to return our rental car that was supposed to be a one-way rental.
We made a quick overnight stop in Cottbus, Germany along the way. We had visited Cottbus on our way south and decided it was the perfect place to stop for dinner and sleep.
The next morning we drove to Berlin Schönefeld Airport (SXF), returned the rental car then made our way to the terminal.
Berlin Schönefeld Airport (SXF) Airport
Berlin Schönefeld Airport is the secondary international airport of Berlin. It was the major civil airport of the former East Germany (GDR) and the only airport of the former East Berlin.
It is the smaller of the two airports in Berlin, after Berlin Tegel Airport, and is a base for easyJet and Ryanair.
Schönefeld is a cramped and uncomfortable airport sharing more in common with an inner-city bus terminal than an airport. It is slated to be replaced by a new airport but that won't happen until after 2020 at the earliest.
One unique feature of SXF is a carry-on only entrance. This makes it convenient for travelers with pre-printed or electronic boarding passes and no checked bags to just pop right into the terminal.
There is also a cute German restaurant just outside the airport terminal.
Wondering how we find cheap coach and business class flights? Check out our Cheap Fare Guides:

How To Use Google Flights to Find Cheap Business Class Flights (And Cheap Economy Flights Too!)
Check-In Ryanair Flexi Plus
We needed boarding passes and had large liquid containers that we wanted to bring necessitating checking bags. So went to the Ryanair check-in desk.
There was no queue in the Flexi Plus lane, but there was no one working it, either.
After standing around for about 5 minutes an agent called us over…and told us it was too early to check our bags.
Our experiences at other airports using Ryanair Flexi Plus has been similar: there will be a dedicated queue but not always dedicated agents. So while you'll never queue as long as non-Flexi Plus passengers you shouldn't expect concierge check-in service. And don't expect them to make check-in exceptions for you. It's still Ryanair, after all!
Given the lack of help, we decided to carry our bags on. And if we had to ditch the liquids then so be it.
At security our large liquid containers were neither commented upon nor confiscated.
So all was well on that front!
Priority Pass Lounge Berlin Schönefeld Airport (SXF)
As I say, Berlin Schönefeld Airport is a crowded and uncomfortable place. Luckily there is a Priority Pass Lounge there!
Here is my review of the Green Wings Priority Pass Lounge at Berlin Schönefeld Airport
Ryanair Berlin Schönefeld Airport (SXF) Airport Non-Schengen Gates
Many Ryanair non-Schengen flights depart from gates 30-44.
This mini-terminal is reached by passing immigration then walking across a bridge and down to the terminal area.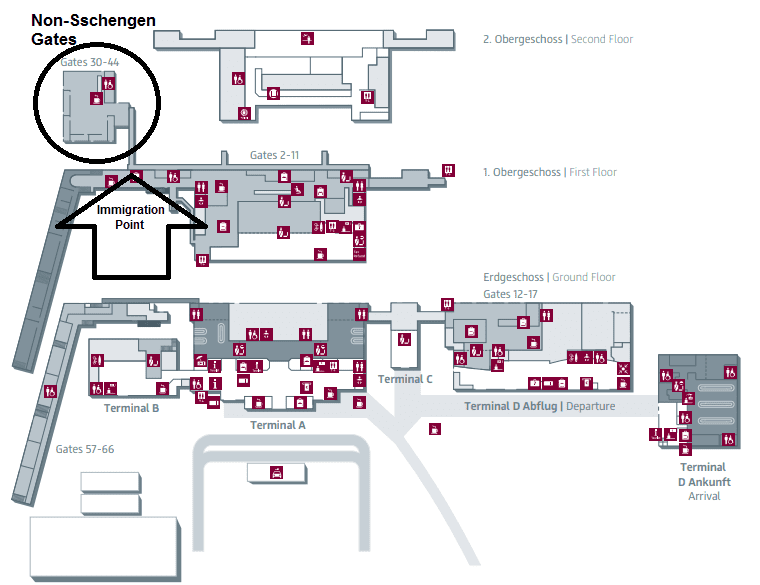 Once there you really do find yourself in what looks and feels like a sparse bus terminal…or maybe an airplane hanger that has been converted into a terminal.
There is limited seating and lots of people in this terminal area. So we were forced to sit on the floor. There was nothing Flexi Plus could do about that!
Boarding Ryanair Flexi Plus
One of the supposed perks of Flexi Plus is 'early boarding'. But on each and every one of our Flexi Plus tickets the boarding process is…a mess.
Boarding is typically called 30 minutes before departure – whether your plane has even arrived yet or not.
'Boarding' takes place with priority being called first, and then non-priority after. Flexi Plus gave us priority boarding privileges, so we went right.
But after scanning our boarding passes we were simply herded into a holding pen. And there we all stood for about 30 minutes until our plane arrived, arriving passengers and baggage were offloaded and the airplane was cleaned.
It was pretty crowded and uncomfortable in the holding pen.
The Ryanair boarding process is similar at every airport we have used Flexi Plus. You get 'priority boarding' but that means the first in a pen or on a bus to a remote gate rather than being the first on the plane itself.
Arrival Deplaning
Eventually our plane did arrive. We watched from the holding pen while passengers exited from both the front and rear doors.
There was really nothing else to do in our passenger pen!
Just like a bus station, passengers walk off the plane, across the tarmac and into the terminal.
Worst Boarding Videos Ever
Apropos of the terrible boarding process, I managed to take the WORST boarding videos ever.
Taking videos while boarding a plane is always a question of juggling carry on bags, your boarding pass and your camera.
Sometimes it turns out great, like this one boarding an AirAsia flight from Singapore to Penang.
Other times, well…here is a video mostly of Lisa's butt as we climb the stairs to the plane.
And here's one where I didn't even realize the camera was recording as we settled into our Ryanair Flexi Plus row 1 seats.
Steven Spielberg I am not!
Be sure to protect your trip with travel insurance. See for yourself how little it costs:
Ryanair Flexi Plus Best Seats
Thanks to Ryanair Flexi Plus we were in row 2 CDE seats.
These seats provide more legroom than European airline business class or domestic U.S. airline first class seats.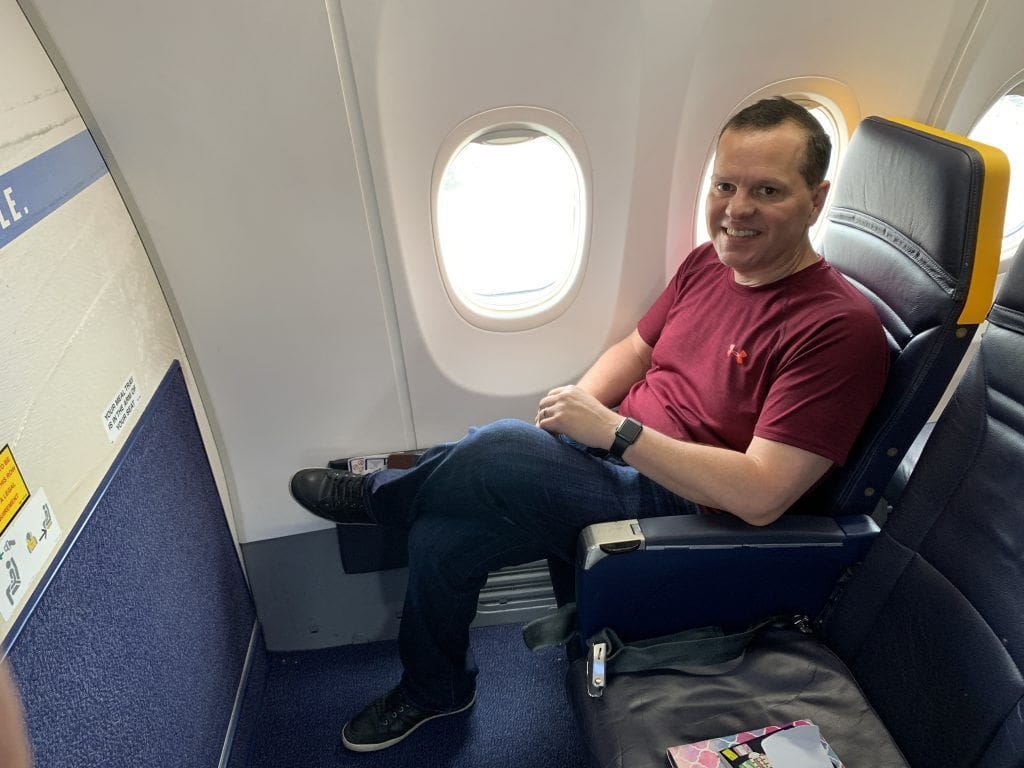 Passengers in row 1 ABC seats end up getting their knees bumped by other boarding passengers.
But once boarding is complete they have unlimited legroom for the duration of the flight – although seat 1A has an exit door bulge impeding that legroom.
So if you want truly unlimited legroom after boarding ends, seats 1B or 1C are for you.
It bears noting, however, that in our many Ryanair Flexi Plus flights we have seen passengers as well as crew congregating in the area in front of 1ABC and carrying on loud conversations.
On a recent flight from Manchester to Milan, for example, the crew had a loud 30-minute conversation in this area that only ended when some turbulence caused the pilot to tell crew to take their seats. On a flight from Malta to Bristol it was a pair of passengers who stood in this area conversing loudly. And on another flight a mother let her toddler play in this area for 10 minutes after using the lavatory.
I suppose if someone in 1ABC objected the matter would be sorted. But then again this is Ryanair, soooo……knowledge is power.
Another problem with 1ABC and 2DEF is that all hand luggage must go in the overhead bins. These fill up fast in the front of the plane and you may end up with your luggage behind you meaning swimming upstream to retrieve it upon landing.
Exit rows also have extra legroom, but since most Ryanair flights board and disembark from both the front and rear doors, the exit row passengers (being in the middle of the plane) are generally the last to get off.
So although they are not perfect, 1BC and 2DEF are the best seats on Ryanair.
Flight and Service
Ryanair really earned their reputation for poor customer service on our Berlin to Sofia flight!
A drink was offered as were paid snacks.
Being in the first row, we were served first.
Lisa didn't realize there were snacks on offer until we were already served and the flight attendant had moved on.
But she picked out a snack from the menu then spent the next 10 minutes trying to get one from a flight attendant.
Eventually the flight attendants told her that they could only come back to her after the rest of the cabin had been served.
They never did return. When Lisa grabbed one passing by he just shrugged his shoulders and kept walking past.
Luckily she had a travel keto diet friendly protein bar and ate that instead.
Ah well, it's Ryanair! What can you do!?
Soon enough we were on approach to Sofia!
We landed, cleared customs and set out for three days in Sofia and then the Bulgarian Black Sea coast after that!
Bottom Line – Ryanair Flexi Plus
The biggest benefits of Ryanair Flexi plus are being able to change your flight by a day and the ability to choose any seat.
The best seats on Ryanair by far are row 1 seats B and C. So if you can snag those it may well be worth the price! We've settled into choosing 2 C and D because Lisa likes to keep her small bag under her seat in 2C and I like the massive legroom in 2D. And that way we both have aisle seats.
None of the other perks of Flexi Plus really measure up. Boarding is a mess whether you have priority or not, for example. Checking a bag is easier but still not great. So be sure to think about what perks matter to you and consider purchasing those perks a la carte rather than the entire Flexi Plus bundle to save money.
That said, we still find Ryanair Flexi Plus worth the cost for a bit of affordable luxury while flying Ryanair.