Frontier Stretch Seating provides up to 8 inches of extra legroom. But is Stretch Seating worth the cost?
One of our affordable luxury travel hacks is flying on discount airlines but buying the best possible seats. We've done this all over the world. On AirAsia in Asia. On RyanAir in Europe. And on Frontier and Spirit Airlines in the US.
And in our opinion Frontier Airlines Stretch Seating is generally worth the cost!
Frontier Airlines in General
Frontier Airlines is an American ultra low-cost carrier (ULCC) based in Denver, Colorado. As the eighth-largest commercial airline in the US, Frontier Airlines operates flights to over 100 destinations throughout the United States and several international destinations in North America.
You can click or tap here to see Frontier's route map.
And like ULCCs all over the world, Frontier's pricing structure is based on providing a cheap base fare.
But then it allows customers pay for perks like checked bags, cabin bags, priority boarding and/or better seats.
Another, more cynical, way to look at it is that ULCCs like frontier take away perks that are included on full-service airlines – and then you buy those perks back one by one or in a bundle.
Also like ULCCs all over the world, Frontier has a reputation for poor customer service and cramming as many passengers onto an airplane as possible.
We generally find ULCCs like Frontier to be frustrating to price shop because their bundle and a la carte approach to seat assignments, carry on baggage, and other things legacy carriers include in the ticket price makes it hard to figure out the final price until you've gone all the way through the ticketing process.
But Frontier does offer very cheap base prices, so even factoring in add-ons like bundles or stretch seats you can get a bargain flying on Frontier compared to United, Delta, American or even Southwest!
So despite the hassles we do end up flying on Frontier Stretch Seats as an affordable luxury travel hack.
What are Frontier Stretch Seats?
Frontier Stretch Seats offer up to 8 extra inches of legroom. They can be purchased at time of booking or check in (subject to availability) or be purchased as part of a bundle.
Stretch Seats are the first 3 or 4 rows of seats on the airplane as well as exit rows.
The benefits include:
Extra legroom
Full Comfort Recline
Early off the plan
First to get inflight service
A tray table that accommodates a laptop
So it takes a budget airline experience and puts some whipped cream and a cherry on top!
And if you buy a bundle you'll also get baggage allowances and priority boarding.
Wondering how we find cheap coach and business class flights? Check out our Cheap Fare Guides:

How To Use Google Flights to Find Cheap Business Class Flights (And Cheap Economy Flights Too!)
The Stretch Seat Experience
We like the exit row Stretch Seats on Frontier.
In the exit row there is less competition for the overhead space during early boarding. And the in-flight service for the back of the plane starts at the exit row at the same time that service starts in row 1. So you're still the first to be served.
Cost to Upgrade to Frontier Stretch Seats
Calculating the cost to upgrade to Frontier Stretch Seats can be complicated.
That's because the cost depends on what type of Frontier ticket you buy, whether you buy a Frontier 'bundle' and where/when you buy the upgrade.
Frontier's most expensive tickets include Stretch Seating as a perk.
Less expensive categories of Frontier Airlines tickets require a higher payment to sit in Stretch Seating.
Or you can purchase a bundle of Frontier perks. The Frontier Works bundle includes stretch seating. The Frontier Perks bundle does not include Stretch Seating, but buying the Perks bundle may reduce the cost to add on Stretch Seats.
If you purchase a cheaper ticket and don't buy a bundle the price to get an a la carte stretch seat is based on your ticket price as well as where and when you buy a stretch seat.
Bottom line: you won't know exactly how much a stretch seat will cost until you try to buy it.
Generally speaking, though, the best value is to buy stretch seating at time of booking or up to 24 hours before the flight.
Stretch Seats will cost more if you buy them during check in.
And even more than that if you buy them at the airport or from the Frontier Airlines call center.
Is Frontier Airlines Stretch Seating Worth the Cost?
Since every Stretch Seat sells for a different price depending on your ticket, bundle and where/when you buy the Stretch Seat it's hard to provide a definitive answer about whether the price of a stretch seat is worth the cost.
Of course, the value of a stretch seat also depends on how long your flight is.
But what we CAN say is that we generally buy the Works or Perks bundle since those bundles have the baggage allowances we want.
And when we buy the Works bundle Stretch Seating is included.
As is an alcoholic drink…and we love the cans of wine on Frontier!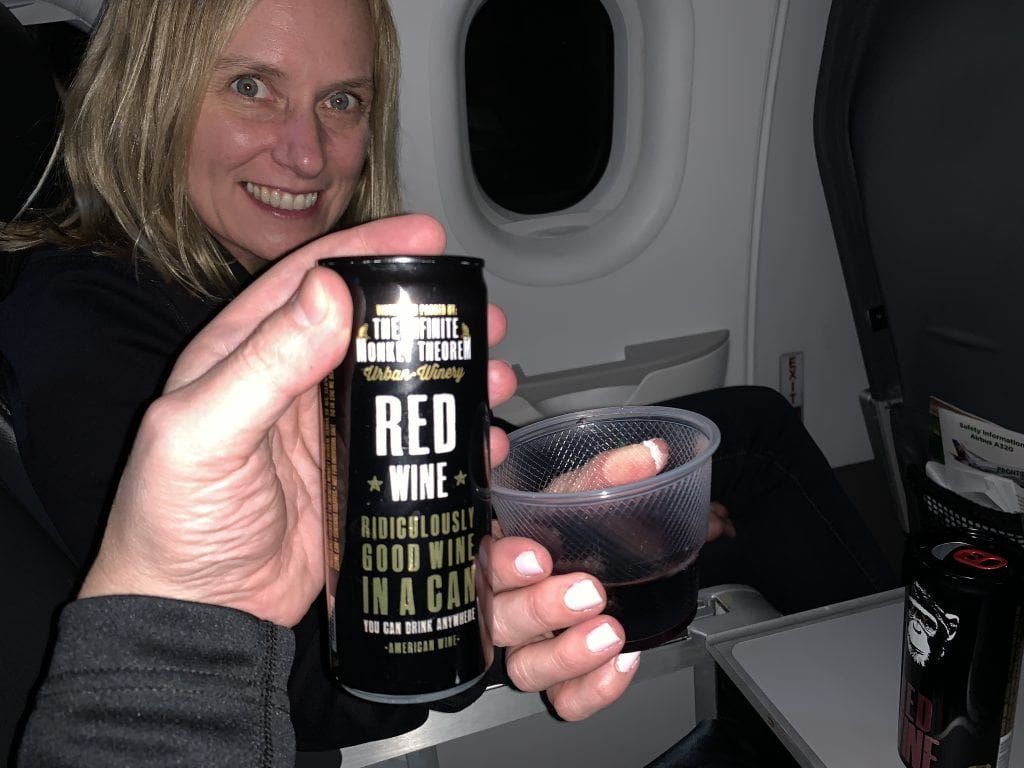 The Perks bundle does not include Stretch Seats, but when we buy the Perks bundle it has never cost us more than $10 to upgrade to a stretch seat. Of course, your experience may vary!
So to us Stretch Seats are generally worth the marginal cost!
Our limit to move from a standard seat to a stretch seat is probably around $25 per person depending on the length of the flight, but everyone will have their own price/comfort ratio.
Bottom Line – Frontier Airlines Stretch Seats
Frontier Airlines Stretch Seats are a great affordable luxury travel hack. You get plenty of legroom for a comfortable flight typically for less than a cramped seat on a legacy carrier.
And sometimes the condensation leaves a heart on your window…
…or is that an alien pressing its face and arms against the window!? 😮
See Related Content: