Coliving Semkovo is a proposed coliving in rural Bulgaria that is gaining steam thanks to its enthusiastically tireless project founder Mattias Zeitler.
Mattias has proposed turning an abandoned communist-era hotel into a coliving/coworking coop.
We've been huge fans and supporters of Mattias ever since we joined the Coworking Bansko community in the summer of 2019. While we had been nomading for nearly a year at that point, Coworking Bansko really opened our minds and hearts to the notion of the digital nomad community, and the importance of making connections with other nomads.
Bansko is such a great affordable luxury destination that we expressed early interest when Mattias proposed a Bansko Coliving venture. But unfortunately the perceived and actual value of property in Bansko shot up after COVID, and that project fell through.
So when we saw what he was proposing with Coliving Semkovo, we were naturally intrigued.
We looked at the website, read the FAQs, and even watched some videos about the venture.
But we weren't sure. The project seemed overwhelming. And the location is quite remote.
So we decided to check it out for ourselves with a visit before deciding.
Now that we've done that we want to share our honest and frank thoughts on the offer.
Most importantly, we hope to help you decide if Coliving Semkovo is right for you.
What is Coliving?
First thing is first.
If you don't know what a coliving is, it's part of a movement that has been gaining popularity in recent years. It involves living in a community of people who share common living spaces such as kitchens, living rooms, and bathrooms while having their private bedrooms.
Digital nomads, remote workers, and others live together, work together, and have a blast.
We had the pleasure to spend a month at the LOKAL Tbilisi coliving/coworking in Tbilisi, Georgia and loved the experience. But we've generally had pretty bad experiences in Selina colivings, so avoid them now.
And we've also flirted with Sun and Co. in Javia,Spain as well as Sundesk coliving in Taghazout, Morocco. And, of course, we did a COVID coliving in Utah with fellow nomads stranded in the US during the early months of the COVID lockdowns.
Click or tap here to take a look at the SafetyWing Coworking Collection to find some of the best coworkings around the world!
Here are our general pros and cons of coliving:
Pros of Coliving
Cost-effective: Coliving provides an affordable alternative to living alone or renting an apartment. The cost of living in a coliving space is usually lower than renting a private apartment.
Community living: Living in a community has many benefits. It provides an opportunity to socialize, make new friends, and build a network of like-minded individuals. For solo nomads, it's a great way to avoid feeling lonely.
Shared amenities: Coliving spaces offer shared amenities. Management maintains kitchens, living rooms, and outdoor spaces. This reduces the burden of maintaining individual spaces.
Flexibility: Coliving spaces often offer flexibility in terms of lease agreements. Tenants can opt for short-term or long-term leases, depending on their needs.
Work-friendly environment: Colivings offers a conducive environment for remote work. It is an ideal place for digital nomads, freelancers, and entrepreneurs who need a peaceful work environment.
Cons of Coliving
Lack of privacy: Sharing living spaces with others can be challenging for people who value their privacy. It may sometimes be difficult to find a quiet space for work or personal time.
Limited space: Coliving spaces usually offer smaller private bedrooms compared to renting a private apartment.
Shared responsibilities: Living in a community involves sharing responsibilities such as cleaning and maintenance of common spaces. This may not appeal to everyone.
Dependence on others: Coliving spaces require a certain level of dependence on others. This may be difficult for people who prefer to live independently.
Colivings are usually in interesting spots or in digital nomad hubs.
Where is Semkovo, Bulgaria?
Semkovo, Bulgaria is a mountain resort in southwestern Bulgaria.
It's located in the foothills of the Rila Mountains. This provides amazing views of the nearby Pirin Mountains and the area is thick with spruce and pine forests.
Like nearby Bansko, Bulgaria, Semkovo's climate is affected by its mountainous altitude as well as its proximity to the Mediterranean. This means a brisk winter with plentiful snowfall, moderate spring and autumn, and warm summers.
In the winter, public ski lifts provide visitors with easy access to the resort's relatively modest ski slopes. In the summer, tourists enjoy hiking, mountain biking, and other outdoor activities.
Semkovo is remote. Very remote. And that's the point.
Getting to Coworking Semkovo
The coliving site is about 50 minutes from the ski village of Bansko, Bulgaria and about 25 minutes from Belitsa, the nearest town with restaurants and grocery stores.
From the Bulgarian capital of Sofia, it's about 2 hours and 45 minutes to the coliving by car in ideal driving conditions. From the airport in Thessaloniki, Greece it's about 3.5 hours drive.
We took the drive from Bansko to Coworking Semkovo.
After passing through Belitsa the road narrows to a wide single lane road. You climb an 8% incline over potholed asphalt through a gorgeous valley carved by a stream that parallels the windy, twisty road.
In some places mud sliding down from embankments partially covered the road.
In others, we had to drive around felled logs in the road – but apparently this was part of the municipality's efforts to improve the road!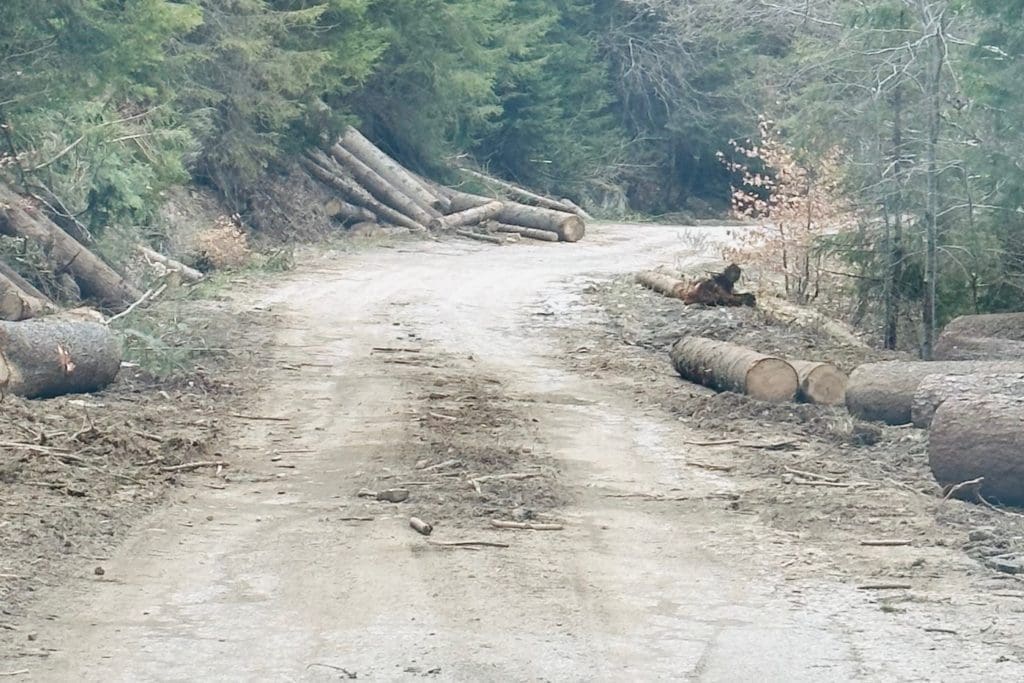 At one point just outside of Belista, we had to wait until a small herd of cattle cleared the road. Charming!
Depending on the quality of the weather and your vehicle, this can be a tough route. We did it on a nice spring day in a little Ford Fiesta.
And while we fretted that one of the deeper potholes might give us a flat tire if we couldn't dance our way around them all, we did make the trek from Belista to the Coliving site unscathed in about 25 minutes.
The GREAT news is that the municipality has budget to fix the road! They completed the first half in the fall of 2022. The second half takes place in 2023.
What is the Coliving Semkovo Offer/Opportunity?
The Coliving Semkovo initiative is still in its infancy. But here's the current vision and offer based on the business plan put forward.
The Property
The vision is this: take an abandoned communist-era hotel and turn it into a coliving co-op made up of 200 individually-owned apartments.
The scale of this building itself is MASSIVE.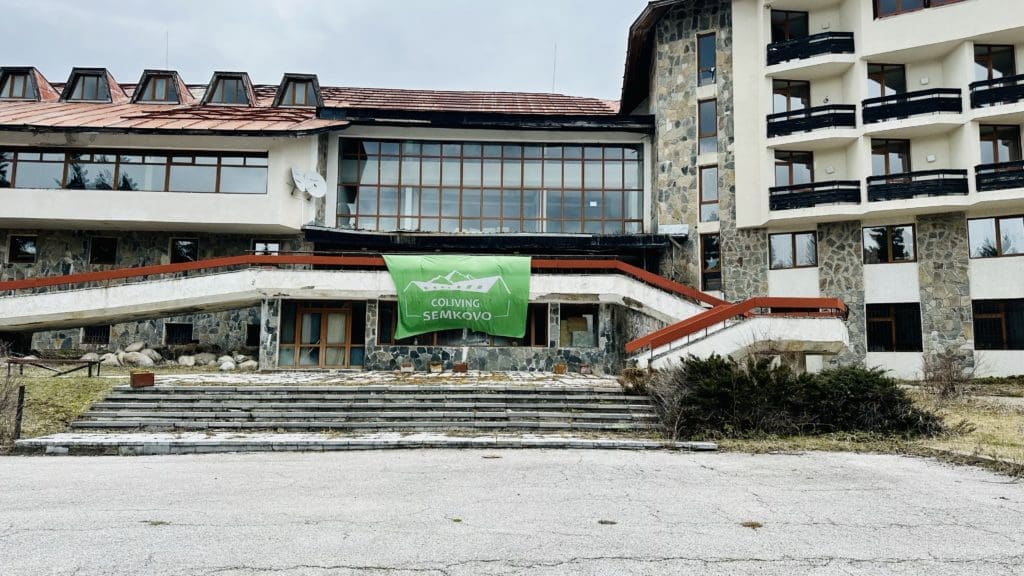 We spent quite a bit of time wondering how the heck the former communist government was able to build such a big and beautiful hotel in the middle of the wilderness.
Amenities
Looking at, in, and around the property it's easy to see Mattias' vision: Clean up and restore this grand lady to its former glory as a crowd-funded cooperatively operated coliving.
The massive common spaces are more than adequate for not just coworking and coliving. There is also space for a communal restaurant, bar, and even a commissary or convenience store.
The facility also includes a swimming pool, bowling alley, game room, climbing wall, and whole host of other amenities.
Coliving Semkovo defies most of the 'cons' of coliving by virtue of its sheer size and offer.
The hotel accomodated 600 hotel guests plus 100 staff. So finding a private spot will never be a problem in Coliving Semkovo.
And the enormous common areas will be managed and cleaned by the coliving. So, unlike at other colivings, there is no shared responsibilities around those for owners and guests.
Finally, every unit will have ensuite bathrooms. So the biggest potential 'con' of a coliving – sharing a bathroom – will not be a thing at Coliving Semkovo.
Ultimately, the vision is not just a coliving, but a remote self-contained village made up of nomads, remote workers, expats, and others. In a facility with lots of amenities and things to do.
In fact, the building is so large that the current plan only incorporates a portion of the entire structure, leaving plenty of room for future growth.
That said, the building has been abandoned for some time. Getting it to its former glory will be no small task.
The vision budget to do so is set at €4,000,000 – €5,000,000 – which would be financed by the purchases of the individual units. So those who accept the Coliving Semkovo offer become not just residents, but co-owners of the coliving!
The Coliving Semkovo Offer
Most co-livings are privately owned (by individuals or by companies). So, right off the bat, the idea of crowdsourcing ownership and cooperative operation of the coliving makes Coliving Semkovo something unique.
Rather than being a renter, individuals are invited to be owners and members of the co-op.
Because of this unique arrangement, each owner would then have the opportunity to rent out their owned unit to other people interested in the coliving lifestyle on a daily, weekly, or monthly basis when the owner is not residing at Coliving Semkovo.
So, purchasing a unit in Coworking Semkovo is not just buying a place to base and a colive, but potentially an opportunity to make money on short term rentals.
Here's the breakdown of units expected to be offered:
Purchase Cost
The following reflects the current thinking about many aspects of the project and the information that they have about the state of the building. So, the numbers are subject to change.
As noted, the goal of selling individual units is to raise the capital to finance the renovation of the building and common spaces. So, the prices of the units are set according to that budget.
The smallest studio apartments (~20 m² unit size) are listed at €15,000. That's unrenovated and unfurnished. Larger rooms and suites range from €25,000 – €35,000. And it's even possible to buy adjoining rooms and combine them into a single unit.
They estimate that the renovation and furnishing of the units will cost between €10,000 (smallest, simple) to €25,000 (biggest, more luxurious).
Adding those up, your all-in price is advertised in the €25,000 to €60,000 or more range.
But bear in mind that you are not only paying for the net m² of your unit. Through the co-op you also get fractional ownership of the ~8000m² of renovated common/communal areas. That makes up about half of the total building size. In addition, you get a share of the commonly-owned coliving business itself.
And in addition to managing the building and coworking spaces, the coliving business will also manage the short-term rentals of your unit. So you won't need to worry about check-ins, check-outs, or how to fix things in your unit when they break or are damaged by guests renting your unit.
Ongoing Costs
Building Fees
Since it's to be operated as a co-op, there are also co-op/building fees that include maintenance and operation of the building and common coworking spaces. The estimate for the first year is €800 for a studio (1 pax), €1650 for a one-bedroom (2 pax), €2400 for a two-bedroom (3 pax) which includes the coliving access for 1 to 3 owners.
But the vision is that as utilization goes up, the fee comes down.
Utilities
Utilities are estimated at €50 per month.
Short-Term Rental ROI Calculations
It's pretty obvious to see the upside of buying into Coliving Semkovo if you are looking for a relatively affordable apartment in a coliving. And we'll talk more about that in a minute.
But, while we operate a very successful short term rental property in the US, we're not in a position to speak to the potential ROI on a unit in Coliving Semkovo from a short-term rental perspective.
So here's what the FAQs say about it:
"Owners will receive €200 per month for a studio, €400 per month for a large studio/1BR and €600 per month for a 2BR unit. Utility costs are reimbursed on top of the rent based on consumption. To make utility bills more predictable for guests we will charge the coliving guests a flat fee. We will have a booking system that will try to equalize utilization across units so that all owners will participate equally in the rental scheme. Owners that do their own promotion for their apartments will receive direct bookings of their apartment on top of the equalization scheme."
And while studio owners will receive €200 per month, the actual cost to the short-term renter will be more than double that:
– Rent to owner €200
– Coliving fee €150
– Cleaning fee €20
– Utilities €50 (flat fee, average)
– VAT, tourist taxes, misc. €79
For a total of €499 per month
Coworking Semkovo provides this estimated cashflow calculation:
Bear in mind that this is only a cashflow estimate. To get a proper P&L ROI you'll need to include capital, improvement, furnishing and maintenance expenses into the calculation.
For those who wish to treat their unit as a revenue stream, the vision does include the ability to directly market your flat and have people book it directly rather than through the coliving allocation system.
So someone who has a knack for digital marketing and/or advertising could use those skills to affect occupancy rates and thus improve ROI.
How to Get Involved with Coliving Semkovo – Priority Backers
Interested in learning more about Coliving Semkovo? Then you should carefully read and watch all of the information available at https://www.colivingsemkovo.com/. And especially the project FAQs https://colivingsemkovo.com/faq
After that, if you are excited about becoming a part of the vision, you can become a "priority backer" of the project.
Priority backers provide a non-refundable deposit to help seed the vision and share some of the early risk in the venture. Priority backers will be given credit back toward their unit purchase if/when that phase of the project comes:
The first 50 priority backers (already all accounted for) paid a €500 non-refundable deposit and will get a €500 credit toward their purchase.
The next 50 priority backers, with space currently available at the time of publishing this article, pay a €600 non-refundable deposit will also get a €500 credit toward purchase.
The last 50 priority backers make a €700 deposit and would also get a €500 credit.
The idea, as you can see, is to encourage and reward early backers/risk takers.
And priority backers have already provided at least €25,000 in non-refundable deposits which demonstrates a broad level of commitment to the vision.
Risk Analysis
Speaking of risk, as with any investment there is risk involved in this venture.
The biggest risk, of course, is to the priority backers. If the vision fails for whatever reason they will lose their non-refundable deposits.
Also, the project has an ambitious timeline. The timeline could slide. Particularly if not enough priority backers are found in the short term.
Governmental requirements could also potentially slow the project.
And once underway, renovation schedules and availability of supplies and labor could extend the renovation phase of the project as well as renovations of individual units.
Finally, obviously, the venture could fail for a variety of reasons after individuals have purchased units.
Other less obvious risks we identified during our visit have to do with the remote nature of the property.
While the municipality has committed to improving the road in and out, it could get washed out and/or snowed in. Getting groceries may at times be an adventure. Coworking Semkovo has plans to address these logistical issues (should they come to pass) with shared rides and vehicles.
Our Opinion of the Coliving Semkovo Vision and Venture
As full-time digital nomads since 2018, we're always excited for new and innovative opportunities for digital nomads.
From our perspective, Coliving Semkovo is an ideal opportunity for digital nomads and others with certain interests, desires, and needs.
So, let's explore who we think who would love to be a part of this venture and community.
Based on what we've seen and know, Coliving Semkovo is ideal for people who:
Love nature. This is a requirement. Coliving Semkovo is many kilometers from the nearest town. Beyond the coliving/coworking community, coliving facilities, and the ability to focus on heads-down remote work in relative peace, the biggest attraction of the location is the ability to hike, mountain bike, and ski. So if being in pristine forest on a remote mountain while still having a vibrant community around you appeals to you, Coliving Semkovo is for you.
Love the coliving concept and want to make coliving their base rather than (or in addition to!) a temporary way to live as they travel. The opportunity to focus on work while building a community among your fellow colivers is a top reason to be excited about the venture. We imagine lots of community activities like board game nights, bowling leagues and tournaments, knowledge sharing sessions, mastermind sessions, mentorship opportunities, yoga, and all of the wonderful personal and professional growth opportunities that exist at colivings and coworkings.
Are looking for an opportunity to have a base while having the flexibility to easily put that base up for short term rental while traveling. Airbnb and Vrbo can be a pain in the butt for owners. Having the Coliving manage your short term rental is a huge benefit. And you can have a base where you can store possessions you don't want to travel with.
Don't mind taking a little bit of risk to get in on the ground floor of this unique opportunity. No risk, no reward, as the saying goes. There is significant potential upside to being an early investor in this vision, but also risk.
Want to be part of a cooperative ownership structure where you have a say in the governance of the venture. Having a say in not just the management of the building, but of the business is huge.
Are interested in basing in Bulgaria for tax or other purposes – cheaply. If you missed out on the ability to get into an ownership situation in a place like Bansko where real estate prices have risen significantly, this may be your opportunity. Being able to create a base in Bulgaria for 25,000 euros all-in is very attractive – particularly for EU citizens who can set up residency and take advantage of the 10% flat income tax.
Our Decision about Investing in Coliving Semkovo
Personally, we've decided that investing in Coliving Semkovo is not for us at the moment. We're city folks, and Bansko, Bulgaria is about as remote/rural as we care to be for any significant amount of time. So committing to such a remote spot doesn't align with our priorities.
Plus, our current priority is our short term rental in the US that keeps us plenty busy.
That said, we know loads of digital nomads, remote workers, entrepreneurs, expats, and others who align perfectly with the Coliving Semkovo vision.
So, if you feel like you align with the profile we describe above, we strongly encourage you to take a long, hard look at this opportunity.
And we're certainly rooting for Mattias to make this venture a success.
Final Thoughts – Is Coliving Semkovo Right for You
When we visited Bansko, Bulgaria for the first time in 2019, we were surprised by how small, remote, and quiet the place felt – especially in summer. Back then we could have purchased a 1br apartment for €20,000.
But we were neither ready nor inclined to do so. It seemed too remote and quiet for our taste (sound familiar)? And we weren't ready to get into the real estate/short term rental game yet.
Today, Bansko is like a different village. You can get food delivery, there's a proper supermarket right in town that stays open year-round, and everything costs more. That €20,000 flat is likely worth €50,000 – €60,000 today.
Who is to say what will happen with Coliving Semkovo.
It could fail. Or be delayed. It could turn into an underwater investment.
On the other hand, those intrepid individuals getting in today may be making a fantastic financial investment. We certainly hope so.
But our wish is, more than financial success, that those with the desire and guts to get in on Coliving Semkovo as early adopters will achieve the vision of a co-op owned coliving that creates and sustains an amazing community of digital nomads, remote workers, and others.
When that happens, we'll definitely be there as short term customers!