Bansko, Bulgaria is a digital nomad hub.
In fact, it is often named as One of the Best Places for Digital Nomads to to Visit or Live.
We first heard about Bansko Bulgaria when we were in the most famous digital nomad hub in the world: Chiang Mai Thailand. Other digital nomads we met in Da Nang Vietnam also mentioned Bansko Bulgaria as a place that digital nomads ought to check out.
We are pretty seasoned travelers and have visited over 60 countries. But neither of us had ever heard of Bansko Bulgaria, much less had a desire to visit it.
But our friends from Authentic Food Quest told us they were going to be spending time in Bansko over the summer and that we ought to come visit them there.
So after spending a few days in Sofia Bulgaria, exploring the Bulgarian Black Sea and the wonderful city of Plovdiv Bulgaria we planned to spend 3 days in Bansko for a quick affordable luxury visit.
We ended up staying in Bansko Bulgaria for 8 weeks.
Yep: 8 weeks as digital nomads in a small ski town in the middle of Bulgaria during the summer.
Here are 3 reasons why.
Reason 1: Bulgaria is Perfect for Affordable Luxury Slow Travel
Digital nomads are always looking for a bargain. It's sort of the whole point of being location independent: the ability live and work remotely in affordable and interesting places.
That's what made Chiang Mai the original digital nomad hub: a cheap cost of living, decent internet speeds and an interesting place to be.
Bulgaria in general but especially Bansko is the perfect affordable luxury slow travel destination.
Everything in Bansko is affordable.
We paid around 200 euro per month for rent in an affordable luxury apartment. A typical lunch cost about $4. We ate in luxury restaurants for a fraction of the price that the same restaurant would cost in other cities.
Click here for more information about Bansko Bulgaria as an Affordable Luxury Travel Destination.
Reason 2: Schengen Visa Renewals and Tax Benefits
Schengen Visa Benefits for Non-EU Nomads
Visas can be a constant struggle for digital nomads.
Many digital nomads in Thailand resort to border runs to extend their ability to stay in the country on a tourist visa waiver, for example.
In Europe, a Schengen visa is a short stay visa that allows you to circulate in the Schengen area.
The Schengen zone includes 26 countries with no border controls between them. The Schengen countries are: Austria, Belgium, the Czech Republic, Denmark, Estonia, Finland, France, Germany, Greece, Hungary, Iceland, Italy, Latvia, Liechtenstein, Lithuania, Luxembourg, Malta, the Netherlands, Norway, Poland, Portugal, Slovakia, Slovenia, Spain, Sweden and Switzerland.
A Schengen visa allows you to stay in the Schengen zone for no more than 90 days in any 180 days period ("short stay visa").
Bulgaria is in the European Union but is not in the Schengen zone.
This means that non-EU passport holders can stay 90 days in the Schengen countries then 90 days in Bansko during a 180 day period. This then makes you eligible to stay another 90 days in Schengen!
There are other non-Schengen countries in Europe where you can also reset your Schengen visa including the Ukraine, Croatia, Serbia and other Balkan countries.
But Bansko has something that those countries do not: the most amazing digital nomad community we have ever been a part of.
BTW, a couple other great places to recharge Schengen days are Tbilisi, Georgia. Click here to read about LOKAL Tbilisi coworking and coliving or click or tap here to read about Coworking Antalya, Turkey.
Tax Benefits for EU Nomads
For EU resident nomads, Bulgaria has a very attractive tax scheme.
Tax rates in Bulgaria are a flat 10% for business income, 10% for personal income and 5% on dividends.
And as an EU citizen if you live in Bulgaria for at least 6 months in a tax year you pay tax on your worldwide earned and dividend income at Bulgaria's 10% and 5% rates.
Getting a residency visa requires navigating Bulgarian bureaucracy but is relatively straightforward. And residency can lead to citizenship after 5 years.
The price of real estate also makes Bansko Bulgaria an attractive place for EU citizens to put down some part-time roots. The Great Recession left Bansko with a glut of housing that still hasn't been filled. Studio apartments sell for as little as 9,000 euro.
Malta, Cyprus and the British Dependencies may have better tax benefits but Bansko Bulgaria's low cost of living and – again – the digital nomad community set it apart.
Reason 3: The Community – Coworking Bansko
We saved the biggest reason that Bansko Bulgaria is an emerging digital nomad hub for last: the digital nomad community there.
Click or tap here to take a look at the SafetyWing Coworking Collection to find some of the best coworkings around the world!
The Importance of Digital Nomad Communities
Digital nomad cruises and retreats are in vogue.
The idea is to bring a bunch of location independent workers together for an all-expenses-paid period of time in a certain location. Maybe on a cruise. Or a even on a train. Or in a specific destination like Changu, Bali or Berlin, Germany.
The reason these events are becoming popular is obvious to anyone who has gone location independent: traveling as a digital nomad can become a lonely grind…even when you are a nomadic couple! Finding friends, social events and people to bounce business ideas off of is a hit or miss proposition. At some point, you want to connect with a community.
We had an easy time finding that community in Chiang Mai Thailand. Which isn't surprising since Chiang Mai has a large and well-established digital nomad community.
In Da Nang Vietnam it was a bit tougher, although we did eventually meet some amazing digital nomads in Da Nang.
It was much harder to find expats and digital nomads in Penang Malaysia. We got lucky and found a community in Penang Malaysia and are happy to share how you can replicate that luck.
But the advantage of digital nomad retreats is that it guarantees that you will find a community of like-minded people who have ditched the typical 9-5 lifestyle for an entrepreneurial location independent lifestyle.
Another way to have a guaranteed nomad community is by taking a Hacker Paradise trip, which brings nomads together in amazing places around the world. In fact, we always recommend Hacker Paradise 2-week or 1-months trips to people who are considering becoming nomads…even as a vacation from 'real life.' It's a great way to dip your toes into the nomad lifestyle to see how it feels!
Bansko Bulgaria is a Full-Time Organic Digital Nomad Retreat
Thanks to Coworking Bansko, Bansko Bulgaria has become a full time organic digital nomad retreat. Or, as our friend Becks calls it: summer camp for nomadic adults.
We had never joined a coworking space before, although we had checked out Punspace in Chiang Mai and Dojo Bali in Canggu Bali. We just didn't see the value in a coworking space when we like to work from our homestay or serviced apartment.
Coworking Bansko completely shifted our paradigm.
Why is Coworking Bansko Different?
Coworking Bansko is more than just a space (3 spaces, actually: a quiet space and a social space in old town Bansko and another facility near the gondola at the top of Bansko) with tables and fast wifi. It's a community. And with nomads constantly rotating through it's an incredibly welcoming community.
The reason why is not hard to figure out. It's because of 'The Guy in Orange':
Matthias Zeitler is not just a founder, he is the heart and soul of Coworking Bansko and, by extension, the digital nomad community that has emerged in Bansko Bulgaria. Simply put, he is the reason there IS a dynamic and fast-growing digital nomad community in Bansko Bulgaria.
He's the kind of guy who remembers everyone's name and always has an impish smile on his face. And he is always, always up for a good time.
But make no mistake: Coworking Bansko is a business. Matthias definitely has opinions. And rules. And a vision for Coworking Bansko.
But Matthias runs Coworking Bansko like a big commune.
He likes to let the community lead day-to-day decisions and schedules. The result is – amazingly! – that the cats actually herd themselves!
Although there are a few standing social events like Friday Potluck BBQ, for the most part coworkers create business workshops and social events themselves through the private Coworking Bansko Members Only Facebook Page and invite the community to participate.
Business Workshops and Learning at Coworking Bansko
The digital nomad community at Coworking Bansko is, first and foremost, a business community.
A one-month membership costs 129 euro. There are no social memberships – although you can bring a friend who is visiting you in Bansko to Coworking social events for 15 euro.
This means that each Coworking Bansko member makes a significant investment by joining. It's a place that attracts people who are serious about work and running successful businesses.
And successful business people understand the importance of professional development.
As a result, sharing, collaborating and learning are built into the DNA of Coworking Bansko and its entire membership. Members of Coworking Bansko are exposed to a constant stream of both formal and informal opportunities for knowledge sharing and collaboration.
During our time in Bansko we attended formal workshops on SEO, blog monetization and Google Adsense among others.
And Lisa led a workshop on running an Amazon Private Label FBA business – which she then turned into this article with a step-by-step guide to starting a successful Amazon Private Label FBA business.
But the greatest value we got out of being members of Coworking Bansko came from the less formal interactions with other members. When you get that many driven, successful people together in one place sharing and collaboration happen all the time.
Some examples: over lunch one day fellow coworker Jon who codes for a living showed me some really easy coding hacks to improve the look and feel of this website. Another coworker called Jon who does SEO for a living showed me an incredibly powerful hack for improving SEO without affecting readability.
Coworker Ad spent some time sharing her branding and graphic design skills with me. And James from Portugalist held my hand through some major website renovations.
All for the sake of community and camaraderie. That's just how coworkers in Bansko roll!
The Bansko Effect
Significantly, our friends Claire and Rosemary from Authentic Food Quest introduced me to the Blogging Fast Lane program.
Using that program I was able to transform my travel diary into a fully fledged travel website during my time in Bansko. If you are working on a blog or online information product do yourself a huge favor and check out the Blogging Fast Lane program! The results speak for themselves:
And those are just the quantifiable value-adds from my membership in Coworking Bansko.
Talking to other location independent entrepreneurs and employees over lunch, dinner, wine or puppy play provided thousands of little insights and ideas.
And hopefully we provided as much help as we took!
Social Events At Coworking Bansko
As noted, there are no social memberships at Coworking Bansko. People join Coworking Bansko to work hard.
But as the saying goes: work hard, play hard!
And the social aspect of Coworking Bansko is like nothing either of us ever experienced before as digital nomads. Bansko Bulgaria is NOT a place for those with extreme FOMO (fear of missing out).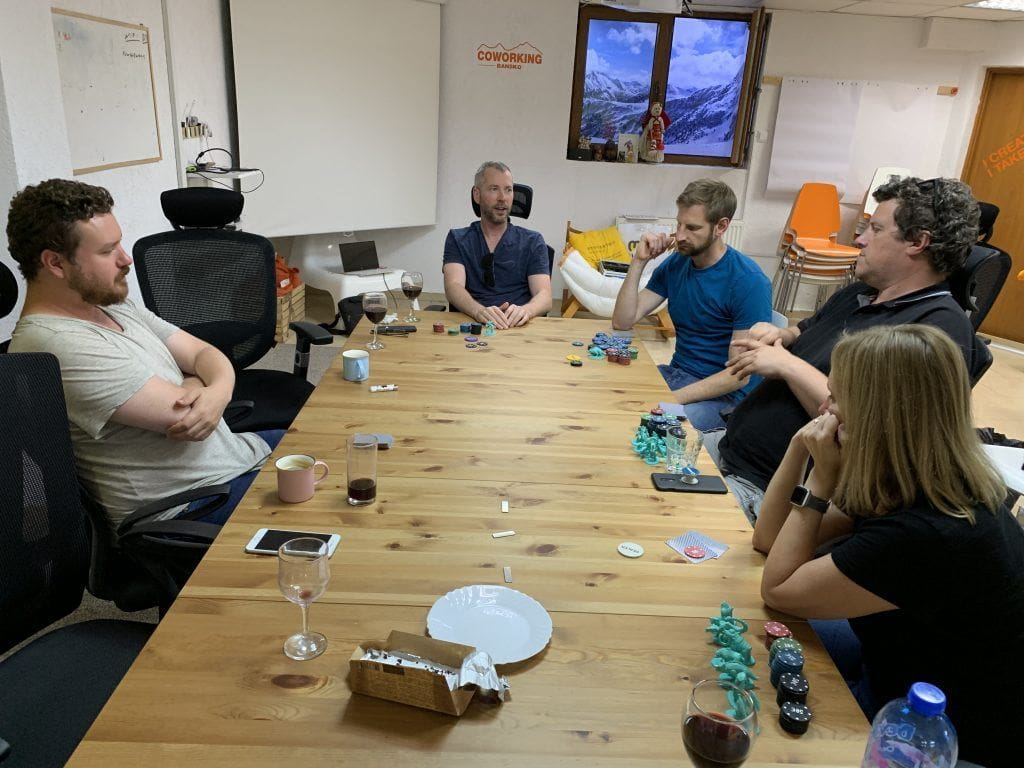 Friday Night BBQ
The main social event at Coworking Bansko is Friday night BBQ.
Each Friday members bring meat and potluck dishes along with wine, beer and soft drinks and a grand cookout takes place.
We arrived in Bansko on a Thursday for a 3-night stay. After going to Friday night BBQ at Coworking Bansko we decided to stay in Bansko. We knew we had found a community to settle into for a while.
Member-Led Social Events
But most Coworking Bansko social events are member-led.
And they include Thursdays at the Banya hot mineral springs, yoga at the coworking spaces, hiking and cold water plunges in the streams and natural pools on the mountain and even a silent disco in a forest meadow.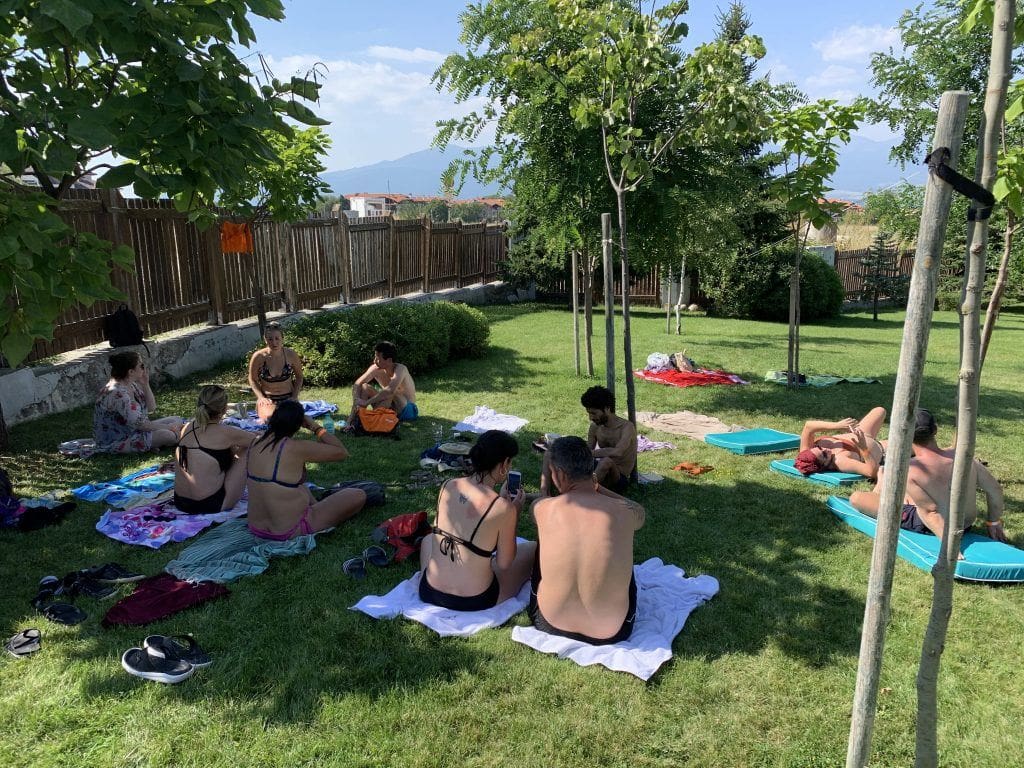 We also organized or participated in TWO wine tasting day trips to the nearby Melnik wine region.
But our favorite member-led social event at coworking Bansko is Texas Hold 'Em poker tournament night. We played every week and Lisa finished in the top 3 in nearly every tournament we played in!
We even took a member-led Coworking Bansko side trip to Kavala Greece during our time in Bansko!
You can even do a day trip to Kavala from Bansko!
There are literally social activities every day of the week led by Coworking Bansko members. Our biggest problem in terms of social activities during our time in Bansko was saying no.
Bansko Nomad Fest
Bansko Nomad Fest is an annual event that takes place in the picturesque town of Bansko, Bulgaria.
The Bansko Nomad Fest is a gathering of digital nomads, remote workers, entrepreneurs, and freelancers who come together to share their experiences, learn from each other, and celebrate the freedom that comes with working remotely. The event features a variety of activities including workshops, talks, networking events, and social gatherings that are designed to foster connections and inspire creativity.
One of the main draws of the Bansko Nomad Fest is the opportunity to learn from experts in the fields of remote work and digital nomadism. The festival features a range of speakers who share their insights on topics such as productivity, work-life balance, entrepreneurship, and the future of remote work. Attendees can also participate in workshops that focus on specific skills such as coding, social media marketing, and content creation.
Another highlight of the Bansko Nomad Fest is the social events that take place throughout the week. From morning yoga sessions to evening parties, there are plenty of opportunities to connect with other attendees and make new friends. The festival also includes excursions to nearby natural attractions such as hot springs and hiking trails, allowing attendees to explore the stunning landscape of Bansko.
But perhaps the most valuable aspect of the Bansko Nomad Fest is the sense of community that it creates. Remote work can be a lonely and isolating experience, but events like this provide a sense of belonging and connection that can be difficult to find elsewhere. Attendees can share their experiences, ask for advice, and offer support to each other, creating a supportive and inspiring environment that can help them thrive in their work and personal lives.
Overall, the Bansko Nomad Fest is a unique and inspiring event that celebrates the freedom and creativity of remote work and digital nomadism. Whether you're a seasoned remote worker or just starting out on your journey, this festival is the perfect opportunity to connect with like-minded individuals, learn new skills, and explore the beautiful town of Bansko.
Is it Possible to be a Digital Nomad in Bansko Without Joining Coworking Bansko?
Yes, of course you can nomad in Bansko without joining Coworking Bansko. We befriended lots of non-members in Bansko including nomads, expats and Bulgarians.
And the success of Coworking Bansko has drawn competition from other coworkings in Bansko. As well, non-coworking-affiliated WhatsApp groups have popped up in Bansko for nomads.
BUT…I wouldn't recommend nomading in Bansko without joining Coworking Bansko.
Doing so disrupts the coworking curated community that exists in the small town of Bansko.
And let's be clear: Coworking Bansko does not exist because Bansko Bulgaria is a digital nomad hub. Bansko Bulgaria is a digital nomad hub because Coworking Bansko exists.
And besides, working together in the same physical spaces builds trust and connections among nomads. And, as we experienced, connections, sharing and knowledge transfer happen over coffee or lunch at Coworking Bansko.
So while there is no requirement to join Coworking Bansko as a digital nomad in Bansko, if you are a digital nomad who is serious about working or building a successful business you will want to be a part of the Coworking Bansko community.
It's a fantastic investment in yourself, your business and your social life.
Bottom Line – Bansko Bulgaria as a Digital Nomad Hub
The greatest luxury of the digital nomad location independent lifestyle is being able to make and change travel plans on the fly.
We threw away plane tickets from Sofia to Tbilisi Georgia when we decided to stay in Bansko Bulgaria. It was the smartest 'sunk cost' decision we ever made. Our 8 weeks in Bansko not only changed our view of what a coworking community can be, it was a key to taking our businesses to the next level.
We love the digital nomad community in Bansko so much that we bought a sponsorship on the mural on the side of the Coworking Bansko quiet space.
And the future of Coworking Bansko and the coworking community in Bansko is bright. While we were there membership hit the 100 coworker level for the first time. Mattias bought out his remaining partner and has plans to expand the coworking spaces to accommodate growth.
And Bansko Nomad Fest is scheduled for 2023!
By the end of 8 weeks in Bansko we were both wearing Coworking Bansko orange!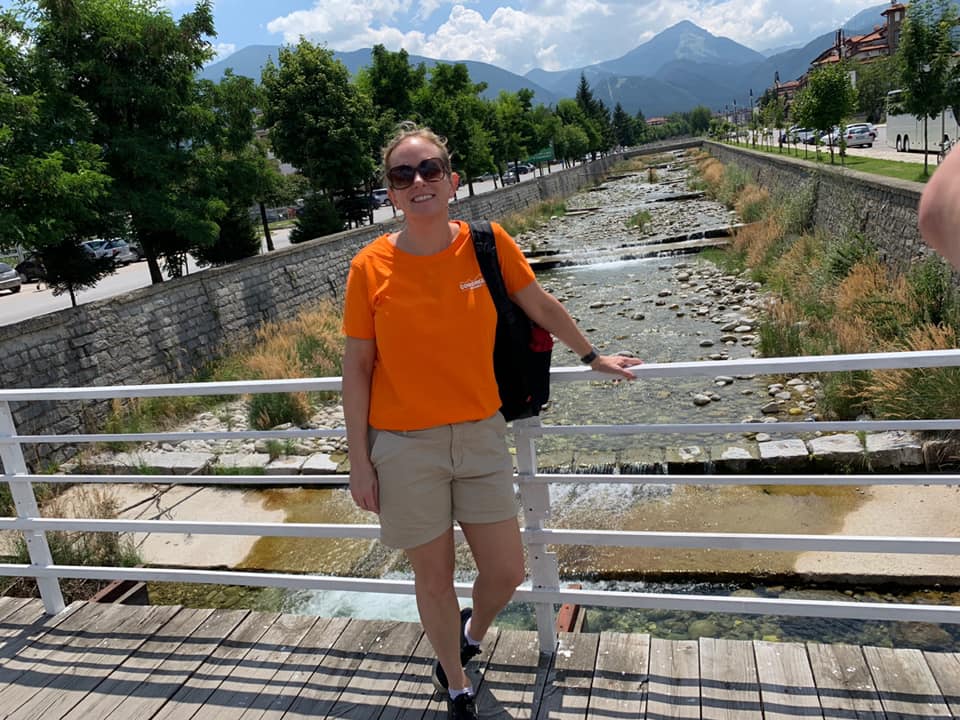 If you're interested in finding out more about Coworking Bansko and the amazing community there check out their website and join the Coworking Bansko Facebook group.
The Coworking Bansko Wiki is another great resource for information about Coworking Bansko and Bansko itself.