Guest Post by Mickelle Sleyster of InspiredByInfluence
I met Lisa and Matt during a digital nomad pop-up community in Trogir Croatia. As digital nomads, they tend to negotiate for an Airbnb and then work from there.
But I nomad differently. I travel alone or in a small group and tend to stay in hostels or smaller accommodations that don't always have space to work.
So I am always looking for the best coworking spaces while traveling full time!
And in Croatia – especially Zagreb Croatia – I found coffee cafes to be the best coworking option.
From fresh espresso to quiet workspaces Zagreb Croatia is home to some of the best European cafes around.
If you don't fancy working from a café, click or tap here to take a look at the SafetyWing Coworking Collection to find some of the best coworkings around the world!
In this article, I cover what makes coworking at Zagreb's cafes so special and what the top 5 Zagreb Croatia coworking cafes are.
Zagreb Cafes are their Own Culture
Never in my life have I seen as many cafes as in Zagreb.
Of course, cafes all over Europe are a huge thing. But Zagreb alone has at least 100 in the city.
After visiting so many, I noticed there are four major things that make the cowoking Zagreb Croatia cafes so different.
1. Zagreb cafes are busy all day, every day.
Whether it be a morning coffee or afternoon tea you can always count on countless people being in Zagreb's cafes.
And the reason the cafes are so busy is people stay for hours. It is normal to see a single person sitting in a cafe for 3 hours without buying anything new.
This cultural norm of sitting in a cafe for hours is a godsend for digital nomads seeking coworking in Zagreb Croatia! You can stay in one place and get hours of work done without feeling bad that you are taking up space. And staff won't hassle you to buy something every few minutes.
2. Outdoor seating is open year-round.
Many of the cafes found in Zagreb feature indoor seating as well as outdoor seating.
Some of my favorite cafes even have a glass area outside that gives you a great mix of both.
Once the weather gets cold the cafes put out tons of outdoor heaters for comfort. So even on a chilly day in the 30s, you can still find people comfortably seating outside enjoying cafe culture. 
3. Zagreb's cafes are laptop friendly.
Pulling out a laptop at any restaurant or cafe to get some work done as a digital nomad can be a bit nerve-racking – you never know how acceptable it is.
However, coworking in Zagreb Croatia is part of the cafe culture.
All over you will see people working on their laptops and it's totally normal.
The cafes welcome it by having public free wifi posted everywhere. This unsaid rule of bringing your laptop is what makes Zagreb cafes terrific for coworking.
4. There is no food served at most cafes in Zagreb, Croatia.
Now, this was a bit shocking as I often found myself hungry for lunch.
Despite feeling this way, I found this to be completely normal in Zagreb. I expect this is because cafes are a place for locals to linger over coffee and a conversation rather than eat a meal and be on their way. Or a place for people to relax.
Since people linger in cafes in Zagreb for so long I can only assume it'd be hard to run a proper restaurant. Nonetheless, remember to eat before hitting a Zagreb coworking cafe!
The Top 5 Cafes for Coworking
As noted, there are tons of options for cafes in Zagreb.
In fact, there are so many you could easily spend weeks going to a new one every day.
Each cafe offers a different experience all their own.
But in creating this list of the best coworking Zagreb Croatia cafes, the criteria I was looking for was: seating options, noise level, overall space, and quality of drinks.
After visiting dozens of different options these are my top 5 cafes for coworking in Zagreb Croatia.
Easily coming in first place is Quahwa.
Located near the center of Zagreb, this European cafe is a digital nomad Zagreb Croatia coworking paradise.
It features outdoor seating as well as private office spaces upstairs, making it an ideal place for getting work done.
The massive amount of seating options leaves workspaces for everyone. From quiet areas to more public seating this cafe has it all. Not to mention this place has the largest variety of coffee and tea options I found in all of Zagreb.
Whether it be a cookie coffee or even a maccha macchiato you won't leave here thirsty. All the coffees are brewed from their homegrown coffee beans. Even the tea is made house fresh.
Lastly, and critically, this place has freaky fast wifi in all areas. A must-have for coworking in Zagreb cafes!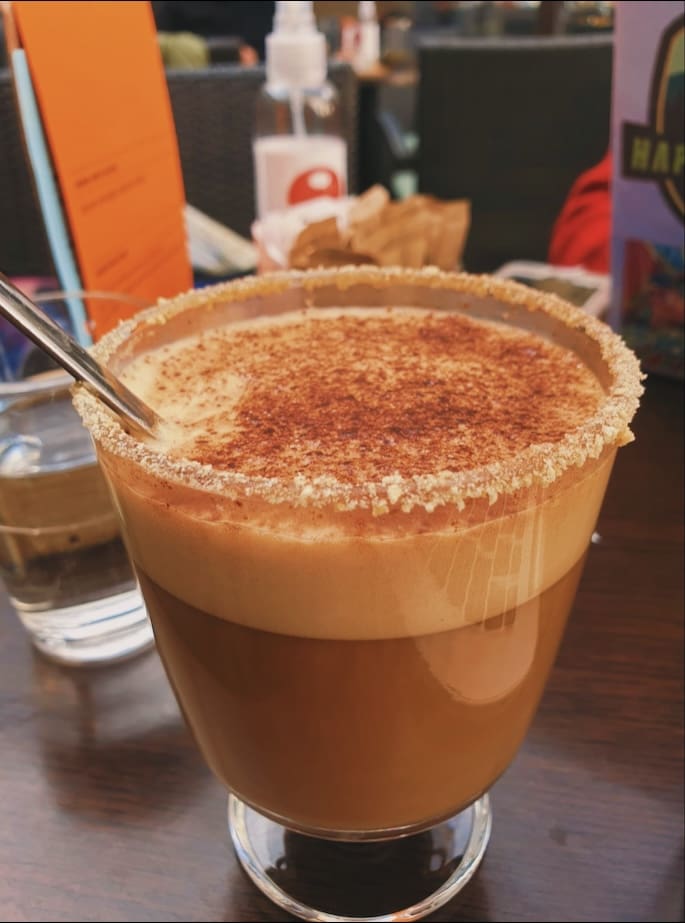 This cafe is located on one of my favorite streets in Zagreb.
The street is a busy side street with 4 outdoor cafes neighboring it.
Kic Club features a huge outdoor seating area featuring an upstairs and a downstairs with doors that completely remove. The view of the buzzy street and comfy coaches is what makes this cafe crucial for stoping in.
During my trip to Zagreb, I often found myself popping even just for a glass of tea. The art and books found upstairs also change montly if you looking for something to see.
The coffees and teas here are simple, but amazing in flavor. This cafe had my favorite tea Summer Blossom. The large seating options offer a variety of atmospheres for its guests to enjoy. I loved seating upstairs in the quiet while overlooking the busy street. It was the best of both worlds.
In the yard is a peaceful cafe located a little from the city center. Basically, the cafe backs up into a corner and features about 10 outdoor tables.
Though the inside is a bit small, the extremely mellow atmosphere makes which is ideal for working.
Throughout the day you will find tons of nomads working here. This cafe is pretty much just a coworking since you will not see locals enjoying the vibe.
Since this is full of people working it is fitting for those days you need to focus.
The coffee is original and offers delicious home-brewed tea too.
Cafe seating inside can be limited. So get there early or I would save this cafe for a sunny afternoon.
Cognito is one of the most popular cafes in Zagreb.
You can find its delightful brewed coffee in dozens of different cafes and for good reason. This coffee brand is even international. What they do with the coffee is very generic, however, the taste is one of a kind.
The cafe is located down a bright colored long street. It features about 8 tables outside and 10 inside.
The tables outside tend to be pretty quiet and have a decent wifi connection.
This cafe is always full of hipsters and digital nomads. If you are looking to meet other travelers this is a excellent spot to start.
Plaza Bar is a cafe by day and a bar at night.
This place is located north of the city and features plenty of space. From fabulous chairs to top-notch drinks this cafe is a must-see. The bright colors, huge glass caged seating, and luxurious atmosphere is what makes it so unique.
This place is quintessential for casual work or meeting colleagues. Plus the Strawberry Cream tea is outstanding!
Visit this place earlier in the day for more quiet. It's excellent for getting work done.
Bottom Line – Best European Cafes For Coworking in Zagreb, Croatia
As you can see, Zagreb has a lot to offer when it comes to coworking in cafes.
The cafe culture here is rare and couldn't be any better for digital nomads.
So if you are looking for a city to work in as a digital nomad, look no further than Zagreb.
Not only will you be surrounded by others just like you, but the coffee is also top-notch.
For more exclusive travel guides on visiting Croatia check these out: