Wine tasting in Tasmania is an interesting and fun day trip out of Hobart.
We've done wine tours/tastings all over the world, including in the Yarra Valley near Melbourne the week before we tasted in Tasmania.
We were excited to tour and taste in Tasmania because the winemakers in the Yarra had really talked them up…and talked some smack too!
Spoiler: It was gorgeous!
Wine in Tasmania
The first grape vines were actually planted in Tasmania in 1788 by William Bligh – the guy from the Mutiny on the Bounty! Take THAT, Mrs. Moss, my 9th grade English teacher who made me read that book: William Bligh was a wino!!!
In the early 1800s winemaking briefly flourished on the island but then…well…died on the vine.
In the 1950s vines were planted by French and Italian winemakers with some assistance from the CSIRO – the Commonwealth Scientific and Industrial Research Organisation. Australia is very, very smart in that it has an agency dedicated to advancing science in support of industry. In this case it certainly paid off.
Commercial production of wine in Tasmania re-started in the 1970s and by the 1990s the 'famous names' of Tassie wine arrived: Andrew Hood, Claudio Radenti, Stefano Lubiana, Peter Althaus, Alain Rousseau and Michael Vishacki.
David Walsh, the roguish and nerdy card-counting millionaire(?) billionaire(?), also now plays a prominent role in Tassie wine.
Today in Tasmania there are 160 licensed wine producers, 230 individual vineyards, 95 cellar door outlets and over 2,000 hectares under vine. In other words, the industry is still relatively tiny.
But as I said about our wine tour in the Yarra Valley of Australia, often smaller is better!
Finding a Wine Tour Driver in Tasmania
Our wine day in Tasmania would be a day trip out of Hobart. Our focus was on finding an affordable semi-private tour that would take us to smaller producers – which, as I said, is pretty much all of them!
After some research we settled on Drink Tasmania.
They offer small group day-long tasting tours out of Hobart.
But you can check out all of the wine tours on offer out of Hobart by clicking here.
Getting Started
We met our driver Rod at the Brooke Street Pier where we begin the day with a cuppa over introductions.
Rod is quite the renaissance man. He's been an IT guy, a single-crew crawfisherman, a vineyard hand and now a part-time tour guide. He's also an amateur geologist and is passionate about aboriginal Australians. So he had plenty to talk about!
There was only one other guest on the tour that day, a Melburnian called Chris who, being a whisky drinker, was on his first ever wine tour.
As we drank our morning keto bulletproof tea, Rod described Hobart's infamous history dating back to 1803 and the role that alcohol played during settlement.
He then explained our itinerary: two stops in the Derwent Valley then we'd cross the range over into the Coal Valley for the balance of the tastings.
After that we made our way to our chariot and we were off!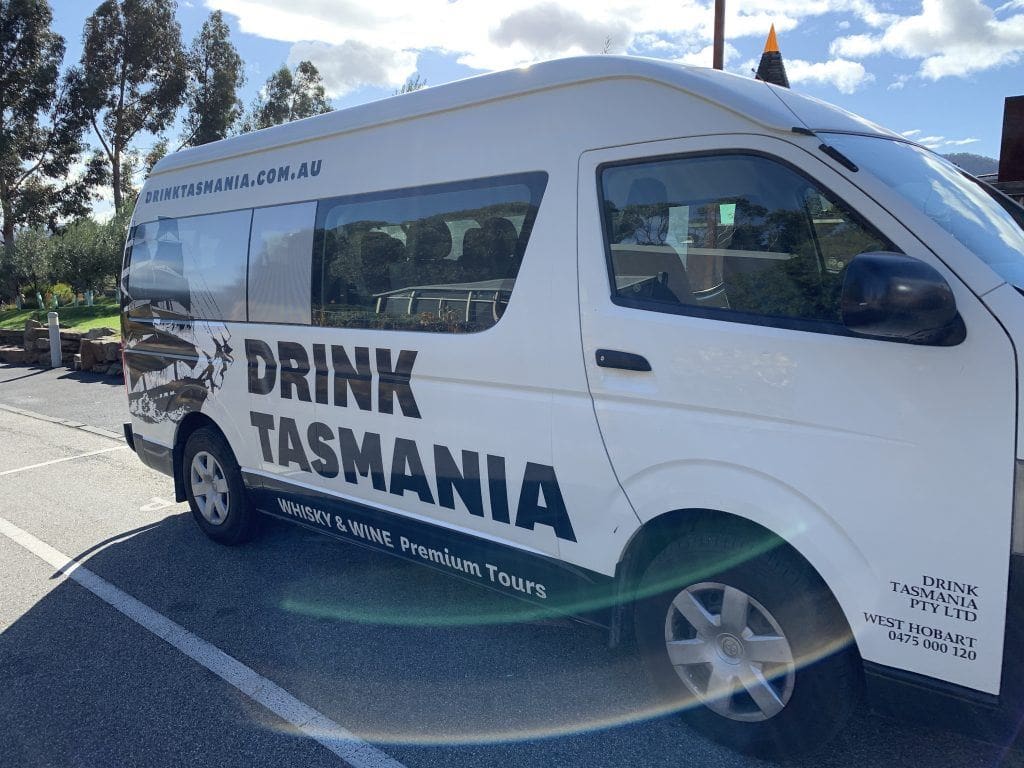 First Tasting: Moorilla
Moorilla winery has been associated with wealthy and brilliant owners since it was started by Italian emigre, textile mogul and patron of the arts Claudio Alcorso.
In 1948 Alcorso started Moorilla near the Derwent River north of Hobart growing…apples and pears.
It wasn't until a decade later in 1958 that Alcorso planted vines – against the advice of the local government. He was right and they were wrong. Moorilla wines did quite well in the 1960s and 70s.
At the same time Alcorso constructed uniquely modernist buildings on the property which were either loved or loathed by locals.
By the mid-1990s, however, Moorilla was in receivership.
That's when another wealthy and brilliant man stepped into the picture: David Walsh purchased Moorilla. Walsh, a card counting math nerd and native Tasmanian, lived across the river from Moorilla and needed a place to store his collection of ancient Egyptian relics.
Although he liked the wine, he really bought Moorilla more for its Roy Grounds-designed modernist architectural buildings which he intended to use to showcase his antiquities collection.
In the late 2000s Walsh moved his collection from the Moorilla buildings to the new private MONA – Museum of New and Old Art (which we had visited the day before).
He also brought in Conor van der Reest to focus on taking his wine to the next level.
Walsh also recently purchased Domaine A, a neighboring winery. So we were able to taste both at Morilla.
Although the sparkling was a real winner, as in Yarra, the Pinots stole the show for me. I bought my only bottle of the day:
Second Tasting: Stefano Lubiana
Stefano Lubiana, established in 1990, is a small family-owned vineyard about 12 km north of Moorilla. It's a must-do on any wine tour of Tasmania.
Stefano Lubiana is Tasmania's only certified biodynamic vineyard. This is very important to them.
They started cultivating their vines under biodynamic conditions in 2010.
Some of the stuff they do makes sense: the wines are free of all synthetic treatments, additives and pesticides.
Others seem a bit wacky, like using cosmic rhythms to ensure correct soil tilling and using the mystic power of crystals to make the vines happy.
Whatever the process, the result is some truly exceptional wine, especially the sparkling.
During our Yarra Valley wine tour day trip out of Melbourne, I had promised the folks at Coldstream Hills that I would show the folks at Stefano Lubiana the following photo, to make the point that Coldstream sparkling beat Lubiana sparkling at their own Hobart International Wine Show:
The folks at Stefano Lubiana had a good laugh over the photo and pointed at the wall of awards they have won…and then explained that they have won some of those Hobart glass plates too…but don't find them worthy enough to display.
Smacked DOWN!
Third Tasting: Wicked Cheese
After that epic smackdown our next stop would be a cheese maker and monger.
We crossed over into the Coal Valley and stopped at Wicked Cheese, an award-winning family owned boutique cheese maker near the scenic town of Richmond (which we would explore the next day).
All of their cheese was excellent although the blue cheese was the clear standout.
Fourth Tasting and Lunch: Frogmore Creek
We had a rather extensive tasting at Frogmore Creek before lunch.
Winemaker Alain Rousseau takes two distinctly different approaches to winemaking.
The 42 Degrees South Collection is all about letting the fruit do the work. I guess you'd call this a terroir wine because the winemakers just use what the vines give them with minimal intervention. We found it to be ok but not great.
Where Frogmore and Rousseau really shine is in their Frogmore Creek Collection. Here they use experimental techniques to produce a range of complex noses and flavors. And it works!
Once again, the Frogmore sparkling stole the show. But the Pinot Noir was also brilliantly complex and flavorful with a very mild pepper/chili note. In a word: delicious.
Meanwhile the Chardonnay has a hybrid Burgundy-style taste that we found surprising and delightful! Lisa likes Chablis-style and I love a big buttery oaky Chard…but we were able to agree on the Frogmore Chard. It had something for everyone!
After the cheese tasting we had lunch. My salmon was good, but Lisa's 18-hour braised beef brisket was amazing. I had total food envy the entire meal, during which we were joined by a feathered friend.
Fifth Tasting: Pooley
Our last stop wine tasting in Tasmania would be Pooley, and it was an awesome tasting venue.
Pooley Wines only dates back to 1985 when the Pooley family planted ten rows of Riesling and seven rows of Pinot Noir on their small farm.
30 years later they produce premium quality cool-climate wines from a second vineyard in the Coal River Valley.
Margaret Pooley oversaw much of this growth and remained the chief executive of the vineyard until well into her nineties. She was a hardy Scot and the winery and tasting room are drenched with her influence.
The Pooley cellar door is housed in old sandstone stables on the property.
The standout at Pooley were the Reisling – it was clear that they were focus and passion of the family.
Of course, I also liked their Pinot Noir.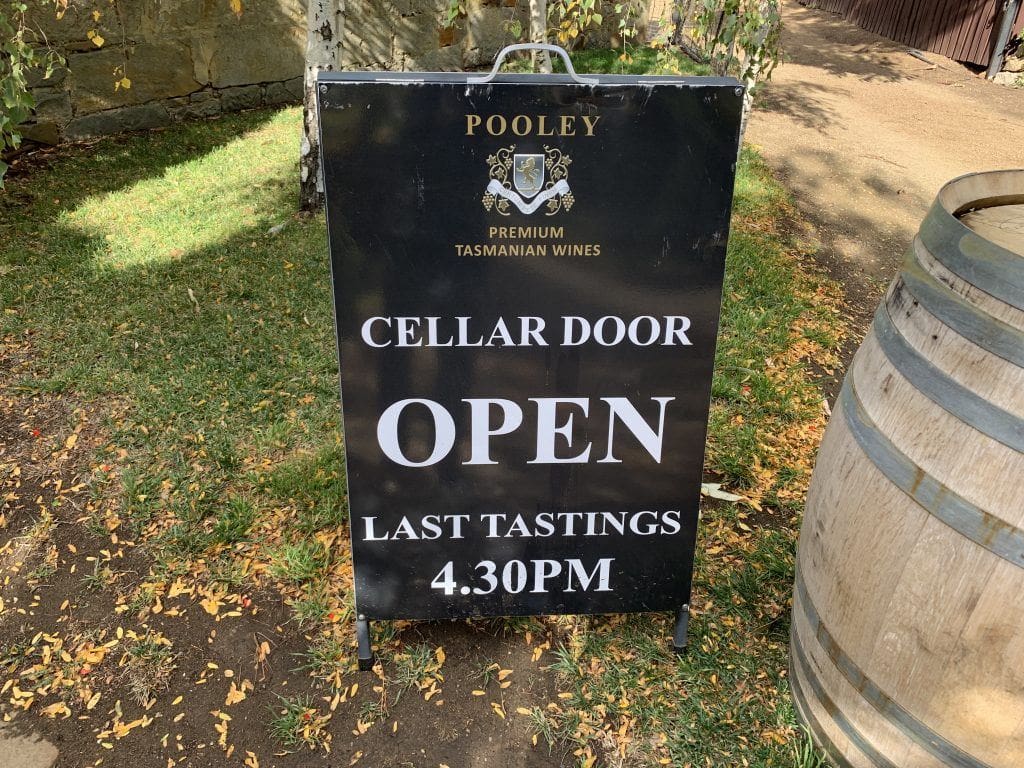 Back to Hobart
After Pooley it was time for Rod to drive us back to Hobart.
Along the way we saw several RVs, including this Jayco folding camping trailer (pop-up trailer).
This got me thinking about how different my life is now compared to when I was a fast-rising executive in the RV industry. I still miss that life and those people…even though I am living the life I always wanted and dreamed about living.
Anyway, Drink Tasmania's drop off point in Hobart is the Lark Cellar Door and Whisky Bar on the waterfront.
Being off the clock at that point, Rod was able to join us in a toast to a wonderful day of wine tasting in Tasmania!
Bottom Line
Wine tasting in Tasmania is a must-do for any oenophile or even casual wine drinker. The scenery is gorgeous, the cellar doors are unique and the wines are great.