Bansko Bulgaria is a stunningly gorgeous affordable luxury slow travel destination.
Nestled at the base of Pirin mountains, Bansko is a ski town that reminds us very much of Aspen…but more pristine!
And everything in Bansko is affordable. We paid around 200 euro for a month's rent in an affordable luxury apartment. We ate in luxury restaurants for a fraction of the price that the same restaurant would cost in other cities.
Heck, you can even buy an apartment in Bansko for as little as 9,000 euro if you want to!
It's also the perfect place from which to take a cheap day trip to see the Rila Monastery or a day trip to do some wine tasting in Melnik!
Getting to Bansko Bulgaria
Getting to Bansko Bulgaria is easy.
We took a bus from Plovdiv to Bansko.
But most people arrive in Bansko from Sofia Bulgaria which can be reached from anywhere in Europe. We had originally arrived in Sofia on a Ryanair Flexi Plus ticket from Berlin to Sofia.
And from Sofia you can take a bus or hire a car to get to Bansko.
Where to Stay in Bansko Bulgaria for Affordable Luxury
The first thing you need to understand about where to stay in Bansko Bulgaria is that the town is on the side of a mountain. And when you go up the mountain you are going south.
This creates a lot of confusion in Bansko because generally when people say 'go up' they mean go north and when they say 'go down' they mean south. In Bansko, when you go south you are going up the mountain. When you go north you are going down the mountain.
So when you look at this map of places to stay in Bansko remember that the bottom of the map is the top of the mountain.
When we arrived in Bansko for 3 days we stayed at The Belvedere Holiday Club. We chose it because it was an affordable luxury condo and because it has a pool where we could swim and relax.
But The Belvedere Holiday Club is at the top of Bansko (toward the south) near the ski/hiking gondola. And that's a terrific location during the winter ski season.
But during the summer in Bansko that higher southern gondola area is a bit like, well, a scene from a zombiepocalypse. Lots of stores and restaurants – many with signs that say 'OPEN 24/&7'…but they are all shuttered and there are no people.
We literally wandered around in the middle of the streets wondering where all the people were!
During the summer all of the action in Bansko Bulgaria takes place down in the old town area.
So when we decided to extend our summer stay in Bansko we moved to the Four Leaf Clover which is down in the busier old town area of Bansko for the summer. Four Leaf Clover has a pool and offers several types of apartments from studios to two-level maisonettes with 2 bathrooms like the one we rented! In the summer a short walk takes you to old town Bansko and in winter a bus takes you to the gondola.
Bansko Bulgaria in Winter
Winter is when Bansko Bulgaria really shines.
The mountain attracts plenty of Bulgarian winter sport enthusiasts but also plenty of international snow sport enthusiasts, especially Brits.
In the winter a gondola lift takes skiers and snowboarders from the top of Bansko to the ski mountain base area. From there the ski area has 50 miles of ski runs served by 14 lifts and drags. The ski summit has an elevation of 8,500 feet and the vertical drop is nearly 3,300 feet.
Skiing and snowboarding holidays in Bansko Bulgaria compete very well with ski holidays in Switzerland and France…especially in terms of overall price!
On the downside, none of the runs are 'expert' level and the quality of the ski infrastructure isn't as modern or robust as some places in Europe. Despite this, ski lift passes are not that much cheaper than other mountains in Europe.
But everything else about winter in Bansko is far more affordable than other ski towns in Europe. Lodging, food and apres ski activities cost a fraction of the price you would pay in other ski towns in western Europe.
And the snowsports infrastructure and slopes, while not state of the art, are adequate. And the views are amazing!
Photos courtesy of Viktoria Polishchuk.
Be sure to get travel and emergency medical insurance before your ski vacation! Click the link below for a quick quote:
Bansko Bulgaria in Summer
In the summer Bansko is quieter but still has a lot to offer. The views are spectacular and the gondola ski lift becomes a gondola hiking lift. There's also a 400-meter long water slide the longest in Europe!
A series of summer festivals attract Bulgarian and international tourists to Bansko. From the Folk Festival to the One Love Hip Hop Festival to Jazz Fest to Opera Fest to Balkan Fest, summer weekends in Bansko are chock-a-block with entertainment and fun!
And the village of Banya 3 miles away has 27 thermal mineral springs for soaking and healing.
Plus, thanks to Coworking Bansko, Bansko Bulgaria is an emerging digital nomad hub, making it an even more interesting and fun place to visit in winter or summer!
Summer Swimming and Tennis in Bansko Bulgaria
Our favorite summer pastimes in Bansko in summer are swimming and tennis. And both are available and affordable adjacent to Strazhite Hotel.
This pool and tennis complex is centrally located in Bansko.
The large pool is great for lap swimming. And a snacks and cocktail bar make lounging by the pool for a few hours and absolute delight.
The tennis courts are also well maintained and affordable.
For a more upscale spa experience you can try the pool and tennis facility at the Kempinski Bansko. But we prefer the pool and tennis by the Strazhite both for the location and for the facilities themselves.
Where to Eat in Bansko Bulgaria for Affordable Luxury
Mehanas
Like all of Bulgaria, Bansko is brimming with traditional Bulgarian Mehanas (механи). The word mehana is derived from two Persian words: mey (wine) and khāneh (house). So it's a fitting name!
Mehanas provide large portions of traditional bulgarian dishes including shish kebab, mixed grill (sache) and lots of other travel keto diet friendly food.
You'll never go hungry in Bulgarian mehanas and you won't pay an arm and a leg.
The average dish in a Bansko Mehana is about 8 leva ($4.50 US). Those prices are highly competitive with the price of a meal in affordable luxury cities like Chiang Mai Thailand and Da Nang Vietnam.
Our favorite mehanas are Chalet Yanitza for lunch and Mehana Bunare for dinner. Both serve typical traditional Bulgarian food but their warm and welcoming service sets them apart from other typical mehanas.
Affordable Luxury Dining in Bansko Bulgaria
In addition to the Mehanas there are a handful of affordable luxury restaurants in Bansko. They aren't cheap by Bulgarian standards, but they provide incredible value for a luxury dining experience.
Leonardo Restaurant is our favorite affordable luxury restaurant in Bansko. It's an Italian restaurant adjacent to the Lucky Bansko Aparthotel and Spa that serves classic Italian dishes and Mediterranean delicacies.
Dinner at a restaurant similar to Leonardo in a city like London or New York would cost upwards of $400.
Our bill at Leonardo in Bulgaria was never more than 185 leva – about $100 US. A relatively expensive meal in Bansko. But that's the very definition of affordable luxury dining – finding a $400 gourmet meal for $100!
Affordable Luxury Group Dining in Bansko Bulgaria
Our favorite Bansko restaurants for group dinners are Molerite Restaurant and Victoria Restaurant.
Molerite Restaurant is a traditional Bulgarian Mehana that has a lovely courtyard. And every night a group of musicians play traditional Bulgarian tunes.
We love Molerite for fun group dinners.
Victoria Restaurant is at the top of the Bansko across from the Kempinski in Bansko and is also good for groups. Great food and big outside tables make for a great non-mehana group dinner.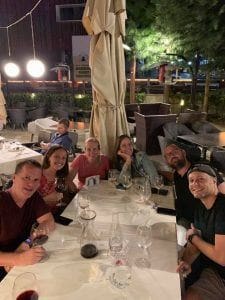 Other Great Restaurants and Bars in Bansko Bulgaria
Another non-mehana worth checking out is Danny's Bar and Restaurant for craft cocktails and Mexican food (yep, Mexican food in Bulgaria!!).
Tomahawk Steakhouse serves the best steaks we had in Bansko.
Fast Food Rekata is a doner kebab stall by the footbridge over the river in Bansko and quickly became our regular spot for a quick travel keto diet friendly lunch.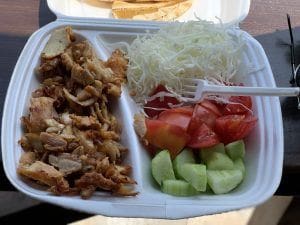 The Coolest Thing to Do in Bansko in Any Season
Whether it's winter or summer the coolest thing you can do in Bansko Bulgaria is the Bansko Safari.
Bansko Safari picks you up in an classic 4×4 and drives you and your family on a wild ride!
Stops include a visit to the church up in the Mountains as well as archaeological excavations. Further on a short walk reveals a fantastic view near the top of the waterfall. Then back in the Jeep to a restaurant for a bite. After that you 4×4 through a stream and then a river. Then back to Bansko via the 'secret lake'.
All the way your driver is educating and entertaining you with stories, history, jokes and puns.
It's a fun, exciting and interesting way to spend a day in Bansko.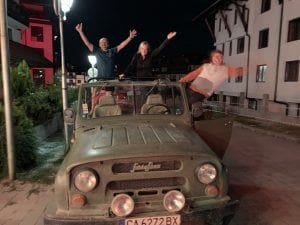 Bottom Line – Bansko Bulgaria for Affordable Luxury
Bansko Bulgaria is a wonderful place to visit. In winter it's all about snow sports. In summer there is hiking, lounging, pools and tennis.
And no matter when you visit Bansko you will find that everything (other than ski lift passes) cost a fraction of what you would pay in western Europe.
It a perfect place for an affordable luxury travel vacation!