We flew Bulgaria Air from Sofia to Burgas, Bulgaria. It's a no-frills experience. But it gets you to the Bulgarian Black Sea coast much faster than the bus or train!
Our Decision to Fly Bulgaria Air
After 3 days in Sofia we wanted to head to the Bulgarian Black Sea coast starting in Sozopol and then Bugras, Sunny Beach/Nessebar and Varna.
The options for the journey from Sofia to the Black Sea include bus, train or plane.
After looking at the cost and time, we decided to fly.
Bulgaria Air had 100.62 leva ($57.87 US) one-way tickets that left Sofia in the afternoon, which we decided was perfect.
Wondering how we find cheap coach and business class flights? Check out our Cheap Fare Guides:

How To Use Google Flights to Find Cheap Business Class Flights (And Cheap Economy Flights Too!)
Bulgaria Air Mobile Check In and Seat Assignments
You cannot choose your seat on domestic Bulgaria Air flights until you check in starting 24 hours before the flight.
We didn't want two middle seats so were diligent about checking in as close to that 24-hour mark as possible. We ended up getting seats 4 D and F – hoping for an empty middle seat.
We've done this aisle-window combination a number of times on various airlines. But we have found that with how full planes are these days it is working less and less.
It failed on this flight too. And Lisa took the middle and gave the window to the person who would have been in the middle seat.
We decided that we will reserve aisle seats across from each other going forward so that neither of us ends up in a middle seat.
Heading to the Bulgarian Black Sea Coast? Check Out Our Articles About Sozopol, Burgas, Sunny Beach, Nessebar and Varna!
Airport Transfer
We grabbed a taxi right on Vitosha Boulevard in Sofia.
Unfortunately a scammy taxi driver tried to rip us off on the way to the airport.
We noticed about halfway to the airport that he was hiding the meter. When we got there he showed it to us and he wanted 35 leva ($20 US) the taxi from the airport to Vitosha had been 12 ($7 US) .
A negotiation/screaming match ensued and I ended up giving him 20 leva ($11.50 US).
PRO TIP: Be sure you can see the meter in your Belgian taxi for the entire ride!!!!
Airport and Bag Check
We had a number of larger liquids that we had bought in Sofia that we wanted to bring to the Black Sea coast (keto friendly olive oil, suntan lotion, etc) so we decided to check our bags.
There was a general check-in queue that was predictably long.
But to the left of that there is a separate queue for bag drop for mobile check in. We used it and were the only ones in that line!
Bulgaria Air Domestic Waiting Area: Gate D1
Sofia Airport (SOF) is a bustling international airport. There are actually four Priority Pass lounges in the international terminals.
But we were flying out of the Bulgaria Air domestic 'area' at Sofia Airport.
That area is a single room on the right hand side of Terminal 2 of the airport!
You pass through security specifically set up for that room.
It's not a very big room.
And once inside the only vendor is a duty free counter! No water or snacks for sale, but you can get a jug of whisky or a carton of cigarettes. Did I mention that this is the DOMESTIC waiting area? Yeah, weird!
If you want anything to eat or drink you have to exit the room back to the public area. Just outside the room there is a cafe.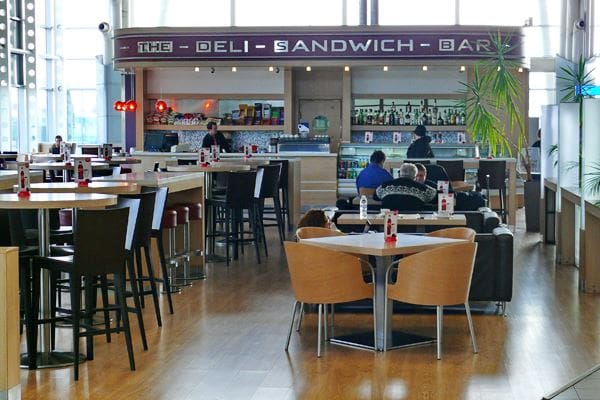 Back inside the waiting room we noticed that folks had bottles of water or soda. So apparently there is not a strict liquid ban at this gate after all.
Boarding Bulgaria Air Domestic Flight
Bulgaria Air schedules two flights in the afternoon from this Gate D1 room in the summer season.
One flight to Varna.
And then our flight to Burgas 20 minutes later.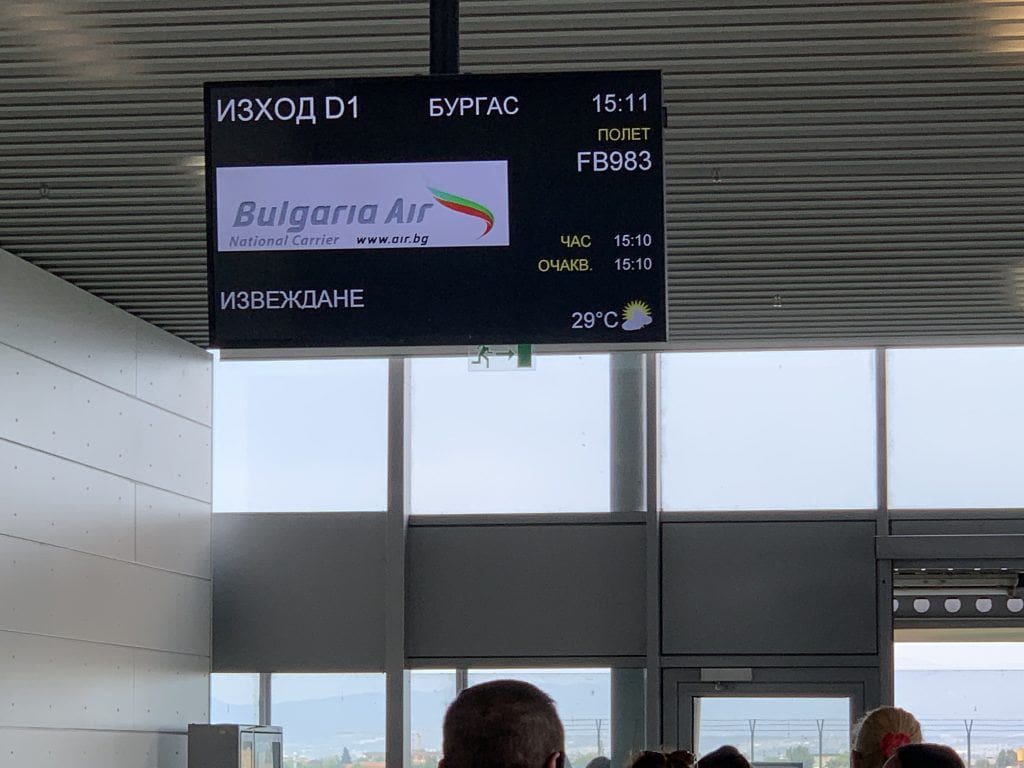 The Varna flight boarded first and we got to see what a mess the boarding process at this gate is.
Passengers queue up and then veeeeerrrryyyy slowly the staff scan boarding passes. Boarding for the Varna flight took a full half hour.
As you can see in the satellite image above, there are no aircraft anywhere near this gate.
So once passengers exit the gate door they walk about 100 yards to a waiting bus. When a bus is full it takes you to your plane on the far side of the airport.
Having watched this boarding process for Varna we decided we'd just relax and sit tight rather than queing for so long.
We ended up being among the last to scan our boarding passes to Burgas. As we waited, the security folks packed up and left. So did the bored-looking woman at the duty free counter.
Eventually we passed the scanner and walked to the waiting bus which dropped us off at our plane.
Boarding from the tarmac took place through both the front and rear doors.
I was curious about the livery (or lack thereof) on the plane so looked it up. Turns out it's a pretty old plane that Bulgaria Air bought from United Airlines out of storage and then passed around a bit.
We grew concerned that we might get a weather delay based on the gathering gloomy clouds.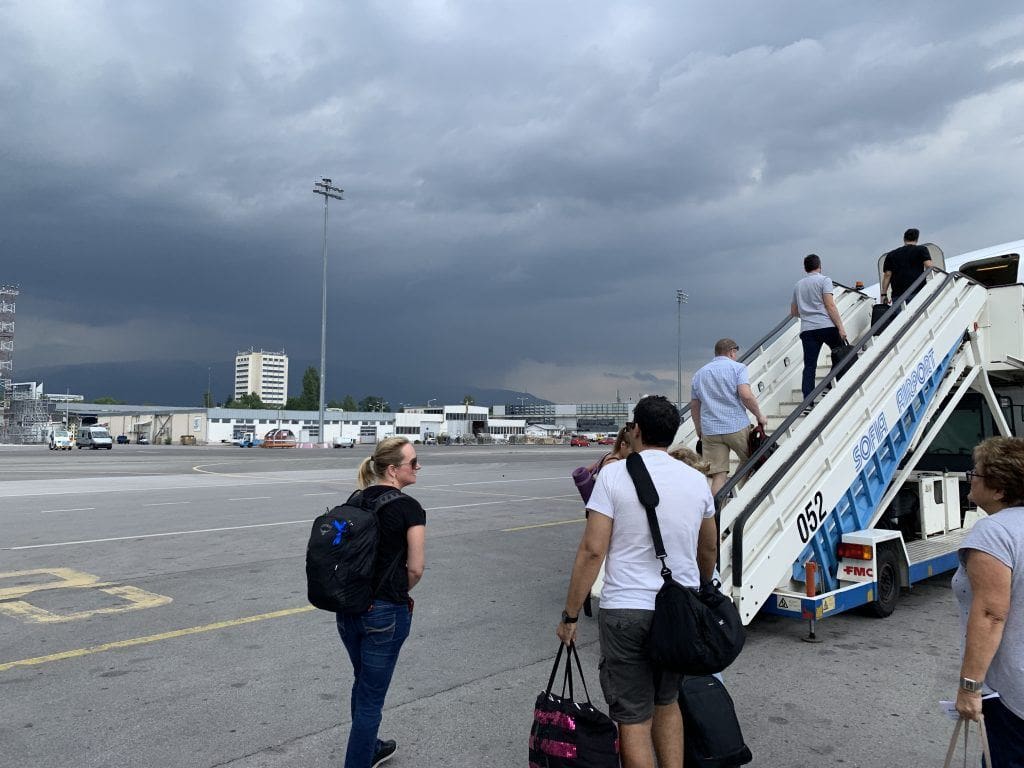 We walked up the stairs and found our seats.
Bulgaria Air Flight Sofia to Burgas
Apparently the pilots were nervous about the weather too because we taxied at top speed to the runway and took off within minutes.
And while we were glad to be off only a few minutes late, the impending weather made for a rough ride.
As uncomfortable as that was for us, there was a woman across the aisle from us who was clearly a very nervous flyer. She was gripping the back of the seat in front of her and praying loudly in Bulgarian. With each pocket of turbulence – and there were a lot – she seemed more and more like she was going to lose it.
But eventually we found smooth air and everyone settled in for the short flight.
The beverage options were a cup of water or a cup of coffee. We took water.
Landing and On to Sozopol
There were more bumps as well as more praying across the aisle on approach to Burgas.
But we landed without incident and made our way to the meeting point for the ride we had arranged from Burgas to Sozopol where we would spend 3 days: across from this Ilyushin IL-14 that was built in 1958.
Bottom Line – Bulgaria Air Review
Bulgaria Air's domestic service from Sofia to Burgas is about as no-frills as it gets.
It's not the cheapest way to get from Sofia to the Black Sea coast (a 4.5 hour bus ride from Sofia to Burgas costs 14 leva or $8 US), but it is the quickest!
Other Articles About Bulgaria