Why Sunny Beach Bulgaria as an Affordable Luxury Travel Destination?
The beach, asphalt boardwalk and swimming pools are wonderful.
Take a taste of the party scene.
There are plenty of affordable luxury accomodations.
It has a few excellent but affordable upscale restaurants.
Sunny Beach Bulgaria is the perfect base for a day (or two!) exploring the nearby ancient city and ruins in Nessebar Bulgaria.
We stopped in Sunny Beach Bulgaria on our tour of Bulgarian Black Sea beach towns starting in Sozopol, then Burgas, Sunny Beach and finally Varna.
Sunny Beach Bulgaria has a Reputation
Sunny Beach has a well-earned reputation as one of Europe's summer party capitals.
Clubs and bars are full revelers starting in June and they pack the town in July and August.
It's something of a successor to Prague for students, 20-somethings and stag or hen parties looking for a drinking (and other things!) holiday vacation.
The BBC and UK's Channel 4 have aired multiple 'investigations' and reality shows about Britons enjoying a bit of hedonism in Sunny Beach Bulgaria.
This has only encouraged more of the same from UK tourists!
There are those who despise this scene. As far back as 2011, Nomadic Matt famously wrote the post I Despise Sunny Beach.
We do NOT share that opinion. Not at all!
We Love Sunny Beach – And We are Not 20-Something Partiers!
Sunny Beach is what it says: an endless sandy beach.
The raucous nightlife is certainly there.
But so are are a water park and amusement park, long leisurely days of perfect summer weather on the beach or by the pool and some affordable upscale restaurants.
The fact is that Sunny Beach Bulgaria was specifically built (and named!) as a modern tourist holiday town.
It's not pretending to be anything else!
Anyone who goes to Las Vegas expecting a sleepy desert town is going to be disappointed. Anyone who goes to Sunny Beach expecting a relaxed beach atmosphere like Sozopol Bulgaria will be similarly disappointed.
Sunny Beach is a fun, vibrant, sunny and yes – at times – over the top hedonistic beach town full of too-drunk Brits stumbling about. But that's part of its charm! 🙂
So embrace Sunny Beach for what it is and you'll find your share of sun and fun!
And in any case, it's not all beach and pool and party in Sunny Beach.
The ancient UNESCO certified town and ruins of Nessebar are a short, cheap and easy bus ride away. Even if Sunny Beach wasn't there Nessebar would still be worth a visit!
Getting to Sunny Beach from Burgas
Our plan was to take the bus between Burgas and Sunny Beach.
But we had a VERY hard time finding information about it.
We couldn't find the bus schedule between Burgas and Varna anywhere.
Finally we decided that we would just pack up, walk to the bus station in Burgas and figure out how to take the bus between Sunny Beach and Burgas there.
Buuuuut….then it started raining.
So we thought about it some more.
And remembered that we like affordable luxury travel….which does not include walking in a downpour to the bus station for a bus that might or might not be available.
And so we booked a car from Burgas to Sunny Beach for about $28 US.
On the way we passed endless fields of sunflowers.
How to Take the Bus From Burgas to Sunny Beach
Don't worry, I'm not going to leave you hanging about the question of how to take the bus between Burgas and Sunny Beach…we did some more investigation once we got to Sunny Beach and figured it out for you!
Click here for our complete guide on how to take the bus between Burgas and Sunny Beach Bulgaria!
Where to Stay in Sunny Beach Bulgaria
Sunny Beach is nearly 10 km long. So there are lots of options for lodging.
The main party section of Sunny Beach is Flower Street.
We decided we wanted access to that nightlife but didn't want to live in the middle of it.
So we chose an AirBnB at Royal Sun Apartments about 1.5 km south of Flower Street.
The 1 br apartment itself was a bit small with a kitchenette. But what drew us to Royal Sun are the amazing swimming pools. 3 large circular swimming pools to be precise!
And Royal Sun Sunny Beach has a reception desk that handles AirBnB check in and check out so there is no waiting around for nor awkward interactions with the AirBnB host.
Royal Sun also serves a keto diet meal of all day English Breakfast! Lisa prefered their keto diet friendly fajitas!
The Royal Sun exactly meets our definition of affordable luxury!
Getting Around in Sunny Beach Bulgaria
As noted, Sunny Beach is 10 km long. And off of the southern end is the UNESCO certified town of Nessebar with recovered ancient ruins, shops and restaurants.
Getting around in Sunny Beach is super-simple.
There are taxis and pedicabs, but don't waste your time or money on those.
Take the City Bus in Sunny Beach to Get Around
There is a city bus that goes back and forth from Nessebar in the south to the tip of Sunny Beach in the north. There are about 20 bus stops along that stretch. So a bus stop will never be more than a half of a kilometer away from you on the beach road!
You wait at a bus stop, hop on the next one and pay the attendant on the bus a few leva.
The most popular stop, of course, is right on Flower Street.
We walked from Royal Sun to Flower Street a few times. But we also took the bus to Flower Street and also took the bus to Nessebar when we visited there.
Relaxing by the Pool and On the Beach
Sunny Beach is the name of the town and the name of the game!
Sunny Beach offers perfect beach or pool weather.
We spent the majority of our time in Sunny Beach lounging around the pool or on the beach.
The pool at Royal Sun is a circle. So instead of swimming laps we just swam in an endless circle. It was pretty weird but fun!
Nightlife on Flower Street
We also enjoyed a blow-out night on Flower Street. When in Rome, after all!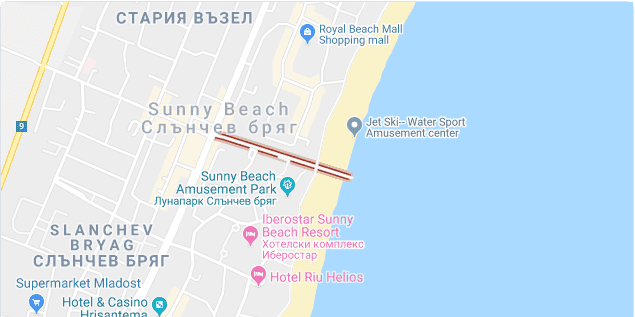 That said, we called it a night around 1am after some dancing at a club.
And the club seemed to be just getting going at that hour.
So we missed the heart of the 1 am to 5 am party scene! 😮
Affordable Upscale Dining in Sunny Beach Bulgaria
We found an affordable upscale restaurant in Sunny Beach called Restaurant Djanny.
It features classic Bulgarian dishes as well as some items catering to the western European tourist crowd.
Unlike the restaurants along Flower Street it strives for a more stylish and upscale clientele…and so charges higher prices.
We found lots of keto diet options on the menu as we did all over Bulgaria.
Service at Djanny is great, the food is very good and there is live entertainment in the form of a singer during dinner.
For us, it was a perfect example of an affordable luxury dinner.
And although we heard other patrons grousing about the prices compared to less upscale restaurants in Sunny Beach, our dinner there came in under $65 US including 3 courses and wine!
We had a shish. Which was delicius AND fun!
Bottom Line – Sunny Beach as an Affordable Luxury Beach Vacation
I always say that cliches are cliches for a reason.
And the cliche about Sunny Beach being a wild party town for Brits and other western Europeans is true.
But that doesn't mean Sunny Beach is ONLY about wild partying.
It's also about beautiful weather, sunny days by the pool or on the beach, affordable luxury accomodations and affordable upscale meals.
And, if you are up for it, a little partying too!
Other Articles About Bulgaria