Here is what you should do in Sozopol Bulgaria for Affordable Luxury:
Lay on the beach
Swim in the ocean
Explore the old town
Enjoy amazing Bulgarian food with amazing views.
Why Go to Sozopol Bulgaria?
The entire time we were in Sozopol we kept thinking: this place is like a beach town in Greece…but cleaner and cheaper! Affordable luxury!
Located 35 km south of Burgas on the southern Bulgarian Black Sea Coast, today Sozopol a major seaside resort.
But it also features a beautiful old town with dramatic sea views.
Often overlooked in favor of more popular Bulgarian Black Sea destinations like Sunny Beach and Varna, Sozopol offers a far more laid back beach experience.
While there are plenty of beach-going tourists, it's decidedly not a party town. You won't find the stag and hen party crowd or club party scene in Sozopol the way you do in Sunny Beach and Varna.
What you will find are lazy days on the beach, long lingering dinners and traditional dancing at restaurants (like we say: it's like Greece but cleaner and cheaper!).
Further, Sozopol's history dates back to antiquity. Thanks to excavation efforts you can explore some of that history.
Shoulder season in Sozopol is May to late June and high season is July and August.
Tourists from around Bulgaria and the world have learned to love Sozopol for its summer weather, the sandy beaches, the history and culture as well as the excellent restaurants…many with amazing views.
For us it was the perfect place to for an affordable upscale beach vacation.
Getting to Sozopol Bulgaria for Affordable Luxury Travel
We flew on Bulgaria Air from Sofia to Burgas after spending 3 days exploring Sofia.
We had a car meet us there and drive us the 40 minutes or so from Burgas airport to our homestay in Sozopol.
There are cheaper ways to make the trip from Burgas Airport to Sozopol – you can take the bus for as little as $3 US. But there is a transfer and it takes over an hour. And it won't drop you off at your specific lodging.
So we appreciated the convenience of having a driver meet us. And this affordable luxury was only 50 leva ($29 US).
Where to Stay in Sozopol?
There are two basic choices when deciding where to stay in Sozopol: the beach to the southeast of old town or old town itself.
There are a few resorts west of old town, but those are a bit secluded for our taste.
We were looking for an affordable luxury beach vacation with a little bit of time in old town.
So we chose a 1-bedroom apartment with seaview near the beach in the Apart-Hotel Onegin & Spa.
It is a block from the Black Sea beach and a 10-minute walk from the old town.
Best of all, it has TWO outdoor pool – one of which has a long lap lane for swimming.
We took advantage of that pool to get in our swimming exercise that we had started when we were in Chiang Mai, Thailand for six weeks.
From an affordable luxury perspective, an upscale flat like this would cost several hundred US dollars a night in other beach towns.
It was a small fraction of that in Sozopol.
Exploring Old Town Sozopol
Although we came to Sozopol to lay on the beach, our first order of business was to explore the old town.
The walk from our homestay to old town was relatively easy: up and over a hill then down into the peninsula of old town.
The first thing we saw walking into old town was a traditional dance competition well underway! So we stopped to watch for a bit.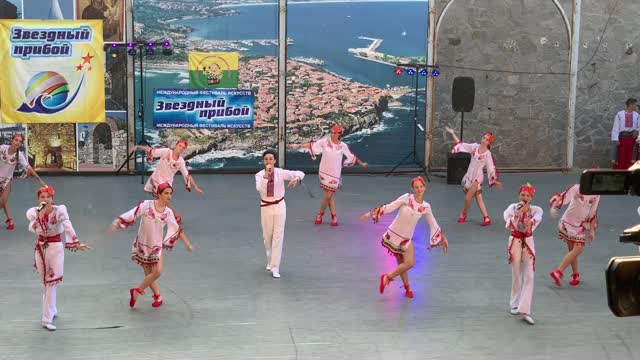 Moving on, we spent some time exploring the pedestrian shops in the old town.
Then we explored the ancient as well as Medieval history of Sozopol.
But if I'm honest the highlight of our visit to old town was sitting at a crossroad in the pedestrian area sipping Aperol Spritzes and just enjoying the atmosphere and people watching.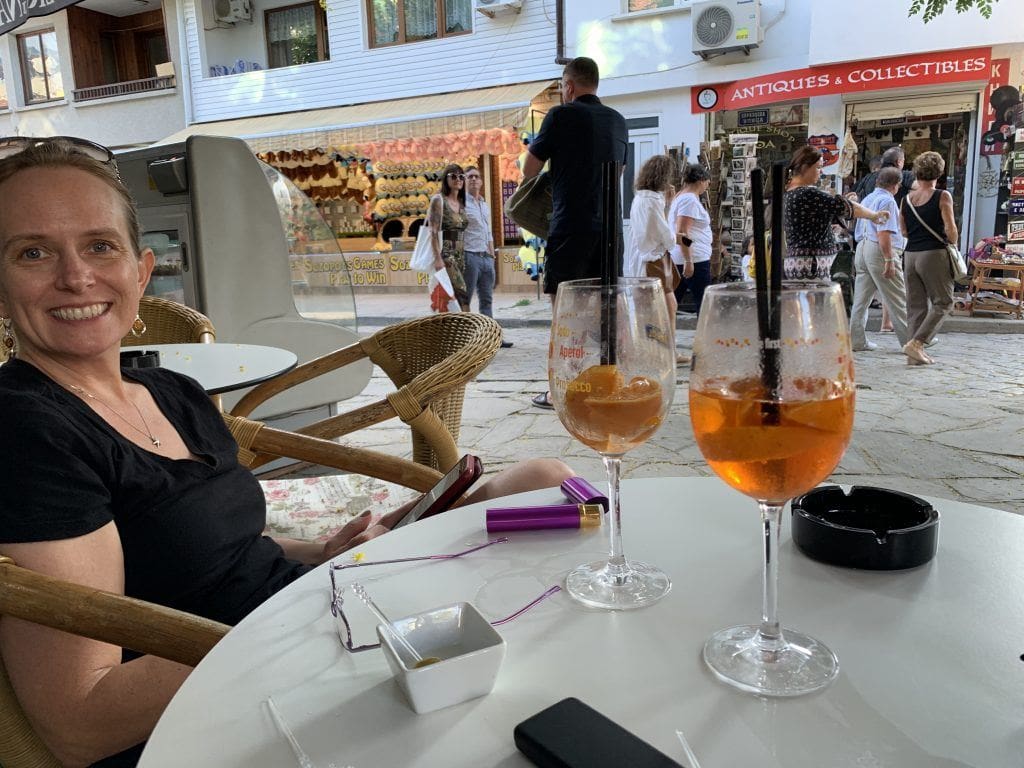 Beach Day in Sozopol
Exploring old town was interesting but we went to Sozopol for an affordable luxury beach vacation!
All of the beach space in Sozopol is public.
And finding a place to lounge on the beach is simple:
Lay your beach towel on the sand or use your own beach chair and/or beach umbrella: no charge but you will be further back from the sea.
Use your own towel or chair under an umbrella: small charge
Grab a lounge chair under an umbrella: slightly higher charge (this was us!)
Massages are also on offer on the beach in Sozopol. And the prices are pretty good: 60 minutes for $30 US.
Later that day we headed up to the central beach and had a cocktail at the Ginny Bar.
The beach there is far more narrow but the sea seemed flatter.
Where to Eat in Sozopol Bulgaria for Affordable Gourmet
We love Bulgarian food. And we discovered in Sofia how keto friendly it can be.
Affordable upscale meals with amazing views abound in Sozopol.
Dinner with a Sunset View in Sozopol – Panorama Restaurant Old Town
Panorama Restaurant is on the tippy top of the Sozopol old town peninsula.
We had one of the most gorgeous upscale dinners that we have ever enjoyed, both in terms of the view and the food.
The view at sunset was absolutely spectacular. It's well worth getting to Panorama a bit early to take in the sunset over dinner.
As for the food, we had the famous Bulgarian Shopska Salad. Then another traditional Bulgarian starter of eggs Shopski style (in a clay pot).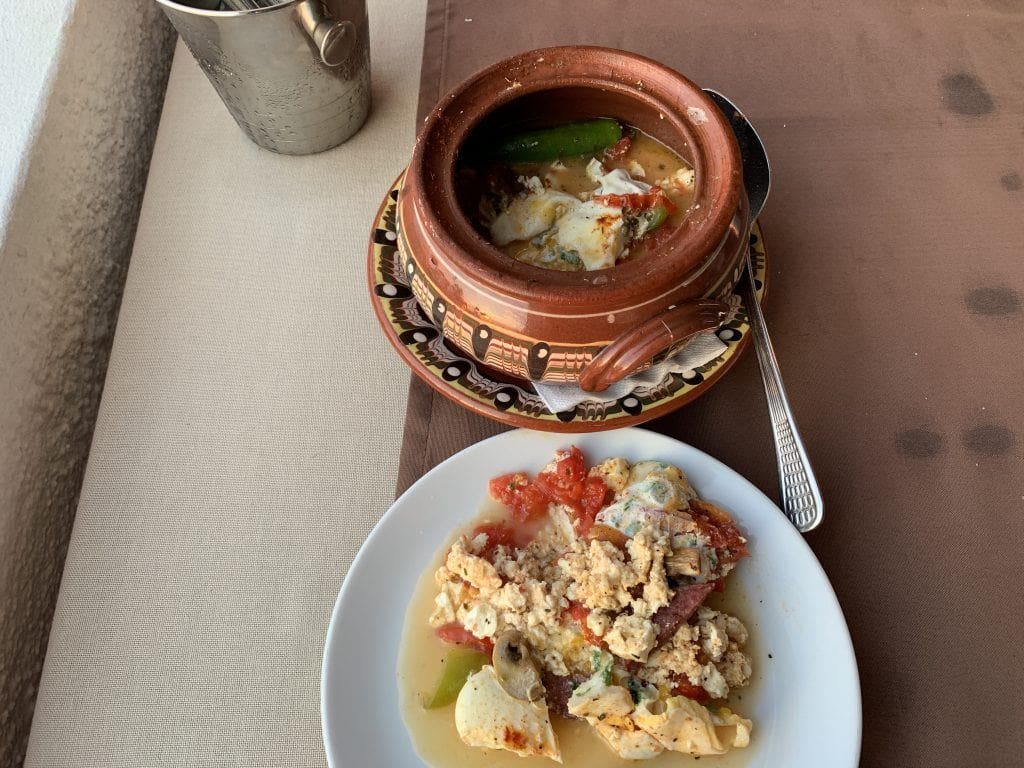 Then I had fried small bluefish and Lisa had a Mediterranean Sea Bass.
We liked them. A LOT!
Between the food and the views Panorama is a dining experience we'll never forget.
It was a pretty cheap upscale experience!
Dinner with a Beach View – Veranda Restaurant
We had another dinner with a view at a restaurant called Veranda with a lovely view of the beach.
This time we went with a selection of keto friendly meat: chicken wings and pork ribs!
But you can't go to Sozopol and not see some restaurant dancing!
Lunch in Sozopol Bulgaria for 3 Days
Just behind the beach in Sozopol is a dusty little beach road.
The beach road is lined with restaurants, shops and…our favorite kebab doner stall. We had a keto friendly lunch of meat and salad here every day in Sozopol! It was delicious, fast and cheap!
Bottom Line – Sozopol Bulgaria for Affordable Luxury
If you are looking for a laid-back affordable luxury beach vacation then put Sozopol Bulgaria on your list.
We recommend visiting in shoulder season when you'll find even more affordable luxury.
We would have liked to have stayed longer, but we were off to check out the next beach town up the road: Burgas Bulgaria.
Other Articles About Bulgaria