The Bulgarian Rail Network
The Bulgarian train network spans over 4000 km and connects all of the major cities and towns in Bulgaria.
The main rail hub is Sofia. From Sofia there are international connections to Serbia, Greece, Romania and Turkey. International service to Turkey is also available from Plovdiv.
The national railway company is the Bulgarian State Railways (BDZ).
Bulgarian trains are antiquated and slower than buses between cities. So if you are looking for the fastest way to get around Bulgaria then the Bulgarian train is not your best option.
But if you are not in a hurry taking the Bulgarian train is a unique experience that is retro and cool. The train cars have a very communist feel – they appeared to us to be old East German passenger cars.
Riding a Bulgarian train gives you a feel for what life was like in communist Bulgaria in ways that are both positive and negative – but always interesting!
Bulgarian Train Types
There are three types of Bulgarian Trains: ekspresen (express), barz (fast) or patnicheski (slow).
Express trains and fast trains connect the major cities while the slow trains provide connections to the smaller or more remote towns.
Classes of Service
First-class compartments on Bulgarian trains seat six people.
In second class, the same size compartments seat up to 8 people. However, on our train from Varna to Plovdiv our second class compartment only had six seats. As with so many things in Bulgaria, you never know exactly what you are going to get until you get it!
The intercity express has open carriage seating.
Sleeper compartments are available between the bigger Bulgarian cities on night trains between Sofia, Burgas and Varna. These do require a reservation in advance.
Fares for first class class are about 25% higher than for second class.
Cost
Travelling by train in Bulgaria is cheap. An express cross-country trip between Sofia and Varna costs about $20.
Our one-way second class Bulgarian Train tickets from Varna to Plovdiv cost 18.60 leva ($10.70).
Reservations
Bulgarian train tickets can be booked in advance. We were able to book using the BDZ online ticketing system.
To their credit, BDZ is very upfront about the fact that you may have a hard time booking a reservation online. Their web site explains that the online booking system is a pilot and is part of "a system that is to be built." You can only book online on major routes and even then the system is a bit buggy.
But when it does work it also allows advance seat selection.
We reserved and paid online then had to go to the train station in Varna to pick up our tickets. The Bulgarian train station ticket office staff we encountered only spoke Bulgarian. So we had to use the Google Translate app to communicate with them. Others we have talked to about Bulgarian trains have had similar experiences at Bulgarian train ticket offices.
Advance tickets are advisable on train services such as the intercity express and fast trains to the Black Sea during a summer weekend. Advance tickets are available online or at specific counters within larger train stations. Check the BDZ website for more details
That all said, reservations are not necessary between the main cities. You can simply turn up at the station and purchase a ticket for the next train.
Bulgarian Train Varna to Plovdiv
After enjoying an affordable luxury beach vacation in Varna Bulgaria we decided it would be fun to take the train to our next Bulgarian destination: Plovdiv.
There are 3 nonstop fast trains from Varna to Plovdiv in the summer.
Our train departed Plovdiv at 4:30 pm and arrived in Plovdiv at 10:10 pm, for a total travel time of about 5 and a half hours.
Varna Train Station
We walked from our affordable luxury homestay apartment in Varna to the Varna Train station and arrived about a half an hour before departure.
There is not much of a waiting area in the station so we just went out and climbed on our train from Varna to Plovdiv. It was only 3 passenger cars long.
Our Bulgarian Train
As noted, Bulgarian trains have a very communist Bulgaria look and feel.
We made our way to our compartment were we had booked seats facing each other next to the window so that Lisa could face forward (and avoid getting motion sickness) no matter which way the train moved.
We were pleasantly surprised by the size and comfort of the seats in our second class compartment. For $10 these seats definitely fall under the category of affordable luxury!
Even better, there were only 2 other passengers in our compartment leaving lots of space to spread out.
But it was a hot afternoon in Varna. And Bulgarian trains have no air conditioning. And it was HOT.
Worse, the window in our compartment was locked shut!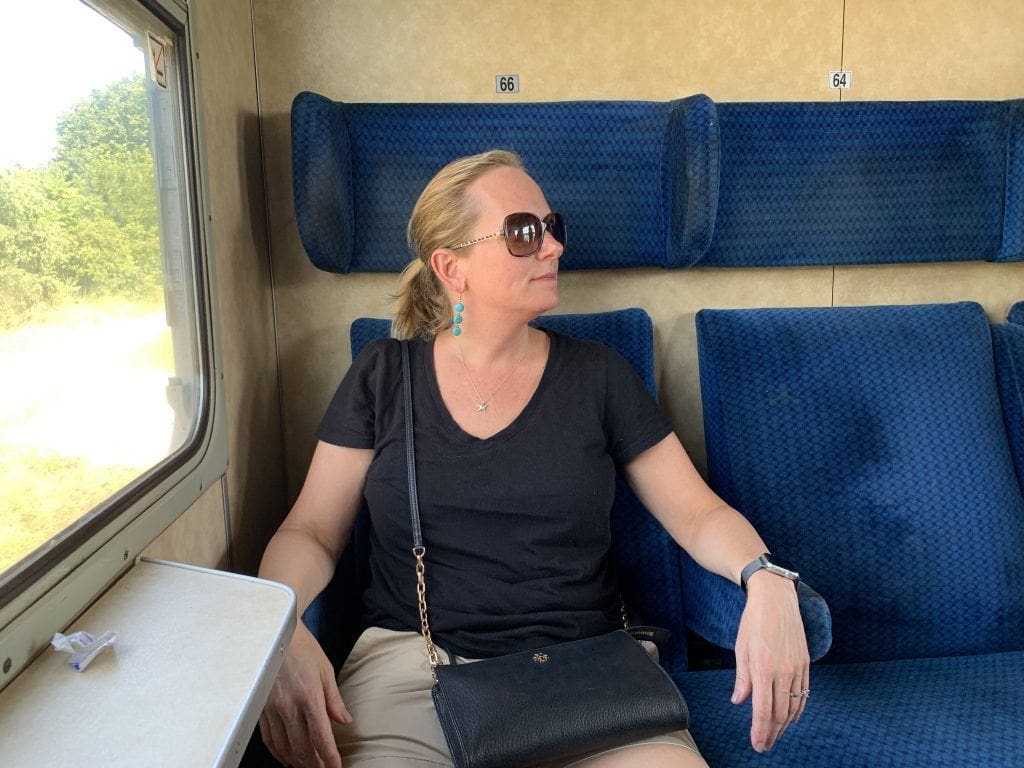 So Lisa tracked down the conductor who managed to unlock and open the compartment window.
He also looked at our tickets and marked us as present.
The entire train had a very retro feel to it. That part was cool.
But the 'retro' toilet was just a seat with a wide pipe that opened to the tracks below. That was less cool.
Bulgarian Train Ride From Varna to Plovdiv
Taking the train across Bulgaria provides an excellent opportunity to enjoy the countryside and landscapes.
In eastern Bulgaria we passed mile after mile of sunflower fields that stretched as far as the eye could see!
As we made our way south and then west the Balkan mountains grew from small foothills into towering peaks.
And we rode on into a beautiful Bulgarian sunset.
Our compartment mates and nearly everyone else on the train got off at the Stara Zagora station. So from there it was just us and 3 other people on the train the rest of the way to Plovdiv.
There is no cafe or snack car and our train ride lasted through the dinner hour. So we brought some heavy keto snacks and wine that we drank from plastic cups.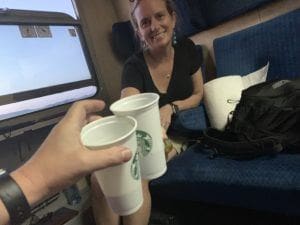 Our Bulgarian train pulled into the Plovdiv train station a little after 10 pm – right on time!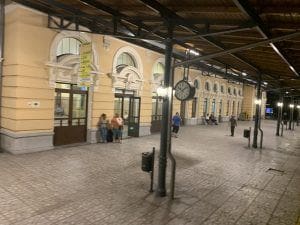 Bottom Line – Bulgarian Train Service
Taking the train in Bulgaria is not the fastest way to get between cities. But it is a cool retro experience.
Other Articles About Bulgaria