Compact Travel Accessories and Travel Hacks From Full Time Travelers
We have used each of these travel gadgets, travel accessories, travel apps and travel hacks during full-time travel and recommend them.
Lisa wrote our posts about travel clothes for women and travel clothes for men as digital nomads because, frankly, she's the clothes shopper in our relationship.
I get to write this one because I am the gadgets, accessories and apps person in our relationship…mostly!
What Goes in Our Bags?
We packed all of our belongings into a single bag (that I will talk about in a minute!).
For something to earn a spot in that bag it has to be necessary, functional and as small as possible. Either that or create room by tightly organizing other items.
11 Brilliant Compact Travel Accessories and Travel Hacks
Watch American TV While Traveling
For me the ultimate travel hack is being able to watch American TV while traveling.
Watching American TV while traveling makes me so happy that I covered the issue of How to Watch American TV While Traveling in detail in a different post. In terms of hardware – other than a laptop – the only travel accessory you need is a compact HDMI cord.
To keep things packed tight I have one as short as practical.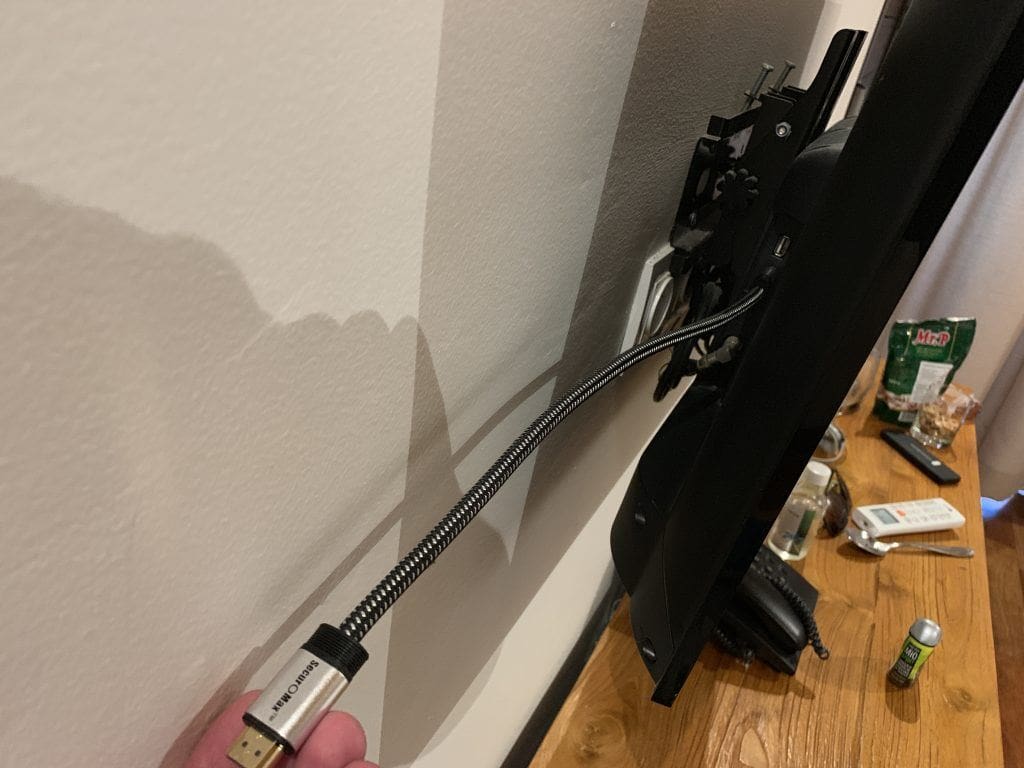 Book Onward Tickets for Visas at OnwardTicket.com
Having loose travel plans is an amazing way to live. We love keeping our travel options open by booking one-way tickets to a destination and then deciding where and when to move on whenever we're ready to.
Unfortunately immigration authorities don't always take kindly to visitors who don't take a traditional round-trip ticket approach to visiting their country.
They worry that unless a traveler has an onward ticket you might just decide to overstay your visa and stay in their country illegally. And so they want to see an onward ticket that shows you have a flight booked to leave their country on a certain date.
And sometimes airlines will enforce this onward ticket requirement because they will be responsible for flying you back to where you came from if a country rejects your entry.
For example, Lisa and I were recently flying from Orlando to Montego Bay Jamaica in Spirit Airlines Big Front Seats. Our plans were to spend a week with my parents in their happy place in Negril Jamaica. But we had no idea what we would do after that. Explore the island? Visit friends in Miami? Pop over to the Dominican Republic? We hadn't decided yet.
But when we went to check in for our Spirit Airlines flight they wanted to make sure we had onward tickets to leave Jamaica before giving us boarding passes.
Luckily there is a cheap and easy way to provide an onward ticket to airlines and immigration officials.
OnwardTicket.com provides onward flight reservations instantly. For $12 you can make a 100% real reservation from a real travel agency. You can check the validity of your onward ticket on major airlines websites.
After you pay, you get a booking with a pdf that you can show at the airline check in counter or to immigration officials on your phone or you can also print the pdf as proof of onward travel.
Onward Ticket flight reservations are valid for a minimum of 48 hours and then are automatically canceled.
Booking an Onward Travel reservation is a cheap and easy way to have proof of onward travel when you have loose travel plans as we often do!
Reading Books While Traveling
Lisa and I are both avid readers.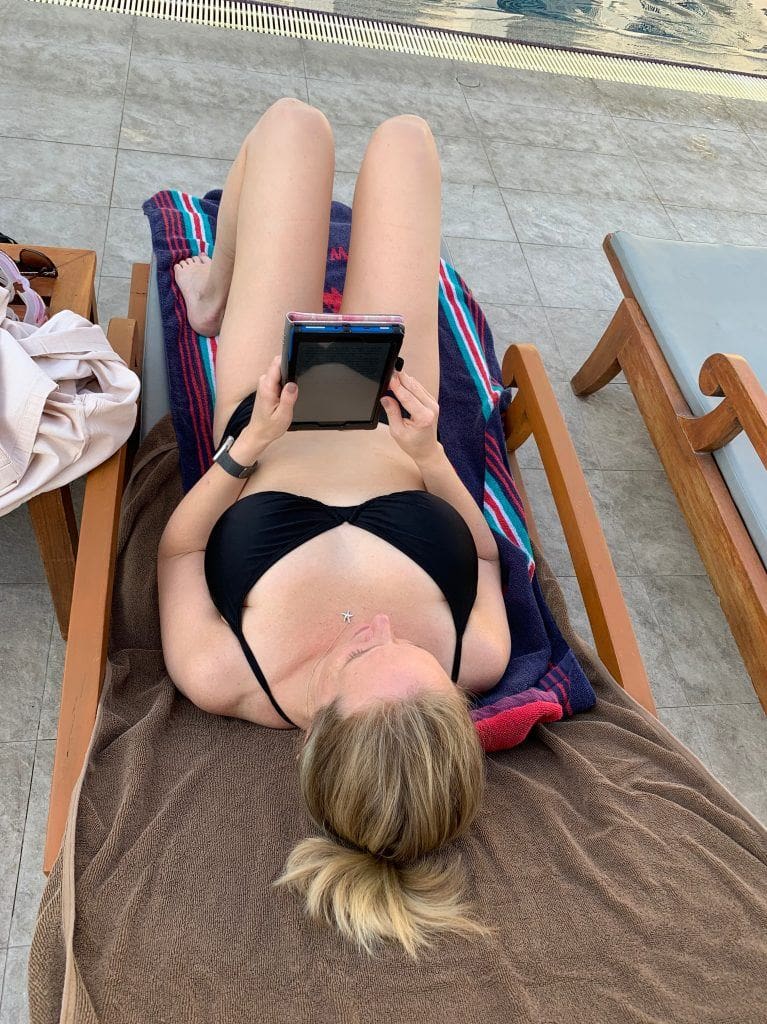 I have an iPad and Lisa has a Kindle Fire but we both use the free Kindle reading app to read for pleasure.
Lisa also reads books on her iPhone and the Kindle reading app works great there, too.
The Kindle Unlimited Plan is perfect for both of us.
A Kindle Unlimited subscription gives you access to over one million titles in the Kindle Store, including books, audiobooks, and magazines.
You can browse and 'borrow' up to ten titles at a time and access them from any Amazon device or Kindle reading app anywhere in the world.
Lisa reads a LOT faster than me…she will sometimes read 2 books on a single flight. I'm a bit slower – it took me a couple years to read the entire Harry Potter series.
But with so much travel time we both read a lot more than we used to!
If you haven't tried Kindle Unlimited before, you can sign up for a free trial.
Mail Service
An obvious question for anyone who is out of the country as much as we are but still runs a business is: what about U.S. Mail while traveling full time!?
Even though we can conduct 98% of business online, there are some tax and business registration issues that still have to be handled by snail mail during full time travel.
Traveling Mailbox and the Traveling Mailbox app is a brilliant travel hack that we use.
They provide a real physical street address that is unique to us – ours is in Orlando, Florida. When our mail arrives, they scan the outside of the envelope and then we tell them to scan the contents, forward the item, shred it, return it, or hold it.
If an envelope looks like it contains something important we have Travelling Mailbox open and scan it for us to read. That way we can view our postal mail online anywhere in the world.
They will also forward mail and even deposit paper checks that we receive in the mail for us.
Traveling Mailbox is a godsend in terms of running an online business from anywhere in the world.
As far as travel hacks go, Traveling Mailbox is high on our list.
Travel Bags/Backpacks
I can't recommend this bag more highly. It. Is. AMAZING.
It's a wheelie bag! It's a backpack! It's BOTH!
And it comes with a detachable day-bag/laptop backpack….it's literally two backpacks in one. Or a backpack and a wheelie. Or just a single bag! The bag(s) just provide so much flexibility.
And it's the perfect size for carry-on travel. There isn't an airline in the world that will reject it as cabin luggage based on size. And yet it can hold every piece of clothing and travel accessory I own.
We consider it to be the perfect bag for our non-stop travel adventure and it's the greatest investment in this lifestyle that we ever made.
Osprey Ozone Convertible 22″ Wheeled Backpack
Daypack Travel Accessory
We also carry a HIKPRO foldable daypack that converts from a good-sized backpack into a tiny cube and doesn't take up much precious space in our bags.
We use it all the time for a day at the beach or walking around a new city.
Compression Packing Cubes Travel Hack
After reading infinity reviews and watching some youtube videos of nomad bloggers using them we decided to invest in some Eagle Creek compression packing cubes.
The zipper compression technology does really save space…it would be impossible to fit the 34 articles of clothing that I own into our small Osprey without them.
They also keep clothes organized. So, for example, when I know we'll be in a warm weather climate I keep the two pullovers that I own compressed and stored in the compression packing cubes.
These packing cubes are both a great travel accessory as well as a great travel hack!
Eagle Creek compression packing cubes.
Travel Electronics Organizer
Until we launched as digital nomads my laptop backpack used to be full of a jumble of wires, converters, power cords and adapters. Can you relate!?
But that just wouldn't work traveling full time.
So I got a BAGSMART Electronic Organizer Travel Cable Organizer Bag Portable Electronic Accessories Case to organize all of my cords, wires and peripherals.
Now they are all in a compact little travel accessory bag and I can find what I need in a jiffy!
BAGSMART Electronic Organizer Travel Cable Organizer Bag Portable Electronic Accessories Case
Travel Shampoo and Conditioner Bars
This one is Lisa's absolute favorite travel accessory and travel hack!
As digital nomads we don't always stay at places that have shampoo and/or hair conditioner. At VRBOs/AirBnBs/Guest Houses, it's almost always a no.
And Lisa uses a LOT of conditioner…a full 'travel size' bottle per shower!
Which makes using carry-on travel-size bottles a waste.
But the Ethique Eco-Friendly Conditioner Bar and Ethique Eco-Friendly Solid Shampoo Bar are bars like a bar of soap. But they are HAIR CONDITIONER and shampoo!
These bars are a HUGE travel hack because they are so small and so…SOLID!
And since they are solid, they don't take up precious space in the TSA carry on quart-size liquids bag!!!
With these bars I don't have to make stop at a local bodega or 7-11 or M-Mart to pick up a big bottle of hair conditioner in each new city we fly to.
And it means not leaving the big expensive bottles of shampoo and conditioner behind every time we carry on luggage for our next flight.
Carrying one of these shampoo bars 'just in case' means never shampooing with a bar of soap!
And one bar is the equivalent of THREE big bottles of hair conditioner!
These bars have saved time, money AND Lisa's hair! Now that's a travel hack!
Ethique Eco-Friendly Conditioner Bar and Ethique Eco-Friendly Solid Shampoo Bar
Travel Accessory Reading Glasses
I use readers.
There, I said it!
And for full time travel, I use Foster Grant Gavin Fold Flat Rectangular Readers.
Glasses and glasses cases are big and bulky. They take up way too much of our precious bag space.
But these glasses fold up so flat and small that I can fit them anywhere: squeeze them in a bag, carry them in my front pocket, or toss them in Lisa's purse when she's not looking! 🙂
They are a compact travel accessory, they look great and they work.
I actually brought 5 pairs on our adventure because, as Lisa likes to say, 'Matt Loses Things'. But so far I've only lost 1 pair!!
Foster Grant Gavin Fold Flat Rectangular Readers
Travel Wedding Ring
When we got married Lisa gave me a gorgeous platinum wedding band.
But it cost thousands of dollars so there was no way it was going to travel the world with us.
At the same time, we agreed that it would be weird if I didn't wear a wedding band.
So I started trying on rubber wedding rings as a travel accessory.
It was a trial and error process. It was really hard to find one that would fit correctly AND look good.
I highly recommend the ROQ Silicone 6mm Metallic Silicone Rubber Wedding Band.
It's a good thickness, fits nicely, looks sharp and is cheap. The perfect travel accessory!
I bought the seven-pack because Matt Loses Things. So far I have lost six of them. 😮
It's a really good thing I didn't bring my platinum wedding band!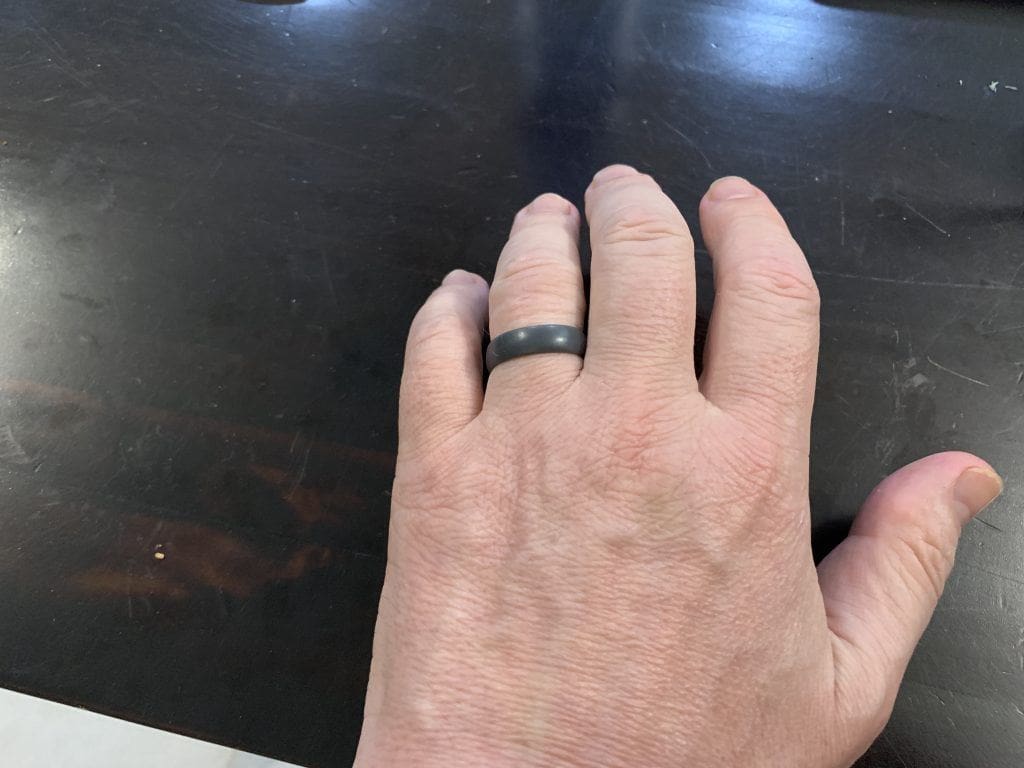 ROQ Silicone 6mm Metallic Silicone Rubber Wedding Band.
Currency Exchange App
Math is not my strong suit. So a currency exchange app is critical to a lifestyle where we are constantly changing countries and currencies.
All I want is for my currency exchange app to be fast and simple.
I like and recommend FastCurrencyConverter.
It just does what it says: converts currency fast. It is customizable and the user interface is clean and simple. Love it!
Translator App Travel Accessory
This one is simple: Google Translate.
Get the app from the app store, download the languages you need in case you end up offline and you're ready to go.
With this app you and the person you want to communicate with can type, write or speak a sentence and it will be translated.
And it works best if you keep your sentences basic and in their most simple form.
Typing always gives better results than speaking. For example, Vietnamese is a tonal language. So if a Viet is speaking into your translator, the app may have difficulty.
Of course, if your conversation companion is illiterate, voice will be your only option.
But the good news is that the app can speak the translation as well, so being able to read is not a requirement for communication using the app.
So keep the sentences short, simple and to the point. And you can get along well enough in any language.
Sometimes the best travel accessories are the most obvious ones!
Bottom Line
These are some of our favorite travel accessories and hacks as digital nomads.
I hope you find them useful and HAPPY TRAVEL HACKING!
Related Content