Getting any visa to visit Vietnam is a bit tricky. Here is how we got our multiple entry Vietnam tourist visas.
First, credit where it is due, we had read and studied up on getting our Vietnam Visas, but then this enthusiastic dude Ty Livingston showed up on one of the Facebook digital nomad groups we belong to and he steered us well.
Americans (like many nationalities) are a bit spoiled when it comes to obtaining tourist visas.
U.S. citizens and nationals can travel to 165 or so countries visa-free or with visa on arrival, including most countries in Europe and South America.
But there are some big exceptions. Among others, Americans need to get advance visas to Brazil, China, Russia, India, many African countries and, of course, Vietnam.
Vietnam Tourist Visas
The two basic approaches to getting a visa to visit Vietnam are:
Apply at an embassy or consulate in your home country. You'll need the visa application, your passport, a passport photo and correct fees.
Use the Visa on Arrival process. Since we were already in Chiang Mai, Thailand we used this approach.
Vietnam Visa on Arrival
If, like us, you don't have the time, inclination or ability to visit an embassy or consulate, Vietnam offers an option to apply for an approval letter online that allows you to pick up your visa upon landing at international airports in Vietnam.
These letters are offered by private service providers in Vietnam and require a fee. If you google Vietnam Visa you will find hundreds of these service providers:
These service providers try hard to look 'official,' but don't be fooled: they are all private providers providing the same basic service. That said, you do have to choose one!
They all have the same basic process:
Submit an online form for the pre-approved visa letter.
Receive the visa letter in 3-5 working days (for a higher fee it can usually be processed in just 2-3 hours)
Prepare all documents including a visa photo and required stamping fee then board the plane to Vietnam.
Upon arrival find and stand in the queue for Visa on Arrival where you show your letter, hand over your photo, pay your fees and get the visa passport put into your passport. Depending on how many planes land at the same time as yours (and how big they are) this can be somewhat time-consuming.
Go to the immigration queue and show your new visa to the immigration officer and get your passport stamp.
Our Approach to Visa on Arrival: Fast Track!
Since the visa service is pretty much standard, I did some shopping based on price and reputation. In the end I accepted Ty's recommendation above and engaged SNVI Visa Services (note: I am in no way affiliated with SNVI nor are they an affiliate or kickback partner…I am simply a satisfied customer!).
Their prices are competitive:
And their reputation is stellar.
What caught my attention, though was a little FAST TRACK tick box I came across as I was applying for our 3-month multiple entry visas:
Jump a queue for $20? We decided to give it a shot!
Communication from SNVI was awesome and proactive. They kept us informed at every stage. They also let us know that when we landed we were to be met not at the gate, but at the immigration hall.
The fees $90US fees broke down like this:
$22.50 3-month multi-entry fee to SNVI
$20 Fast Track Fee to SNVI
$50 stamping fee to the Socialist Republic of Vietnam
The stamping fee is meant to be paid in cash directly to the Visa on Arrival desk, but one of the advantages of SNVI Fast Track is that you can add that government fee to your credit card payment at time of booking. Then they pay the cash to the Visa desk as part of the Fast Track service.
SNVI Fast Track Visa Service Worked Great
When we arrived from Chiang Mai on AirAsia there was indeed a man waiting for us with our names on a welcome board at the entrance to the immigration hall.
He took our passports and escorted us to a seating area and said he would be right back. We were a bit skeptical because the Visa on Arrival area was packed with people.
But our guy went around that whole mess and walked up to the desk where we lost sight of him.
Less than 10 minutes later he was back with visas applied to our passports!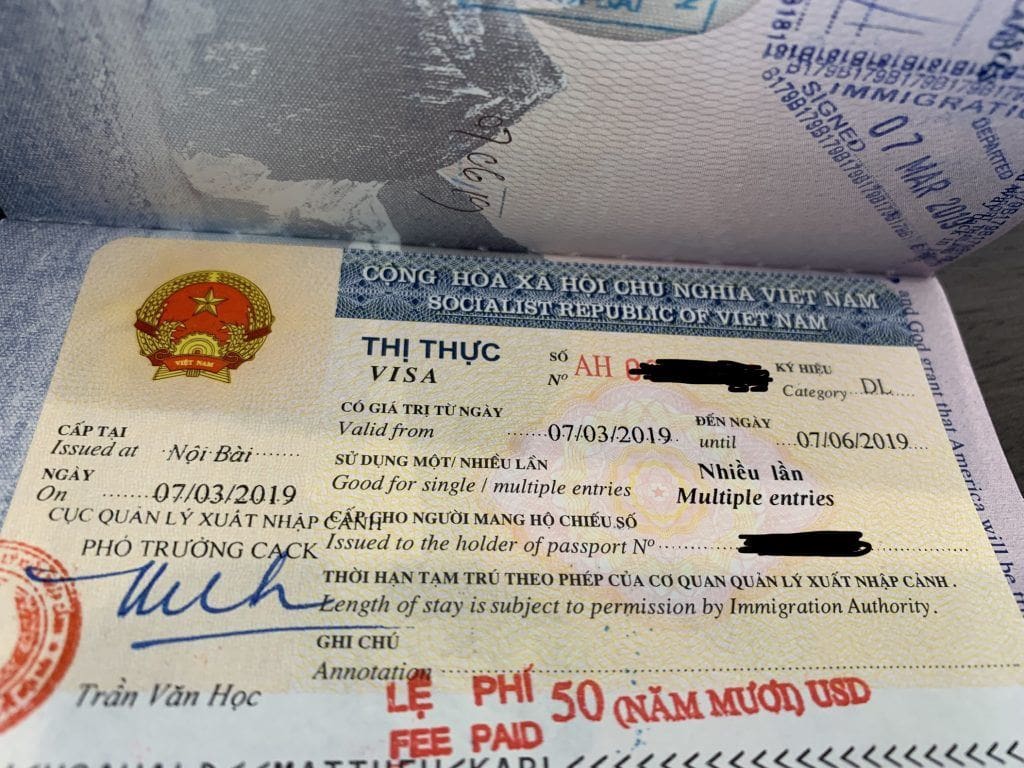 Was the convenience worth $20 pp? It is of course budget dependent, but we thought so!
Bottom Line
Getting a visa to visit Vietnam seems a bit tricky. Find a trusted service to partner with and you will be just fine!