As full-time travelling digital nomads we've learned how to avoid Airbnb scams.
We live in short-term rentals or homestays all over the world 11 months out of the year, often booked through Airbnb, VRBO or Booking.com.
And we've definitely had some mishaps. One time in Penang Malaysia we were soft evicted from an Airbnb. And once in London we had a host cancel our Airbnb at the last minute leaving us scrambling to find a place to stay.
We have learned a lot and so we are happy to share our tips and tricks to avoid Airbnb fraudsters.
Airbnb, VRBO and Booking.com as well as other booking services offer alternative lodging including homestays and guest housing in private homes and apartments.
Technically speaking, homestays are when you rent a room in housing where the owner lives. You share the house or apartment with the owner during your stay.
Guest housing is when you rent the entire house or apartment from the owner.
Homestays and guest housing have become very popular alternatives to hotels. They are ideal for slow travel or for tourists who want to experience the local community and culture of the place they're visiting. They provide affordable accommodation alternative to people who are visiting a place for a short stay or an extended period of time.
Airbnb and VRBO are very similar in that they only sell homestays and guest housing while Booking.com sells homestays, guest housing as well as hotel rooms.
We use Airbnb, Booking.com and VRBO all over the world.
Airbnb, VRBO and Booking Stays are the Ultimate Travel Hack
Using Airbnb, VRBO and Booking to rent lodging is the absolute best travel hack in the world. They make our affordable luxury travel lifestyle possible.
We've used them in Thailand, Bali, Australia, Vietnam, Malaysia, Central America, South America, the UK, France, Germany, Poland, Bulgaria, the US and many, many more. And by using these services we pay a fraction of the cost for lodging but get big luxurious apartments instead of tiny hotel rooms.
And along with those amazing cost savings we get a kitchen – which is a cornerstone of maintaining our travel keto diet!
For example, we booked an enormous 2 bedroom 2 bath flat in the Islington area of London for $111/night. Tiny hotel rooms at the nearby Doubletree hotel cost 3 to 4 times that price!
We stayed at an Booking.com flat in the Kapana Luxury City Center Apartments in Plovdiv Bulgaria for $39 a night and it came with this enormous patio!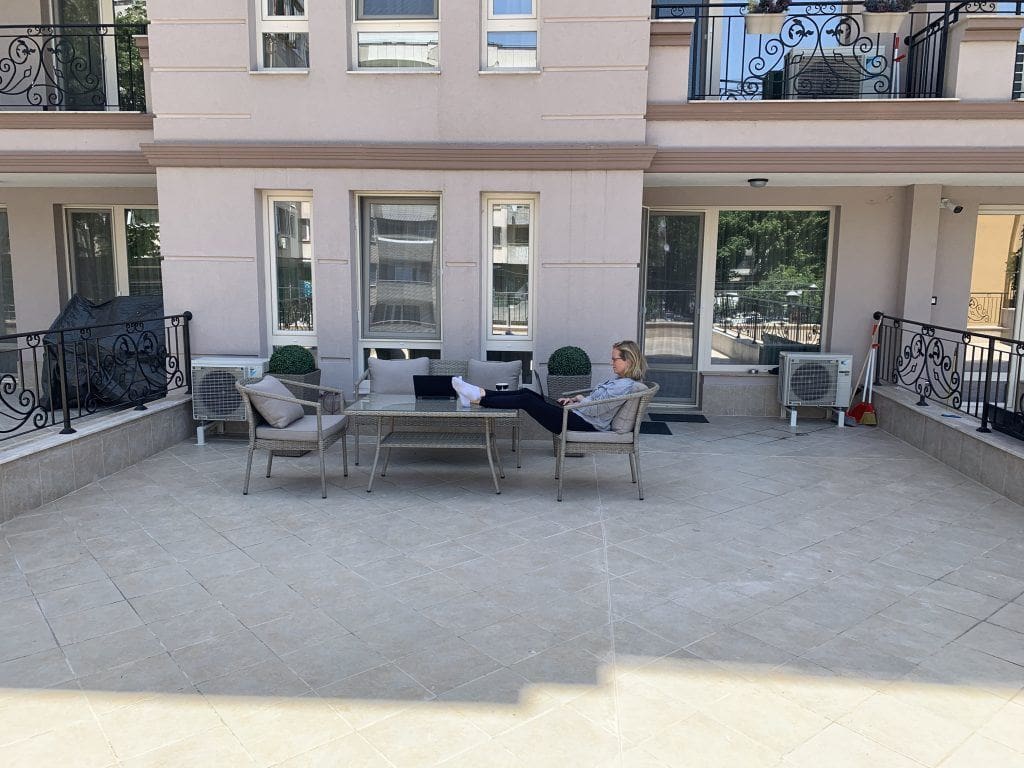 And we rented a 4 bedroom apartment in Rome with friends. 4 nights for $1361 or $340/night. Divided by 4 bedrooms we each only payed $85 per room per night in Rome for a fantastic apartment that is walking distance to the Colosseum in a cute neighborhood!
The examples from all over the world go on and on!
But like all travel hacks, this one works best when you know what you are doing.
Many people have read stories of Airbnb scams where the apartment looks nothing like the listing. Or the host canceled a booking at the last minute. And this makes them scared to book an Airbnb.
That's a shame because it's easy to learn how to take advantage of the greatest travel hack in the world without being scammed.
So read on!
How to Research Properties to Avoid an Airbnb Scam
The key to a good Airbnb, VRBO or Booking.com experience is research. Just like everything else in travel (booking a hotel room, booking a tour, etc.) a little knowledge and diligence is your best protection from being scammed.
Start by looking at as many properties as possible on the booking services and carefully reading reviews of the properties. Depending on the location we typically spend 1 to 3 hours researching before booking on Airbnb, VRBO or Booking.
Reviews tell you a lot more about a property than whether people liked it.
Beware of Properties with Few Reviews
Any property with under 15 reviews is a giant red flag: it might be a property that is new to the booking services…but it may be a scam. We don't even look at places that have zero reviews unless we are desperate.
The greater the number of reviews the more comfortable you can feel that what you see in the listing is what you will get when you arrive at your Airbnb.
The general rule of thumb for a property with few reviews is: if it seems to be too good to be true then it likely is.
If all the other apartments in a building are $100 and the one you are looking at is $60 then beware. If there are not a lot of photos and few reviews then beware.
In these instances you can reach out to the host to find out why there are few reviews, photos or price discrepancy. We have done this and been told that the listing is new so they are trying to get traction (and more reviews) by lowballing the price. But then you need to thoroughly research the host (more on that in a minute) before taking their word for it.
As veterans of booking stays we've figured out how to have good experiences with properties that are newer to the booking services. But if you are new to Airbnb and guest housing in general then our advice is to simply avoid properties with under 15 reviews.
How to Read Property Reviews to Avoid an Airbnb Scam
But even when a property has lots of reviews, you need to read each review carefully. You are trying to sleuth out whether you are reading fake reviews – which is clear evidence of a scam.
First, see if there is a pattern to the times at which reviews are left. Organic reviews come in randomly so any pattern to the timing of reviews is potential evidence of fake reviews. A lot of reviews in a short period of time is also highly suspicious. If all or many of the reviews are posted in the same day/week/month then take that property off your list.
And while you are looking for patterns in the dates of reviews, notice how far back reviews go. The further back the better. A long track record of reviews provides a level of confidence that what you see on the listing is what you will get when you arrive.
Now it's time to actually read the reviews!
First, make sure the reviews don't all use similar language or seem to have been written by the same person. Look for anything in the reviews that catches your eye that looks spammy or fake and disregard those reviews.
Any review mentioning a cancellation or saying that the property was not as represented is cause for grave concern. There is nothing worse than a late cancelation of a booking – it's the cardinal sin of homestays and guest houses. And anything less than an honest representation of the property is just as bad.
On the other hand, reviews that say "This place is pretty much exactly like the pictures." should provide a high level of confidence.
Take your sleuthing to the next level by reviewing the reviewers of the property you are looking at. Click on reviewer profiles to see how long have they been on Airbnb. How many reviews have they made? In how many locations?
Finally, look carefully at all the photos of the property. Do they all look like they are in the same house or apartment? If you see the same photo in multiple property listings then beware.
Pro Tip: If a photo looks suspicious try right-clicking on it and choose 'Search Google for image'. If it's a stock photo Google will find it and you'll know the listing is a scam.
The bottom line of reading reviews is that you need to go with your gut: if something feels wrong, don't book it.
How to Research Hosts to Avoid an Airbnb Scam
A good host is the key to a great Airbnb stay. And looking carefully at Airbnb hosts will help you avoid scam properties.
When you are researching a property's host you look for the same things you look for from a property: high ratings, lots of stays and no cancellations.
On Airbnb, the Superhost program can provide a level of confidence.
Superhosts are experienced hosts who meet Superhost performance standards which are measured by an automated system.
It does not mean that Airbnb endorses, certifies or approves those hosts or their listings. But it does mean that the host maintains a 4.8 star overall rating, that they have completed at least 10 stays over the past year, they have zero cancellations and a 90% response rate to messages within 24 hours.
Once a host reaches Superhost status, a superhost badge will automatically appear on their listing and profile to help you identify them.
Don't be shy about reaching out to hosts if you have questions or concerns about a listing whether they are Superhosts or not. As noted, if they don't get back to you within 24 hours then that's a problem.
That said, never communicate with a host off of the Airbnb, VRBO or Booking.com website or app. The only reason a host would want to take you off-app is to scam you.
And any host that suggests you could save money by paying them directly is a scammer. They want to get you outside of the review and refund protection you get by conducting the transaction via the homestay platform. Don't go there.
An Example of How to Avoid Airbnb Scams
We decided to spend some time in the digital nomad hotspot Medellin Colombia. Here are a couple of listings in the Laureles area of Medellin.
Even a quick glance at these two listings allows you to apply our advice.
The first listing is by a Superhost. It has 4.86 stars based on 64 reviews. It ticks all of the 'not a scam' boxes!
The second listing has only 6 reviews and a 4.17 star rating. We did some digging about the host and that second flat is not a scam, but we wouldn't book that apartment without that further digging.
You would still want to read the reviews in order to feel good about either flat, but that's an example of how to apply our advice about how to avoid Airbnb scams.
By the way, traditional hotels in the same area cost from $70 to $170 for the same dates. $37/night for an entire apartment vs. $100/night for a hotel room!! This is what makes guest housing the ultimate travel hack and worth a little extra effort!
Stay Aware When and After You Book
When you do book an Airbnb pay attention to the level of communication and responsiveness you get.
If it's poor consider booking elsewhere because that's the moment a host should be on their best behavior. If they are slow to respond then they'll likely be bad if you need something during your stay.
And just because you've booked a stay doesn't mean you should stop your research. It's critical that you continue to look at the reviews of the property and host you have booked – especially if you book far in advance.
We made this mistake with our London Airbnb debacle. After we booked there were a number of reviews left on the listing that complained about last minute cancellations. But we weren't checking the listing so didn't see those warnings until it happened to us. And while we got a full refund from Airbnb, we had to pay a lot for a last minute alternative booking. AND we lost money because the dollar had fallen against the British pound and so our refund was less than we had paid.
So keep an eye on your booking's listing and if you start to see reviews about cancellations or the property not living up to the listing then you'll want to cancel and find a different place to stay before it's too late.
Bottom Line – How to Avoid Airbnb Scams
Homestays are awesome and save you a ton of money. Especially if you are traveling for an extended period of time or with a group.
But scams do happen.
To avoid them do careful research. Use common sense and listen to your gut.
You may never be 100% certain that what you see in a listing is what you will get at the Airbnb property. So the bottom line is that it comes down to your risk tolerance. Which can vary.
When we are staying in a city that we know well we are more willing to take a risk on a property that doesn't check all of our scam-protection boxes.
But if we are staying in a place we are unfamiliar with – especially if English is not the native language – we will only book an Airbnb, VRBO or Booking stay that we have a high level of confidence about based on our research of the property and the host.
And we never ignore our gut if it says something's not right.
Use our advice and give it a try! Use this link to get $55 off your first Airbnb stay!
Inspired? Pin it!