What to do in Sofia Bulgaria for Affordable Luxury Travel:
Learn and explore the fascinating history of this city.
Take a walking tour to see that history.
Experience the best of Bulgarian food.
And go for a swim!
Getting To Sofia, Bulgaria
We arrived in Sofia on a Ryanair Flexi Plus ticket from Berlin.
Our plan was to explore Sofia, Bulgaria for 3 days then head to the Bulgarian Black Sea coast towns of Sozopol, Burgas, Sunny Beach and Varna.
After landing and clearing immigration we hopped in a taxi into town.
The taxis at the airport are regulated and our taxi ride from the airport to the center of the city cost 12 leva $7 US. More on that later!
The History of Sofia, Bulgaria Makes for Interesting Sightseeing
Sofia has been on our bucket list for a long time.
It's a city with a fascinating history that dates back 30,000 years. But it was 'only' 7000 years ago that a tribe created a settlement in the area called Serdica.
In the 4th century BC Alexander the Great occupied the city. And in the 1st century AD the Romans took over and became the administrative authority of the region.
During Roman rule the town expanded to include public and government buildings, an amphitheater, and baths. Many ruins from this period have been excavated and are on display.
In the 4th century the Huns destroyed the city, but Byzantine Emperor Justinian rebuilt and renamed the city Triaditsa.
In 809 the city became a part of the First Bulgarian Kingdom. They changed the name again to Sredets.
The city then fell under Ottoman rule for 500 years, from the 14th century to 1878.
It was only after Bulgaria gained independence from the Ottoman Empire that the city was renamed Sofia.
This long and rich history makes for some really interesting sightseeing!
Where to Stay in Sofia, Bulgaria for Affordable Luxury Travel
Vitosha Pedestrian Area in Sofia
Vitosha pedestrian area is a commercial and retail pedestrian street lined with restaurants, bars and pubs…some of which operate 24 hours a day!
There are also souvenir stores, local outlets and retail brand stores along the pedestrian street. In fact, we popped into a Telnor store on Vitosha and bought a 30 GB sim card for my phone for 25 leva ($14 US) which was plenty of data for a month in Bulgaria.
We knew that the Vitosha pedestrian area was where we wanted to stay!
Our Affordable Luxury Homestay in Sofia Bulgaria on Vitosha
So we chose a homestay flat right on Vitosha.
And when I say right on the Vitosha pedestrian street I mean RIGHT ON VITOSHA!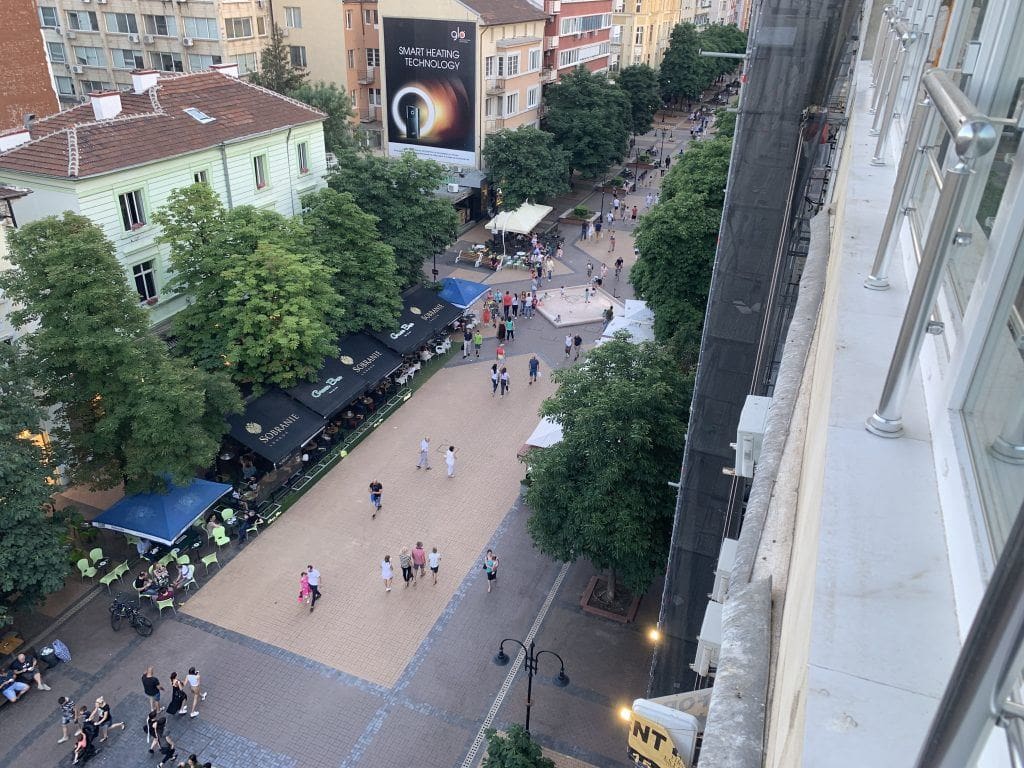 As you can see from the view, the flat is on the sixth floor. But an antique elevator is available.
Exploring Sofia, Bulgaria
With such a rich history and lively pedestrian area, we chose to sightsee in Bulgaria by day and have long, leisurely affordable gourmet dinners at night.
Sightseeing in Sofia
St. George Church
St. George Church has played a part in just about every phase of Sofia's history. So it's the perfect place to start exploring Sofia's history.
Considered the oldest building in Sofia, St. George Church was built in the 4th century on the grounds of an even older pagan temple.
It was used as a baptistry during the Roman-imposed mass conversions to Christianity, and Roman ruins have been excavated around it.
Under Ottoman rule it was converted to a mosque, and then converted back to a church after Bulgarian independence in the 1800s.
The location of the church is a bit bizarre: it's in a courtyard bordered on one side by the Bulgarian Ministry of Education and on the other side by a hotel, the Sofia Hotel Balkan.
So it feels weird approaching it. But visitors are welcome as are photos.
Walking Tour from St. George Church to Alexander Nevsky Cathedral
Departing from St. George Church we took a self-guided walking tour past the fountain Square, the Sophia monument, the amphitheater of Serdica, the monument of the Bulgarian Tsar Samuil, the Russian Church Sveti Nikolay Mirlikiiski, St. Sophia Church, the City Garden and the National Art Gallery.
There are also many excavations of ancient Serdica and Roman ruins along the way.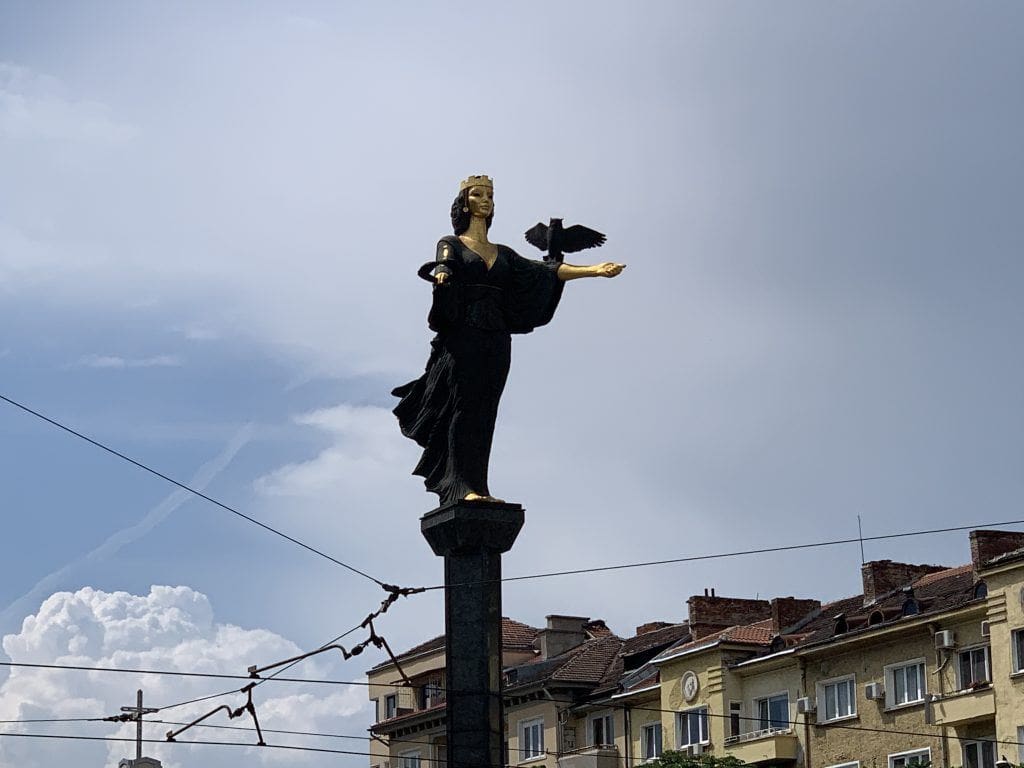 Alexander Nevsky Cathedral
The most impressive stop we made was at Alexander Nevsky Cathedral.
The massive structure occupies an area over 34,000 sq. ft. and can hold 5,000 people inside. It's one of the largest Eastern Orthodox Cathedrals and church buildings in the world.
There was a sign saying not to take photos inside the church, but all of the other tourists were snapping away so I did too.
At one point a man walked up to be and told me that I would have to pay him 10 leva to take photos in the church. So I put my iPhone away at that point!
Dining in Sofia, Bulgaria for Affordable Gourmet
We were only in Sofia, Bulgaria for 3 days so we wanted to make each dinner memorable.
And we found lots of keto friendly dishes all over Bulgaria!
Dining on Vitosha Pedestrian Street
On our first evening we found a table at one of the many outdoor restaurants along the Vitosha pedestrian street.
It's a must-do experience for the people watching, the atmosphere and the scene.
And at lunch the next day we were introduced to the Shopska Salad, Bulgaria's twist on a Greek Salad. Pour lots of olive oil on a Shopska Salad and you've got an awesome keto friendly starter!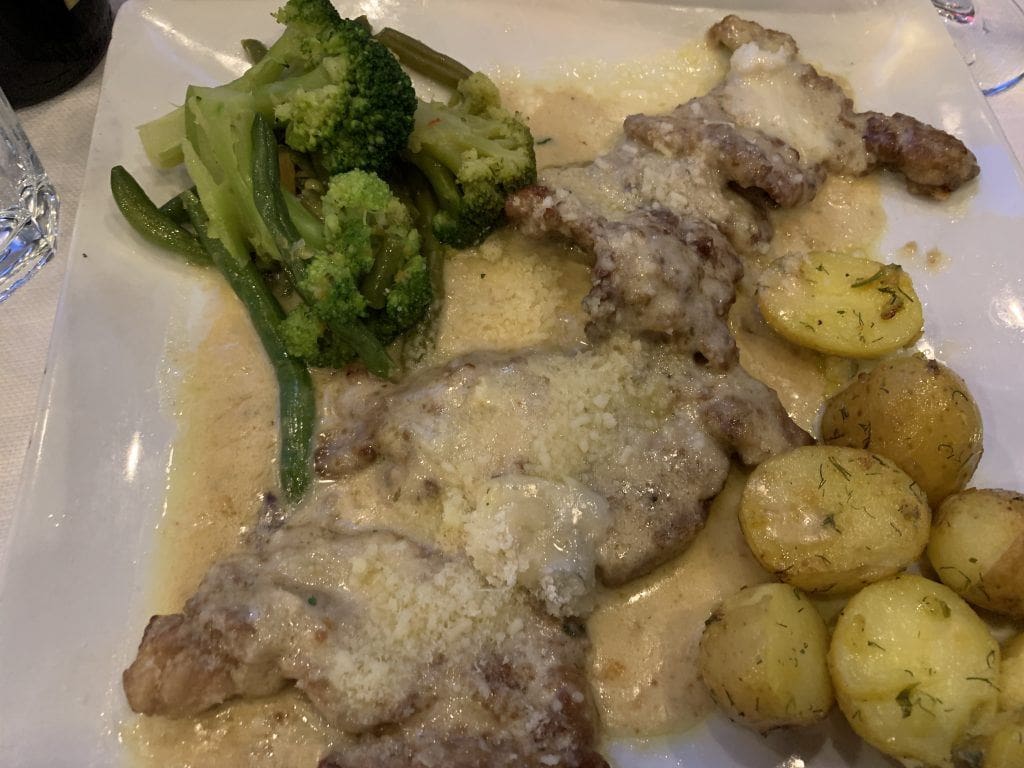 We also had keto friendly doner kebab salad for lunch. We had to use Google Translate to explain that we just wanted salad and meat, but they got it done!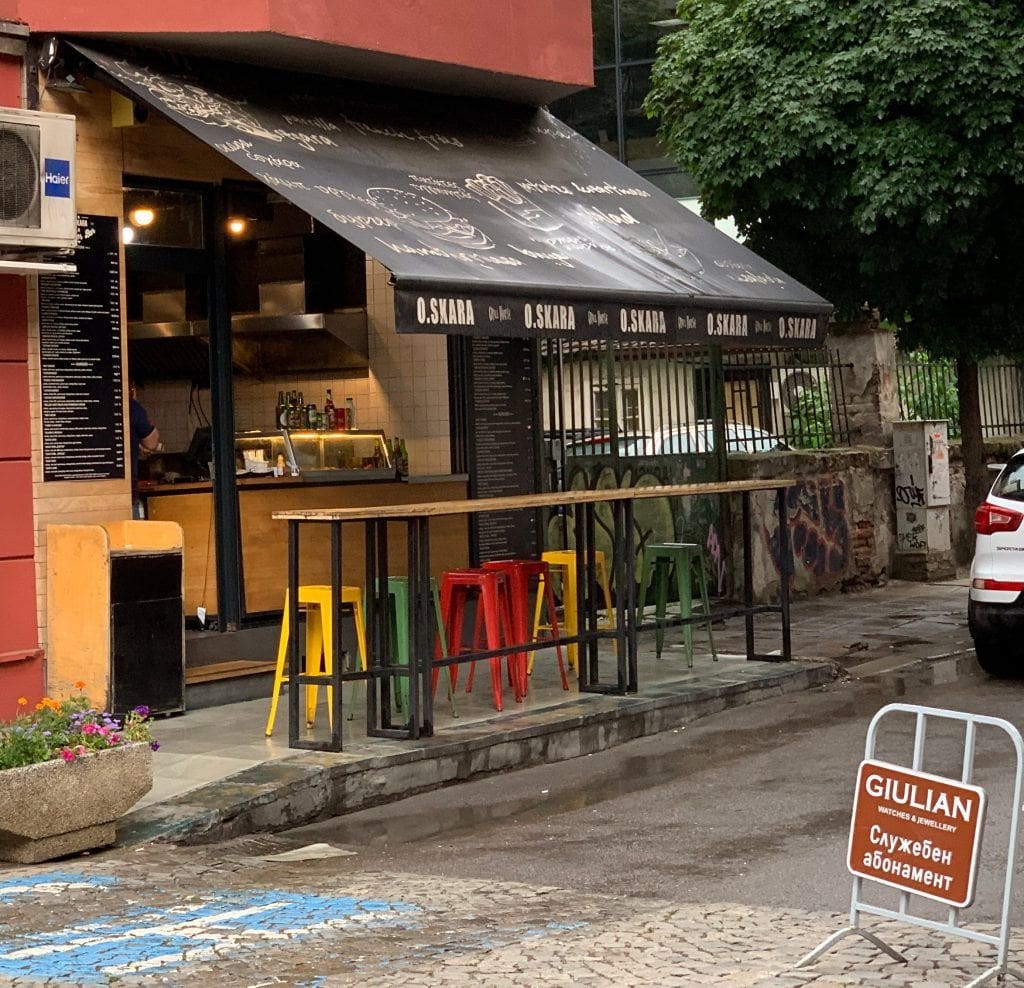 Cosmos Restaurant Sofia, Bulgaria
On our second evening we decided to have a #datenight #datelife evening.
We booked a table at the posh and interesting Cosmos restaurant.
Cosmos is a gastronomic experience in the heart of Sofia. The restaurant creates traditional Bulgarian cuisine with a modern international twist. The decor and 'mood lighting' create a unique dining experience.
And the food is absolutely amazing. A tasting menu is on offer, but it wasn't particularly keto friendly so we went a la carte with some salads, lamb and fish.
Hadjidraganov's Cellars Sofia, Bulgaria
On our last night in Sofia we treated ourselves to an evening at Hadjidraganov's Cellars.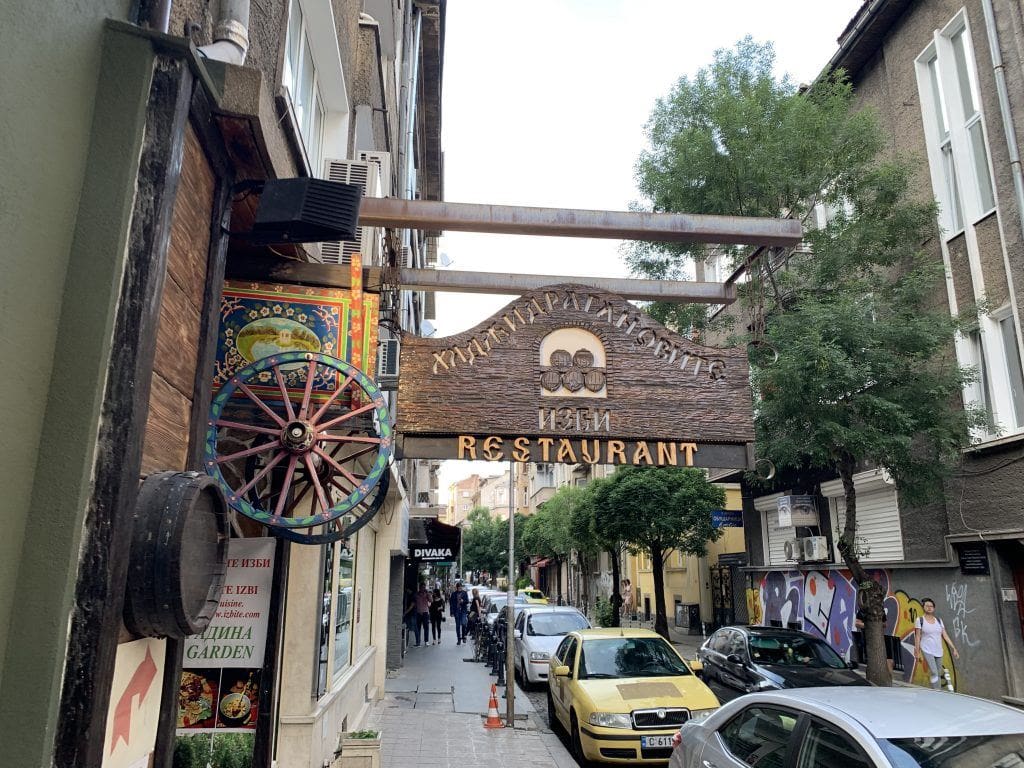 Hadjidraganov's Cellars is a Bulgarian restaurant with traditional village decor about 3 blocks off of Vitosha in the city center.
It borders on kitschy, but we thought is was a lot of fun!
The menu is large. Literally. It's between two big heavy wooden blocks!
And it is full of all of Bulgaria's most famous national dishes.
I tried a wine tasting of traditional Bulgarian wines in small clay cups.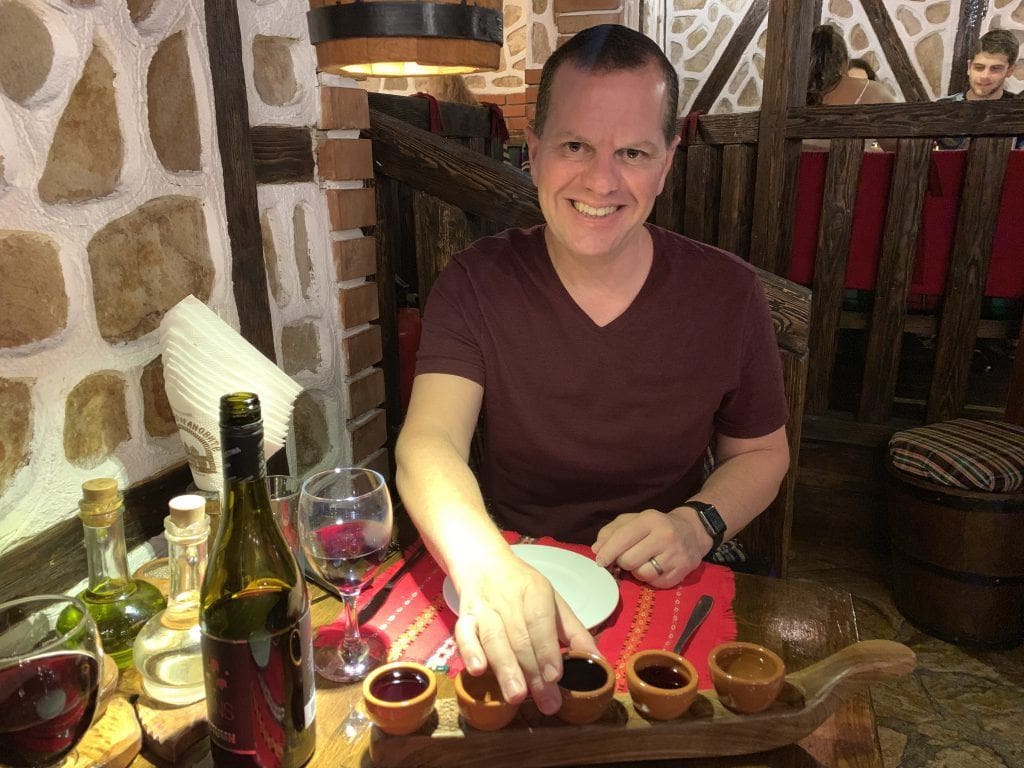 Then we went for the Bachkovski sabi (meat skewers) for two. It was an absolutely perfect keto meal!
And during dinner a band played traditional Bulgarian songs!
Hadjidraganov's Cellars is a hoot! We really enjoyed our dinner there!
Swimming in Sofia
Lisa and I took up swimming when we lived in Chiang Mai, Thailand for 6 weeks.
Now everywhere we go we try to find a pool so we can swim some laps.
Swimming is popular in Bulgaria. So in Sofia we had several pools to choose from.
We ended up at Swimming Pool "Spartak". It has a large indoor pool as well as an outdoor pool that doubles as a dive pool.
We got in a great workout!
And after we swam we watched a bunch of crazy kids jump off of the super-high high dive.
There's no way I could CLIMB to that platform much less jump off. But it was both fun and terrifying to watch these kids do it over and over!
Bottom Line and a Taxi Scam – Sofia Bulgaria: A Quick Guide
We loved finding affordable luxury in Sofia. It was fun, interesting and we ate some awesome Bulgarian food.
It's definitely the kind of place you can see in three days or dig deeper and spend more time.
But we had a Bulgaria Air flight to Burgas, Bulgaria on the Black Sea to catch!
Unfortunately a scammy taxi driver tried to rip us off on the way to the airport. We noticed about halfway to the airport that he was hiding the meter. When we got there he showed it to us and he wanted 35 leva – the taxi from the airport had been 12.
A negotiation/screaming match ensued and I ended up giving him 20.
Be sure you can see the meter in your Belgian taxi for the entire ride!!!!
But don't let that dissuade you. Like all of Bulgaria, there is plenty of affordable luxury to be found in Sofia. We love it there and intend to visit again.
Other Articles About Bulgaria