The Priority Pass Lounge Montego Bay Jamaica is Club Mobay.
Club Mobay is a large lounge with lots of food – but not enough keto friendly food to make a meal if you are on a travel keto diet like we are. But there is a full service bar, a shower room and even a spa in case you want a massage before your flight.
What is Priority Pass
Priority Pass provides airport lounge access to over 1200 lounges in 143 countries. It's the largest independent airport lounge access program in the world.
You can purchase membership directly from Priority Pass (using this link will give you up to 25% off the price of membership!).
And you can get instant lounge access at many airport lounges – even if you are at an airport right now you can join Priority Pass online and enter a lounge right away!
Check out our write up of Priority Pass Membership and why we think it's one of the best affordable luxury travel hacks out there!
Priority Pass Lounge Montego Bay Jamaica Location
To reach the Priority Pass Lounge Montego Bay Jamaica go up the escalator after security then through duty free. Turn right and follow the terminal to the left. Club Mobay is located adjacent to Gate 9.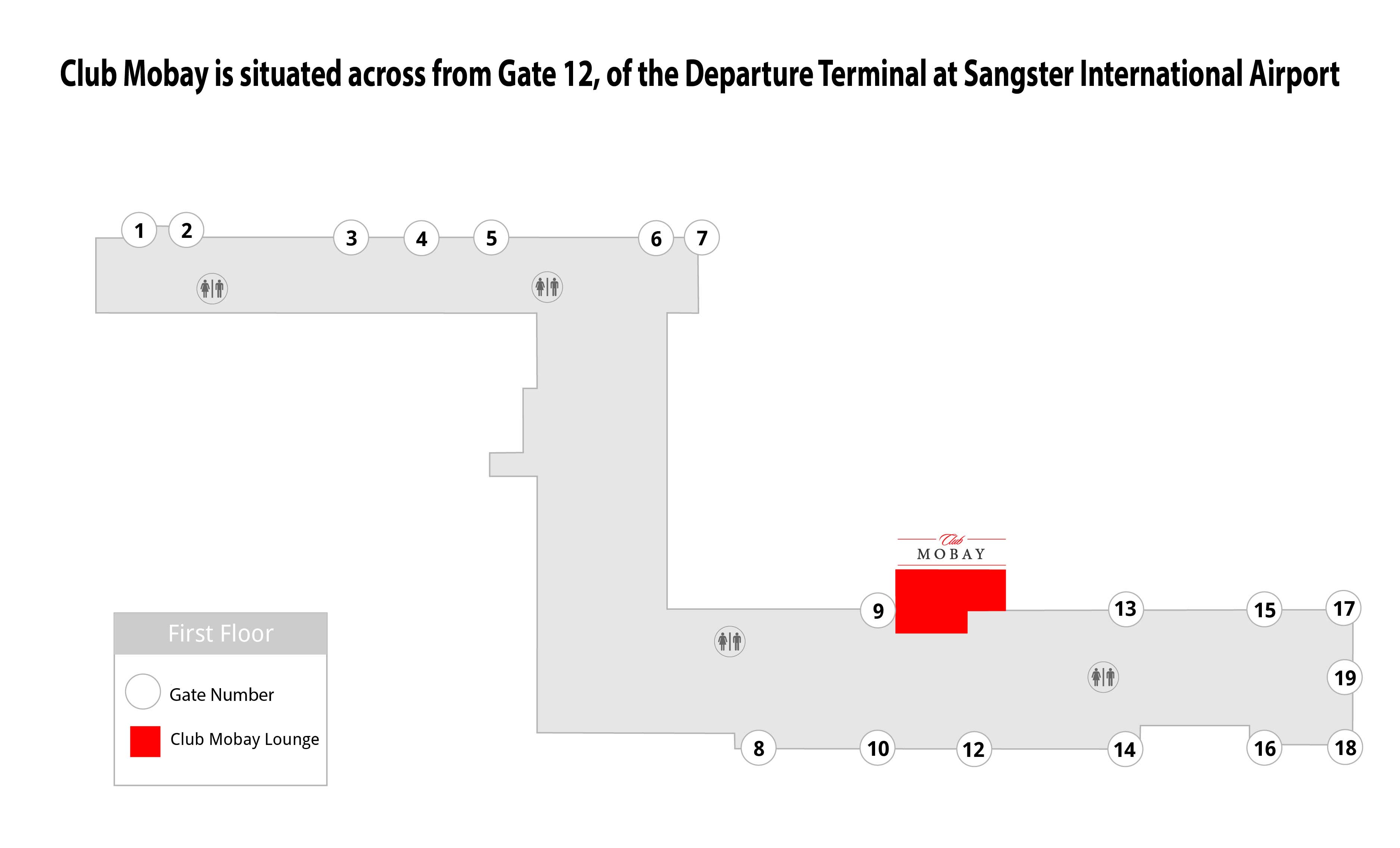 At the entrance you'll be directed down one level by stairs or elevator to the reception desk for the club.
Wondering how we find cheap coach fights and cheap business class flights? Check out our Cheap Airfare Guides:

How To Use Google Flights to Find Cheap Business Class Flights (And Cheap Economy Flights Too!)
Access to the Club Mobay Priority Pass Lounge Montego Bay Jamaica
Club Mobay is operated by VIP Attractions and offers departure and arrival services at Montego Bay Sangster Airport.
You can purchase Club Mobay Arrivals Services from Club Mobay that allow arriving passengers to move easily through the airport with personalized jump-the-queue assistance through immigration and customs (and those lines can be long when many planes arrive at the same time). Club Mobay Arrivals Services ends at an arrivals lounge where you can enjoy a cocktail or Red Stripe before starting your vacation.
When you purchase Club Mobay Departure Services you'll have fast-track service through security, customs and immigration before your flight home, and you can enjoy snacks and beverages in the relaxing atmosphere of the comfortable private lounges, which include high-speed Wi-Fi.
On departure you can also gain access to the Club Mobay lounge if you are flying in business or first class on Air Berlin, Cayman Airways, Neos, Insel Air and British Airways.
Of course, you can also access the Club Mobay departure lounge with a Priority Pass Membership! Be sure to show your Priority Pass membership card at the Club Mobay Information Desk before you enter security so you get the fast-track access!
New information for 2023: Club Mobay often sells out during the afternoon departure bank of flights, making the club inaccessible for Priority Pass members.
So during peak times in peak seasons it's worth it to reserve a spot at the club in advance – and using your Priority Pass you'll get a discounted rate of $5. That's a HUGE savings over the normal day pass rate!
Priority Pass Lounge Montego Bay Jamaica
Our American Airlines flight departed MBJ at 3:30pm so we used Priority Pass to gain access to fast track security then went to the Club Mobay Priority Pass Lounge in Montego Bay Jamaica for a cocktail and wifi to get some work done.
The club is divided into several sub-lounges including an adult only lounge, a quiet room, a kids playroom, and a business centre. showers, premium bars and a small spa.
The lounge is fairly unique in that it provides many services that you don't typically get in airline lounges. After checking in the staff escorts you into the sub-lounge that seems most appropriate for you. Once there they work with you to find what kind of seating your want: a table for eating, chairs for lounging or a work space.
Then the host staff hands you off to a server. Your server introduces you to the lounge and describes the food on the buffet and takes your drink order. The food and drinks are complementary – the only thing you pay is gratuity to your server.
This service-oriented approach is a really nice touch. And trust me, the servers work hard to bring you bottomless tropical cocktails and keep your glass full!
Seating Areas
Club Mobay is huge. And as noted there is plenty of seating in several different rooms, seating areas and configurations: sofas and chairs for lounging, tables for eating and work areas.
Even when the lounge gets crowded staff are very good about managing and maximizing usable space so there are almost always a number of options.
Food in the Lounge
The food in the Club Mobay Priority Pass lounge Montego Bay Jamaica is plentiful and varies – but we were disappointed in the availability of travel keto diet friendly options.
We know from experience how easy it is to eat a keto diet in Jamaica.
But the food in Club Mobay is mostly non-keto food like Jamaican meat and vegetable patties, sandwiches, wraps, sushi rolls and pasta.
There IS a popcorn machine which is a nice touch…but still a non-keto diet one.
Beverages and Bar in Club Mobay
A wide variety of both soft drinks and alcoholic drinks are on offer in the Club Mobay lounge at Montego Bay Airport
Soft Drinks
Self-serve coffee and tea, and water with cucumber are available on the buffet.
But your server will bring you an incredible variety of juices, soft drinks, bottles of water, etc.
Alcohol in the Priority Pass Lounge Montego Bay Jamaica
Alcohol in the Club Mobay Montego Bay Airport VIP lounge is complementary and available from a full service bar.
But there is no need to order from the bar because your server will do that for you!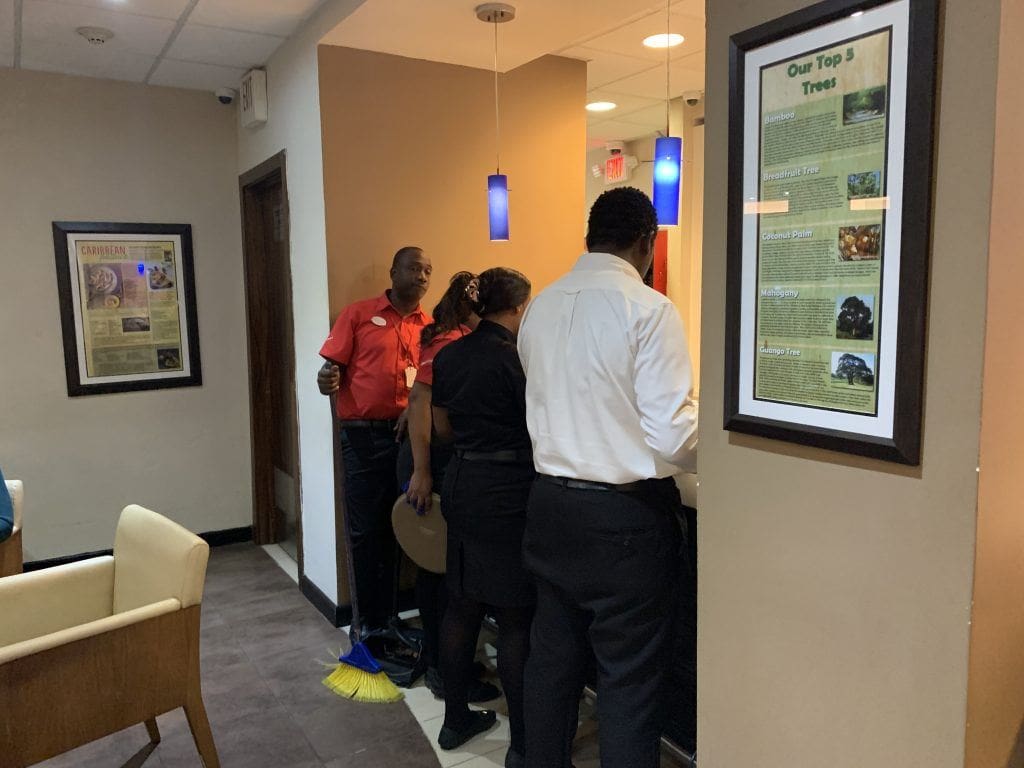 And the alcohol selections are varied and plentiful.
There are beer, wine and hard alcohol options.
You can order just about any tropical cocktail you can think of: pina colada, mohito, margarita, rum and coke, and on and on. Other mixed drinks, beer and wine are also on offer.
And when you are ready to leave the lounge your server will offer you one more for the road in a to-go cup!!
Facilities In the Lounge
There are several unique facilities in the lounge. Wander down a hallway lined with photos of Jamaican legends to find a shower room, spa and bathrooms.
Shower
A single shower room is available. Stop by the reception desk for a shower kit.
Spa
The Mango Spa in Club Mobay Montego Bay Jamaica offers a variety of spa services.
You can find cheaper massages and spa services in Jamaica…but not at the airport!
Bathrooms
There are restrooms in the lounge with 3 toilets each and, in the mens, several urinals.
Bottom Line – Montego Bay Priority Pass Lounge
The Priority Pass Lounge Montego Bay is a great place to end a Jamaica vacation.
The lounge offers a variety of complimentary drinks and alcohol options as well as plenty of comfortable seating to stretch out in.
But what really sets the Club Mobay Priority Pass Lounge apart is the service oriented approach. It means that the seating is used efficiently
So we spent a little over an hour in the lounge drinking, relaxing and working.
Here are our other Priority Pass lounge reviews: