There are 2 Priority Pass lounges at New York JFK Airport Terminal 1: the Air France Lounge and the Korean Airlines Lounge.
But each lounge can only be accessed with Priority Pass at certain times – and there are gaps when neither lounge is available using Priority Pass.
What is Priority Pass
Priority Pass provides airport lounge access to over 1200 lounges in 143 countries. It's the largest independent airport lounge access program in the world.
You can purchase membership directly from Priority Pass (using this link will give you up to 25% off the price of membership!).
And you can get instant lounge access at many airport lounges – even if you are at an airport right now you can join Priority Pass online and enter a lounge right away!
Check out our write up of Priority Pass Membership and why we think it's one of the best affordable luxury travel hacks out there!
Which Priority Pass Lounge at JFK Terminal 1 Can You Use?
Each of the JFK Terminal 1 Priority Pass Lounges have time restrictions based on the flight times of the airline operating the lounge.
Priority Pass members can use the Air France lounge from 8 am until 1 pm and from 11 pm until 12:30 am (Air France flights depart for Paris around 4:30 pm and 7 pm so they don't want Priority Pass members in the lounge during that time frame).
Priority Pass members can use the Korean Air lounge from 2 pm until 8:30 pm (KAL flights depart JFK for Seoul around 10 am and 1 am so they don't want Priority Pass members in the lounge during those time frames).
This is actually a rather ingenious solution to make sure that Priority Pass members can be accomodated in whichever lounge is being underutilized at any given time of day.
However there are gaps from 1 pm- 2 pm and from 8:30 pm until 11 pm when no lounge is available to Priority Pass members, and if an Air France or KAL flight is delayed then access to the clubs may be restricted for Priority Pass members.
Priority Pass JFK Terminal 1 Lounge Locations
The Air France Lounge and Korean Air Lines Lounge are located to the right after JFK Terminal 1 security. You pass the KAL lounge first. It's on your right across from Gate 3. The Air France lounge is at the end of the terminal adjacent to Gate 1.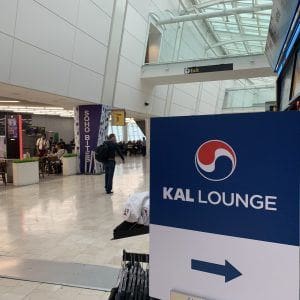 Wondering how we find cheap coach fights and cheap business class flights? Check out our Cheap Airfare Guides:

How To Use Google Flights to Find Cheap Business Class Flights (And Cheap Economy Flights Too!)
Priority Pass JFK Terminal 1 Lounge: Korean Air Lines Lounge
Our Brussels Air flight departed JFK around 6:30 pm, so we arrived around 4:30 placing us squarely in the KAL Lounge time allotment for Priority Pass at JFK Terminal 1.
The KAL Lounge is one level above the main concourse and is reached by an elevator or stairs and then crossing a glass enclosed walkway. Once across there is a reception desk.
Korean Air has two lounges here. The Prestige Class lounge is to the right of reception and is the business class lounge and serves as the Priority Pass lounge. There is also a First Class lounge to the left of reception for Korean Air First Class passengers.
Seating Areas
There is plenty of seating in the KAL Priority Pass Lounge at JFK Terminal 1.
And the views from the seating area to the tarmac outside are awesome.
Food
The food and snack selections at the Lounge are somewhat limited and not travel keto diet friendly. But there is plenty to snack on.
Selections included pasta, french fries, small sandwiches, soup, pastries, snack mix, fruit, cheese and asian cup of noodles.
Beverages and Bar in KAL Lounge JFK
Soft Drinks
A variety of self-serve juices and can soft drinks were on offer.
Alcohol KAL JFK Lounge
The alcohol in the Priority Pass JFK Terminal 1 lounge is also self-serve.
And the alcohol selections are also varied and plentiful.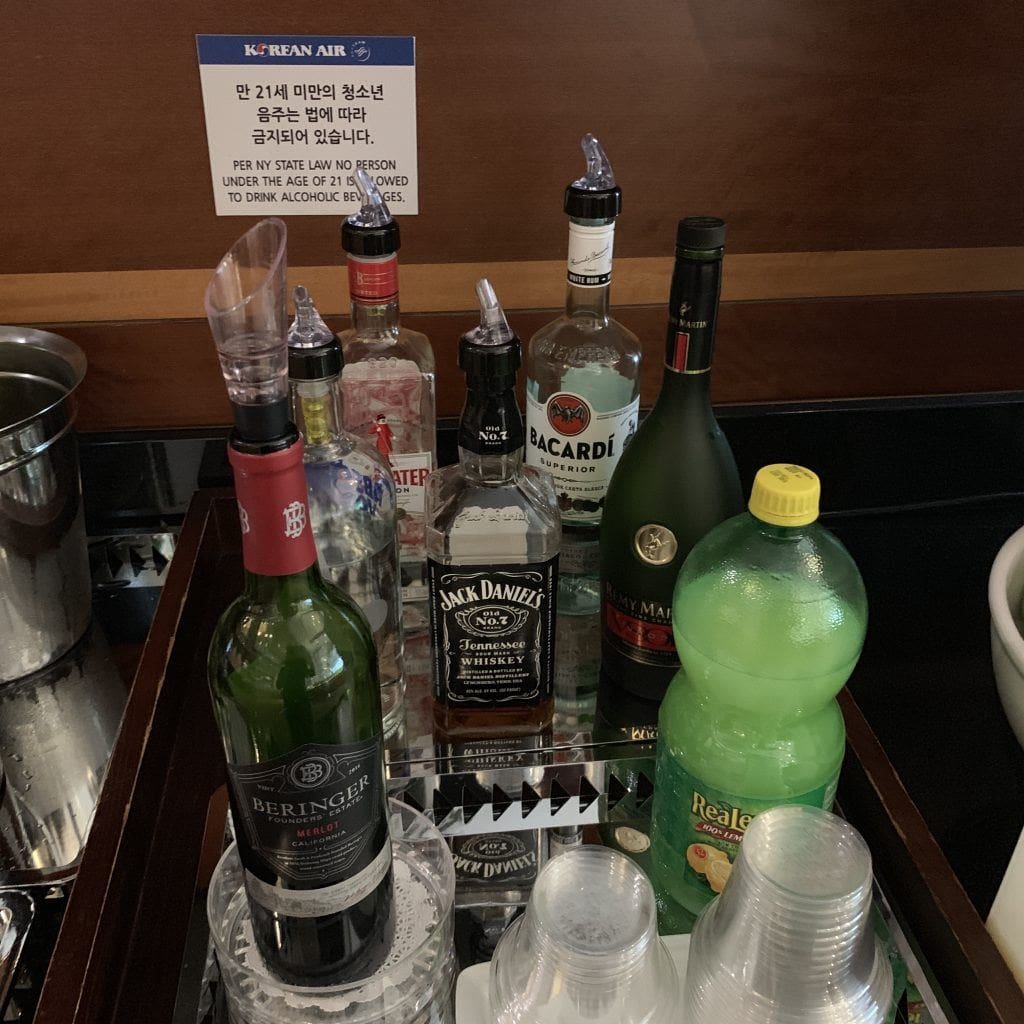 Facilities
There are two shower rooms in the KAL lounge.
There is also a small quiet room. Very small, actually. Just 2 chairs and they didn't seem comfortable for sleeping.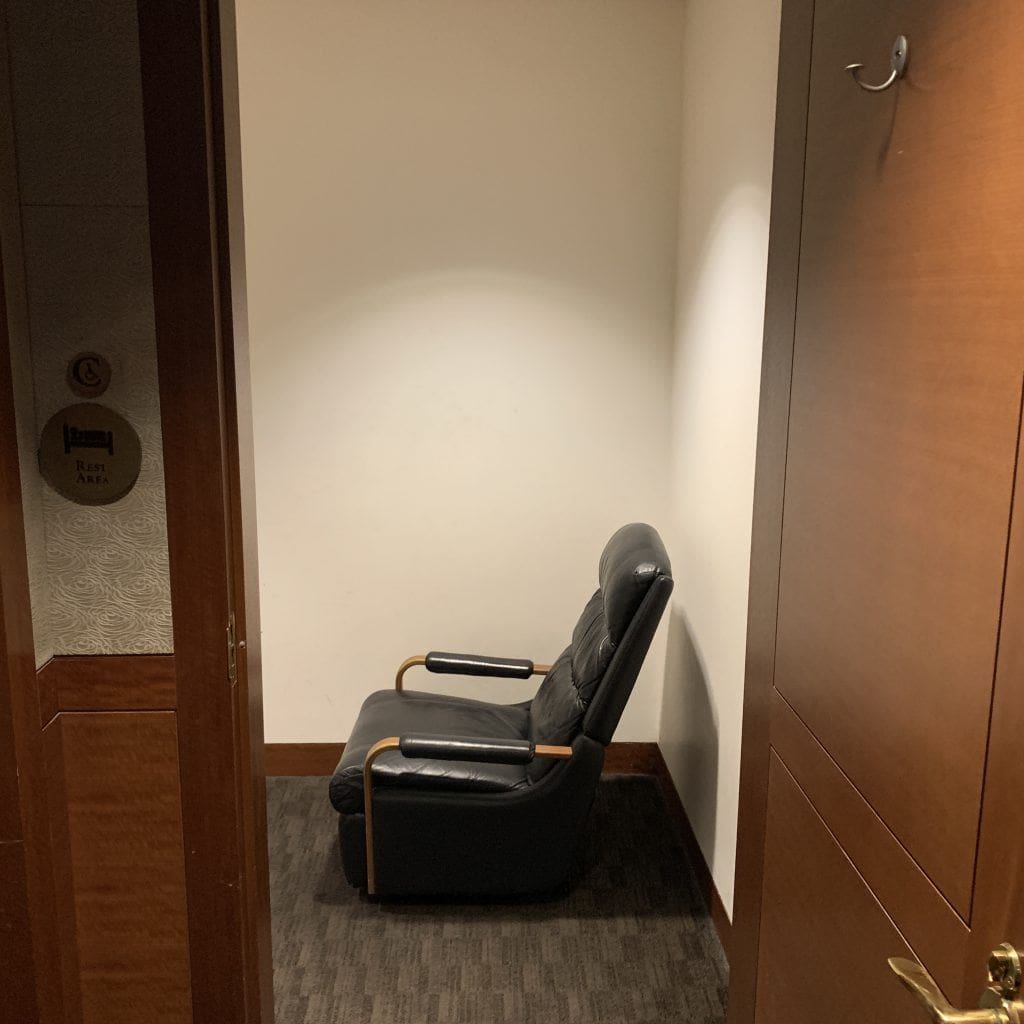 The restrooms were meticulously clean.
Bottom Line – KAL Priority Pass Lounge JFK Terminal 1
The KAL Priority Pass Lounge Terminal 1 would have been a great option if we weren't looking for some keto friendly food.
Lots of drinks and alcohol options and plenty of comfortable seats.
But we were hungry for some low carb, low sugar food. So we decided to leave the lounge after a while and check out the Lufthansa Senators Club which we had access to due to our Star Alliance Gold status.
Here are our other Priority Pass lounge reviews: