A big part of what makes our affordable luxury full-time travel lifestyle possible is the using Google Flights to find cheap business class flights.
We have used Google Flights to find cheap business class tickets on Air Italy business class, British Airways business class, Hong Kong Airlines business class, Lufthansa business class, Singapore Airlines business class and Qantas Business Class.
And cheap economy flights and premium economy flights on airlines like Delta, Spirit, Frontier, Ryanair, Bangkok Airways, Virgin Australia and AirAsia too!
What is Google Flights?
Google Flights is a powerful online flight booking search engine (it's Google…of COURSE it's a powerful search engine!).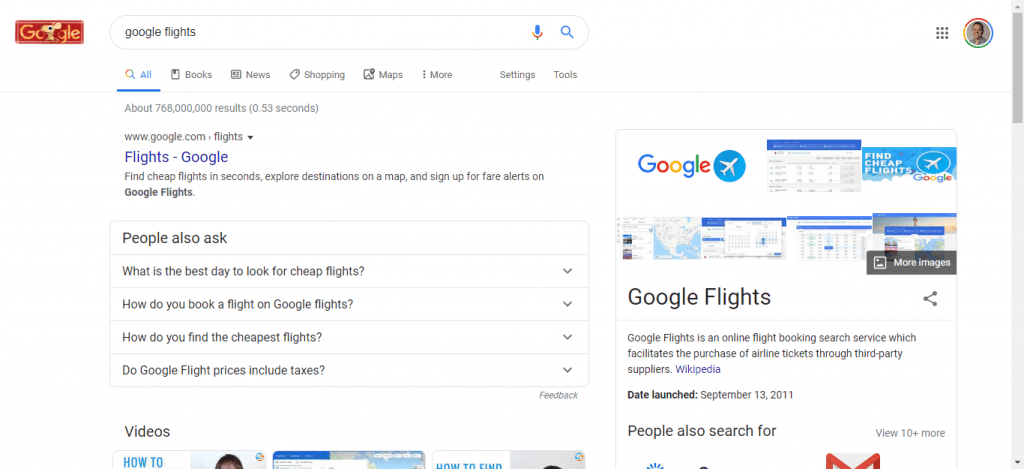 While you can't purchase plane tickets directly from Google Flights, the site facilitates the purchase of airline tickets through third-party suppliers like Orbitz or Kayak and/or directly with the airline's website.
How Do I Start a Google Flights Search?
To get started, simply go to google.com/flights.
The main screen art changes regularly but should look something like this:
Like most Google services, the home page looks deceptively simple for all the power and functionality that it packs.
We're going to cover basic search functionality then get into some advanced search techniques and finish with what we consider to be the most amazing feature of Google Flights: open map searches.
Looking for a more passive way to find cheap business class flights? Check out our article on Passive Ways to Find Cheap Business Class Flights.
Google Flights Basic Flight Search
I need a flight to a specific destination and am not flexible on dates.
The basic Google Flight search is conducted just like any other basic search on any travel or airline website.
You choose your departure city or airport and destination city or airport and your dates. In our digital nomad lifestyle we typically search or and buy one-way tickets.
But for our example we will look at a 1 week round trip from New York to London.
Pro Tip: If you can choose a 'city' rather than a 'specific airport' do so. For example, we are choosing New York to London rather than JFK Airport to Heathrow Airport. Google will find the cheapests combination of airports in New York and London.
You can refine your search by whether you want a round trip or one-way, number of passengers and class of service.
So here is our basic flight search: a round trip for 2 people from New York to London in business class departing on February 11 and returning on February 18.
Click the 'Search' button and review your results, starting with departing flights which will be shown as 'Best departing flights' and 'Other departing flights'.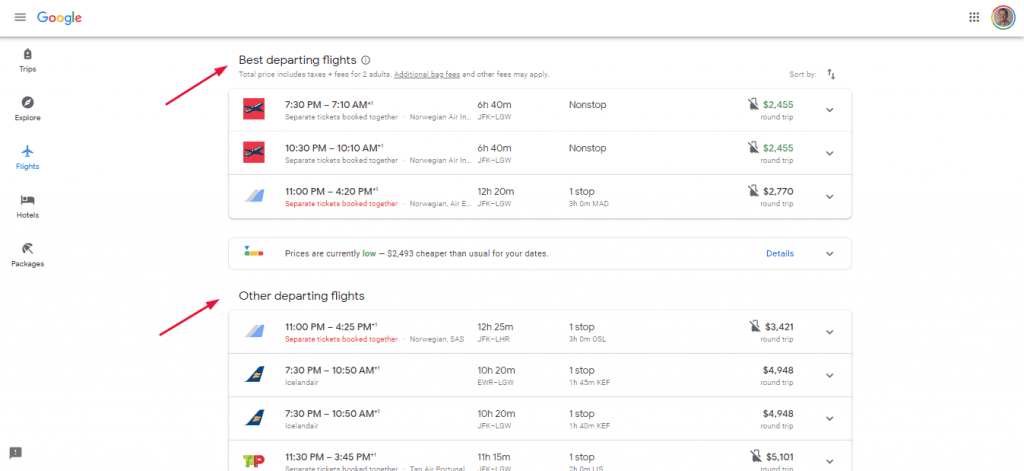 You can review details of the flights by pressing on the drop-down carrot to the left of each flight. Select your preferred flight by pressing the 'Select flight' button.
Once you do that you will be taken to the return flight selection page. Your outbound flight is shown at the top of the screen.
Once again simply click on the drop down carrot to review flight details then select your preferred flight.
This will take you to the 'Ready to Buy' page. Here you can review all of the details for your flights. In this case, 2 business class tickets from New York to London February 11-18 for $2,455!
This is a pretty good fare! Only $1227.50 per person for business class roundtrip from New York to London!
That said, always be careful and always do your research! For example, Norwegian Airlines business class does not have lay-flat seats the way many airline business classes do across the Atlantic – which may or may not matter to you.
But if you are happy with the flights and price then you have a couple of options to actually buy these cheap business class tickets.
You can go to the Norwegian Airlines website and recreate the booking and purchase it there.
Or you can book through the portal that is paying Google to send business their way. In this case, that means booking with Kiwi.com by clicking on the Select button under 'Booking options'. Doing so takes you to a page where you can see the flights, choose seats and complete the booking. Other times Google might send you to Orbitz, Priceline or even to the airline's own website.
Here's where you end up if you click that Select button.
Here you can enter your information, choose seats, book an actual reservation and buy your plane tickets.
So that's how you can use Google Flights basic fare search to find the cheapest business (or economy!) tickets on a specific route on specific days.
But if you are flexible on dates, you can probably use Google Flights advanced flight search techniques to find even cheaper business class fares.
Google Flights Advanced Flight Search
I'm flexible on my dates, but not locations!
Timing is everything when it comes to buying cheap business class tickets. But there is no hard and fast rule about what day, month or even season will yield the cheapest business class ticket between two places.
These days flight prices are so elastic that one day's business class ticket might cost two or three times more than tomorrow's! So if you are flexible on dates you significantly improve your chances of finding a cheap business class ticket – or a cheap economy class ticket.
Here's how to use Google Flights to search using flexible dates.
Just conduct your ideal dates search as in the basic search example above. But this time on the basic search results screen, click on the 'Date grid' button near the top of the screen.
Clicking the 'Date grid' button takes you to a very intuitive screen where you can see what would happen to the fare if you changed your departure and return dates.
In the example above, you can see that the Tuesday, Feb 11 departure is more expensive than leaving a day earlier or later across the horizontal axis. The date of return has no effect on the price. And Google even helpfully uses red font to show more expensive date combinations and green font to show cheaper date combinations.
You can use the < and > next to 'Departure' and 'Return' to move further away from your ideal flight dates.
In this example you can see fares that are only $9 cheaper. But we've had instances where this grid will show fares that are thousands cheaper based on dates.
When you see a combination you like simply click on that fare. In this case I still want a 7-day trip so I choose Wednesday to Wednesday rather than Tuesday to Tuesday.
Then close the grid and your new dates will be loaded in the basic search home page. You will see the new dates reflected in the search as well as the new price.
It might not be worth $9 savings to change your dates. But it will definitely be worth $900 savings…or more! Just for being a little flexible on dates.
Again, the more flexible you can be the cheaper the price. So let's talk about the ultimate flexibility next!
Google Flights Open Map Flight Search
I want to go somewhere fun – show me great deals!
This feature is, by far, our favorite! We call it 'The Dream Machine!'
If your dates and destination are flexible you can use the 'open map' flight search to find cheap business class fares to anywhere in the world!
To start, just scroll to the bottom of a basic or advanced flight search and click on the pretty map labeled 'Explore more destinations from…'!
You will be taken to a map with filters already filled in to your search parameters. In this case, a roundtrip from New York to ANYWHERE in business class that lasts for one week and takes place in the next six months!
The results are right on the map! In this case, my cheapest option at this level of zoom is to pop down to Raleigh for a week for $634.
But Raleigh is boring (no offense, Raleigh!). So I can zoom out using the +/- control to see more of the world. You can also move the map around the world by clicking on the map and dragging it left, right, up or down (just like in regular Google Maps).
Let's say I don't care where I go in Europe…I just want to go to Europe!
So I scroll and zoom the map on Europe. Once again Google Flights helpfully highlights the cheapest fares in green. In this case, London, Paris and Vienna.
But what if I want to check on a specific city not listed?
Let's say I want to visit my friends at Coworking Bansko in Bulgaria so want to check out the price to Sofia Bulgaria.
But oh no! Sofia is not showing a fare on the map!
No problem! I can hover my pointer over Sofia and the fare will appear.
Sadly, the business class fare to Sofia is expensive. So maybe we fly into London then take a cheap RyanAir Flexi Plus flight from London to Sofia!
Ooooooor…maybe we'll pop over to Asia instead to visit our friends in Penang, Malaysia instead! Just drag the map to Asia and take a look.
Sadly, nothing fantastic to Asia in these search parameters.
So let's change the parameters!! Click on the date box and click reset.
Go to flexible dates and play around a bit with dates….and find a $3,383 business class fare to Hong Kong!
Nice fare, but I am more interested in Chengdu China!
So I click on the box over Chengdu and on the left Google Flights gives me a pretty picture from Chengdu and the low fare dates and flight options. Just click on 'View Flights' to see the actual flights!
Google takes you back to the basic search with all of the low business class fare flight dates and parameters all set and ready to review and buy!
You can see why we call the map flight search a Dream Machine!
You can use it to find cheap business class tickets to anywhere in the world – even if you have never heard of that place before!
Using Google Flights Open Map Search – A Practical Example
Lisa and her girlfriends from Notre Dame try to get together for a girls weekend once a year. But with us traveling full time and her university friends busy with careers and kids and life it gets harder and harder.
This year Lisa was bound and determined to make it happen. Her Notre Dame girlfriends all live in Chicago. And so once they decided that they would shoot for a weekend in March in 'somewhere warmer than Chicago', Lisa went to Google Flights and did an open map search.
She entered Chicago as the the departure but left the destination blank and left the round trip, one passenger and economy class defaults alone.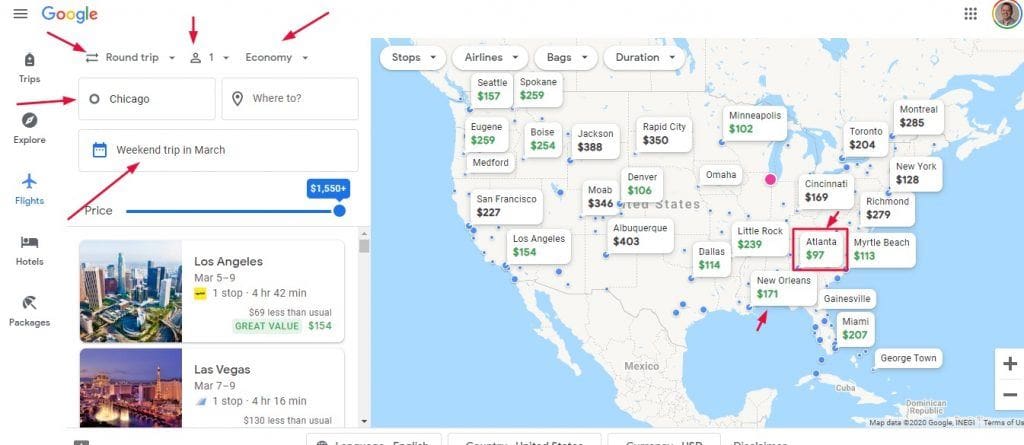 Then clicked on the date and chose 'Weekend Trip' and 'March'.
Based on the fares the girls' choice came down to New Orleans or Atlanta.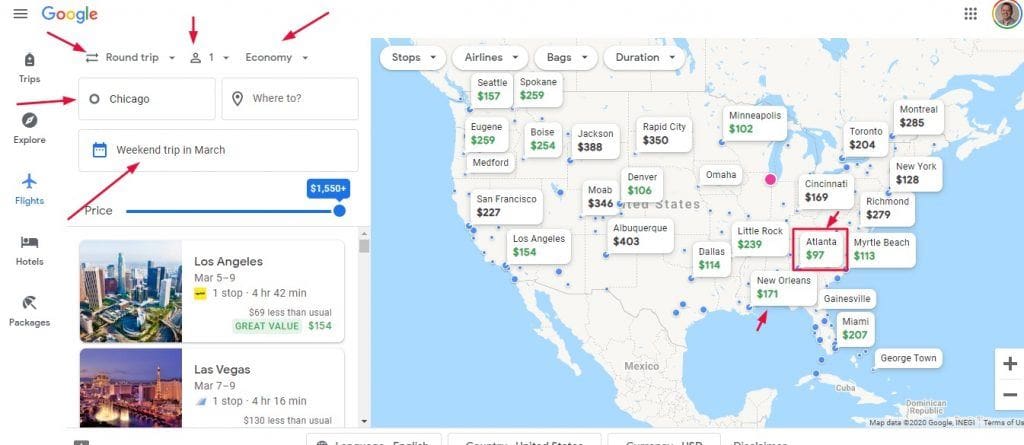 But since the point of the weekend is to spend time together rather than partying on Bourbon Street the girls chose Atlanta and that low $97 round trip coach fare.
By clicking on 'View Flights' you can see the actual fares and airlines.
The girls have a wide variety of airlines, schedules and fares to choose from.
And that's how Google Flights open map search makes girls weekends happen!
Use Points and Miles for Business Class Flights
A great alternative to cheap business class flights is to use points and miles.
Unfortunately, most airlines restrict the availability of business class seats for purchase using points and miles.
But there is a website called Straight to the Points that will send you an alert when business class seats are available for purchase with points and miles.
It's a terrific service that allows us to fly business class for free!
Bottom Line – Using Google Flights to Find Cheap Business Class Tickets (and Cheap Economy Flights Too!)
It comes as no surprise that Google has created a powerful search engine to find cheap business class tickets and cheap economy flights, too. Powerful search engines are what Google does.
And they've integrated that search engine into map technology that makes it easy and fun to search for cheap business class tickets to anywhere in the world!
One of the greatest things about our full-time travel lifestyle is having the flexibility to go anywhere in the world at any time. And by using Google Flights we can do that flying on cheap business class tickets!
Looking for a more passive way to find cheap business class flights? Check out our article on Passive Ways to Find Cheap Business Class Flights.
Inspired? Pin it!