The Priority Pass Lounge Porto Portugal is called – confusingly! – the ANA Lounge. To be clear, this lounge has nothing to do with the Japanese Airline ANA (All Nippon Airways). Nor does ANA even serve the Porto Airport.
That's just what the Priority Pass lounge at the Porto Portugal airport is called!
What is Priority Pass
Priority Pass provides airport lounge access to over 1200 lounges in 143 countries. It's the largest independent airport lounge access program in the world.
You can purchase membership directly from Priority Pass (using this link will give you up to 25% off the price of membership!).
And you can get instant lounge access at many airport lounges – even if you are at an airport right now you can join Priority Pass online and enter a lounge right away!
Check out our write up of Priority Pass Membership and why we think it's one of the best affordable luxury travel hacks out there!
Priority Pass Lounge Porto Location
The Priority Pass Lounge in Porto Portugal is located to the left after you pass security and the Duty Free store.
You go about half way down the terminal then make a left at the sign and up the escalator to a hall that leads to the Priority Pass Lounge.
Access to the ANA Lounge Porto Portugal
In addition to being a Priority Pass Lounge the ANA Lounge Porto also welcomes all passengers for the price of €24,59 (taxes included) per person.
However, for passengers travelling on premium fares for the following airlines admission is free or a discount will apply:
– Air Europa
– Air France
– British Airways
– Brussels Airlines
РIb̩ria / Airnostrum
– KLM
– Lufthansa
– Luxair
– Royal Air Maroc
– SATA Internacional
– Swiss
– TAAG
– TAP Portugal
– Turkish Airlines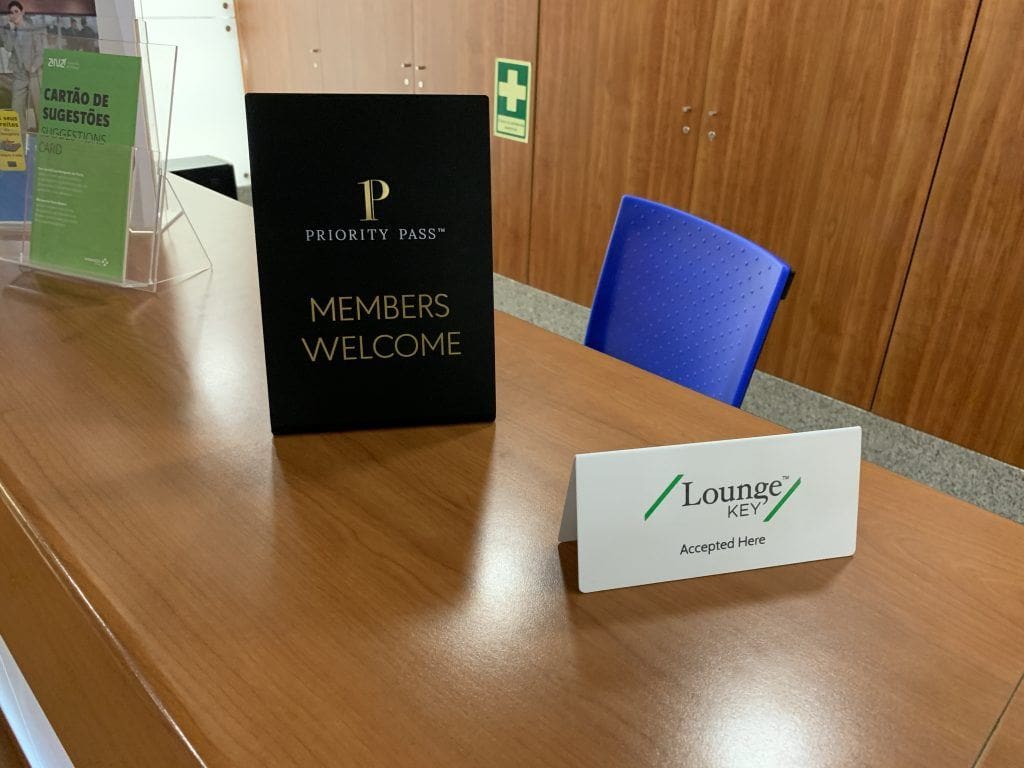 Wondering how we find cheap coach fights and cheap business class flights? Check out our Cheap Airfare Guides:

How To Use Google Flights to Find Cheap Business Class Flights (And Cheap Economy Flights Too!)
Priority Pass Lounge Porto
Our RyanAir Flexi Plus flight to Faro Portugal left around 9:45 PM, so we arrived at 7:45 PM hungry for a travel keto diet friendly meal.
Seating Areas
There is plenty of seating in the Porto Lounge.
And that includes a lovely terrace that spans the length of the large lounge that overlooks the terminal below.
Food
Unfortunately for us, the food and snack selections at the Lounge are somewhat limited and not much of that was travel keto diet friendly. But there is plenty to snack on if you don't mind eating carbs and sugar!
Selections included cheese sandwiches, yogurts, some fruit, nuts, and salgados (deep-fried Portuguese snacks). There was also a tray with labeled desserts but it remained empty during our stay.
Beverages and Bar in Porto ANA Lounge
Soft Drinks
A variety of self-serve juices and can soft drinks were on offer.
Alcohol Priority Pass Lounge Porto Portugal
The alcohol in the lounge is also self-serve.
And the alcohol selections are also varied and plentiful.
There are beer and wine options.
Hard alcohol options.
And since it's in Porto, plenty of port wine options!
Facilities
Toilet facilities are across the hall from the lounge opposite the registration desk.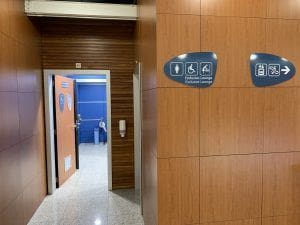 Bottom Line – Porto Priority Pass Lounge
The Priority Pass Lounge Porto Portugal would have been a great option if we weren't looking for some keto friendly food.
Lots of drinks and alcohol options and plenty of comfortable seats. And the terrace is lovely.
But we were hungry for some low carb, low sugar food. So after relaxing for a bit we left the lounge and found a travel keto diet friendly salad at a restaurant in the concourse.
Here are our other Priority Pass lounge reviews: