We flew Brussels Airlines business class New York JFK to Brussels to Porto.
Brussels Airlines is the flag carrier of Belgium and also its largest airline. It operates from Brussels to over 120 destinations in Europe, North America, Africa and Asia.
We were flying on a cheap business class fare Star Alliance ticket issued by United Airlines. Our $1500 tickets included travel from Budapest Hungary to Washington Dulles via Munich on Lufthansa and then a return from New York JFK to Budapest on Brussels Airlines via Brussels Belgium.
Wondering how we find cheap business class flights? Check out our Cheap Business Class Fare Guides:

How To Use Google Flights to Find Cheap Business Class Flights (And Cheap Economy Flights Too!)
But after landing in Brussels we changed our plans and headed to Porto Portugal instead!
Getting from Manhattan to JFK Airport
We were staying in midtown Manhattan in New York City.
So we just hopped on the E train at the Port Authority Bus Terminal subway stop and rode it to Jamaica station. From there we transferred to the JFK Airtrain.
Brussels Airline Terminal at JFK
Brussels Airlines flights arrive and depart from Terminal 1 at JFK along with several other international carriers including Lufthansa, Air France, Korean Air and Air Italy.
Check-In
We checked in online and emailed our boarding passes to our iPhones.
And since we travel with just carry on bags, we bypassed the check in desk at JFK and just went straight through security.
Lounge
After clearing security we checked out the Priority Pass Lounge JFK Terminal 1 – which is the KAL lounge in the afternoon.
But the food offerings were less that we wanted so we left that lounge and went to the Lufthansa Senator Lounge JFK Terminal 1 which had more food and drink options.
Flight Brussels Airlines New York JFK to Brussels
Boarding
We lingered at the Senator Lounge and only made our way to the gate well after boarding started. As a result there was no line at the gate, but the jet bridge was full people.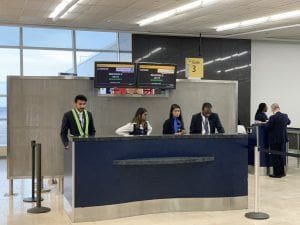 Seats
If you look at SeatGuru.com or most reviews of Brussels Airlines Business Class on their A330s you will find that the seating configuration is a staggered 1-2-1 and 2-1-2.
But not ALL of Brussels Airlines A330s have this configuration in Business Class.
There are currently several seat configurations in Brussels Airlines Business Class. Some of them look like that. But others are 1-2-1 throughout the cabin or 2-2-2 throughout the cabin – and those aren't fully flat seats. Here's a link to a definitive source on the matter if you are wondering what configuration you will have on a Brussels Airlines A330.
Our flight was on the 1-2-1 configuration which was good because they are still lie flat seats but bad because they are less good for cuddling than the staggered seats!
We drank our pre-departure sparkling wine and then we were on our way!
Brussels Airlines Business Class Meal
A relatively short 7.5 hour flight time was planned. Despite this, the dinner service was leisurely – although an option for express meal was offered.
With a 6:30pm departure time we weren't going to get a ton of sleep anyway so we actually enjoyed the pace of the meal.
And the Caprese starter and beef main dish were big big not not huge and made for a perfect travel keto diet meal (minus the potatoes and dessert).
Flight
Halfway through the flight we decided to get serious about figuring out where we were going to go in the morning if not our ticketed destination of Budapest Hungary.
The Brussels Airlines in-flight magazine was posing the same question!
We discussed the options for a while and then settled into our layflat seats for a couple hours of sleep.
Brussels Airlines Business Class Connection in Brussels
After landing in Brussels we made our way to the Brussels Airlines Business Class Lounge to figure out where we were going to go next.
Brussels Airlines Lounge
The Brussels Airlines Business Class Lounge in Brussels is 'THE LOFT by Brussels Airlines and Lexus.' It is a large airport lounge with plenty of food and drink selections. The hours are from 5AM to 9PM and the location is across gate A42.
Critically, it has a room with 'nap pods.' So we were we were able to get a couple more hours of sleep after we decided where to go next!
Our Destination Decision
After looking at our options and the relative price we decided to head to Porto Portugal.
We had a couple of weeks before we started a campervan caravan with other digital nomads in southern Portugal so we figured we'd head in that direction and spend some time in a part of the world we never visited before (we'd been to Lisbon for a long weekend but never to Porto).
With that decided, we traded in our ticket to Budapest for a ticket to Porto!
This also gave us a few hours to take advantage of the nap room!
Brussels Airlines Business Class Brussels to Porto Portugal
Boarding and Seats
Our gate to board our Brussels Airlines Business Class flight to Porto Portugal was a remote gate.
So we were the first passengers on the bus to the plane rather than being the first passengers on the plane.
And the remote gate was VERY remote. It took about 10 minutes to drive to our airplane in an uncomfortably packed bus.
Once at the plane we climbed the stairs and boarded the plane.
Most intra-European flights have business class seats that are similar to economy seats but the middle seat is blocked. Brussels Airlines Business Class is no exception.
We had chosen seats across the aisle from each other. And although the economy section of the plane was packed there were only a few passengers in the business class section.
Flight
The flight was quick and uneventful. We received a drink service as well as a keto diet un-friendly sandwich and a small pastry.
But we landed on time and were soon on the ground in Portugal!
Bottom Line – Brussels Airlines Business Class New York JFK to Brussels to Porto
Brussels Airlines has a decent business class product. Despite the confusion about the seating configuration in business class, our Brussels Airlines A330 had great business class seat (our plane was formerly owned and operated by Cathay Pacific).
And Brussels Airlines' European destination network provided us with plenty of options when we decided we didn't want to take our connecting flight to Budapest Hungary.