The best long term travel bag, the best travel backpack and the best digital nomad bag are the same item.
It's the Osprey convertible roller-backpack!
Requirements for a Long Term Travel Bag
As full time digital nomad travelers we are all too familiar the requirements for a long term travel bag.
It needs to:
Work in any situation – sometimes you need a wheelie bag, sometimes you need a backpack.
Be sturdy enough to withstand the abuse of long term travel.
Comply with carry on requirements on every airline in the world.
Be nimble enough to allow you to jump on and off of a boat.
Have enough space to fit everything on your long term travel packing list.
The Osprey Ozone Wheeled Carry-on meets all of these requirements.
Our Experience With the Osprey Convertible
Both of our Osprey roller-backpacks weigh approximately 8 kilograms when fully loaded, making them carry on cabin baggage on nearly every airline in the world.
And there is no struggling to lift or carry them.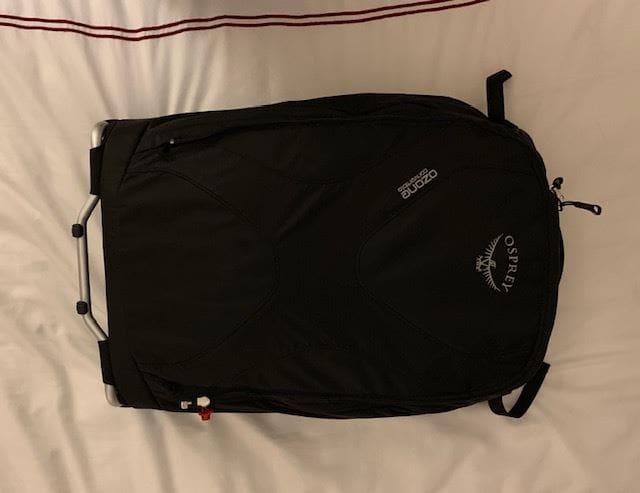 After years of dragging luxury travel Tumi carry on bags around the world Lisa constantly raves about how awesome it is to have such a light and functional long term travel bag.
It was a lesson we learned the hard way on Lake Atitlan in Guatemala: our European-sized Tumi carry-ons made boarding and disembarking water taxis a nightmare.
While we prefer affordable luxury travel to backpacking, with these 8 kg fully loaded Ospreys we can navigate any travel situation.
These travel bags are wheeled carry-ons when we want them to be. And backpacks when we need them to be!
And they even make traversing world-class airports less of a chore.
Bottom Line
Based on our experience as full time travelers, whether you are looking for a digital nomad bag or an adventure bag we think this is the best long term travel bag out there!