We found that eating a keto diet (low carb) in Jamaica is easy once you have a little knowledge.
There are many keto Jamaican foods and they are available at just about any restaurant on the island!
Background on Our Eating a Keto Diet
When we decided to become digital nomads one of the first things we resolved to do was lose weight so we could travel more comfortably.
To achieve this, we eventually adopted the ketogenic – or keto – way of eating.
We eliminated sugar from our diet and tried to keep our consumption of bad carbs under 20 grams per day (we came to refer to this as our 'wine allotment').
We made sure we got plenty of good fats at every meal: MCT or coconut oil in our morning tea (bulletproof tea!), avocado and/or olive oil at lunch and dinner.
Even learned how to stick to a travel keto diet while eating at restaurants nearly every meal.
We are NOT strict keto people – we don't pee on ketostix to see if we are in ketosis.
We don't obsess about 20 gross carbs vs. 20 net carbs per day (in other words: we eat vegetables…a LOT) which makes us 'dirty keto'. In fact, Lisa often says we are closer to the South Beach Diet than keto.
But I like saying we eat a keto diet because I think South Beach Diet is a stupid name for a way of eating.
And saying 'Low Carb and Sugar, High Good Fat and vegetables diet,' while most accurate, is too much of a mouthful.
Anyway, whatever you want to call it, our keto diet worked!
We each lost about 25 pounds before we launched as digital nomads and felt healthier than ever.
And since launching our full time travel lifestyle we've not only maintained our weight…we've each lost an additional 10 pounds!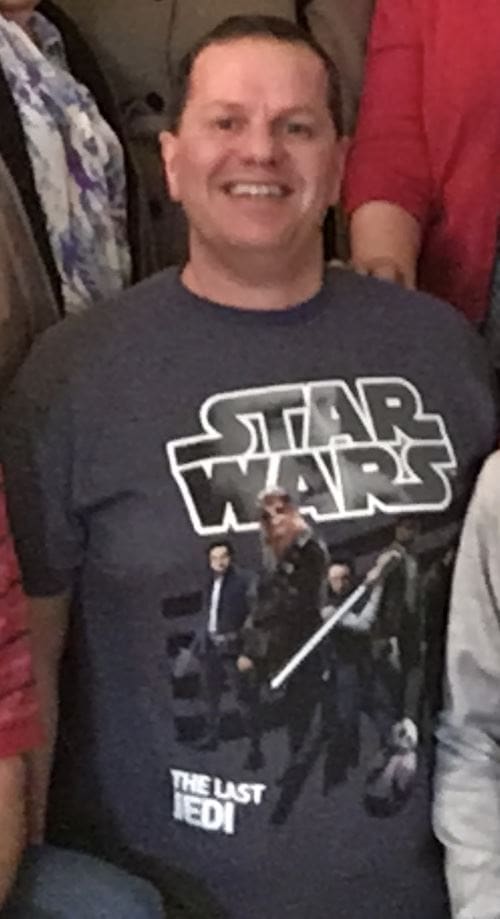 Jamaica Visit on a Keto Diet: The Independent Experience vs. the All-Inclusive Experience
Jamaica is a Caribbean paradise.
My parents first started going to Negril, Jamaica for a month every year in the 1960s – before there was even electricity on the western end of the island!
When I was growing up my family spent every December in Negril, Jamaica. We watched it evolve from a sleepy backpacker destination into a major beach tourist destination – now complete with its own Jimmy Buffett Margaritaville!
My parents still spend every December in Negril and stay at the same villa they have been renting since 1972 where they celebrate their anniversary, the holidays and life!
Today Negril, like other Jamaican beach destinations including Ocho Rios and Montego Bay, is mostly known for the many all-inclusive resorts that line its gorgeous 7-mile beach: Sandals, Couples, Beaches, Hedonism II…the list goes on and on.
Although I was raised on independent vacations and travel in Jamaica, Lisa and I have stayed at all-inclusives in Jamaica and can see why it appeals to many tourists seeking a hassle-free experience in the sun and sand. But from a keto diet perspective, the all-inclusive resorts tend to serve a lot of generic food options in addition to Jamaican dishes. So if you are staying in one of these resorts you should also check out our more generic advice about eating a keto diet while traveling.
But now that we are digital nomads, Lisa and I have returned to seeking affordable luxury outside of Jamaica's all-inclusive resorts. On our most recent visit we stayed at Foote Prints on the Sands Hotel.
And because we visited in shoulder season (visiting places in shoulder season is one of our affordable luxury travel hacks) we were able to get a very affordable room with kitchenette right on the beach!
This gave us a travel keto diet kitchen and allowed us to enjoy homemade travel keto diet breakfasts as well as homemade keto diet fat head pizza!
But whether you are visiting Jamaica as in independent traveler or as the guest of an all-inclusive resort, the good news is that you will have no problem finding Jamaican keto friendly food and sticking to your keto diet in Jamaica.
Pro Tip: Arrive and depart Montego Bay Airport in comfort and style! With Club MoBay you can skip immigration queues and be whisked straight to an arrivals lounge when you land. And you get fast-track immigration and security on departure followed by a posh airport lounge where you can wait for your departing flight. Click here for more details.
Eating a Keto Diet in Jamaica
We love Jamaica. There is so much to see and do! We've traveled all over the world and have never found a beach as wide, clean, comfortable and wonderful as 7 Mile Beach in Negril.
And there is so much keto friendly Jamaican food!
Great news: the two Jamaican national dishes jerk chicken/pork and ackee with saltfish are great keto diet foods!
But not every traditional Jamaican dish is keto friendly. Meat patties, coco bread and other Jamaican staples are definite keto diet no-gos.
So we're thrilled to share our favorite Jamaican keto diet recommendations!
Be sure to check out our 7 Tips and Hacks for Eating at Restaurants on the Keto Diet Anywhere in the World
Keto Diet Jamaican Food: Jerk Chicken and Pork
Jamaican jerk chicken and Jamaican jerk pork are keto diet friendly.
Jerk chicken and pork are essentially chicken and pork basted with Jamaican jerk sauce then grilled over coal. If it is cooked in a repurposed 55 gallon metal oil drum (a 'pan') then it may also be called pan chicken and pan pork. It's affordable, delicious and totally low-carb.
Jerk chicken and pork are typically grilled pre-basted in a jerk sauce that may or may not have some sugar in it. Ask for the sauce on the side if possible. If not do your best to remove the sauce. You'll still have plenty of flavor!
Keto Diet Jamaican Food: Ackee and Saltfish
Jamaican ackee and saltfish is keto diet friendly. And it just so happens to be the national dish of Jamaica.
Ackee is a tropical West African tree which is cultivated for its fruit and has been introduced into the Caribbean and elsewhere. This high fat delicacy fits right into a Jamaican keto diet – especially if you are doing dirty keto net carbs.
To prepare the dish, salt cod is sautéed with boiled ackee, onions, peppers, tomatoes, as well as black pepper and pimiento to give it a kick. It can be garnished with bacon and tomatoes, and is usually served as breakfast. Which is appropriate since the dish resembles and tastes a bit like scrambled eggs.
I love it!
Keto Diet Jamaican Food: Chicken Wings
Chicken wings are a keto diet superfood!
Keto diet friendly chicken wings are probably my favorite food in the world. And a big part of why I have been able to stick to keto for years.
The key to eating keto friendly chicken wings anywhere in the world is being able to order then without breading. In Jamaica that means telling the waiter or waitress either 'no breading' or 'no flour.'
And of course with the sauce on the side.
Keto friendly Jamaican chicken wings are a great go-to snack, lunch or even dinner. Lisa and I found several places on the Negril beach that were willing to prepare them as you see above!
Keto Diet Jamaican Food: Curry Goat and Jamaican Curry Vegetables
In the US when you order a curry you can be pretty certain that the sauce includes a large helping of sugar.
In keto diet parlance it's called secret or hidden sugar: sugar that you didn't know you were eating but that makes you fat anyway.
But some reading and research gave us a level of confidence that Jamaicans don't generally dump sugar into their curry recipes the way American and even Europeans do. Instead they let coconut do the sweetening.
Curry goat is the most popular curry in Jamaica, although you can get curry chicken and pork as well. Don't be put off by the goat…it's an authentic and delicious keto friendly Jamaican dish that deserves a try!
But remember: NO RICE!
And sometimes you have to insist on no rice…but in a very nice way!
Jamaican curry vegetables is another great dish for those of us doing 'dirty' keto net carb diet.
Keto Diet Jamaican Food: Grilled Meats, Fish and Shrimp
Just like anywhere in the world, eating keto in Jamaica involves lots of grilled meat and fish beyond jerk chicken and pork.
The most common is hamburgers or meat/fish/shrimp simply grilled. You'll find it on nearly every menu, usually with a pepper sauce that you can request on the side.
We also sometimes splurge for a keto friendly steak in Jamaica.
Top honors goes to The Lodge Restaurant at Tensing Pen Resort where we had this perfectly prepared steak.
Our Favorite Keto Jamaican Food: Caribbean Lobster
By far our favorite keto Jamaican food is Caribbean lobster, preferably boiled then grilled with a side of butter for dipping.
The price depends on where you are eating, how big your lobster is and what experience you want.
At Fireman's Lobster Pit in Negril, for example, you pick your lobster out from a lobster trap in the sea.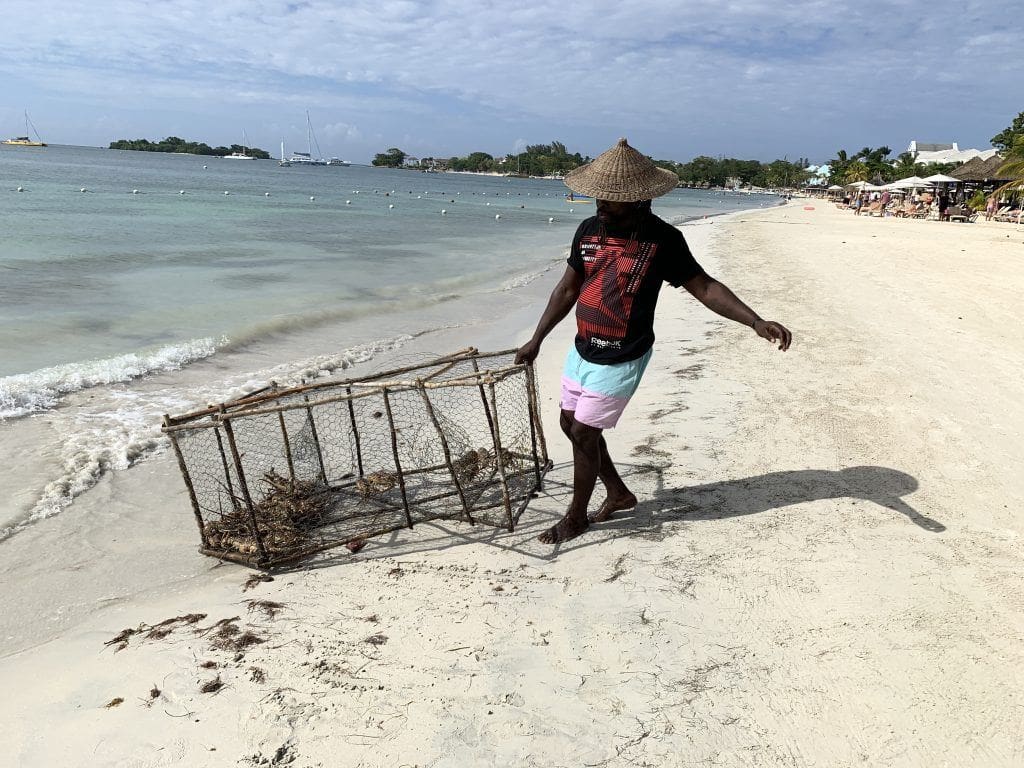 Then you pose with it.
You take it to the BBQ Pit.
They prepare it for you right on the beach!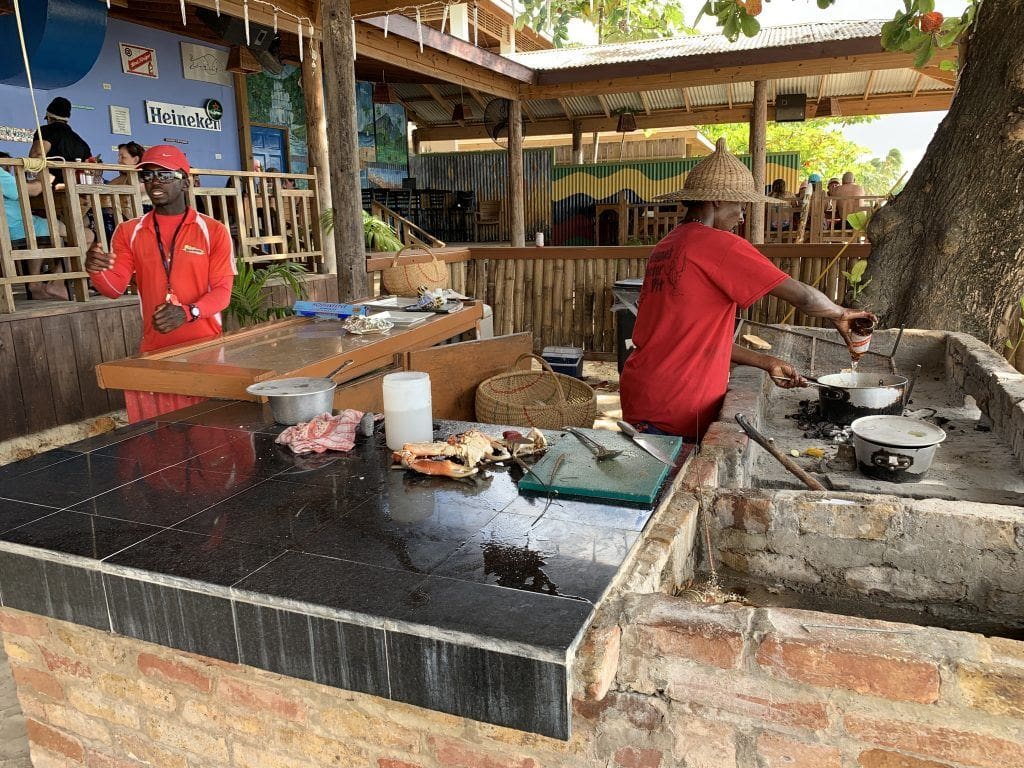 And then it's time to eat!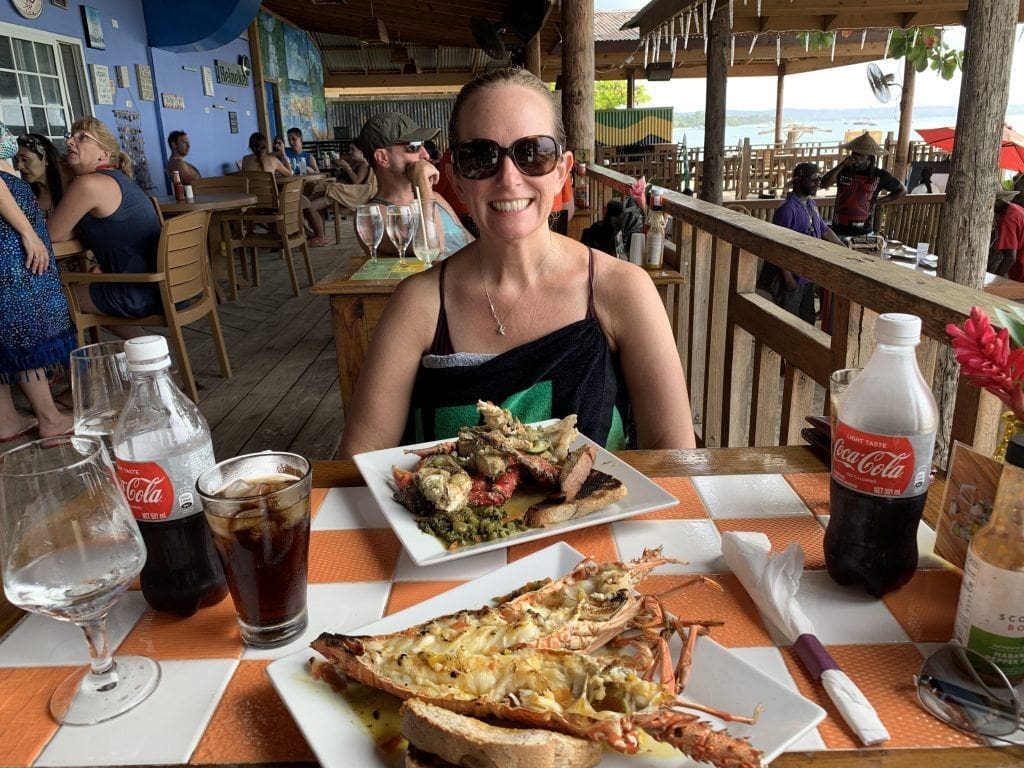 It's a very cool experience but at about $50 for a lobster it's pricier than just ordering a grilled lobster in a restaurant which will typically run $25 to $30.
There is also lobster meat in curry or garlic butter sauce on many menus. This is a cheaper and easier alternative to enjoying some keto diet friendly lobster in Jamaica.
Keto Diet Snacks in Jamaica
Be sure to check out our post on Keto Travel Snacks
One of the wonderful things about eating keto is that the desire for snacking all but disappears. Since our bodies are burning fat rather than sugar and carbs we aren't constantly craving more sugar and more empty carbs to burn.
So we typically don't even think about snacking.
But sometimes we do find we'd like something to nosh on in the evening or with a glass of wine at night.
Pistachios are readily available in stores and bodegas in Jamaica. As are almonds and other nuts.
But our favorite keto snacks come from Genius Gourmet! They have lots of great keto snacks including their amazing keto snack chips that travel very well!
Keto Cocktails and Alcohol in Jamaica
Red Stripe beer is one of Jamaica's most famous products. Unfortunately, one bottle of Red Stripe has 12g of carbs. Red Stripe beer is NOT keto friendly! And Red Stripe Light isn't much better at 10.5g of carbs per bottle.
So stick with wine.
Or, better yet, take advantage of another famous Jamaican product: rum!
Unless it has flavor additives that add sugar, rum has zero carbs.
We like to mix Jamaican rum with diet 7-up or diet cola for a tropical drink with 0 carbs.
Lisa also uses rum, club soda and Mio water enhancer to make a terrific tropical cocktail!
The Keys to Eating Keto in Jamaica
Eating keto in Jamaica requires a few simple things:
Try not to sweat the secret/hidden sugar: when you are not cooking for yourself you are going to end up getting some hidden sugar. Just accept that and be comforted that it's a LOT less hidden sugar than you would be getting in the US or Europe.
Keep it simple: jerk chicken and pork, grilled meat, fish or shrimp without sauces are always a great keto option no matter where you are in the world.
Chicken wings! My personal keto go-to and they do them really, really well in Jamaica.
Try some ackee and saltfish!
Don't Forget Exercize!
Jamaica is famous not just for its amazing beaches, but for crystal clear warm sea water.
You may be on vacation, but why not spend at least a few minutes every day swimming in the sea!?
I try to swim every day when I am in Jamaica. Lisa takes a little more of an 'I'm a digital nomad working hard' approach but does get in a swim every couple days.
Bottom Line – Eating a Keto Diet in Jamaica
Eating a travel keto diet in Jamaica is surprisingly easy.
And the greatest thing about being on keto is what we call in keto parlance NSVs: non-scale victories. And one of those is looking better than we ever have in a bathing suit on the beach!
Be sure to check out our main Travel Keto Diet page for more keto diet tips and hacks!
Inspired? Pin it!