Coworking Antalya in the Turkish coastal city of Antalya is a perfect spot for digital nomads, remote workers, and expats to spend a week, a month, or even longer.
It covers all the '3 Cs' that most digital nomads are looking for out of a city: Connectivity, Cost, and Community.
We came to Antalya for a week. We ended up staying five weeks!
It's fair to say we have developed a bit of a crush on Antalya and the community at Coworking Antalya that is comprised of local Turks, expats who have made Antalya their home, and digital nomads from all over the world.
It's so much more than just an Antalya coworking space.
Click or tap here to take a look at the SafetyWing Coworking Collection to find some of the best coworkings around the world!
What We Look For in a Destination as Digital Nomads
We are privileged to be able to live nearly anywhere on the planet for a month or two at a time, and so we can afford to be picky.
Here's what we look for when we are deciding to go next.
And why Antalya meets every one of them!
Internet Connectivity and Speed
After traveling the world full time while working from our laptops, we like to joke that the only thing we really need out of our next destination is fast, reliable internet.
But of course we don't make decisions based on what we need – but rather on what we want!
And what we want is to see new places, have new and interesting experiences, eat amazing keto friendly food, and generally enjoy life.
Antalya hits all of those notes perfectly.
First of all, internet speeds at our apartments were good – between 10 and 20 mbps both up and down. Plenty for working and streaming TV shows.
At Coworking Antalya not only were the speeds significantly higher, there are 2 redundant connections to both Turkcell and TurkNet!
Interesting and Fun things for Antalya Digital Nomads
There are a million interesting things for Antalya digital nomads to see and do! There's a very good reason that millions of tourists descend on Antalya each year.
In fact, it has been named One of the Best Places for Digital Nomads to to Visit or Live.
Weather
The Mediterranean weather in Antalya is lovely, especially in Spring and Fall. And the summers, though hot, are livable. It does get cooler and a bit rainy in the winter…but then there are actually ski slopes about an hour away from Antalya that are in season from mid-December until late March. And on many days in the winter you can ski at Saklikent and then apres-ski on a beach in Antalya!
Old Town
The old town itself is a tourist attraction. A maze of narrow winding street, we had fun our first few days getting lost in the old town. But it didn't take long before we had our bearings and knew the best spots for sundowners with a view.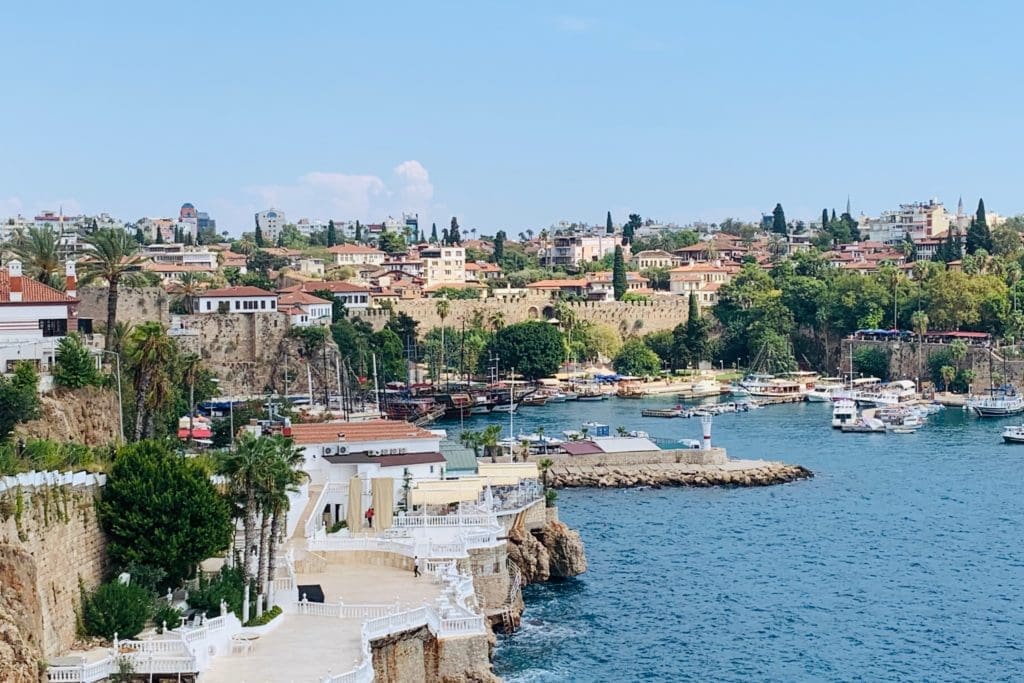 Beaches
And we already mentioned the beaches. There are many.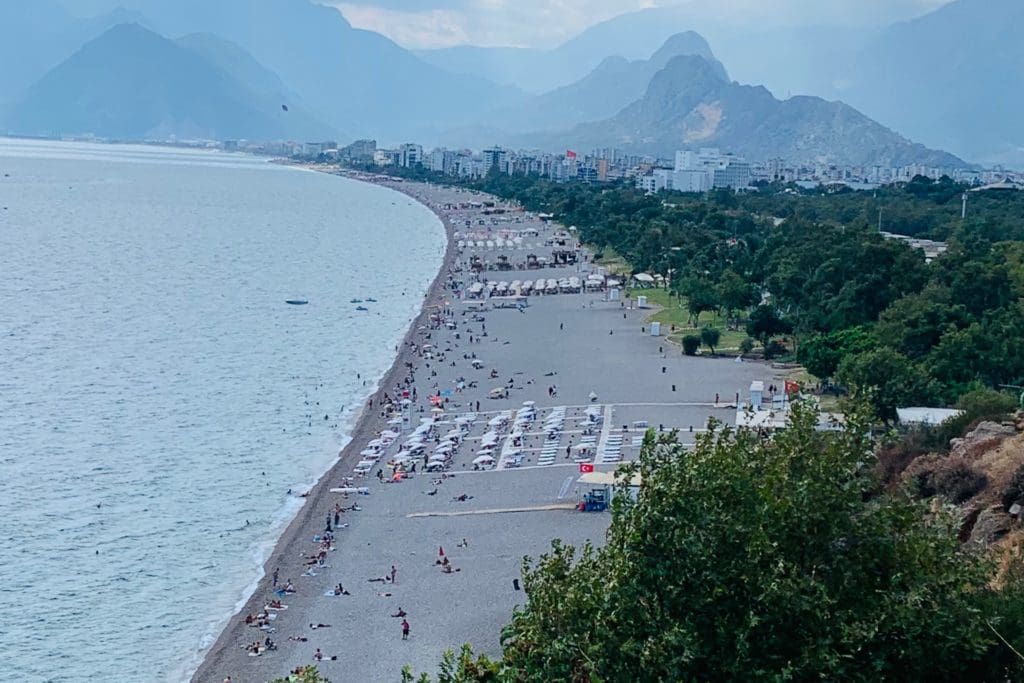 They call it the Turkish Riviera for a reason! We preferred to take a quick tram ride to Konyaalti Beach for a few hours on the beach before working east coast US hours.
Shopping
From ancient bazars to modern malls, shopping in Antalya is off the hook.
Wander the old town and check out all the spices, knickknacks, and souvenirs for sale. Go through the bazar near old town and see all the carpets, clothing, accessories, and other wares that you can imagine.
Or hit the modern shops along just outside the old town on Ataturk road and the modern mall a 10 minute walk from old town if that's your kink.
We came to the conclusion that, in many ways, Antalya is like a miniature Istanbul – but on the beach. In no aspect is that more true than in the variety of shops, stores, and stalls.
Food and Nightlife
And you'll never get tired of the food in Antalya as there are virtually unlimited options. Turkish, Persian, Asian, sushi, fast food, fine dining…you name it, you got it! And it was ridiculously easy to stick to our travel keto diet in Turkey with the wide variety of shish, doner, lamb, and other meat. We even found a restaurant, Rokka Fusion, that has a special keto menu!
And if it's nightlife you are looking for, Antalya's got it all. From quiet garden bars to bars with live bands to clubs pulsing EDM, Antalya keeps the party going all night.
There are also several interesting day trips from Antalya along the coast and north into Turkey.
Bottom line: we never ran out of interesting and fun things to do in Antalya.
Antalya is Affordable for Digital Nomads
In looking for spots with good internet and interesting things to do, we prioritize places where we can live an affordable luxury lifestyle. Some people call it geoarbitrage, but the idea is simple: earn a US salary but live and spend that income in places with a much lower cost of living.
For example, we lived in Bansko, Bulgaria where we paid $200 per MONTH for a gorgeous ski chalet in the summer of 2019.
We also lived in a suite in a luxury hotel in Chiang Mai, Thailand for $60 per night.
Wherever we go, we want to be able to get affordable luxury.
Antalya fits the bill, if you'll pardon the pun!
Turkey is a generally inexpensive place to be. And despite the fact that it's a tourist destination, Antalya is extremely affordable.
Food Prices
Most of our meals in Antalya cost less than $5. And I'm talking about big plates of keto-friendly kebab, doner, and lamb chops. Alcohol can add to that cost at dinner, but not by much.
Sometimes we would have 50 chicken wings delivered to bring to a coworking happy hour. Price was under $20. For half that we could get a large tin full of chicken doner meat.
Even at the fanciest white tablecloth restaurants we never topped $60 for a meal for the two of us…including wine.
Housing Prices
We lived in two luxurious apartments in Antalya (one for the first week, then another after we decided to stay 4 more weeks) right on the main street of Ataturk literally across the street from Hadrian's Gate, a major tourist attraction and an entrance to Antalya's beautiful old town.
Bear in mind that Antalya is a tourist town and we visited at the end of high season. But even so, we paid just under $80 per night for a sprawling apartment with gorgeous views over the old town and the sea. We have friends who stayed a little further from the center of things who paid under $30 per night, and other friends who stayed at small hotels or hostels for far less than that!
Grocery and Sundry Prices
Nearly everything else is dirt cheap in Antalya. Groceries, housewares, knickknacks, clothes, shoes, etc., partially because the Turkish lira has been quite weak against western currencies (although inflation has made up for some of that – prices on menus are often crossed out and made higher by pen), but also because it's simply an inexpensive part of the world.
So whether you are seeking affordable luxury like us, or are just looking for a decent and very cheap month or two, Antalya's got what you are looking for.
Where Should Digital Nomads in Antalya Live?
Antalya sprawls along the southern coast of Turkey so there are loads of options for places to stay.
Many expats end up settling on the beaches to the west or south of the old town.
But, to us, staying in or around the old town is the perfect spot. It's more convenient for daily life like grocery shopping, the mall, and getting around. And the coworking is easily walkable.
In the rough circle below you can see our recommended area for digital nomads in Antalya.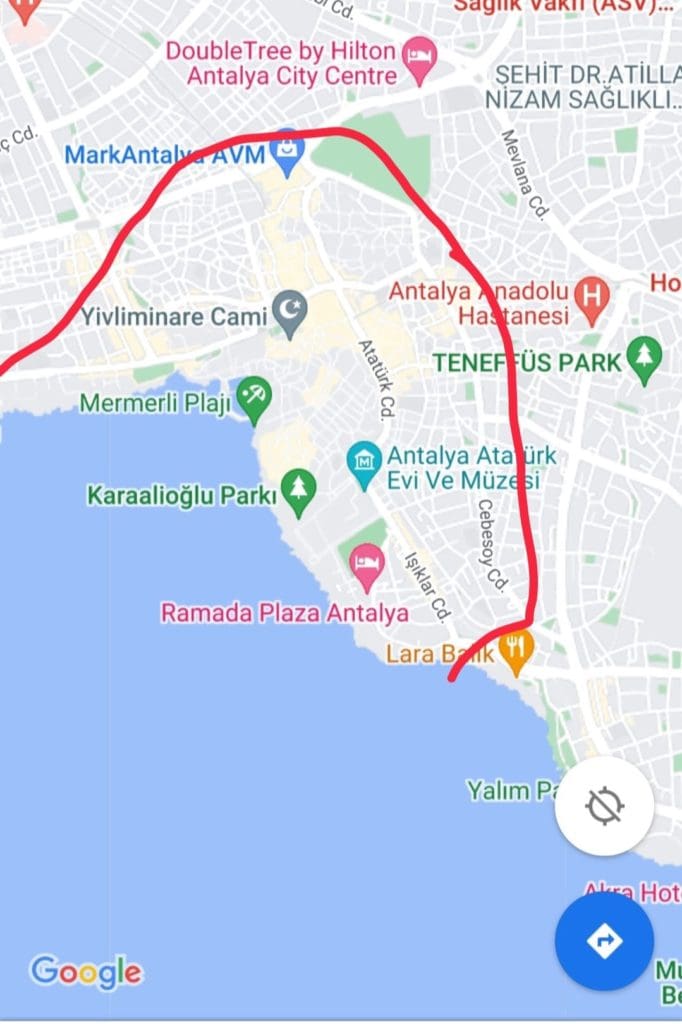 You can use this interactive Booking map to dig deeper:
Community
Finally, and perhaps most importantly, when we choose a destination we look for a great community to join.
Being totally honest, full time travel can be lonely – even as a couple!
So, after spending quite a bit of the summer exploring Montenegro, Bosnia, and Albania on our own, we were ready to reconnect to a community and see friends.
Turns out Antalya has both!
We met our good friend and fellow digital nomad Alex in Bansko, Bulgaria in 2019. He had visited Antalya in 2021 and fell in love with it. So much so that he put down some roots and created Coworking Antalya.
We've been to coworkings all over the world: Thailand, Vietnam, Malaysia, Colombia, Argentina, Brazil, Mexico, and on and on. With mixed experiences.
Most have great WiFi, plenty of desks and outlets, and are fine places to work. But have very little of what we really crave, which is community!
That's why we often create our own nomad communities by meeting up with other digital nomads we've met along the way. We coordinate with each other to create little digital nomad pop-up communities in various spots around the world.
In fact, for coworking experiences that have amazing communities we've only really had incredible experiences at Coworking Bansko and LOKAL in Tbilisi, Georgia.
And now at Coworking Antalya. In our opinion, it's THE place for Antalya digital nomads.
Coworking Antalya
Alex Van Den Elsen is a Dutch marketing expert and entrepreneur. He and his partner Ewa started Coworking Antalya in April 2022.
When we were members of Coworking Bansko, Alex was a very active member of that community. He arranged a marketing meeting every Tuesday evening so nomads could share marketing tips and experiences. He also co-hosted a Texas Hold 'Em poker tournament once a week.
He's as social and convivial a person as anyone you've ever met.
And he's built those experiences and that energy into the DNA of Coworking Antalya.
He places a high priority on both social interaction and professional development. Between the two there is something in or around the coworking going on nearly every day or night of the week.
Scheduled Events
Here's the schedule from just one week at Coworking Antalya:
Tuesday September 13
19.30
Marketing & Business Meeting
Online Marketing hacks & tools to grow your business
By: Santiago Sosa
Wednesday September 14
20.30h
Akra Jazz Band ft. Violeta
Jazz concert at the famous jazz bar of Akra Hotels
Members only (also open for future social members)
Thursday September 15
19.30 Workshop Embodied Presence
by: Marina Logan
Friday September 16
18.00 – 21.00
VrijMiBo
Afterwork drinks – Bring your own drink and a snack to share
Saturday September 17
Kaleici Boat tour
We'll do the 5 hour tour incl. cringe music, Duden Waterfalls and swimming. Departure time to be announced.
Monday September 19
8.00 AM
Monday Morning Yoga
By: Phoenix Yoga
Monday September 19
9.30 AM
Community Breakfast
Bring something to share at breakfast
Coworking Activities
Are you feeling the FOMO yet!? Yep, there's something to do every day at coworking Antalya. And it's a great mix of professional development, mental and spiritual development, and of course social activities.
From physical activities like yoga.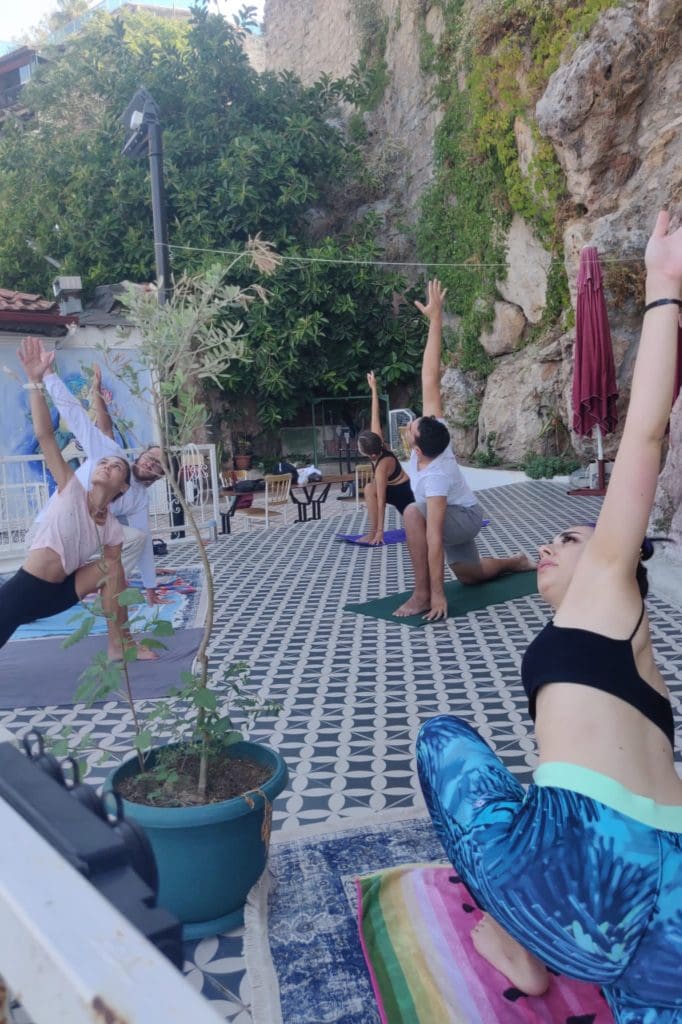 To professional development like the workshop on sourcing and selling on Amazon that Lisa provided.
To mental and spiritual sessions designed to improve your mind and way of thinking.
But the social event of the week is always VrijMiBo, Dutch for Friday happy hour!! Everyone brings their own drinks and a snack to share and a good time is had by all. Afterwards those so inclined adjourn to a bar or club to finish the night listening to music, dancing, or chatting away.
Side and Member-Led Events
In addition to the official events there are always side or member-led events going on among the coworkers.
Pub quiz nights, parties, clubs, hiking, walking tours. You name it, and community members are doing it!
Our favorite was the boat tour we took with 50 other members of the coworking community. Such. A. Blast!
Coworking Antalya Itself
As far as the physical coworking goes, it's pretty awesome.
Situated just off the old town harbor, it features an enormous two-tiered deck that provides both sea views AND a sea breeze. Perfect for working outside either in the shade of an umbrella or in the warm sun.
And the location makes it easy to find and easily accessible.
Inside the coworking is everything you'd expect to find: tons of outlets, fast and redundant WiFi, and plenty of options for workstations. There's a room downstairs for calls or private meetings. Coffee, tea, water, and very often snacks are provided in the large kitchen.
Many of the coworkers order lunch delivery each day. Cost is about $2.
We Love Coworking Antalya
Coworking Antalya is, in our opinion, what all coworkings should be: a place that brings smart, hardworking locals, expats, and nomads together. Not just to work, but also to to get to know each other and especially learn from each other.
So if you are a digital nomad pondering where to go next, you can't go wrong by spending a month or two as a digital nomad in Antalya, Turkey. Join the coworking and you'll have an amazing time, get a lot of work done, have amazing experiences, and meet truly amazing people in the process!
And, in the process, hopefully make friends for life!