Believe it or not, staying keto in Italy is not only possible, it's easy!
When we think of Italian cuisine, images of pasta, pizza, and gelato come to mind.
However, for those following a ketogenic diet, the land of culinary wonders can still offer plenty of mouthwatering options.
We spent 2 months all over Italy. And while we didn't get to enjoy all the pasta and bread and other carby food that Stanley Tucci talked about in Searching for Italy, we found low carb options in every restaurant in every region of Italy.
So if you like to stay keto on the go like we do, don't worry. Italy's got you covered!
Let's explore the range of keto-friendly dishes that we found in Italy.
From succulent Steak Florentine to delectable cheeses, savory pork, and flavorful sausages, it's easy to savor Italy's culinary delights while staying true to a low-carb lifestyle.
Our Two Months Staying Keto on the Go in Italy
As full time digital nomads, we try to 'chase spring.' We hate being too hot or too cold.
We also try to avoid tourist hot spots in the heart of tourist season.
So we decided it was time to spend April and May in Italy!
We typically like to slow travel – spend a month getting to know a specific city. But there was so much we wanted to see and do in Italy that we decided on some fast travel:
So we spent a lot of time on Italian trains taking it all in.
Staying Keto in Italy – Pro Tips for Looking at an Italian Menu
We'd been to Rome and the Amalfi Coast before. So we already knew that staying keto in Italy was just a matter of focusing on all the amazing Italian food you CAN eat on keto rather than fretting about the food you shouldn't.
But we learned so much more during our travel across Italy. Let's dive in!
A typical Italian menu consists of 4 main sections:
Antipasti – Appetizers
Primi – First/Pasta Course
Secondi – Second/Main Course
Contorni – Side Dishes
Dolci – Dessert
Our Tips
Pro Tip #1: You can make a great keto meal from the Antipasti (appetizer) section of an Italian menu. Most menus offer a wide variety of cured meats and cheeses, carpaccio of both fish and meat, mussels, pickled vegetables, and olives. Ask about the antipasto della casa—the house special—for seasonal and regional specialties.
Pro Tip #2: Don't even look at the Primi section of the menu. That's pretty much all pasta and risotto – no go territory. The exception is some menus include zuchhini noodle Primis and that's an amazing way to stay keto in Italy (more on that in a minute).
Pro Tip #3: Secondis are your friend! This is a meat, fish or vegetable main dish. Popular secondi dishes include pollo (chicken), bistecca (steak), manzo (beef), agnello (lamb), arrosto (roast), gamberi (shrimp), salmone (salmon), frutti di mare (mixed shellfish) and frittata (omlette). Look for the words al forno (baked), fritto (fried) and alla griglia (grilled). If it's fried, it's probably breaded. And be careful: depending on the region, any piece of meat might be breaded.
Pro Tip #4: Focus on the Contorni aka side dishes. Secondi don't typically come with any sides or vegetables (unless otherwise noted). Popular contorni include grilled or sautéed vegetables, green salad and potatoes. We love the grilled vegetables and the boiled spinach with butter.
Pro Tip #5: Don't look at the Dolci menu either. And we hate to break it to you, but aperitifs like limoncello have a TON of sugar. Stick to dry red or white wine.
As an aside, speaking of pro tips, tipping at restaurants in Italy is not a thing. Most restaurant bills include a service or cover charge. You are not expected to leave a tip so don't let tourist trap restaurants guilt you into it.
Our Favorite Italian Keto Dishes
There really are so many Italian keto dishes to choose from. Again, focus on the amazing things you CAN eat, and let the pasta and pizza (and the carbs and sugar that come with them) fade from your mind!
Here are some of our favorites.
Bistecca alla Fiorentina (Florentine Steak)
In the heart of Tuscany, indulge in Bistecca alla Fiorentina, a legendary dish that showcases the region's renowned Chianina beef. A thick-cut, juicy T-bone steak, seasoned with salt, pepper, and perhaps a touch of rosemary, is grilled to perfection. This succulent steak is a keto dream, delivering robust flavors and ample protein.
Typically sold by weight (designated S.Q. on the menu) and meant for sharing. Many restaurants will show you the steak before it is prepared. It arrives with olive oil and salt. Don't be stingy with either for a terrific keto meal.
Beef Tagliata
This may sound like a pasta dish, but beef tagliata is actually sliced steak with parmigiana cheese, typically served on a bed of rocket lettuce. It's delicious and perfectly keto friendly. Feel free to add olive oil to this dish too.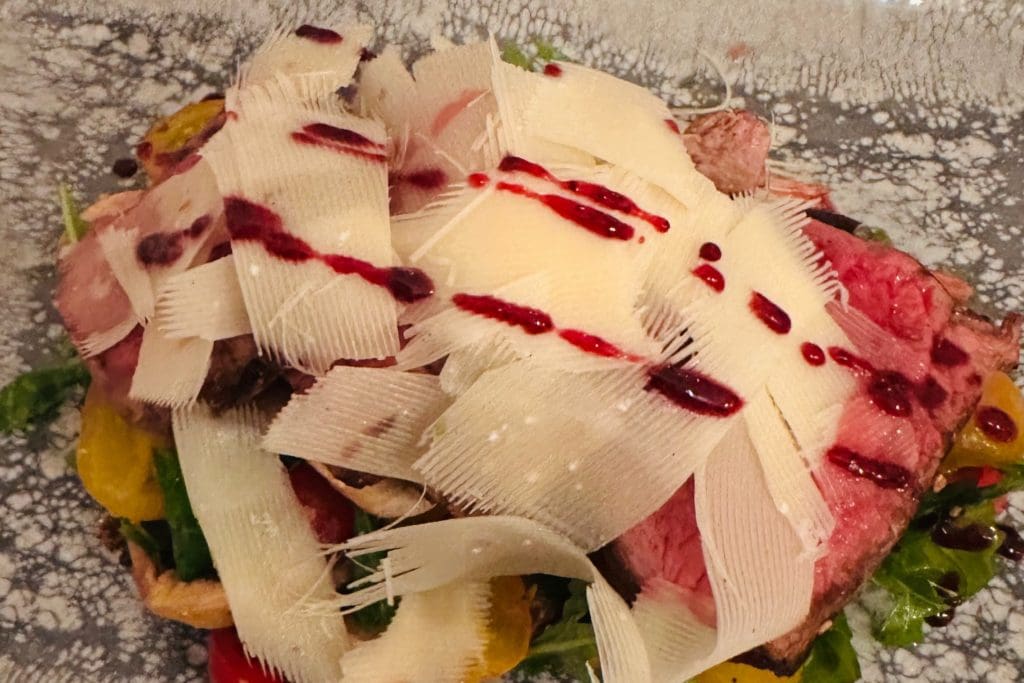 Formaggi (Cheeses)
Italy is a cheese lover's paradise, and luckily, many of its cheeses are keto-friendly. Sample a variety of options, including Parmigiano-Reggiano, Grana Padano, Pecorino Romano, Gorgonzola, and Mozzarella di Bufala. These rich, flavorful cheeses add a burst of taste to your keto meals and make for delightful antipasti.
Italians take their cheese VERY seriously. We visited a cheese producer in Parma and were in awe of the effort and meticulousness that goes into making some of the best cheese in the world!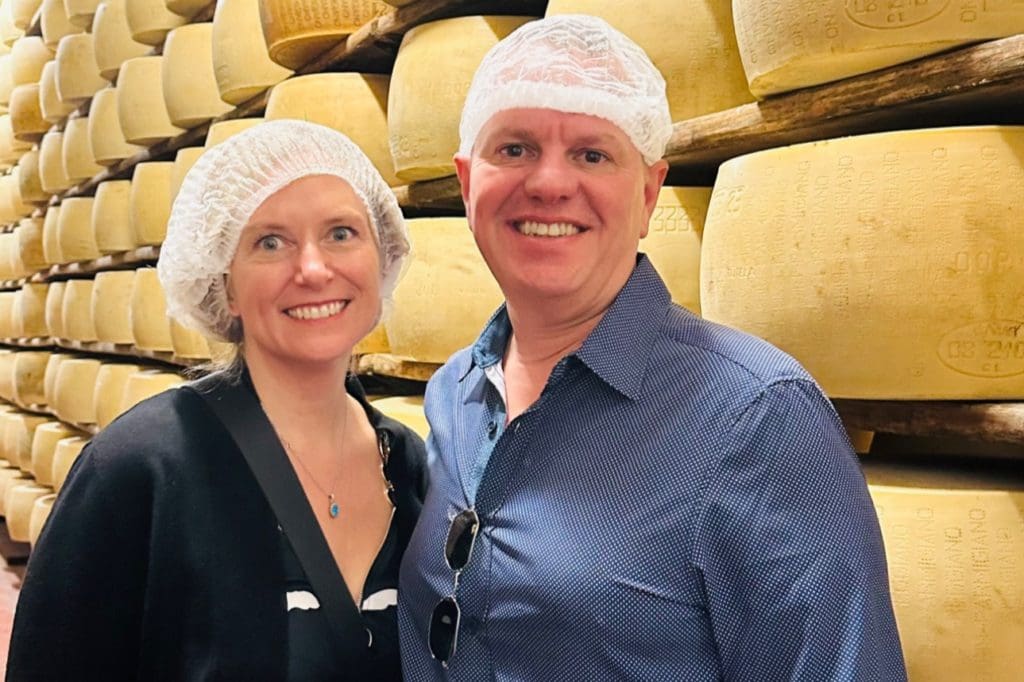 Porchetta
Originating from central Italy, Porchetta is a savory, slow-roasted pork dish that is a true delight for keto enthusiasts. Succulent and tender, the crispy skin and juicy meat create a heavenly combination. Enjoy it as a main course accompanied by fresh greens.
Salsiccia (Sausages)
Salsiccia, or Italian sausages, come in a variety of flavors and styles, often made with pork, fennel seeds, and other spices. Whether grilled, roasted, or sautéed, these succulent sausages offer a savory protein source that fits perfectly into a keto lifestyle. Pair them with sautéed vegetables or a side salad for a balanced meal.
Mixed Grill
Why not try lots of these keto options on a single plate!? Many Italian restaurants serve a mixed meat grill!
Caprese Salad
A classic Italian salad, the Caprese Salad, is a vibrant combination of ripe tomatoes, fresh mozzarella, basil leaves, and a drizzle of extra-virgin olive oil. Bursting with flavor, this low-carb dish showcases the simplicity and elegance of Italian cuisine, while offering a refreshing option for keto eaters.
We always add extra olive oil for a keto kick!
Fresh Sea Bass/Sea Bream
A staple in many Italian restaurants, it's ubiquitous in seaside towns like Palermo and Milan. Always fresh from the sea. Always grilled. Sometimes filleted, sometimes left for you to de-bone. Pour on the olive oil and enjoy the delicate flavors and – if it's prepared correctly – crispy skin.
Insalata di Mare (Seafood Salad)
Italy's long coastline provides an abundance of seafood options, making Insalata di Mare a fantastic keto choice. This seafood salad combines a variety of marinated and cooked shellfish, such as shrimp, calamari, mussels, and octopus. Seasoned with lemon juice, olive oil, and fresh herbs, it offers a light and satisfying meal option.
Zucchini Spaghetti
While pasta might be off-limits on keto, zucchini spaghetti, or "zoodles," provide a perfect alternative. Tossed in a flavorful basil pesto sauce, accompanied by cherry tomatoes and a sprinkle of Parmesan cheese, this dish captures the essence of Italy's famous pesto sauce while keeping carbs at bay.
Some Italian restaurants will prepare ANY of their Primis with zucchini spaghetti which means you can try any of the vegetable, seafood, or meat sauces/gravies while staying keto. We always leapt at this opportunity when it was presented. And it can't hurt to ask – just be prepared to get puzzled stares in response!
Artichoke
Particularly around Rome, artichokes are incredibly popular. And you can absolutely have artichokes on keto, thanks to their low carb count. However, keep in mind that they are not as low carb as other keto veggies, such as zucchini or broccoli. Still, when in Rome…!
Keto Snacks in Italy
Our advice for keto snacks in Italy is the same as for any country, and you can read that here: Keto Snacks on the Go.
But we also found a line of packaged keto snack products in Italy that we love. It's called Feeling OK. And they have all sort of keto snack products like croissants, cookies, toast, chocolate, and many more.
We particularly love the croissants for making sandwiches with the fresh Italian salamis and cheeses.
You can find them at the company's website or Italian Amazon.
If you don't have a mailing address in Italy you can find them in some pharmacies and wellness stores. In Palermo we found a store that specializes in their products called Fitness and Nurtizone. Gold mine!
Bottom Line – Staying Keto in Italy
Eating keto in Italy doesn't mean missing out on the country's culinary treasures.
To the contrary, leaving the pastas and pizzas to the side opens a whole new world of Italian food to your palate without all the sugar, carbs, and guilt!
From savoring the succulent Bistecca alla Fiorentina to exploring a vast array of cheeses and indulging in savory pork, staying keto in Italy will never mean going hungry!