We didn't know what to expect when we launched our digital nomad life in January of 2019.
And the reality of digital nomad travel has been full of surprises – particularly in relation to the preconceived notions that we held about the lifestyle.
Read our article Lessons From a Year of Affordable Luxury Full-Time Travel
At this point we are fully immersed in and in love with the digital nomad life. And we intend to continue living a life of Full Time Luxury Digital Nomad Travel indefinitely.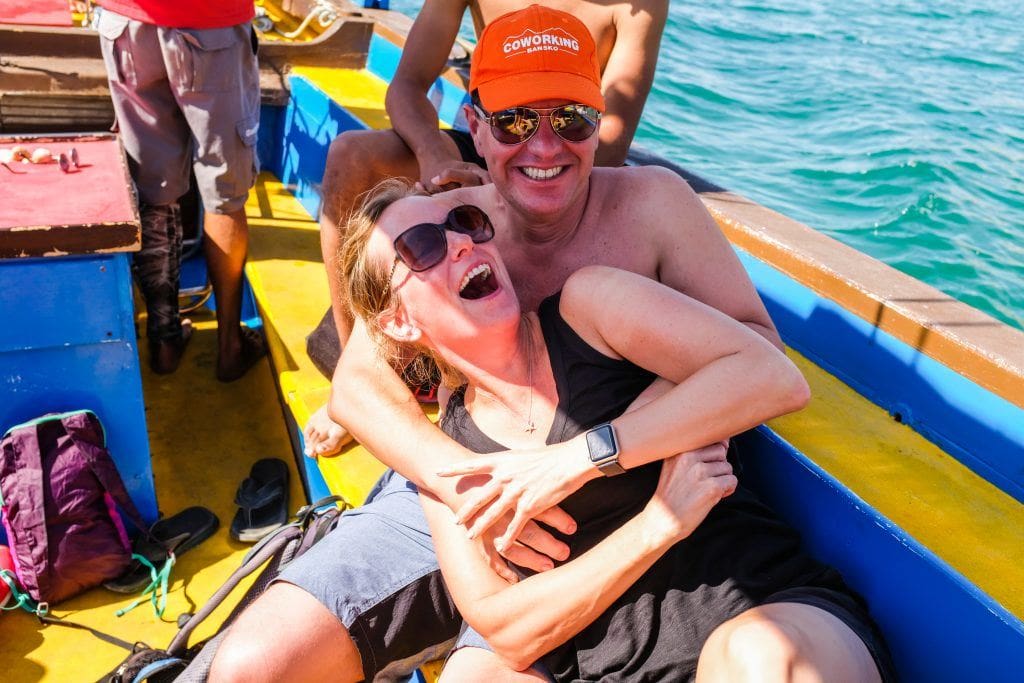 And that's why we are thrilled to share our experiences, knowledge and wisdom gained from being digital nomads.
Anyone Can Be a Digital Nomad!
It doesn't matter how young or old you are. It doesn't matter if you make $20,000 a year or $200,000 a year.
You can be a digital nomad too!
We are affordable luxury digital nomads. But we know digital nomads who live on a thousand dollars a month…and they love their lives!
Don't have a job that you can do remotely? Don't worry, we have a whole section on how to make money while traveling below.
In fact, digital nomadism has gone totally mainstream. Millions of people are already working remote. And by 2035, there could be 1 billion location independent workers.
Check out this video from The Economist describing how normal and common the digital nomad lifestyle is becoming:
If you can't see the video above, you can view it here.
So let us help cast your doubts to the side.
If you are at all curious about the digital nomad lifestyle then read on!
Contents:
Creating a Digital Nomad Coliving House in the USA
Thinking About Becoming a Digital Nomad
Thinking about joining the millions of people who are giving the digital nomad lifestyle a try? Good for you!
We thought about it A LOT before we decided to take the plunge.
As we describe in our article Making the Decision to Become Digital Nomads, we each took our own decision journeys to arrive at a 'yes'.
While Lisa drove our decision to become digital nomads, Matt approached the idea with excitement but also some trepidation. As he wrote in his article Some Serious Thoughts About My Ambivalence Over Leaving a Fast-Rising Career to Become a Digital Nomad, Matt originally thought the idea of becoming a digital nomad was a little bit crazy. Obviously not anymore!!
So whether you are all-in on the thought of living a digital nomad lifestyle like Lisa was, you are nervous but excited about it like Matt was – or something else entirely! – you get to have your own decision journey.
And there are lots of things to think about along that journey.
So let's dive into some of them.
Preparing for a Digital Nomad Life
Whether you are seriously considering becoming a digital nomad in the near future or just daydreaming about it, you should read How to Become a Digital Nomad 3 Simple Steps to Prepare.
This article takes a hard and realistic look at what it takes to change your life from 'normal' to 'nomad'. After all, making the decision to become a digital nomad or full time traveler is easy. Preparing for the reality of it is harder. So we cover planning, downsizing and packing for a digital nomad lifestyle.
And then there are the little things. Are you worried about missing American TV programs or sports? How to handle your snail mail while on extended travel? How to maximize suitcase space? Or other little things? Then check out our 11 Brilliant Travel Accessories and Travel Hacks for Full Time Travel.
Packing For Digital Nomad Life
So we've given you an idea of how to plan to downsize your life and become a digital nomad. You have a launch date. You've got some tips and tricks.
But what about packing? What does a digital nomad pack? And how does a digital nomad pack?
We always want to have the option of carry on full time travel. So we each live out of one carry on bag and one laptop bag.
How do we do it?
We started with The Best Long Term Travel Bag. The best long term travel bag, the best travel backpack and the best digital nomad bag are the same item. It's the Osprey convertible roller-backpack! It is a wheelie bag when you need a wheelie bag. And it's a backpack when you need a backpack. And it comes with a detachable laptop backpack!
It's AH-MAZING.
Ah, but what to put in your bag?
Lisa is the clothes shopper for both of us. And she describes how she evaluates travel clothes and provides specific digital nomad clothing suggestions in her articles Digital Nomad Travel Clothes for Men and Digital Nomad Travel Clothes for Women.
But choose wisely!
Because, as Matt describes in the article Long Term Travel Packing List, he travels with only 34 articles of clothing! That's his entire wardrobe!
And if one new article of clothing is added then one has to go.
Of course, not every digital nomad packs for carry on travel. Some travel with larger checked bags. But for us, part of the freedom of the digital nomad lifestyle is being able to pack all of our belongings into carry on bags.
How to Make Money While Traveling
If you don't currently feel that you have a job that would allow you to travel full time or for an extended period of time you are not alone!
The number one question we get asked is 'how can I make money while traveling full time or at least for an extended period of time?'
We've got answers!
Don't Ask, Don't Get
Our first suggestion is to carefully consider whether you are right. Do you REALLY need to be butt-in-seat in your current place of work, or could you actually do your job remotely? Many nomads we've met simply asked their boss if they could keep their same job but work remotely.
After all, one of the most defining work trends of the past decade involved remote work habits, which expanded by almost 400%! Today many jobs come with an expectation of at least some remote work flexibility.
And you'll never know if you can take your job fully remote unless you ask!
There are Always Options!
But being realistic, not every job can be done full-time remote.
So we wrote a Guide on How To Make Money While Traveling based on the stories of the hundreds of digital nomads and extended travelers we have met.
Our five recommendations for making money while you travel include eCommerce, finding a full-time or part-time job that you can do 100% remote, teaching English online, freelance work and blogging.
In our Guide we go into detail on the hows as well as the pros and cons of each approach to making money as a digital nomad.
You might not earn as much as you do in your current office job 9 to 5 grind, but your cost of living will be much lower too. And think of all the travel and fun you'll get to enjoy in your digital nomad life!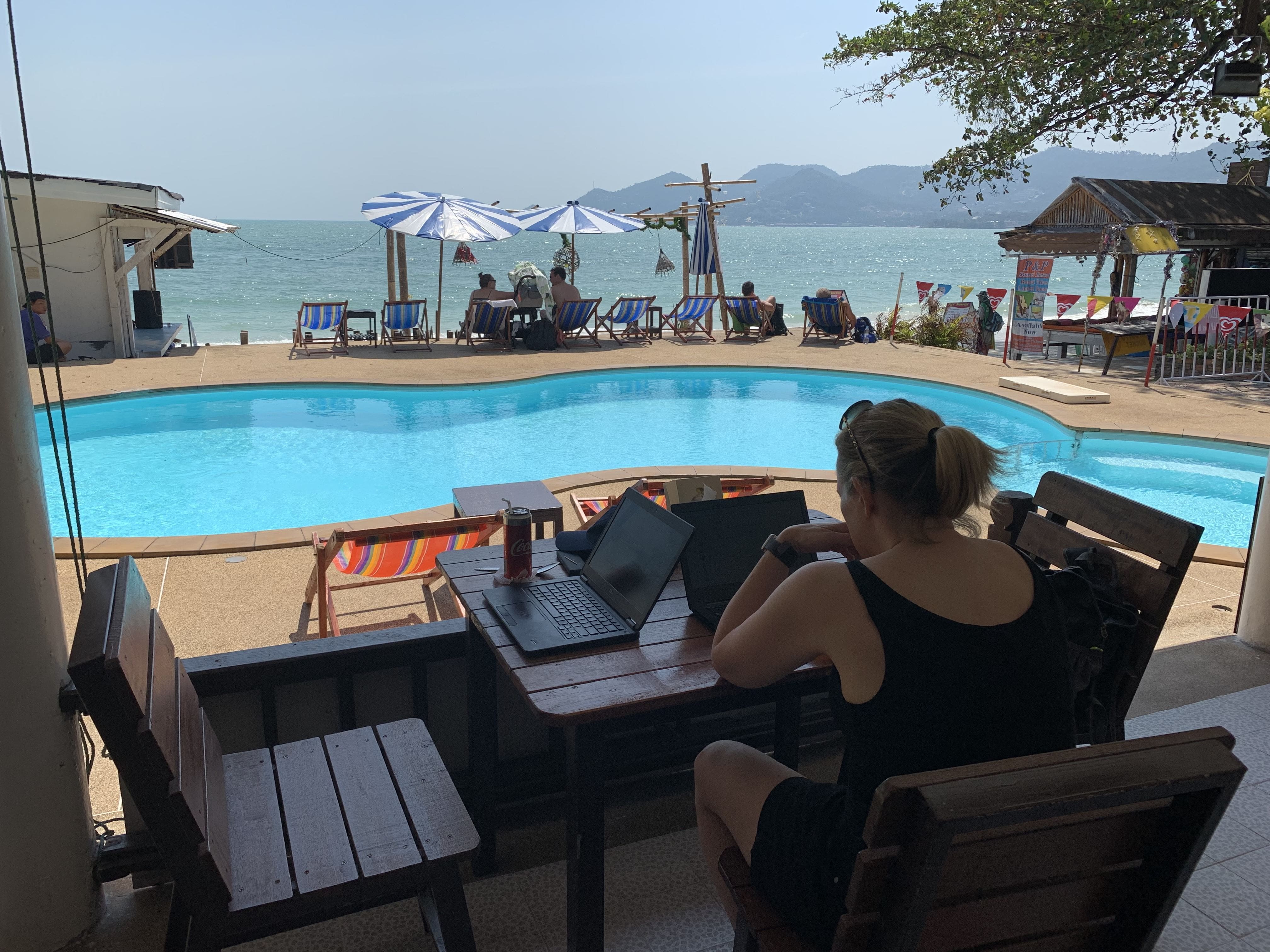 Tips on Working from 'Home'/Remote Work
Are you concerned with being efficient and effective working from 'home' as a digital nomad? Worried about work-life balance doing remote work?
Don't worry, we've already made all the mistakes for you!
Click here to see our three tips on working from home as full time digital nomads.
Digital Nomad Hotspots/Coworking and Coliving
There are certain places in the world that seem to draw in digital nomads from all over the world.
Generally they all have three things in common:
The cost of living is absurdly low.
There is fast internet.
There are interesting things to do and see.
So if you are worried that you might get lonely on a digital nomad lifestyle, fear not!
Because digital nomad hotspots around the world have welcoming communities that you can join.
The simplest way to find nomad communities is to join Facebook digital nomad groups. Search for 'Digital Nomads X' where 'X' is any digital nomad hotspot and you will find and be able to join a vibrant Facebook Group dedicated to that city.
And wherever digital nomads congregate, coworkings and colvings seem to pop up where digital nomads can work, sleep and/or play!
Which is awesome because coworkings and colivings mean digital nomad communities. And communities are critical to the digital nomad lifestyle for networking, professional development as well as fun!
Our favorite digital nomad communities so far include nomad bowling in Chiang Mai Thailand, nomad dinner in Da Nang Vietnam, finding expats and nomads in Penang and the incredible community at Coworking Bansko Bulgaria!
Here are all of our experiences and advice with digital nomad hotspots, coworking and coliving.
Hacker Paradise
Does the notion of taking off to a digital nomad hotspot for the first time all alone make you queasy?
No problem!
If you want to try the digital nomad lifestyle on for size before you go all-in then we have the perfect opportunity for you: Hacker Paradise trips.
We joined a Hacker Paradise trip in Medellin Colombia and loved it! We met lots of veteran nomads and we always love expanding our digital nomad network.
But we also met a lot of people on our Hacker Paradise trip who were dipping their toes into the digital nomad lifestyle with a 2 week or 1 month digital nomad experience.
Some of these folks were working their jobs remotely during that period to see how it felt. Others were on vacation from their 'normal' jobs and working on a side hustle during their Hacker Paradise trip. And still others were simply on vacation and exploring what it would feel like to be a digital nomad.
Each Hacker Paradise trip includes an exclusive program of experiences curated to the destination. These experiences include networking events, panels, workshops, and excursions. And these trips give you the chance to get involved in the local scene in an authentic way with language exchanges and other meaningful interactions with locals.
But the best part of a Hacker Paradise trip is the community of nomads and travelers.
You'll spend your time with 15-25 other nomads and travelers coworking and coliving.
But also doing personal and professional development, knowledge and skills sharing, accountability circles and so much more.
And of course having adventures and fun along the way, like the time we all climbed 705 steps up the Rock of Guatape in Colombia!
And best of all, Hacker Paradise arranges EVERYTHING for you. Lodging, coworking space, local SIM card, community, professional and personal development. All included!
It's an amazing way for veteran digital nomads like us to let someone else take care of all the logistics of digital nomading for a while. And it's a really great way for anyone dreaming about the digital nomad lifestyle to get a taste of it before you go all-in!
And they go to the COOLEST place!
Check out the upcoming Hacker Paradise trips by clicking this link:
Camper Retreats Campervan Caravans
But the most amazing community of all has been the tribe we found doing a campervan caravan in the Algarve region of Portugal!
Whether you decide to nomad or not, if you have the chance, definitely do a Camper Retreats campervan caravan where you work, play and explore.
The caravans are geared toward nomads, but travelers also take the caravans during vacation as a way to experience digital nomad life or van life.
No matter how you treat a campervan caravan, it'll change your life!
Creating a Digital Nomad Coliving House in the USA
When COVID shut down all international borders for Americans we didn't give up on the digital nomad lifestyle. Instead we created our own digital nomad coliving house in the US!
All of Our Digital Nomad Hotspots, Coworkings and Coliving Experiences
We feel like we've only scratched the surface of the digital nomad lifestyle and community. But here are all of our experiences so far!
Airbnb Advice
As digital nomads we live in short-term rentals or homestays all over the world 11 months out of the year, often booked through Airbnb, VRBO or Booking.com.
Generically called 'homestays,' we've used them in Thailand, Bali, Australia, Vietnam, Malaysia, Central America, South America, the UK, France, Germany, Poland, Bulgaria, the US and many, many more. And by using these services we pay a fraction of the cost for lodging but get big luxurious apartments instead of tiny hotel rooms.
An even better travel hack is booking 3 nights in an Airbnb to have a soft landing in a new city. Then using those days to explore your ongoing lodging options.
That approach worked very well for us in Chiang Mai Thailand, Da Nang Vietnam and Bansko Bulgaria.
But the two most important things you need to learn whether you are a digital nomad or a vacationer is avoiding Airbnb scams and avoiding being evicted from Airbnbs. We've got experience with both – click here to read more!
Travel and Health Insurance for Digital Nomads
Our biggest concern about taking on a full time travel lifestyle was health insurance and medical care insurance.
It should be one of your biggest concerns too. Traveling comes with inherent risk. Accidents happen. People get sick. No one thinks it will happen to them…but it does!
And the last thing you want to is to have no insurance if it happens to you.
This is particularly a concern for Americans because the cost of healthcare and health insurance is so ridiculously expensive in the US.
But we solved that problem! You can find affordable travel medical and travel health insurance – and you want both.
We created a guide to travel health insurance that covers travel insurance as well as health insurance for full time or long-term travelers to explain why and how.
Bottom Line – Digital Nomad Life
Adopting a full time travel digital nomad life is the best decision we've ever made.
It did take a lot of thought and planning. But that was also an exciting time of our lives!
Whether you are all ready to adopt a digital nomad life or are just daydreaming about it, know that the world is waiting for you!
Live your best life!