I love to shop…and the travel clothes for men that Matt wears were all the result of careful research and a little bit of trial and error.
He didn't mention it in his blog post about packing to be a digital nomad, but I selected nearly every piece of clothing on Matt's packing list.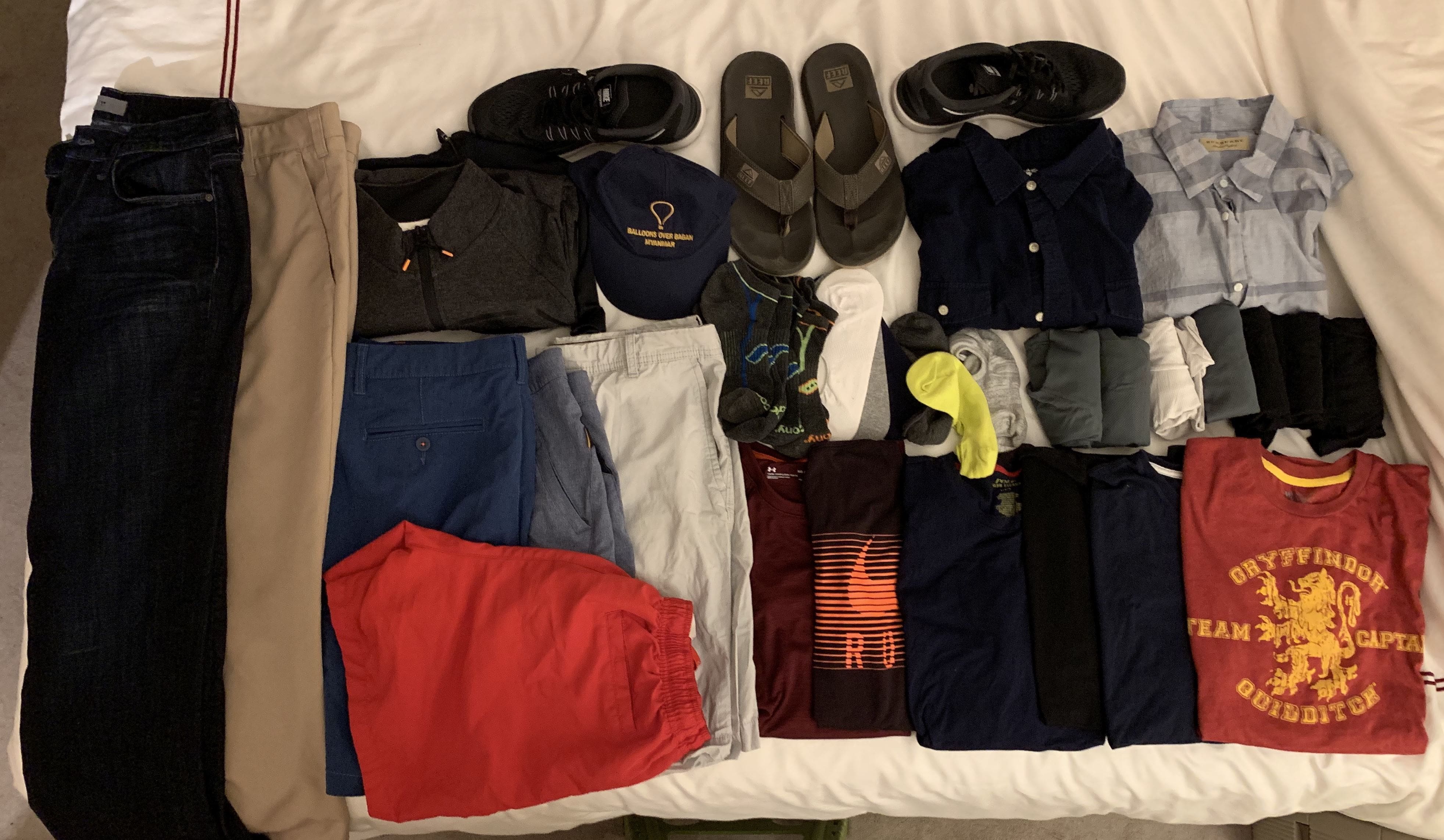 As any woman knows, shopping for yourself is sometimes fun and sometimes tough and a bit depressing…especially if you've gained a few pounds.
Shopping for someone else is fun for me because I don't have to go in the dressing room but still get to experience the thrill when I find the perfect piece – bonus points for on sale!
I have talked about how hard it was for me to find travel clothes for women for myself. Finding a variety of travel clothes for men was just so much easier. There are so many more choices and variety.
So the challenge in finding the perfect travel clothes for men was more about choosing them than about finding them.
Matt's Requirements for Travel Clothes for Men
Matt's pretty simple when it comes to clothes: he wants them to fit and he wants them to look nice.
I'm more picky. 🙂
So I added a few more requirements: I decided he wanted them to be light, breathable, wrinkle-resistant and compactable…and he has to look super-cute in them.
Here's what I bought.
Travel Shirts for Men
Button-Up Shirts
Matt has two button-up short sleeve shirts.
His favorite is the Burberry, and it's my one concession to the whole 'comes out of suitcase wrinkle-free' rule. It tends to come out a wrinkled mess and needs an iron or steam before wearing.
I got this one at Nordstrom Rack in DC, so I can't provide a link to it (instead here is a generic link to Burberry), but I think he's absolutely adorable in it.
Even though I did make fun of him in Kuala Lumpur…after all, we are poshpackers, not backpackers! 🙂
Travel Sunglasses
We lead an affordable luxury travel lifestyle.
And in my opinion one of the keys to affordable luxury is to splurge on a couple of signature accessories.
For Matt it's his Burberry (of COURSE!) sunglasses.
Travel Pants for Men
The pants in that photo above, by the way, are his one pair of trousers.
They are Bluffworks Original Khaki Pants. These pants were literally designed with our travel requirements in mind. They are quick-drying and wrinkle-resistant. They have zipper pockets to help protect from pickpockets.
Matt wears them both traveling and exploring as well as for a nice date night #datelife out on the town. He says they are the most comfortable slacks he has ever owned and always wears them when we have a long or overnight flight.
But most importantly they are SO CUTE and stylish.
Travel Jeans for Men
In addition to his Bluffworks Khakis, Matt brought one pair of jeans. They are Joe's Jeans Men's Classic Fit Straight Leg.
Before we launched Matt had about a dozen pairs of jeans, many of which he really liked.
In the end he brought this pair along because they are sturdy, comfortable and he likes the way they fit.
They are dressy enough to call 'dress jeans' on our affordable upscale travel date nights but not so expensive that we'll be upset if anything happens to them.
Joe's Jeans Men's Classic Fit Straight Leg.
Travel Shorts for Men
Quiksilver Men's Venture Amphibian 19 Walkshort Boardshort Shorts
Matt loves, loves, LOVES these shorts. He would wear them every day if I didn't make him wash them once in a while.
The are so light and thin. And the crotch and lower back are made of mesh-type of material that is breathable. He likes to talk about that a lot on hot days (and we see plenty of those!): 'Hey, Lisa, look, my shorts are breathing!' Sigh.
Anyway, he loves these, they are thin, light, wrinkle-free, super-cute and he looks good in them.
Every single one of the pick-pocket-proof pockets zip up which makes him (and me!) way more comfortable in crowds when traveling.
Quiksilver Men's Venture Amphibian 19 Walkshort Boardshort Shorts
Travel Pullover for Men
Matt only brought one pullover on our adventure, a Quiksilver Men's Bigger Boat Half Neck.
I chose this pullover after looking at dozens. It's thin and light but warm, wrinkle and stain-resistant and looks great in both casual and more fancy settings.
The zipper pocket on the chest holds his iphone while traveling and sometimes his passport at immigration.
It's also quick-drying and packs up super-small when rolled up.
Quiksilver Men's Bigger Boat Half Neck.
Travel Swimsuit for Men
Calvin Klein Men's Euro Solid Swim Trunk
In 2018 Matt and I visited Iceland for the first time. When we got there I asked him if he had packed a swimsuit.
He said, "Lisa, we are in ICE-land. Why would I bring a swimsuit!?"
So I explained about the Blue Lagoon and then took him swimsuit shopping.
That's where I found these super-cute European-style swim trunks.
Calvin Klein Men's Euro Solid Swim Trunk
Travel Shoes for Men
Matt brought precisely two pairs of shoes on our lifestyle: one pair of Nikes and on pair of flip flops.
Sneakers/Running Shoes/Trainers
I bought Matt's Nike Men's Free RN Running Shoes after seeing similar shoes on nearly every traveler in them in Greece and Italy.
They are popular travel shoes for good reason: they are light and very breathable. Matt says they are the most comfortable sneakers he has ever worn.
When he hurt his ankle, he found the shoes to be very supportive.
Nike Men's Free RN Running Shoes
Flip Flops
The process for selecting flip flops took over a year. I ordered a pair and Matt found something to complain about: too tight, hurt his toes, hurt his heel, etc.
Finally I ordered a pair of Reef Mens Sandals Phantom and it was like the scene from Cinderella: they just fit.
And while the arch support and athletic soles make them a bit thick while packing, Matt has walked comfortably in them for miles at a time.
Travel Socks for Men
I bought Saucony Men's Comfort Fit No-Show Socks for Matt.
They are cheap, small, light and dry quickly. And he finds them very comfortable.
And if I am honest, so do I!
I often 'borrow' them from him because they are nice and breathable.
Travel Underwear for Men
ExOfficio Mens Performance Underwear
As I said in my post about travel clothes for women, Matt discovered ExOfficio underwear from the blogging couple at Never Ending Voyage. Our friends Stephanie and Chris, who spent 9 months traveling the world in 2016, also recommended them.
Based on these recommendations I ordered him a pair to try out. Not only was he a convert, so was I. They are amazingly comfortable, pack up small and you can wash them in the sink with hand soap and they are dry an hour later.
A traveler must-have.
ExOfficio Mens Performance Underwear
Travel T-Shirts for Men
Like me, Matt treats t-shirts as somewhat of a disposable item. He left one pair in Chiang Mai after buying a new t-shirt at H&M for $9US, for example.
There is one exception.
His Harry Potter Gryffindor Quidditch Team Captain t-shirt. Matt LOVES this t-shirt. A lot.
He bought it when we were in Harry Potterland at Universal Studios, Florida. When he bought it he literally took off the shirt he was wearing and threw it away and wore this t-shirt out of the store.
He wears it all. The. Time.
My husband can be a dork, but I do love him. And I do love to shop for him!