When COVID-19 closed international borders we set about creating a Digital Nomad Coliving House in the USA.
This is the true story…of eight acquaintances…self-selected to live in a house…work together…and have their lives recorded in this article…to find out what happens…when people stop nomading internationally…and do a US digital nomad coliving house…
The US Digital Nomad Coliving House!
Digital Nomads in the Time of COVID-19
It ain't easy being digital nomads in the time of COVID-19.
There are certain places in the world that seem to draw in digital nomads from all over the world.
Generally they all have three things in common:
The cost of living is absurdly low.
There is fast internet.
There are interesting things to do and see.
The cost of living is number 1 on that list for a reason!
One of our biggest Lessons From a Year of Affordable Luxury Full-Time Travel was the importance of geoarbitrage. Geoarbitrage involves moving to or visiting a place with a lower cost of living while keeping the same level of income. Lowering the cost of living means it's easier to make that income stretch farther.
But during COVID-19 international borders shut down. So American digital nomads like us were unable to visit digital nomad geoarbitrage hot spots like Thailand, Penang Malaysia or Bansko Bulgaria.
So we knew that if we wanted to keep being digital nomads in the USA we would have to get creative.
What are Digital Nomad Houses, aka Co-Living
Digital nomads tend to be social and gregarious people. Whether naturally introverted or extroverted, people who travel full time quickly learn the importance of forming temporary communities.
As a result, the digital nomad community is incredibly open and welcoming. The reality is that traveling full time as a digital nomad can become a lonely grind…even when you are a nomadic couple! So rather than being closed off, most digital nomads are open and welcoming of meeting new people and will welcome you into a community.
One natural result of this reality are co-workings where digital nomads and others gather to work. Although Lisa and I tend to work from home, we spent time at co-workings in Bali, Bansko Bulgaria and Medellin Colombia.
Another natural result of the digital nomad lifestyle are co-livings or digital nomad homes. The idea is that a bunch of digital nomads pool resources and rent fabulous houses.
Each participant pays less than they would for a studio or 1 bedroom apartment. But everyone enjoys the nicer accommodations as well as the many common areas.
Sometimes these co-living digital nomad homes are full-time operations. And they often include a co-working aspect.
For example, until COVID-19 ruined everything Lisa and I were excited to get to spend a month at Sun and Co.. It's a 19th-century co-working and co-living digital nomad house located in Jávea, a historic seaside town on the east coast of Spain.
After that we were going to take a less formal approach to a co-living and co-working digital nomad house.
We were going to spend a month with digital nomad friends on the Greek island of Syros.
We had put a deposit down on a beautiful house on Syros that we would share with nomad friends we had met over the course of our nomadic adventures.
We each paid for a room and were going to use the beautiful common areas including a rooftop and patio area for co-working.
Alas, COVID-19 foiled all of those plans. Man plans and God laughs.
But the important thing was that we had discovered the concept of digital nomad houses that combine co-living and co-working. And we were excited to spend the year experiencing them.
And if we could do that in Spain and Greece, why not in the USA?
Creating a Digital Nomad Coliving House in the USA
Thanks to Facebook groups, Zoom, Whatsapp and Slack channels we kept in touch with our friends all over the world including other digital nomads in the time of COVID-19. And that's how we plotted to get traveling again as soon as possible.
But then March rolled over into April. And April into May with no end to international travel restrictions in sight.
So a group of U.S. based nomads all of us trapped in the U.S. but longing to travel decided to create our own digital nomad co-living and co-working house right here in the good old US of A.
Our friends Nicole and Lauren that we met during our Hacker Paradise membership in Medellin Colombia led the charge.
Working together remotely, we all looked for some domestic geoarbitrage. A place where we could live in luxury on the cheap in the U.S. by pooling our resources.
We knew it wouldn't be easy. The U.S. is just so much more expensive than most of the rest of the world. But for once COVID-19 worked in our favor. The virus left the short term rental market in the toilet. There were great deals to be found if you knew how and where to look.
Eventually we found a gorgeous 9-BR house (mansion, really) in Lake Tahoe, Nevada that we could rent for pennies on the dollar thanks to COVID-19 destroying tourism there.
So we paid our share for the house. Then bought tickets to fly to Las Vegas where we could rent a car for a month for less than $15/day.
Unfortunately, 10 days before our reservation started in Lake Tahoe our reservation fell through.
But one of the advantages of being digital nomads is that travel plans are always flexible. We're used to making last minute plans or changes to plans.
We all put our travel planning hats back on and ended up finding a suitable alternative chalet in the small mountain town of Eden, Utah on Airbnb.
Click here to see the specific house we stayed in. It's amazing!
If you don't have an Airbnb account click here to sign up!
The Airbnb host for our digital nomad house was Tyler and he is, without a doubt, the most pleasant, helpful and caring Airbnb hosts we've ever had in over 100 home stays.
He wasn't ever satisfied unless every one of our needs AND desires were met. Just another level of service altogether.
Our Digital Nomad House in the USA
So we flew to Las Vegas, picked up our rental car and drive 7 hours through the desert to northern Utah.
It didn't take long for us to fall in love with our digital nomad house in the US.
Northern Utah turned out to be the perfect place to escape the COVID-19 madness for a month.
Our digital nomad house was in the Wolf Creek resort area near Eden, Utah.
It's in the Wasatch Range, which is the western edge of the Rocky Mountains. And the eastern edge of the Great Basin region.
The area is a ski town in the winter. Snowbasin and Powder Mountain is one of the oldest continuously operating ski areas in the United States.
Before Covid, Lisa and I had planned to spend a month in the ski town/digital nomad hot spot of Bansko Bulgaria.
In fact, Lisa was all set to be a speaker at Bansko Nomad Fest before all international borders were closed to Americans.
So spending a month in a US ski town in the summertime just felt right.
Besides, it's a relatively remote place (the area is marketed as 'Park City Without the City'), reducing concerns about virus spread. And there is plenty to do in the area (see below!).
The weather is also perfect: spring-like cool in the evenings and mornings. Warm, dry and sunny during the day.
And the mountain setting is certainly gorgeous!
A Note About Coliving During COVID
When we decided to have a coliving adventure during COVID-19 we all assumed the risk of catching and spreading the virus among each other.
Choosing a remote location with low local spread was obviously a motivating factor.
And we all did our very best to follow best practices leading up to the month together.
During our nomad house we stuck to pretty strict mask and hand sanitizer protocols in public around other people (even as only about 50% of other people in rural Utah were doing the same – one of the many reasons the US does so poorly at containing the virus).
But on the first day of coliving we all accepted the fact that if one of us caught the virus then it was likely we all would.
Thankfully that never happened. But such is the reality of nomading during COVID.
Intro to Coliving
The idea of digital nomad co-living may seem weird at first.
Sharing a house with a bunch of people – some of whom we know and others we don't – is pretty far from a 'traditional' form of lodging.
But if you stop to think about it, digital nomads tend to share a lot in common.
We all work remotely. We have a passion for full-time travel. We're all relatively open to risk. We tend to be tech-oriented and have skill sets that align or are complimentary to each other. And we don't feel beholden to 'traditional' anything!
That's a lot of commonality to have with housemates. And so while negative experiences can happen in coliving scenarios, they are the exception.
But the odds of serious coliving drama are minimized even further when the nomad house is built out of a 'bring your own friends' approach. When we booked our US nomad house we knew some, but not all, of the people we were going to share it with.
But the people we knew already knew the people we didn't know.
So based on the transitive property of friends (a concept I just made up), if I like someone and the person I like likes another person then the odds are that I will like that other person too! If I know and get along well with James and James knows and gets along well with Chris then there's a good chance I will get along well with Chris too. That's just simple relationship math!
In the end our housemates were:
Lauren who is a entrepreneurial graphic designer. Her design firm is LM Designs and she does design work for everything from small companies to giant corporations.
James is a software engineer doing some really interesting big data work for a product analytics company.
Chris who, like Lisa, operates a successful online e-commerce business selling products on Amazon. His products are quite different than Lisa's products, but the two of them spent quite a lot of time comparing notes and tips about selling products on Amazon!
Nicole is a freelance digital marketer specializing in LinkedIn marketing and event planning who finds most of her clients from her Upwork site.
Jessica who is an engineering lead for a music streaming company.
Dylan works in property insurance settlements.
And of course me, Matt, running ReadyJetRoam while working as a freelance digital marketing, web development and SEO consultant.
We had a great group of nomads in our US digital nomad house!
Coworking at Our Coliving in the US
Digital nomads, by definition, work from 'home.' And since the entire planet is our 'home,' we are able to earn money working from anywhere.
Coworking is a concept that is not unique to digital nomads, but one that nearly every digital nomad eventually takes advantage of.
Coworkings are establishments with daily, weekly or monthly memberships that provide access to a facility with shared desks, tables, work areas, conference rooms and video conferencing booths. They have fast, reliable wifi and give anyone, including digital nomads, everything they need to work.
In our experiences with coworkings, the very best tend to include a social and/or community aspect. That way you can work and play with other human beings. Which is quite nice when you are traveling alone – or even as a couple. The social aspect is obviously less than in a coliving situation, but more than sitting at a table surrounded by strangers for a week or a month.
Most colivings also have a coworking component. Our digital nomad house in Utah was no different.
We quickly identified the open main floor and back patio as our US digital nomad house coworking space. That's where much of this article was written!
The dining room table became the main coworking area. But we also worked from sofas, recliners and the outside patio table pretty regularly.
Everyone managed to find spots to be very productive. And the fast wifi reached all over and around the house.
We didn't do a lot of formal coworking exercises like accountability circles, skill shares or work sprints.
But we did do a LOT of informal knowledge sharing and professional development. During work breaks and social activities we discussed business concepts, shared experiences and even reviewed business materials for each other.
And perhaps more importantly, after COVID quarantine killed a lot of motivation, we kept each other motivated and working hard by example.
Our nomad coliving/coworking was the perfect antidote for the COVID lock down business 'blahs'.
Meals at Our US Digital Nomad Coliving House
Going into the adventure, we agreed that everyone would be responsible for their own meals.
But it's pretty awkward when 6 or 7 people try to make their individual dinner at the same time.
So after settling into our digital nomad coliving house we agreed that we'd do regular 'family dinners.'
For the most part everyone took care of their own food. Lisa and I maintained our travel keto diet including our keto breakfasts and keto lunches and snacks.
But every other evening two of the housemates were tasked with making a group dinner. Sometimes the pair created intricate three course meals. Other times the pair simply ordered take-away food.
Everyone was respectful of everyone else's dietary requirements and preferences which sometimes meant making multiple sides. But it was never a problem.
The best part ended up being the community and shared responsibility aspects. We switched cooking partners each time. It was always a blast!
And the results spoke for themselves.
We also went out to eat a few times.
But kept this to a minimum out of respect for the Coronavirus even in rural Utah.
The Official Drink of Digital Nomad House US
Lisa and I prefer wine.
And we do wine tastings all over the world.
But Utah has funky laws around the sale of alcohol.
Wine and hard alcohol are only available in state liquor stores. And the closest open state liquor store to Wolf Creek is over a half-hour away in Ogden.
The local supermarket carries beer. But beer doesn't conform very well to our travel keto diet.
The supermarket also carried 'hard seltzers.' Which can be keto-friendly. But we had tried those before and to us they taste to us they tasted too 'chemical-ly.'
But James swore by the White Claw brand of hard seltzer. And specifically the mango flavored one.
So we tried it. And he was right! They are relatively healthy AND delicious.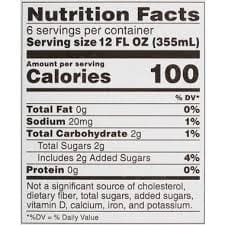 Mango White Claw hard seltzer became the official drink of our U.S. nomad house! If you look at the photos of our social activities closely you will see them over and over.
Leisure and Social Activities
All work and no play makes Jack a dull boy. And one of the great thing about being a digital nomad is having a flexible work schedule so we can get in lots and lots of play!
We did all kinds of fun stuff both during the day and evenings at our US digital nomad coliving house.
Creating a Digital Nomad Coliving House: Day Activities
Golf
We took advantage of the many reasonably priced golf courses in and around Wolf Creek and Ogden Utah to play golf as much as possible.
In the end we played 8 times!
And every course offered different challenges as well as spectacular views.
Pickleball
Pickleball – a cross between tennis and ping pong – appears to be very popular in northern Utah.
Almost every tennis court has pickleball lines. We played quite a bit and loved it.
We intend to play it everywhere we go from now on!
Hiking
Northern Utah is thick with hiking trails. Hiking is the summer pastime in northern Utah.
From easy trails around our Trappers Ridge development to expert hikes with boulder scrambles, there's a hiking trail for everyone.
I walked some of the local trails almost every day.
Some of the housemates took more adventurous hikes around the Great Salt Lake.
Swimming Pool
The swimming pool in the Trappers Ridge neighborhood isn't huge. But it's big enough that Lisa and I could regularly swim laps.
Because the pool was often full of children we couldn't swim every day as we had in Chiang Mai, Da Nang and Malaysia.
But even when we couldn't swim laps we could lounge by the pool and take in the amazing views.
Paddle Boarding
Paddle boarding is popular on nearby Pineview Reservoir.
Nicole, Lauren, Jess and Dylan took advantage of the opportunity to have floating happy hours.
It's also a pretty chill place to hang out on the beach.
Sunset on Powder Mountain
From Wolf Creek you can drive 4500 feet straight up Powder Mountain where the views are even more spectacular. Which they should be from nearly 10,000 feet!
We did sun downers above the ski resort where you can see all the way to and across the Great Salt Lake.
It's an absolutely stunning view and one of the most gorgeous sunsets we've ever seen.
Boot Camp and Other Workouts
Lisa and I are all about aerobic workouts like swimming and walking/hiking.
But Chris is all about boot camp workouts using bars and elastic bands.
It was always fun watching Chris and James' banter as Chris 'ordered' James to "push to the point of 'can't do any more'!"
Jessica joined in a couple times but Chris was far less drill sergeant with her because "she actually listens to me."
Great workouts for them, better entertainment for us. Win-win!
Lauren brought her bike from Denver, so she rode a bit. And did yoga on the back patio on many afternoons.
There was also a small gym by the swimming pool with treadmills and elliptical machines where some of us occasionally worked out.
We all stayed healthy during our nomad house and left in better physical shape than we arrived.
Creating a Digital Nomad Coliving House: Evening Activities
Days at our digital nomad house included work, fun, exploring and exercise. But evenings were for pure fun.
Board Games and Card Games
Many evenings we gathered to play board games or card games. Rummy, Trivial Pursuit, Texas Hold 'Em, Rack-o and Monopoly Deal were the favorites.
We also played a few 'drinking games' including Stack Cup and Waterfall. With Mango White Claw, of course!
Recreation Room
Our digital nomad house included a recreation room with Foosball, ping pong, pinball and an arcade machine that plays all sorts of classic arcade games from asteroids to Golden Tee!
We held ping pong, 'beer' pong (with water rather than beer), and Foosball tournaments.
Great evening fun!
Fire Pit
Our amazing nomad house had a gas fire pit in the back yard. Perfect for cool mountain evenings chatting around the fire.
Many White Claw Mangos were consumed around the fire!
Movie Night
Early into the coliving adventure we created a list of 80s movies and 80s themed movies for movie nights – on a shared Google Doc, natch!
We didn't stick strictly to it – Borat somehow made the watched list, for example. But so did Twins and Top Gun.
However, my strongest recommendation by far is that you check out the 30-minute feature Kung Fury. And the David Hasselhoff music video that accompanies it.
Made in 2015 but set in 1985, it's just about the perfect 80s movie night entry!
What About the Drama!?
Hard as it may seem to believe, there really wasn't much drama among the colivers during our digital nomad house.
Turns out the 'transitive property of friendships' really is a thing. And it works!
Well, ok…fine…there was this one time when the stuff in the fridge got rearranged.
Things turned slightly ugly for a minute on our WhatsApp channel.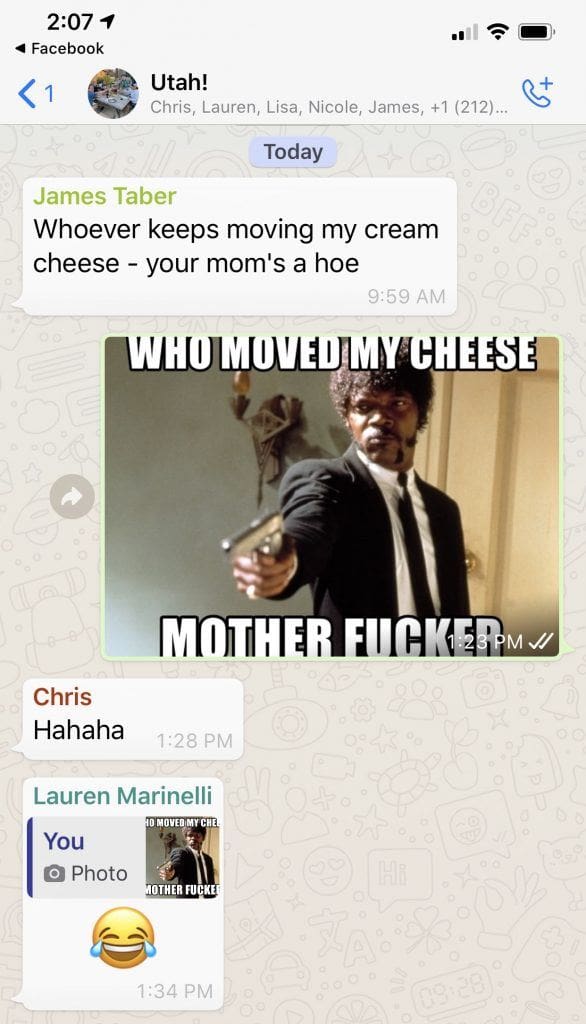 But no cheese was harmed in the making of this nomad month. It was eventually found.
And then moved again.
There was also some discussion among the golfers about various approaches to scoring (as there always is). But that was quickly resolved.
Overall our digital nomad coliving house was certainly no Melrose Place. Not nearly enough drama.
Hell, it wasn't even Downton Abbey.
Everyone just got along really well.
It helps that we are all pretty busy people between our jobs, businesses, side hustles and various digital endeavors.
And it helps that we all share a passion for travel and unconventional lifestyles – there is always so much to talk about.
We honestly had a nearly drama-free month!
Bottom Line – Creating a Digital Nomad Coliving House in the USA
Until COVID-19, Lisa and I never even considered being digital nomads in the U.S.
We've both seen so much of the country already. And it's damn expensive to be in the USA vs. much of the rest of the world.
But necessity is the mother of invention. So when COVID closed the international borders we found a way to make it work.
We worked, we laughed, we learned, we ate, we exercised and we generally had a fantastic time at our digital nomad coliving in the U.S.
Our hope is to be in Europe this fall. Making up for lost time doing a coliving on the Greek Island of Syros and/or at Coworking Bansko in Bulgaria.
But if we can't then we'll find or create another US coliving/coworking situation instead.