After six months trapped in the USA by COVID-19 the only thing standing in between us and a flight to Dubrovnik Croatia was a COVID-19 rapid PCR test. With negative results, of course.
Croatia Wants COVID-Free Visitors from the US
Croatia was one of the first European countries to open up its borders to US visitors after the USA did an abysmal job of handling the COVID-19 pandemic.
But Croatia put strict requirements in place for Americans who want to visit during COVID.
Here are the details from the US Embassy in Croatia:
As of July 10, 2020, U.S. citizens arriving to Croatia for tourism, business, urgent personal reasons, or educational purposes must present a negative PCR test not older than 48 hours (starting from the time of taking the swab until arrival at the border crossing). This is also valid for passengers and crews traveling by yacht.

Travelers whose test is older than 48 hours will be allowed to enter Croatia, but they will be issued a self-isolation order and will have to be tested again locally, at their own expense. Having an expired PCR test upon arrival will allow for a shortened period of time in self-isolation pending a negative result of a local PCR test. Those who do not provide a negative PCR test upon arrival will be ordered to quarantine/self-isolate for at least 7 days prior to taking a local PCR test. Travelers who fail to present a PCR test upon arrival and refuse to take a test locally will be ordered to self-isolate or quarantine for 14 days. A local test cost ranges from $130 to $300 or more, depending upon the location, and the result can be expected between 24-48 hours. A test can be arranged at the following locations: COVID-19 Testing Locations in Croatia. After receiving a negative test locally, travelers will need to contact a local epidemiologist to clear them from self-isolation. Please direct questions regarding this requirement to the Croatian Ministry of Interior via the contact form at the bottom of the web page.

https://hr.usembassy.gov/covid-19-information-2/
We had friends from both the US and Europe who were already in Croatia and they assured us that the quarantine requirements were quite strict and enforced both electronically and by the police.
So we were intent on finding a way to meet the requirement to have a COVID-19 PCR test less than 48 hours old when we arrived in Croatia. And there is only one test that meets that requierment: a COVID-19 rapid PCR test.
What is a COVID-19 Rapid PCR Test
As of this writing there are two basic tests for COVID-19.
According to the Center for Disease Control (CDC):
Two kinds of tests are available for COVID-19: viral tests and antibody tests.

– A viral test tells you if you have a current infection. [This is the PRC or polymerase chain reaction test]
– An antibody test [aka serologic testing] might tell you if you had a past infection. An antibody test might not show if you have a current infection because it can take 13 weeks after infection for your body to make antibodies. Having antibodies to the virus that causes COVID-19 might provide protection from getting infected with the virus again. If it does, we do not know how much protection the antibodies might provide or how long this protection might last.

https://www.cdc.gov/coronavirus/2019-ncov/symptoms-testing/testing.html
Viral tests check samples from your respiratory system by swabbing the inside of your nose/sinus, to see if you are currently infected with SARS-CoV-2, the virus that causes COVID-19.
But most viral PCR tests must be sent to a laboratory for analysis, a process that can take a few days. Some jurisdictions are experiencing a high demand for testing, which further delays processing tests and providing results.
This did us no good since the negative PCR result had to be less than 48 hours old (from the time of swabbing) when we landed in Croatia.
Newer Antigen tests can produce results in several hours rather than days, but Croatian authorities are very specific about wanting a viral PCR test, not an antigen test.
The good news is that results from PCR tests can be available at the testing site in less than an hour. This process is called Rapid PCR Testing.
Rapid PCR Testing for COVID-19
Rapid PCR testing means that a facility has rapid PCR testing equipment on premises. So the swab doesn't have to be sent to a lab to be analyzed.
Finding a facility that offers rapid PCR testing for COVID-19 is difficult. Finding one that caters to asymptomatic, non-exposed people for the purpose of satisfying travel requirements is even more difficult.
We had been in Hershey, Pennsylvania visiting family after our US Digital Nomad Coliving in Utah and we couldn't find such a facility in all of Pennsylvania. To the extent that rapid PCR testing for COVID-19 was available in Pennsylvania, it was reserved for medical workers and first responders.
We had similar results looking in the Washington, DC area.
But with a little tenacity and a LOT of phone calls we did find a facility that offered the tests for travel: Physicians Immediate Care clinics in Chicago. Which was great since our flight to Croatia left from Chicago and we had already planned a week long cat sit through Trusted Housesitters in Chicago (house sitting is THE ultimate travel hack)!
Rapid COVID-19 PCR Test at Physicians Immediate Care
IMPORTANT UPDATE
Good news!
Physicians Immediate Care has moved from the process described below to an APPOINTMENT ONLY approach to rapid PCR COVID-19 testing.
Visit the Physicians Immediate Care COVID-19 testing website for more details!
Our Experience Before Physicians Immediate Care Started Taking Appointments
The process of getting a rapid COVID-19 PCR test at Physicians Immediate Care in Chicago was a bit complicated. The way it is described on the Physicians Immediate website is a bit vague and confusing so we'll lay it out in detail as we experienced it at the Lincoln Park Chicago facility.
Testing started at 8am.
But if you call ahead they'll tell you that they have limited tests per day and only on certain days of the week. They suggested we arrive between 6 and 7 am because they were only doing 50 tests per day and after that we'd be out of luck.
We really wanted to be sure we got tested since our flight to Croatia booked for the next day depended on it. So we set our alarm for 5:40 am for the 10 minute walk to the clinic.
But we were both pretty anxious about the ambiguity around the process. So when we looked at each other and saw we were both laying there awake at 5:30am we decided to get going.
By the time we arrived at the testing facility at about 5:50am the socially distanced queue stretched around to the back of the building. That's were we camped out on pillows that we specifically bought for the occasion from Amazon.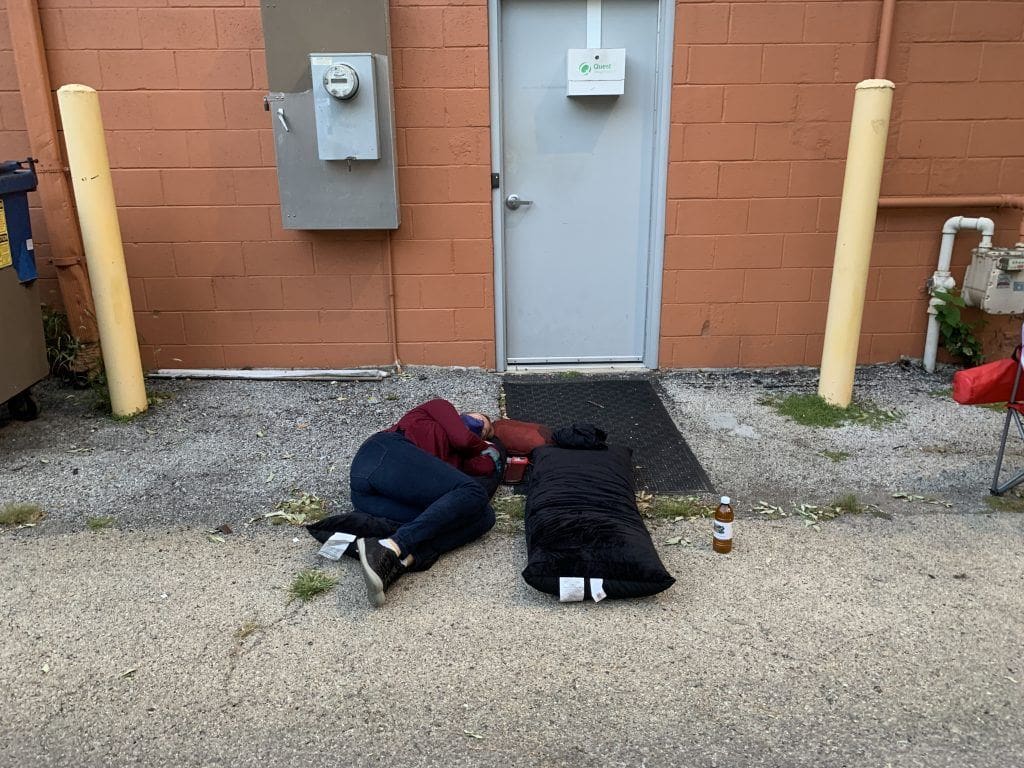 It turned out that the woman who was first in line had arrived at 5:15am.
At about 7am a health care worker came out of the facility and handed out numbers to each person in the queue. It turned out that we were numbers 15 and 16.
The people holding the first 25 numbers were directed to sit on a socially distanced spot corresponding to their number in the parking lot.
Numbers 26-50 were instructed to return in the afternoon and similarly sit on their number for an afternoon session of testing.
Once all 50 of the numbers were handed out there were NO MORE TESTS AVAILABLE for that testing day. This occurred just before 7am. For the next hour we watched as people showed up for a test and were disappointed to find out that they would not be tested that day.
Being 15 and 16, Lisa and I were split up: I was at the end of one line of 5 and she was at the front of the next.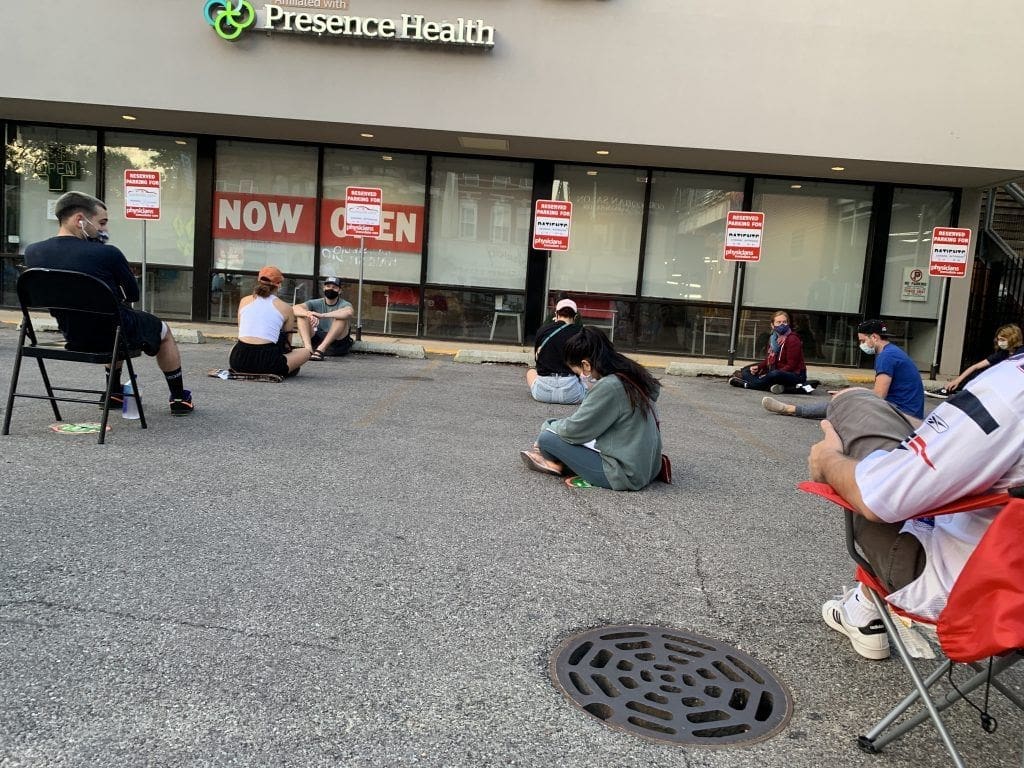 But it was no big deal. The important thing is that we were getting the test we needed to go to Croatia the next day!
Paperwork
The entire COVID testing experience was as touchless as possible.
Around 7:15am a medical care worker came to each testee and asked for our names as they appear on our insurance cards and phone number for texting. A few minutes later we received a text with a link to a site where we filled out all paperwork and took a photo of our insurance cards and drivers licenses – all on our smart phones. I'm not sure what they would do with you if you don't have a smart phone but I'm sure they have some other arrangement.
Cost of Rapid COVID-19 PCR Test at Physicians Immediate Care
The rapid COVID-19 test was $95 (our insurance should cover) but the mandatory 'health screening' was $165 (our insurance likely will not cover).
When all that was done we got the following text:
Getting the Swab
At precisely 8am the door was opened and the first testee went in for her swab test. The process took about 5 minutes per person. So by the time I was called in as number 15 it was a little after 9am.
Just inside the door I was instructed to place my credit card (they needed it in case insurance didn't pay either the test fee, the mandatory health screen fee, or neither) into a ziplock bag stand in a sterilized corner that was no more than 2 feet from the front door. One medical worker asked a series of questions while another took my blood pressure (it was high! – but he said everyone's is high when they are getting a rapid COVID-19 PCR test), temperature and oximeter reading.
Then I was swabbed. Both nostril/sinuses. It wasn't comfortable, but it wasn't really horrible either. And well worth the discomfort to get to travel!
After that I was told to return to my spot in the parking lot and wait for a phone call – a medical worker would ask a few questions before my results were delivered.
Getting Test Results
By the time I was being tested the first 5 or 6 testees had already been given their results.
A medical care worker would come out to deliver them in person, return your credit card and then do a quick listen to lungs and heart.
We quickly realized there were two types of results.
A negative result was delivered with 2 sheets of paper and a quick conversation.
But positive results came with a package of information and a 5-minute discussion. The first positive in our group was #5 – a friendly guy in his early 20s. Despite having a mask on, his face and body language clearly conveyed his shock at the diagnosis. He left utterly crestfallen, presumably at the notion of having to tell anyone he had come in contact with that they now needed to be tested.
Watching that happen stirred a ton of empathy inside of me. I had always assumed I would test negative and be on my merry way. Just like #5 had assumed! For the first time in the entire process I started to think about what a positive test result would mean.
It got worse when two other 20-something men who had arrived together, numbers 8 and 9 got the packets and long visit. #8 in particular took it hard. We literally watched him go through several stages of grief: denial, anger and bargaining before our eyes. He left before he got to depression and acceptance.
Eventually I got the call and was asked about symptoms (none!) exposures (none that I was aware of!) and reason for the test (travel!). As soon as we hung up Lisa got the same call, as did a couple more men in their 20s, numbers 17 and 18.
At this point I had gone from calm confidence to utter nervousness. With moist palms, Lisa and I started to talk about what we would do if one or both of us was positive.
But then a health care worker came out with our results: BOTH NEGATIVE!
We weren't surprised but we were both still utterly relieved!
It appeared that numbers 17 and 18 were not going to get such good news, but we left before the news was delivered – ready to get serious about actually getting to Croatia!
Bottom Line – Getting a COVID-19 Rapid PCR Test for Travel to Croatia
Finding a facility to get a COVID-19 rapid PCR test for our trip to Croatia was not easy.
And once we found one we were nervous about what the process would be – because if we didn't do it right we knew we would be missing our flight the next day.
We wished that someone had written specifics about the experience but we couldn't find any articles about it. So hopefully this article helps.
In any case, we had our negative test results so we celebrated, filled out our Croatia COVID entry form online, packed our bags and the next day we were off to Croatia.
And, despite a few hiccups along the way, we arrived in Croatia and were granted access to the beautiful country after providing our negative COVID-19 rapid PCR test results to an immigration officer!
Click here to read about our flight from the US to Europe during COVID-19.
Also check out our article about our walking tour of old town Split Croatia and Diocletian's Palace!