Flying from the US to Europe during the COVID-19 pandemic was a mostly pleasant experience!
Although we had booked business class on Iberia from Chicago to Madrid to Dubrovnik Croatia, we ended up flying on American Airlines from Chicago to London to Split Croatia (more on that in a minute!).
Here's what that was like.
Why We Flew to Europe During COVID-19
Being digital nomads in the time of COVID-19 ain't easy. Our lifestyle of full time affordable luxury travel ground to a screeching halt as borders and the world shut down first to 'flatten the curve'. And later – after the curve was flattened in much of the world – to keep people from the USA out since we were widely seen as having grossly mishandled the pandemic.
So instead of living on the east coast of Spain and the Greek island of Syros, we spent a couple months hunkered down in Hershey Pennsylvania near Lisa's family.
And while that allowed us to help out and have socially distant interactions with Lisa's parents and family, we constantly plotted and schemed to get back to our digital nomad life as soon as possible.
We desperately missed the adventure of seeing and living in new places. We missed the friends we made and would have made along the way.
So a group of U.S. based nomads all of us trapped in the U.S. but longing to travel decided to fly during COVID and create our own digital nomad co-living and co-working house right here in the good old US of A.
And that was a blast.
But we missed the adventure and wonder of Europe.
So when Croatia opened its borders to Americans in mid-July we immediately started plotting to get to Croatia!
Croatia has been our list to visit forever. We wanted to explore Dubrovnik, Split and as many of the gorgeous islands in between as possible. Then go wine tasting around Zagreb!
Booking Flights from the US to Europe During COVID-19
We started looking at flight options right away.
Part of our affordable luxury full time travel lifestyle is finding cheap business class fares or using points and miles for affordable luxury flying – here's our guide to doing that.
But all the fares we found for flights to Europe were astronomically expensive. With demand for flights to Europe so low, supply had gone down just as much. Both coach and business class fares were about 4 to 5 times what we typically hope to pay.
So we looked at award tickets. And found Oneworld options for 57,000 miles one way vs. they typical 80,000 miles one way – perfect!
Over the years we have accumulated a lot of AAdvantage miles from American Airlines. But we've always had trouble finding a use for them for Oneworld flights. So this was our chance!
Flying British Airways or American Airways via London had the best timing, routing and service but incurred a steep ~$900 in fees and taxes on each of the the business class award tickets (as do all award tickets from the US to London).
But there was an Iberia flight from Chicago to Madrid to Dubrovnik for 57,000 points each with total taxes and fees of only about $90 each. And so that's what we booked, despite having heard that Iberia was not doing much cabin service on their transatlantic flights. We'd have a lay flat seat and would wake up in Europe. That was good enough for us!
When our flight date approached we headed to Chicago where we spent a week cat-sitting (the ULTIMATE travel hack!).
And then the day before the flight we got the required COVID-19 rapid PCR test to make sure we were COVID-19 negative before flying to Croatia.
Flight Check-In – And a Switcharoo
Our Iberia flight was scheduled for 2:55 PM. But knowing that much could still go wrong with our flight from the US to Europe during COVID-19, we arrived at the airport around noon.
We only travel with one carry on bag (the best long-term travel bag in the world) and a laptop backpack, so we weren't checking bags – and we had mobile boarding passes from Iberia.
But we approached the Iberia check-in counter anyway to inquire about service on the flight – would we need to buy food before we got on board even in business class?
And it's a VERY GOOD thing we did!
At the check-in counter the staff asked if we were residents of Spain. We told them no, that we were transiting and that everything we had read (we even had print-outs!) said that transiting MAD by Americans was allowed.
The staff – very apologetically – explained that Spain only allows non-resident transfers from the US on a day-to-day basis. Each morning Iberia calls Spanish authorities and are told whether it will be allowed for that day's flights. And that when they called that morning Spain had decided not to allow any non-resident transfers for today's flight. It didn't matter that we had tested negative for COVID-19 less than 24 hours earlier. It was a hard no.
But the Iberia staff were used to this, and right away they got to work rebooking us. At first they booked us on American Airlines' 4pm flight to London connecting to Dubrovnik late in the afternoon of the next day. But that would mean we would arrive in Croatia just outside the required 48 hours from COVID-19 swabbing!
They totally got it!
So they went back to work and together we found a connection from London to Split Croatia that would get us to Croatia with a few hours to spare before our 48-hour deadline.
And of course, one of the great things about being digital nomads is that we are open to changing plans at a moment's notice!
But the BEST part was that after being switched to this better connection with better service via London, we were NOT charged the additional $800 or so in fees and taxes! Score!
American Lounge and Changing Plans
At this point we had about 4 hours before our flight to London. And we needed them to change all of our plans from arriving in Dubrovnik to landing in Split!
The AA Flagship Business Class Lounge between terminals H and K was closed due to COVID-19, but the adjacent Admirals Club was open with many COVID-19 precautions in place.
So we headed there to grab some food, a glass of wine and start canceling our plans in Dubrovnik and making arrangements for Split, including re-entering our new information on the online Croatia COVID entry form.
And we even had time to get some work done!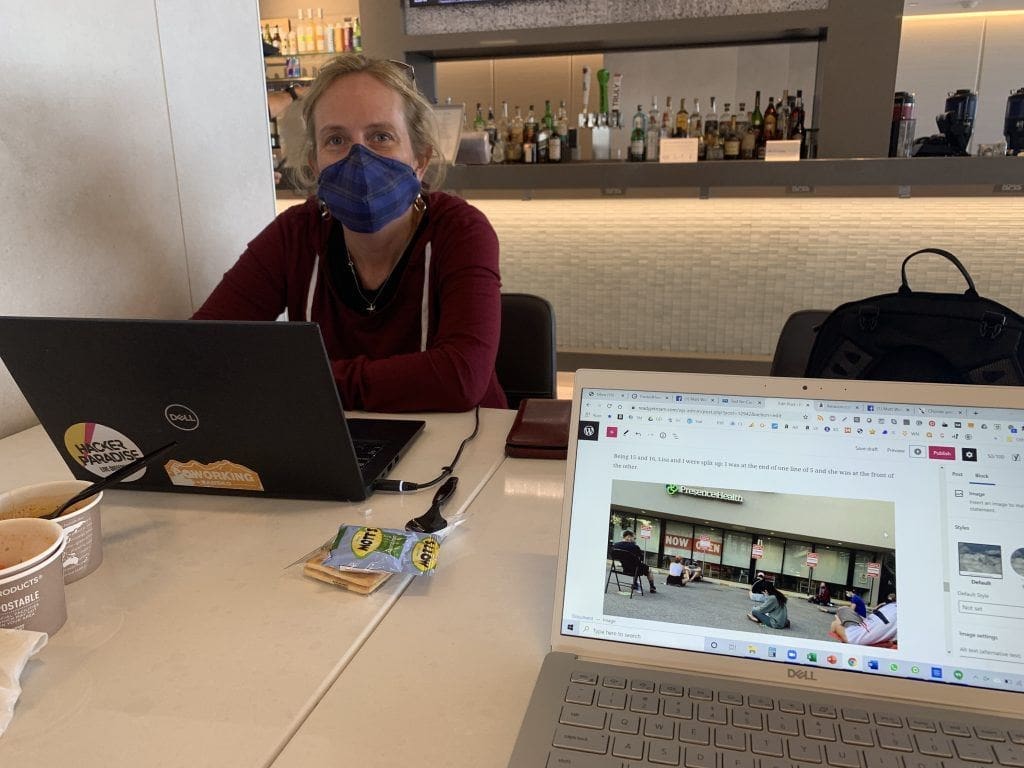 A few hours later we had done all that we could and so made our way to board our flight to London – still aware that things could easily go wrong.
Our Flights From the US to Europe During COVID-19
The closer we got to our gate, the more nervous and excited we got.
Were we REALLY going to get on an international flight for the first time on over 5 months!? If so, would American Airlines really have a hot business class meal and open bar for us? And even if we get to London, would our connection to Split depart on time so we could arrive before our 48 hour testing deadline!?
But everything went smoothly as we approached the gate where the AA Boeing 787 was waiting for us!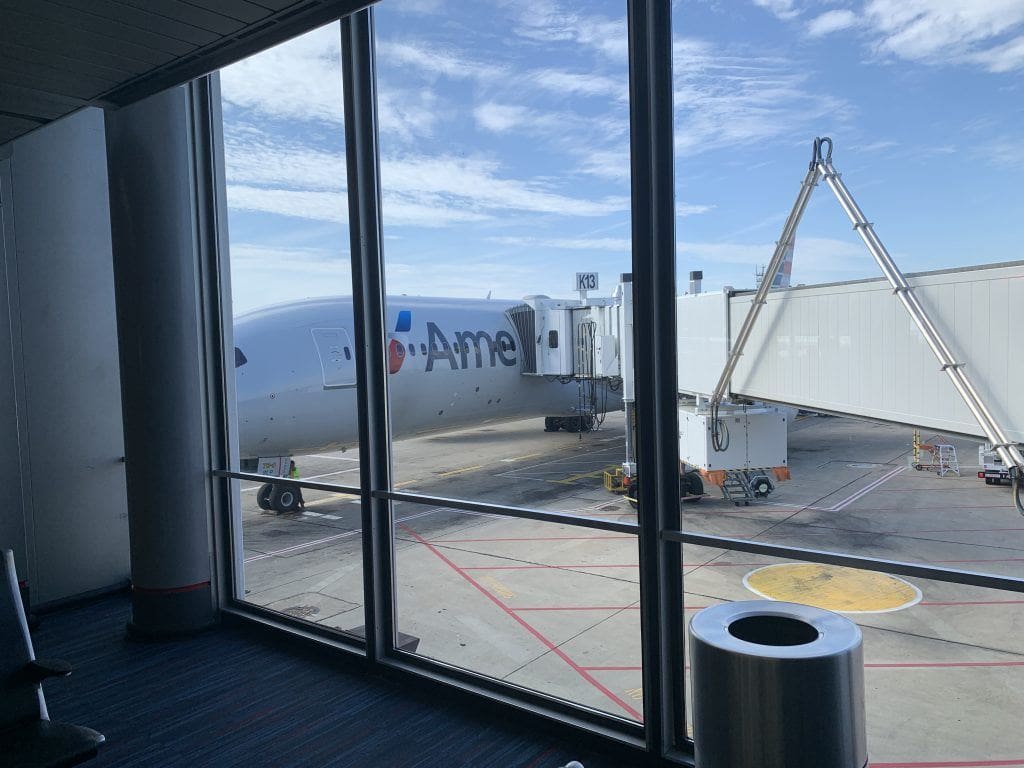 We boarded. And dutifully sanitized our entire seat area with Clorox Wipes.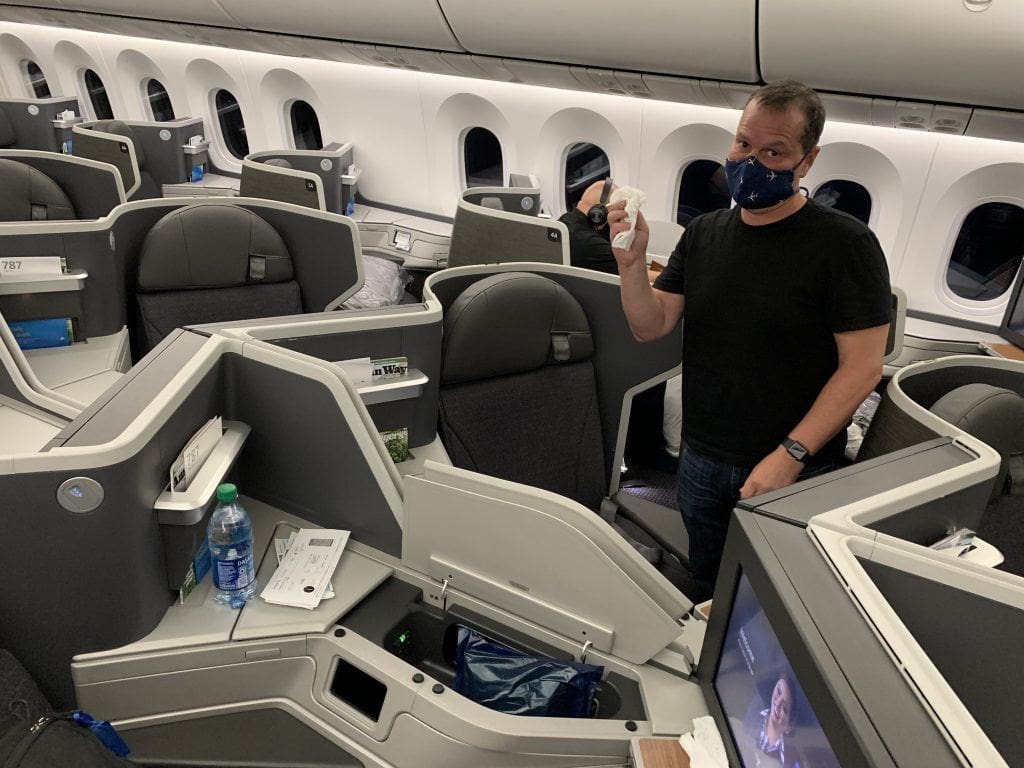 Mask discipline on our first flight was strong among the passengers and flight attendants alike. We liberally applied hand sanitizer throughout the flight.
And although there were no pre-departure beverages served, there were menus at our seats with choices of hot meals and bar service.
This was happening.
American Airlines Transatlantic Business Class Meals and Bar Service During COVID-19
American Airlines did a wonderful job of providing as much service as possible while abiding by COVID-19 best practices.
Bar service after takeoff, for example, was served in plastic cups rather than glassware.
Nuts were served from a prepackaged bag rather than a ramekin. And the meals arrived with each item individually wrapped meaning minimal contact by flight crew.
The meals themselves were about par for the course on a US carrier in international business class: good but not great. We were just thrilled to have a hot meal – more than we had anticipated from Iberia!
Entertainment
The full compliment of American Airlines entertainment options were available on the flight including in-flight wifi.
But I settled in and watched It Chapter 2 and took this creepy photo of myself doing so:
Later I had a snack of keto diet friendly Quest chips (my favorite) with a glass of wine. We were both very diligent about bringing our masks back up over our faces after each bite or sip, so Lisa took advantage of this moment to get the only non-masked photo of me from the flight.
Then we settled in to get a few hours of sleep before arriving in London.
Overall, the flight was comfortable and we arrived in London a few minutes ahead of schedule!
Transfer at London Heathrow Airport
At London Heathrow airport we made our way to our connecting flight on British Airways to Split Croatia.
Passing security there was a bit of a pain. During COVID-19 TSA is allowing one liquid hand sanitizer container up to 12 ounces per passenger in carry-on bags. And we definitely took advantage of this as we planned to do everything in our power to avoid exposure to the Coronavirus during our travel. But Heathrow security was having nothing to do with it and spent some time confiscating them.
After a brief stop in the British Airways lounge for coffee, tea and some bacon, we were on our way to our connecting flight.
As with domestic US flights during COVID-19, boarding took place from the back of the plane to the front. So we hung back in the gate area until the very end of the boarding process.
British Airway London to Split Croatia
Eventually we boarded and went through the ritual of wiping our seats with Clorox wipes and then sanitizing our hands.
Mask discipline among all of the passengers remained strong so we tightend up our own masks and settled in.
We napped and generally zoned out.
Then one of the nicest and most gracious flight attendants we've ever experienced offered us a meal box and beverages. So we took more tea and coffee and made the best keto breakfast possible out of the food box provided – mainly the meat and cheese from the sandwich.
Arrival in Croatia
We landed in Croatia about a half hour ahead of schedule.
And once again we were nervous that something would go wrong. Maybe Croatia changed their policy about accepting Americans while we were flying. Maybe the immigration officer wouldn't understand that time zones meant that our 8:30 am CDT negative COVID-19 PCR test results were valid until 3:30 pm Croatian time!
So when we got to the immigration desk full of nervous energy we quite honestly over-shared! We started babbling about time zones and tests and where we were staying and everything else we thought was important.
But it turned out that the online Croatia COVID entry form that we had re-filled out at the Chicago Admirals Club after our flights changed contained most of the information he needed. All we had to do was show him the test results that said 'COVID-19 PRC Test' with the word 'Negative' on it.
Having done that we were stamped through and told to enjoy Croatia.
We got to work on that right away!
Bottom Line – Flying from the US to Europe During COVID-19
Of course, the biggest drawback to flying during COVID-19 is the risk of being exposed to the virus.
But by following tips you can minimize that risk:
Wear a mask or face cover at all times unless eating or drinking.
Maintain social distancing in the terminal as much as possible.
If possible, fly in extra legroom or business class seats to maximize social distancing.
And be sure to check out the CDC COVID-19 travel recommendations before flying during COVID-19.
Our experience flying from the US to Europe during COVID-19 was mostly positive. But the best part was that we ended up in Europe at the end of it, nomading in beautiful Croatia!
Check out our article about our walking tour of old town Split Croatia and Diocletian's Palace!