After reading our article about our walking tour of Split, readers asked how to get around Croatia in affordable luxury. The answer is: by plane, bus, ferry, and/or car!
Croatia is a diverse country well worth a visit. We spent nearly 3 months living in and exploring Croatia.
From the ancient city of Dubrovnik to the beautiful island of Hvar to the Istrian Peninsula to the cosmopolitan cities of Split and Zagreb, there is a lot see and do in Croatia.
Croatia's coastline is 1,104 miles long and has 1,246 different islands. Each region of Croatia holds unique beauty and surreal experience unlike anywhere else.
In this article, we will be highlighting the best ways to get around Croatia. Featuring exclusive information on finding the best prices and our overall experience while exploring this amazing country.
Getting to and Around Croatia by Plane
Getting to Croatia by Plane
There are three major airports located in Croatia. The largest airport is Zagreb, then Split, and lastly Dubrovnik. Smaller Croatian airports are in Pula in Istria, Rijeka, Osijek in the east, as well as Zadar and Brac in Dalmatia.
Prices for flights to Croatia vary, but in our experience flying into Zagreb and Split tends to be a bit cheaper. Both airports offer more options and are pretty simple to get through.
For the best flight deals, check out our article on How to Find Cheap Flights Using Google Flights.
The major hubs in Europe connecting with flights to Croatia are:
London
Rome
Frankfurt
Madrid
Paris
Sometimes there are seasonal nonstop flights from the US to Croatia. But even when they exist they are only a few times per week.
Get Around Croatia by Plane
You can get around Croatia on domestic flights linking the Croatian airports.
Travelling in Croatia by air is, of course, the fastest way to get around Croatia. There are many daily domestic flights in Croatia that let you get around the country very easily.
Croatia's main airline, Croatia Airlines, operates regular services between Zagreb and other airports the country, including Dubrovnik, Split, Pula and Zadar. There are flights between some of these airports as well.
No domestic flights in Croatia are over an hour in length, and flights are under $100 US.
But nothing is terribly far in Croatia.
So we recommend traveling by bus, ferry or car since it is much cheaper.
And you get to see more of the country that way.
Travel Around Croatia by Bus
All throughout Croatia, there are local buses as well as intercity buses for longer trips.
You can take a bus pretty much to anywhere – whether it be Split to Dubrovnik or even Lake Plitvice National Park to Zagreb.
Both local buses and longer buses get you to where want to go, but the process of traveling them is a bit different.
Local Busses in Croatia
For local buses, most will cost you only a few Kuna and do not need to be purchased in advance. Once you step onto the driver will take you cash. They usually have change and do not accept credit cards.
The buses they use have are from the early 2000s and tend to be pretty nice and clean. There is plenty of seats and air conditioning.
Bear in mind that these 'local' busses do cover some range. For example, it's easy to take the local bus from Split to Trogir – a route also served by coach busses.
Coach Busses in Croatia
As for buses for longer trips, most buses are going to be a coach bus.
We suggest booking your tickets in advance if you are planning to city hop.
The easiest way to do this is by booking with Book a Way, Get By Bus, or other online bus ticket consolidators.
Croatian coach buses usually feature reclining chairs and storage below for your luggage.
The majority of intercity bus routes are operated by private bus companies like Flixbus and Arriva, so the quality of the experience is relatively good.
Most express coach buses in Croatia are about 100-200 Kuna depending on the distance.
Lastly, remember if you are traveling by bus to bring your passport. Croatia has a couple of unexpected border crossings – especially between Split and Dubrovnik! So you never know when you may need it.
Travel Around Croatia by Ferry
To visit some of the most iconic islands in Croatia you must take a ferry or rent a boat.
And you'll be glad you did!
Boat Rentals and Water Taxis
If you really want to blow it out there is the option of private speedboat transfers around the islands.
And you can take water taxis for short trips between close Croatian islands or to visit another part of the same island.
But taking the ferry is much cheaper and saves your back from a bumpy ride of a speed boat.
There are three different types of ferry options: fast ferries, regular ferries and car ferries.
Getting Around Croatia on Fast Ferries
The first is the fast ferry. Fast ferries are the most common way to get around Croatia's islands and can easily be booked online.
For example, a ferry Split – Hvar or Hvar – Korcula. In fact, many of the fast ferries make calls at the same ports: from Split port to Dubrovnik port via Hvar, Brac, Korcula and Mljet. And vice versa.
These ferries can be booked the day of but we recommend booking them at least 3 days before. Especially during peak season. Your route will determine your price however generally the tickets cost 120-250 Kuna one way.
We took so many fast ferries hopping around the Croatian islands and cities!
The fast ferries are large and comfortable and have a bar where you can buy snacks and drinks including beer and wine. Some fast ferries offer outdoor seating on the second level of the ship, others only have indoor seating.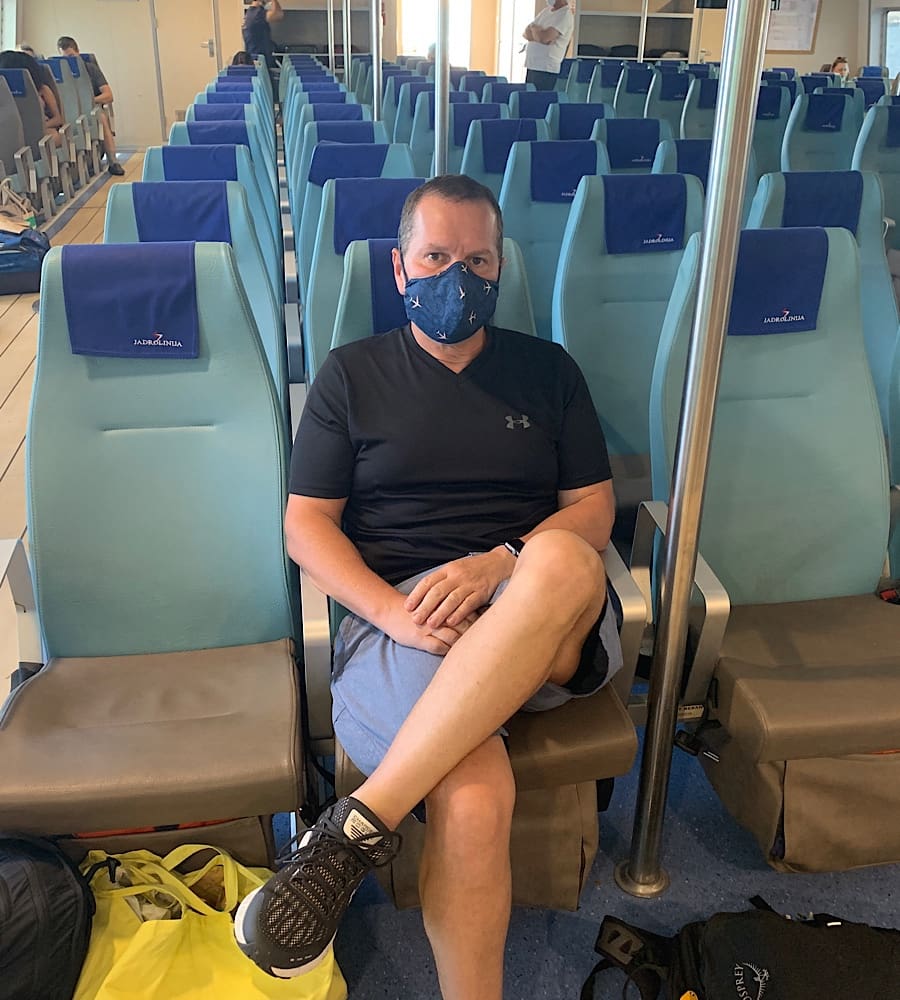 We also took advantage of the ferry rides to catch up on work. Using Airalo eSIM cards, we were able to stay connected to the Internet the entire time we were on Croatian ferries!
Our eSIM cards in our iPhones and in my laptop gave us terrific upload and download speeds even while we were at sea on the Croatian fast ferries.
Read more about why eSIM cards are perfect for travel by clicking here.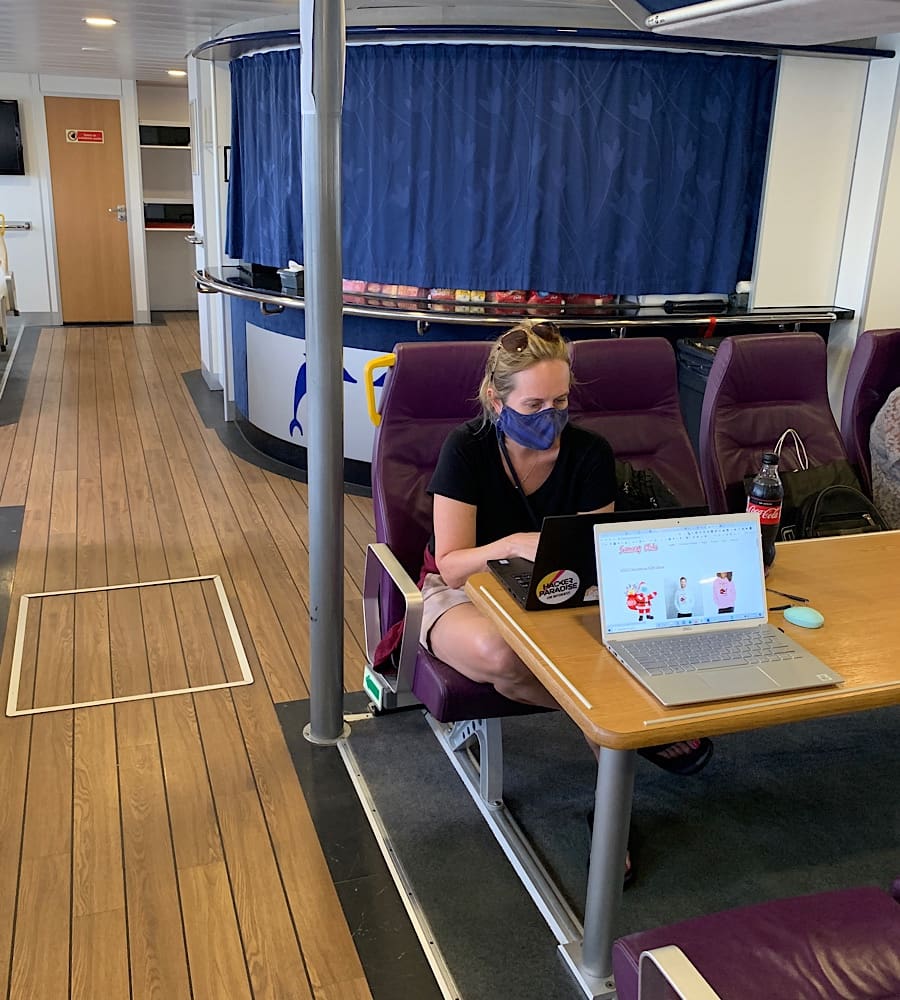 Taking a Regular Ferry to Get Around Croatia
Fast ferries serve the major islands and cities in Croatia along the Dalmatian Coast.
To reach smaller islands and towns there are regular ferries. These tend to be smaller and slower. But they also offer a more relaxed experience with open air decks and great views along the way.
We took a regular ferry between Split, Slatine, and Trogir Croatia. We sat on the upper deck of the small ferry and had a wonderful couple of hours taking in the sun and the sights!
For many of these smaller ferries you simply pay once you are on board.
Taking Car Ferries in Croatia
The third ferry option to get around Croatia is the car ferry.
Car ferries are larger ships with holding areas for cars and decks for sitting and relaxing.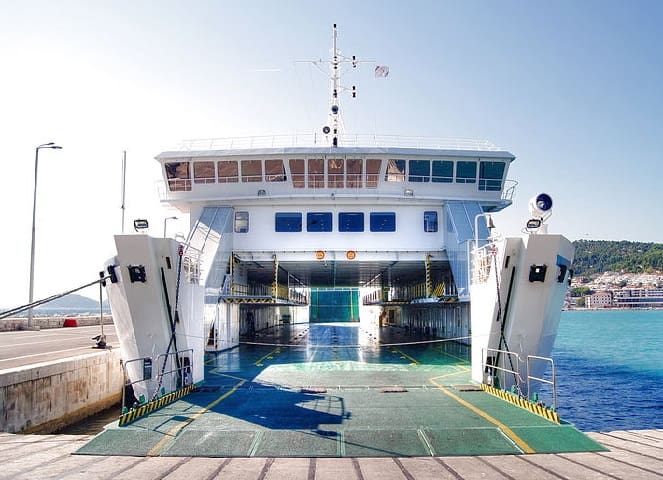 They are slower than the fast ferry but obviously allow you to bring your car.
The ticket for yourself and your car will be more than a fast ferry ticket. But it can be very helpful if you are looking to have a car on one of Croatia's many islands.
We considered taking our rented car (more on that option in a minute!) from Split to Korcula on a car ferry. But decided to take the fast ferry and rent a scooter there instead! By the way, if you have the inkling, scooters are perfect for exploring the smaller Croatian islands. They are easily rented so long as you have a motorcycle license and international drivers license.
Tickets for the car ferry can be purchased same as fast ferry tickets. In high season they fill up even faster than the fast ferries so book ahead!
Ferry Seasonality
The one thing to recognize about using ferries to get around Croatia is that some ferry routes only run seasonally. And coming into and out of high season there are fewer ferries per day than during high season.
For example, there are no ferry routes from Split to Dubrnivk after October 1st.
So make sure you keep up to date by checking websites like this so you don't find yourself having to change your plans.
Renting a Car to Get Around Croatia
Our final recommended option to get around Croatia is to rent a car. There are three advantages of doing this.
The first one is the cost if you are looking to see the whole country.
Depending on where you rent the car will determine the price. However, we were able to rent a car for a whole month for as low as 130 USD for a month as the Split airport using the discount rental website Do You Spain.
The second advantage of the car is total flexibility. You no longer have to find a uber or be tied to a bus schedule. You can come and go as you please.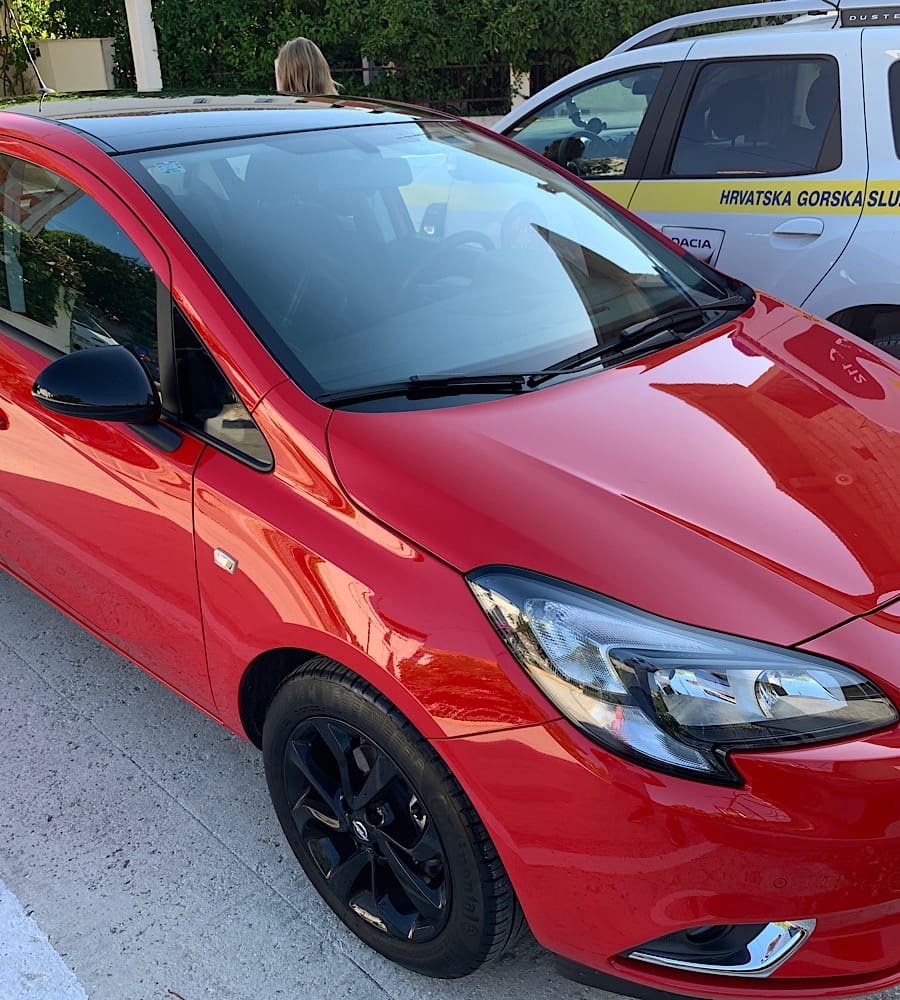 Driving in Croatia is pretty simple for the most part. The majority of the cities have decent roads and highways. Do note that you'll likely pay a surcharge for a car with automatic transmission. So learn to drive a stick shift – it's a life skill everyone should have!
We drove all over Croatia. From Split to Zadar to Istria. Then on to Plivitce and Zagreb.
One thing to look out for is toll roads as you drive around Croatia. You will need to pay in Kuna or Euro. All the major city connections have tolls unless you take back roads.
Also if you are driving on the coast the roads can be winding. If you tend to get car sick make sure you get a decent car or pick up some motion sickness meds.
And Croatia's rugged terrain makes for lots of bridges and tunnels – some as long as 5km!
Ubers and Taxis to Get Around Croatia
If you are not feeling a bus, ferry, or renting a car there is always the option of Uber or taxis.
Uber is offered in most cities and is only a few kunas. In most cities when we ordered an Uber a taxi showed up and did the Uber ride. On islands taxis can be rare, so if you take a taxi to a remote beach be sure to get the driver's phone number for your return trip.
Bottom Line – Getting Around Croatia
There are multiple ways to get around Croatia.
Whether it be taking a beautiful ride on a ferry or renting a coach bus for comfort, the power of exploring is in your hands. So get out there and island hop and city hop and enjoy the stunning country of Croatia.
For help finding all transportation options check out this website.
Happy traveling!
For more travel information on Croatia check these out: