Welcome to our affordable luxury travel guide to Dubrovnik Croatia!
From bright blue beaches to stone-paved streets the city of Dubrovnik is one of kind!
If you are looking for a relaxing holiday with a castle flair then look no further. Dubrovnik's unique aesthetic is what makes it a tourist hub with at least 1.3 million people visiting it every (non-COVID) year.
And of course, it's the location where many scenes from the HBO series Game of Thrones were filmed. So if you are looking for King's Landing or the Red Keep, Dubrovnik is for you!
We love spending time in Dubrovnik.
In this article, we highlight the top attractions in Dubrovnik, the best restaurants, and where you should stay for your adventure.
Where To Stay in Dubrovnik for Affordable Luxury
Whether it be at a hotel or Airbnb the most ideal place to stay in Dubrovnik is inside or right outside the old town. This allows you to walk everywhere and enjoy all of the amazing Dubrovnik tourist sites.
Take a look at these options:
We chose to stay inside the walls of Old Town Dubrovnik in an apartment just off the main square. Click here to take a look.
It was perfect. We could walk to everything. And when we walked out our front door we were in the middle of the Old Town Dubrovnik action! All for about $80 per night.
True affordable luxury accommodations in Dubrovnik Croatia!
If you don't stay inside the walls of the old city then we recommend staying just outside of them. Having to take a taxi or Uber to visit the sites in and around the Old City is a pain and the cost will add up.
Top Affordable Luxury Tours in Dubrovnik
Walls of Dubrovnik
In the old city of Dubrovnik, the whole town is surrounded by castle walls. These walls were built to protect the city from attack. And as we'll discuss in a moment, they really worked!
These days you can walk on top of the walls for a fair price of 200 kuna.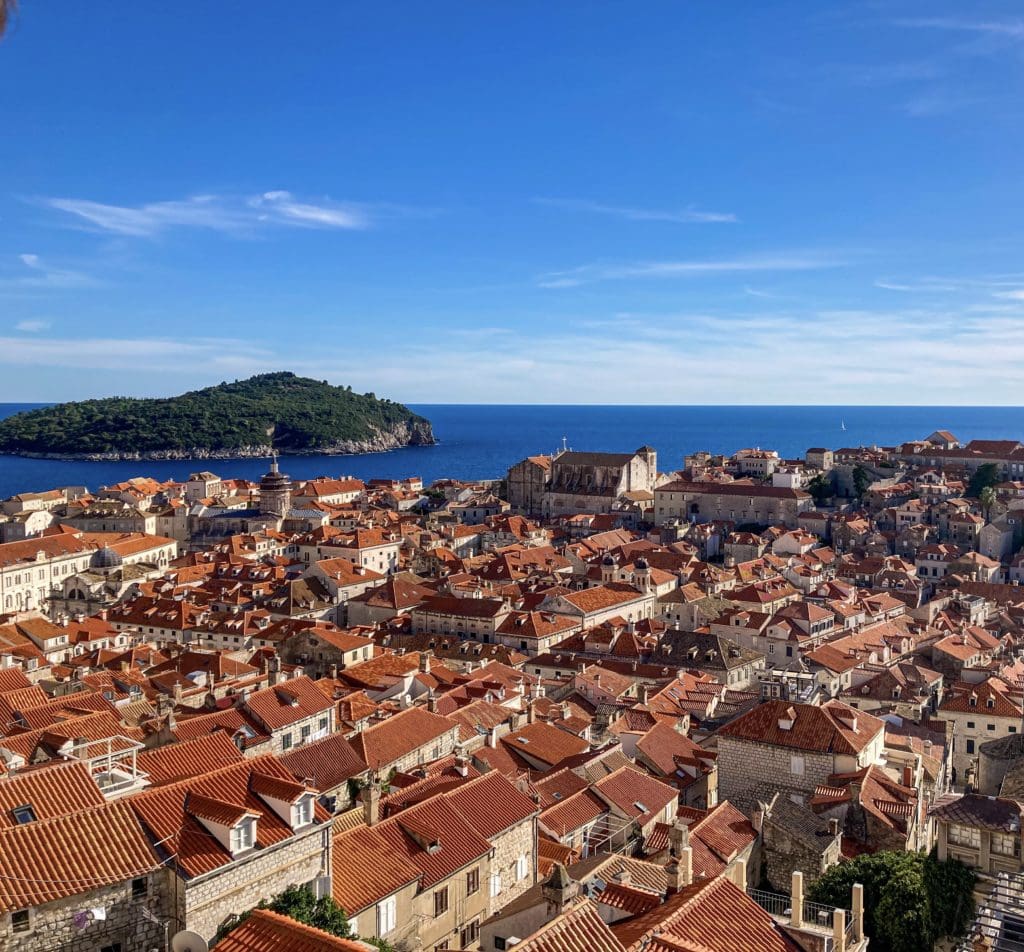 The ticket includes a self-guided walk of the town and entrance into Fort Lovrijenac (a castle close by – more about that when we discuss the Dubrovnik Game of Thrones tour!).
The views from the top of the walls are spectacular. They feature mountains, clear blue water, and historic Croatia architecture.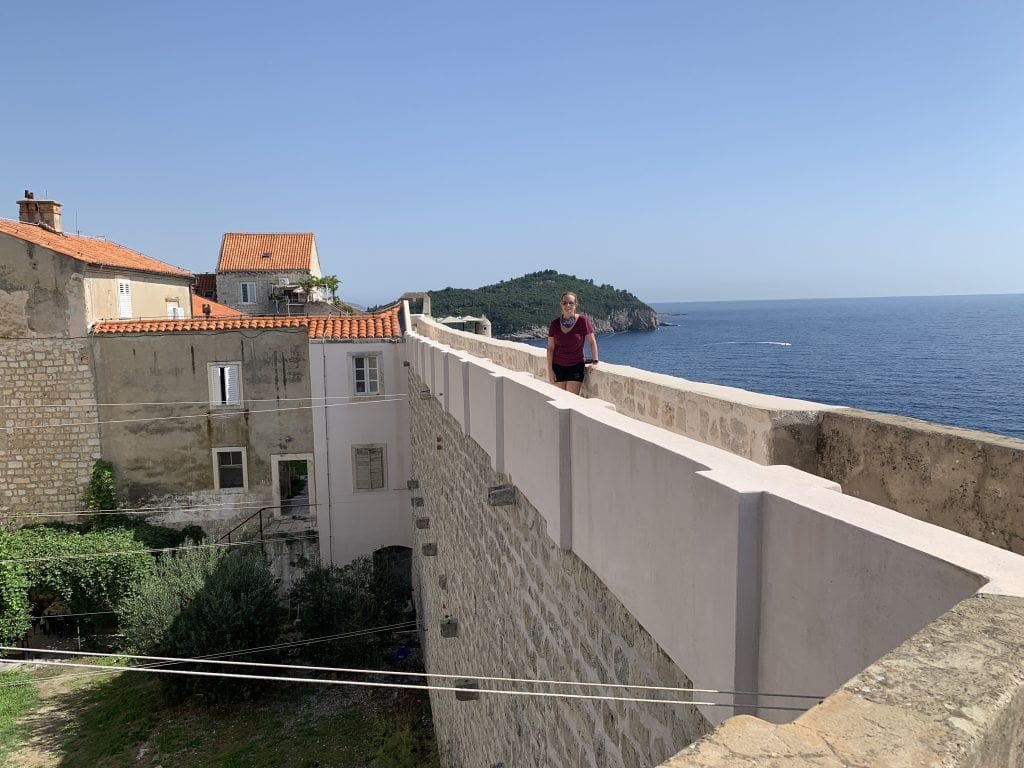 The walk takes about 2 hours depending on how many pictures and stops you make.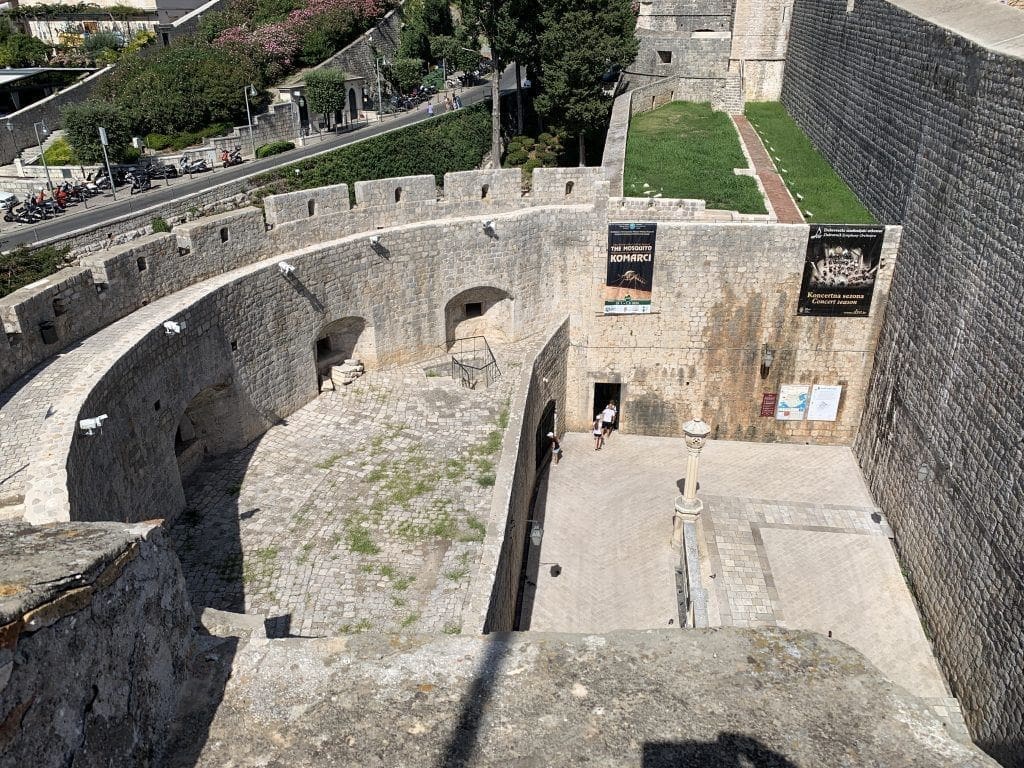 Be sure to wear comfortable shoes and be prepared to climb and descend lots of stairs on the Dubrovnik wall walk. And bring plenty of water for hydration. You are, after all, walking on top of walls!
For more information on visiting the Walls of Dubrovnik check out this link.
Free Walking Tour
If you are a history person or just curious to know more about the Croatia culture then this tour is perfect for you.
We've done free walking tours all over the world including a great one in Plovdiv Bulgaria. The name is not entirely accurate since a generous gratuity is expected at the end. But it's still a good option to explore a city in more depth.
The free walking tour in Dubrovnik is full of fun facts and insights on the historic city.
Though the views of the city are the same things you can get wandering on your own, this tour is very beneficial for understanding why things are the way they are and how they got there.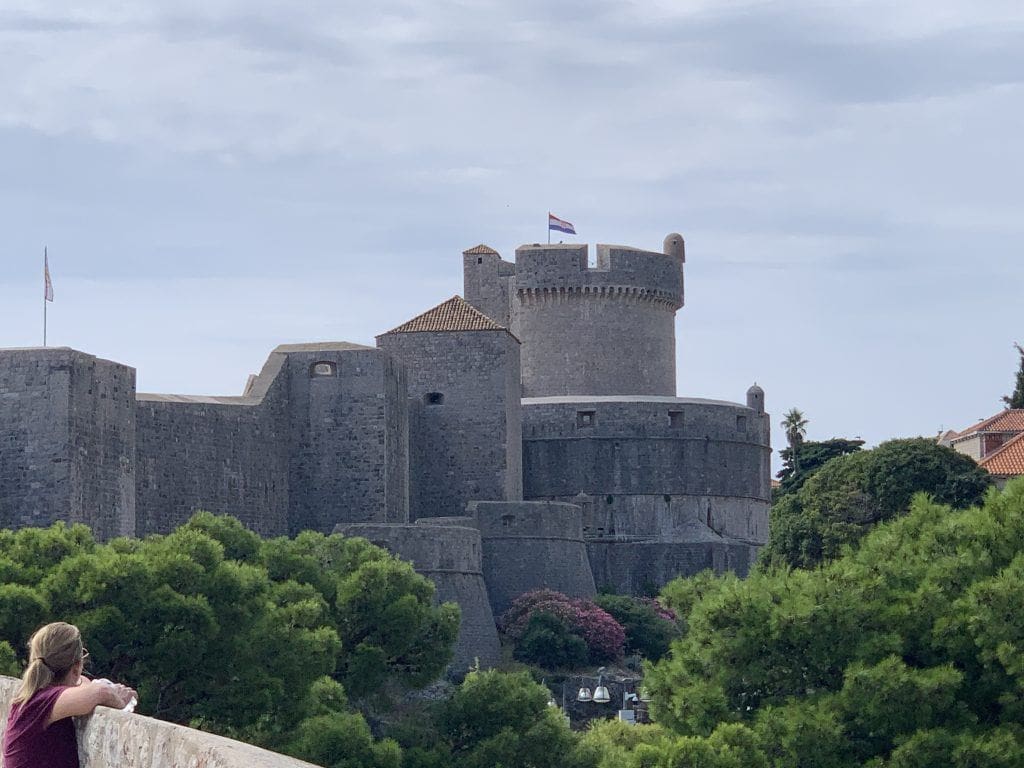 This tour takes about 2 hours and is completely free – although, again, it is expected that you will give a generous tip to the guide.
To sign up for your free tour today click here.
Historical and Cultural Walking Tour
Unfortunately, the timing of the Dubrovnik free walking tour didn't work for us. So we did the Dubrovnik Old Town 1.5-Hour Guided Discovery Tour instead. And we are so glad that we did!
It's pretty cheap and with this tour you can choose a tour time that works for you.
This 1.5-hour guided walking tour takes you deep into the city's 1,400-year history.
Our guide told us ancient tales from when Dubrovnik was one of the world's most prosperous port cities. Did you know that Dubrovnik and Venice were rival city-states?
Or that Dubrovnik maintained its independence while the surrounding area was occupied by empire after empire thanks to its walls and gates?
Really fascinating stuff to a history nerd like me!
The tour also tells tales of war from ancient times all the way to when Dubrovnik made an Alamo-like stand during the Croatian War of Independence in the 1990s.
The tour covers all of Old Town. From the Franciscan Monastery to Orlando's Column, a monument on the square inspired by the city's long-standing freedom and sovereignty.
The tour also includes Onofrio's Fountain, built in 1438 at the end of a 8-mile (12-km) aqueduct that gave the city its water supply. We also visited the Rector's Palace, Sponza Palace and the Cathedral of the Assumption, a baroque church built after the devastating earthquake of 1667.
But the coolest thing about this tour is that the local guide let us in on many of the secrets of Dubrovnik. We learned about the culture of the city – both then and now.
Like the medieval dating rituals that started with acrobatics and ended in either rose water or rejection.
And about how one of the smallest Jewish quarters in Renaissance Europe was also one of the most tolerant, with a secret entrance and exit that allowed Jews to come and go even after curfew.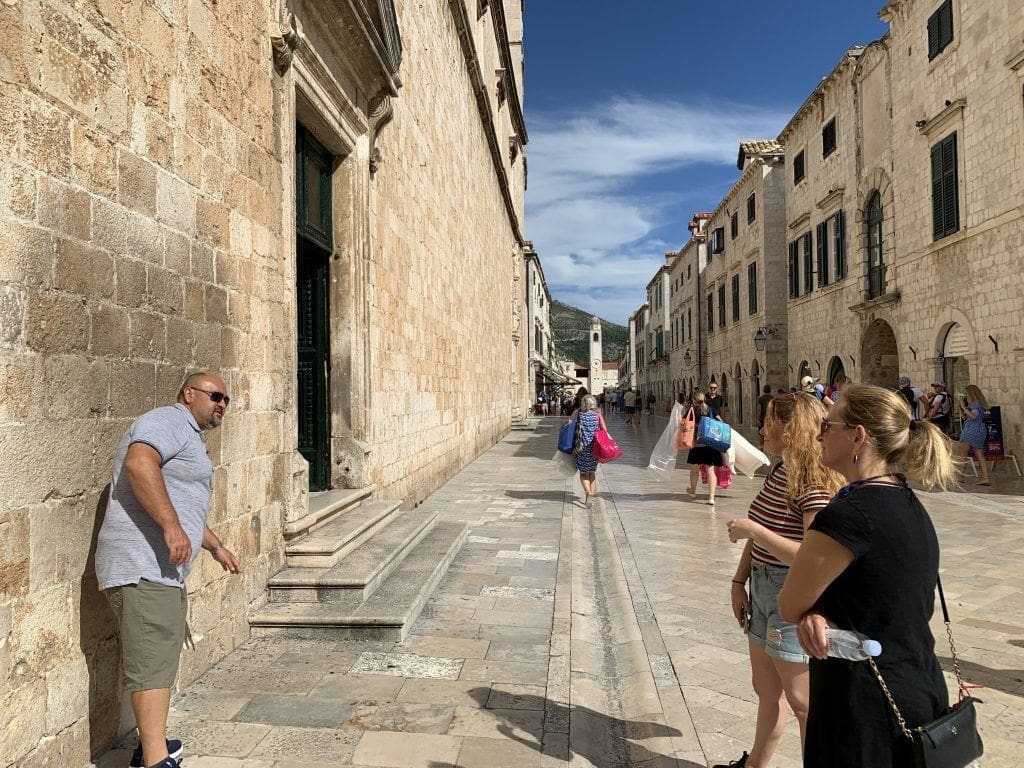 The tour cost around $20 per person, and we think it was an excellent value.
Game of Thrones Walking Tour
Whether you are a Game of Thrones fan or not, you'll be amazed and delighted by a Game of Thrones Walking Tour of Dubrovnik!
We certainly were.
Our Game of Thrones tours started back at Onofrio's Fountain inside the Old Town. From there it was a 2-hour adventure visiting filming locations from the TV show.
At Pile Gate we saw some of the locations from Season 2 & 3, including scenes when King Joffrey is subjected to the jeers of the starving crowds. Joffrey ordered his outnumbered personal guard to execute the entire crowd, sparking off a city riot.
We then took the path leading under Pile Gate drawbridge to the docks of King's Landing.
We saw the beach where the royal entourage including King Joffrey, Queen Cersei, Tyrion and Sansa Stark saw off Princess Myrcella to Dorne. And also where the Gold Cloaks were ordered to kill all of King Robert Baratheon's bastards. Then where Tyrion goes to the city walls (Fort Bokar) with Lord Varys to discuss strategy to win the battle of Blackwater Bay.
We stopped at one of the piers of Dubrovnik western bay. This location doubles for some of the Blackwater Bay and the wildfire scenes in the show.
It was also used for shots of Sansa and Shae when they were talking on the pier about ships and places they would go before Petyr Baelish (Littlefinger) shows up to tell Sansa on how he's planning to get her out of King's Landing and back to her family.
We just HAD to recreate the scene!
We then ascended the steep staircase to Fort Lovrijenac, which played the part of the Red Keep in Game of Thrones.
Dubrovnik's monumental fortress was used as a set for filming multiple scenes depicting quarters and exterior of the Red Keep, particularly in the earlier seasons.
And from the 'Red Keep' you can see the location where the highly gratifying Purple Wedding was filmed!
But the tour saves the best for last!
Back in the Old Town at the Church of St. Ignatius of Loyola we arrived at the place of the infamous Walk Of Shame – the highlight of every Game of Thrones walking tour.
No one can forget when Cersei was stripped of all clothing and exposed to the eyes and mockery of the population of Kings Landing on a long walk to the Red Keep.
As she walks naked, she is accompanied by a Septa, repeatedly crying out "Shame!" and ringing a bell to attract people's attention.
Once again, we just HAD to recreate the scene!
In addition to seeing the filming locations, the tour guide provided lots of behind-the-scenes info about the actors' time in Dubrovnik as well as the unique challenges of filming a period piece in the Old Town.
We highly recommend the Game of Thrones Walking Tour of Dubrovnik. It's a very cool tour.
Best Attractions in Dubrovnik
Cable Car Dubrovnik
If the view from the walls isn't high enough for you, then check out the cable car.
The Dubrovnik cable car carries you 778 meters up the mountain for an unreal view of the city.
While up there you can enjoy a coffee or wine with a spectacular view.
A round trip journey is 170 kunas.
Or you can get a 90 kuna one way ticket and walk down from the view – which only takes about 30 minutes.
Tickets should be purchased at the station in the city for the best price, however, more information can be found here.
Best Beaches in Dubrovnik
Dubrnivok is one of the few cities in Croatia with actual sand beaches.
The water is crystal clear and can be quite warm in the summer if you are on a beach on the south side. Below are our favorite beaches to soak up the sun or enjoy a drink.
Banje Beach– This beach has an amazing beach club on it. From rental chairs to award-wining drinks this place is perfect for weathering away in the sand.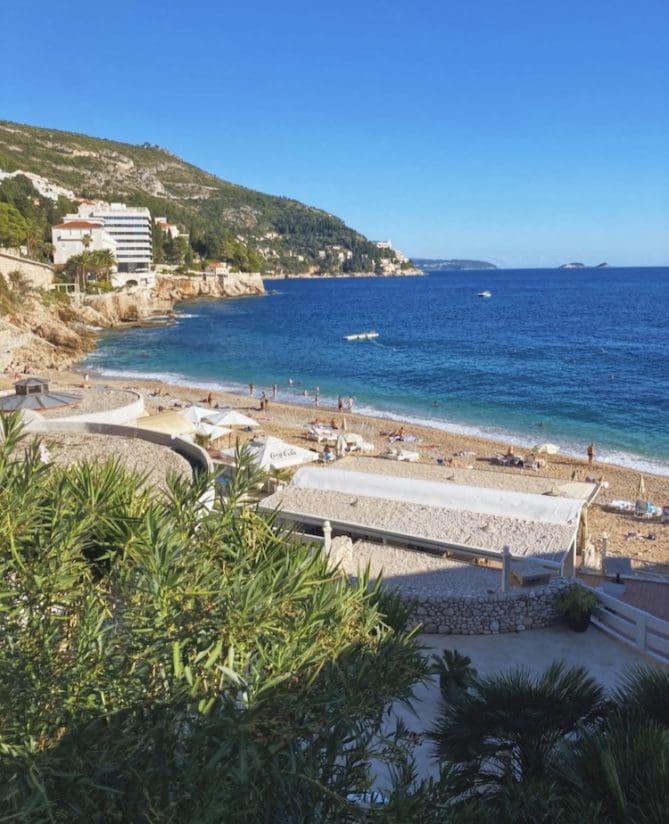 Uvala Lapad Beach– If you are looking to sit back and unwind this beach is marvelous. With a quick cab ride or bus ride, you are in a locals' paradise. This beach is essential for the sunset lovers out there.
Buža Bar– Though is not a traditional beach it is fantastic for adrenaline junkies. This cafe features seating overlooking a huge cliff. Down below guests can enjoy free cliff jumping into luminous water. The jump makes for a memorable memory and heart-racing experience. Make sure you bring cash for the cafe and note there is no official bathroom on the cliff.
Best Eats in Dubrovnik
Food is culture in Dubrovnik from risotto to steaks. We especially liked restaurants with a view of the gorgeous city. These are some of our favorites while visiting.
Komarda $$-$$$ – A stunning sight of city walls and water with traditional Croatian food options.
Nautika $$-$$$ – A beautiful view of Fort Lovrijenac, offering traditional Croatian food with outstanding breakfast options.
Azur $$$-$$$$ – No views from here. Just some of the best Asian fusion food we've had anywhere!
Restaurant Panorama $$$-$$$$ – 360 views of the city from the mountains, with seafood specialties and other typical Croatian options.
Burger Tiger $- Best for a quick eat and has the best hot wings (a travel keto diet staple!) in Dubrovnik.
Snogu $$- A unique cuisine featuring Asian infused food with a comforting vibe.
Peppino's Ice Cream Shop $- The best gelato in town with 18 different flavors.
Glam Beer Therapy-Dubrovnik $- A small local bar with the largest kraft beer selection.
Bottom Line – The Ultimate Affordable Luxury Guide to Dubrovnik Croatia
Dubrovnik offers something for everyone!
You can spend a day soaking up the sun.
Or learning about the culture and history of the ancient city.
Or nerd out over the Game of Thrones locations.
But our recommendation is that you do ALL of these!
So if you are looking for a romantic get away, a regular holiday, or an extended travel stop, step into this iconic city and enjoy!
For more exclusive travel guides on visiting Croatia check these out: