From the Dalmatian Coast around Dubrovnik to the mountains in the north and east, Croatia is home to some of the most beautiful natural wonders in the world.
One of its top outdoor attractions is Plitvice Lakes National Park.
The park is located in central Croatia. It is a 295 square kilometer forest featuring 16 terraced lakes joined by dozens of spectacular waterfalls.
From walking trails to stunning viewpoints, Plitvice Lakes is famous for solid reasons.
So here is our complete guide of how to plan your visit to Plitvice Lakes National Park.
Getting to Plitvice Lakes National Park
Since it is located in central Croatia, Plitvice Lakes national park is not easy to get to. But it is well worth the effort!
The park is about 240 kilometers from Split and 128 kilometers from Zagreb.
The roads are such that it will take you about 2 to 3 hours to get there from either major city. Generally speaking, there are two options for traveling to Lake Plitvice.
Rent a car
Take a bus
Both these options will get you to the park. However, we strongly recommend renting a car.
First, the area around the park is very rural. So amenities like food delivery and public transit are not widely available.
Second, the park is huge and can take hours or even days to explore. So having the freedom to drive to the park's various access points is helpful.
Plus, renting a car will allow you to drive to some of the hidden viewpoints – such as the tops of waterfalls.
Finally, there are limited taxis and busses and no ride-sharing in the area so you may spend a while waiting for a ride.
However, if renting a car is not in your budget then taking a bus to Plitvice is an affordable option.
A bus will cost you about 154 kuna one way from Split. Or 70 kunas from Zagreb one way. The buses typically run 6 times a day from both locations, however in the winter options are more limited.
And if you do take the bus, pay attention at the stop! Some of our friends tried to take the bus from Plitvice to Zagreb, but they weren't paying attention as the bus approached and since they didn't wave it down the bus roared past without even slowing down!
But whether you drive or take a bus, once you start your journey to Plitvice Lakes make sure you look out the window. The drive is full of rolling hills, lakes, and peaceful countryside.
Best Place To Stay At Plitvice
When it comes to staying at the National Park you have several options.
There are typical hotels and Airbnbs.
However, Plitvice does offer some unique accommodations.
When our group of digital nomads visited we decided to do the camping – or should I say glamping – option!
The Plitvice Holiday Resort is the official accommodation for visiting the lakes. It is located only a 5-minute drive from the park and offers numerous options to accommodate all types of guests.
The resort offers:
Traditional Camping including tent options, RV hooks with electricity and water, plus even private pitches. The prices range between 25 USD for a standard site per night and 45 USD for a more private lot.
Standard Room options like a typical hotel room, bungalow, and apartments. The rooms start around 60 USD per night with apartments being 130 USD. A nice feature of the rooms is you can add breakfast for a little extra. This is perfect for before those early mornings at the park.
Glamping features treehouses, mobile homes, waterfront housing, and tipi tents. Depending on the option you choose prices range from 70 USD to 160 USD per night.
In our case, we decided to go with glamping in a mobile home.
The mobile home was plenty of space for 5 people. It featured a fabulous view of the mountains with a personal hot tub. Kicking it in the hot tub was excellent after a long day of hiking.
The staff at the resort was friendly and the accommodation was freshly cleaned when we arrived.
What to Expect Visiting Plitvice National Park
Amazing walks among dozens of awe-inspiring waterfalls. That's what you can expect visiting Plitvice Lake National Park!
With around 90 waterfalls there is so much to see.
On the one hand, you can see a good chunk of the park in 3-4 hours depending on how aggressively you attack the trails. On the other, we have friends who spent 4 days exploring the park!
We spent 8 hours there – and that was not enough time to see everything but plenty of time to see all the highlights.
Below are the main things to know about the park.
You must purchase tickets for a specific time before visiting the park. You can purchase them the day of, but sometimes they sell out. To avoid the crowds I would recommend scheduling an early morning time.
There are 7 main trails you can follow to see the entire park. Those trails are A, B, C, E, F, H K. The trails range from 3km to 18km. The shorter trails are at the beginning of the alphabet.
You do not have to follow one specific trail or any at all. There are signs pointing you where to go and clear walking paths. This makes it easy to wander the park at your own speed.
Plitvice Lakes has boats, trains, and buses to help you get through the entire park. These are included in the price of your ticket.
The hikes through the park are fairly easy. There is no scrambling nor any rock wall climbing. However, the falls are the result of elevation difference, so expect plenty of up and down.
The park has two entrances and there is parking at both. Parking can be paid by credit card leaving the park.
Many of the paths are wooden planks making for easy walking. However there are no handrails and the wooden walkways can get slick!
You will probably get wet from the misting waterfalls. Though you will not be soaked, it is helpful to keep your electronics in a thick bag. Also, closed-toed shoes are recommended.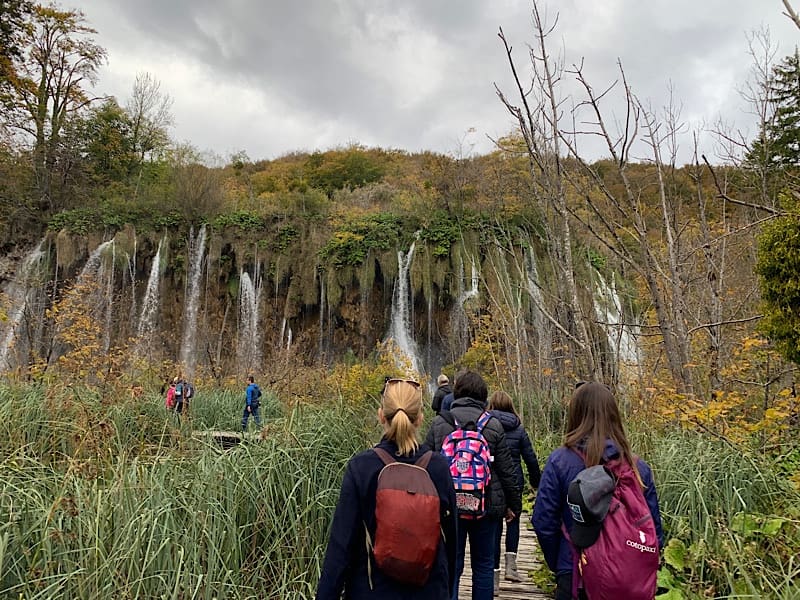 From the pictures, you can tell the views are unbelievable at Plitvice.
Make sure you check out the top view points too because it is a surreal experience .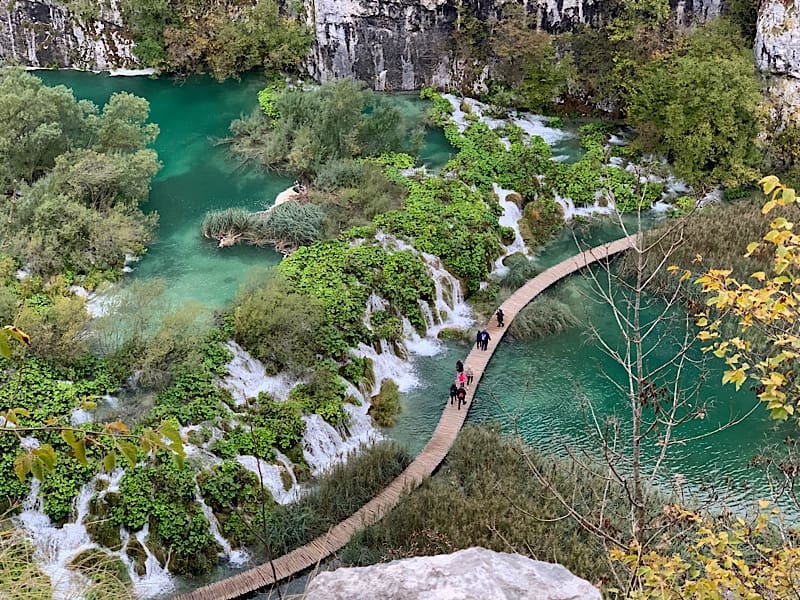 Restaurants and Food
Since the area is rural there are limited food options.
Luckily at the Plitvice Holiday Resort, they have a grocery store and a restaurant. The restaurant features traditional Croatian dishes with indoor and outdoor seating. They also serve breakfast in the morning.
During our time at Plitvice Holiday Resort we ate at the restaurant one night and cooked dinner in our glamping cabin one night.
However, there is one place you must try at some point while visiting this area. The restaurant is Old Shatterhand. It features a comfy vibe with the entire restaurant made of wood. They offer traditional Croatian dishes with huge portions and are budget friendly.
Bottom Line – Plitvice Lake National Park
Plitvice Lake National Park is a must-see if you are visiting Croatia.
Whether it be a weekend trip or just a day trip this park is something you do not want to miss.
Just remember to bring your sneakers, snacks, and a camera!
Better yet, bring your friends!
For more guides on traveling Croatia check these out: