A walking tour of Split Croatia is the perfect way to explore and understand the rich history and culture of this amazing city.
But it's important to book a walking tour ahead of time or you might be scammed – like we almost were.
Lodging for a Walking Tour of Split Croatia
Lisa rented an apartment in the heart of Split's Old Town with the intention of really exploring the area.
She specifically booked that Airbnb because we wanted spend all of our time in the old town area getting to know all about this city that dates from when Roman emperor Diocletian had it built as a retirement home.
But really there are so many great deals on apartments and hotels in Split. It really is an affordable luxury destination!
We were super happy to be in the heart of Split.
After landing, we had some sunset drinks and dinner before spending a day learning about and experiencing Split.
Why You Should Book Your Tour of Split Online
When we first arrived in Split we walked around the old town to get our bearings.
We noticed a woman with a sign in the main square right at Diocletian's palace advertising walking tours.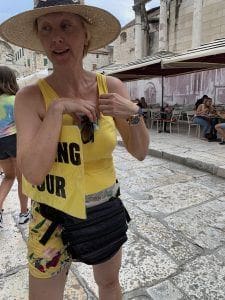 So we didn't bother booking a walking tour of Split online.
Big mistake! Huge.
The next day we went back to the square and found the woman standing there again. We inquired about a walking tour.
She was super-pleasant and said 'Sure! Why not start one right now? Only 600 kuna!'
Now let's be clear: we like to think that we are pretty savvy travelers. We are full time digital nomads, after all!
But for some reason we just didn't have our travel mindset working.
Anyway, she told us to have a seat and our guide would be with us in 2 minutes. So we paid her, excited to be able to get a tour right away.
But as we sat there for 10 and then 15 minutes – not 2 minutes as promised – it dawned on us: did we just pay nearly $95 US for a 2-hour walking tour of Split!? Because that's CRAZY expensive. And did that lady just walk away with our money while we sat there waiting for a guide!?
We pulled up our currency exchange apps and sure enough, we were being idiots.
So we chased the lady down and demanded our money back. There was quite a bit of back and forth as she insisted the guide was simply 'in the bathroom.' But threatening to report her to the authorities finally did make her relent and give us our money back.
Lesson learned!
Finding Our Walking Tour of Split
So we went back to our Airbnb and pulled out our laptops to research walking tours of Split.
The best reviewed and most economical one we found was on Viator offered by Walking Tours Split. It cost about $30 US for the two of us and covered everything we wanted to see and learn about.
It's a great tour.
Unlike many walking tours where you do a lot more standing around and sitting than walking, this was an 'express tour'. It kept us moving. At the more interesting sites our guide found a cool spot to talk about the history and culture of old town Split. But never for too long so it never got boring or tedious.
Why Is a Walking Tour of Old Town Split Croatia Worth It?
We always find walking tours to be a great way to see all the sights in a short amount of time. And walking tours provide not just history but insights into the culture of the people who live and lived in a place. One of our favorite walking tours ever is the Plovdiv Bulgaria Free Walking Tour.
In Split Croatia the highlight of the walking tour is learning about the Roman emperor Diocletian and exploring his former home, the famous Diocletian's Palace.
Diocletian was a Roman emperor from 284 to 305 AD. His reign stabilized the empire after years of unrest and civil war. He achieved this by dividing the empire into 4 parts and appointing an emperor to rule over a quarter-division of the empire. He took the province of Dalmatia as his quarter of the empire.
Diocletian's built his palace at the turn of the fourth century AD as a retirement home. Today the remnants of that palace forms about half of old town Split Croatia not too far from the capital of the Roman province he ruled.
The structure is actually more of a fortress than a palace.
In fact, about half of it was for Diocletian's personal use, and the rest housed the military garrison. Today the remains of the palace are part of the historic core of Split. In 1979 UNESCO listed it as a World Heritage Site.
This model, part of the Split Walking Tour, shows what Diocletian's Palace looked like when it was completed.
After Diocletian
With the death of Diocletian, the palace remained an imperial possession of the Roman court.
In the 7th century, a new city organized in and around Diocletian's Palace to take advantage of its protective walls.
Since then, the palace has been continuously occupied, with residents making their homes and businesses within the palace basement and directly in its walls.
Today many restaurants and shops, and some homes can still be found within the walls.
In the medieval times many new houses filled not only the Roman buildings but also a large part of the free space of streets. As many houses as possible were crammed into the protective walls. This led to the area's distinctively narrow – sometimes VERY narrow! – streets.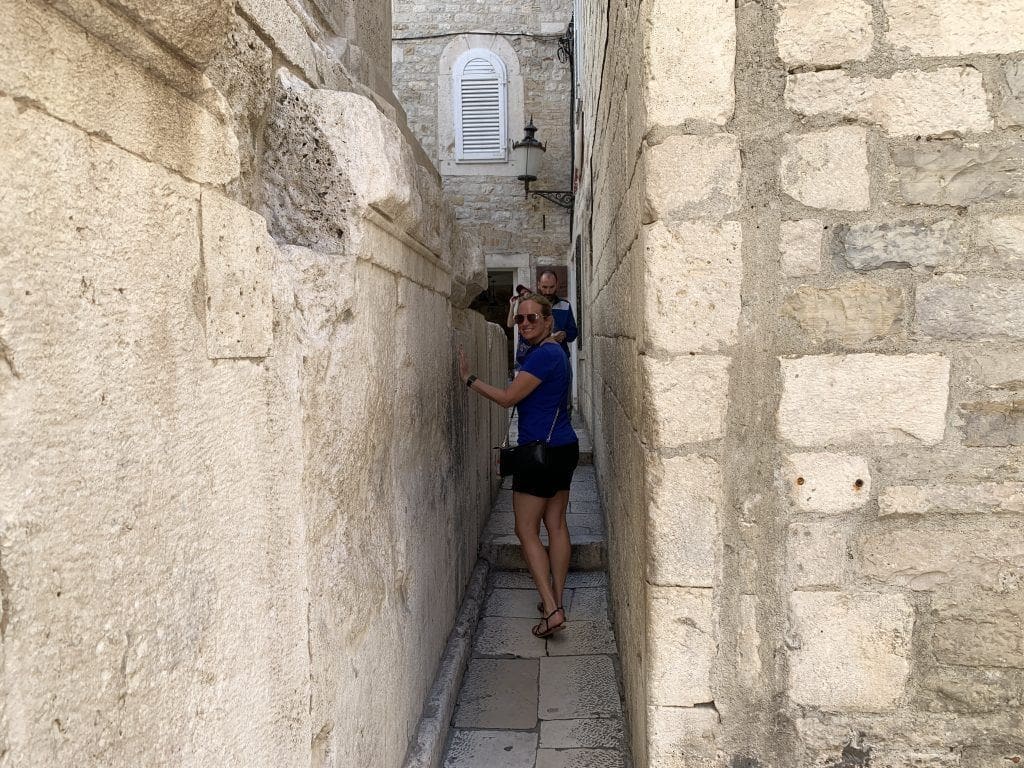 Medieval inhabitants of many towns and cities in Europe took old Roman structures apart and used the material for new construction. But in Split the inhabitants kept the Roman structures, repurposed them and added to them.
A great example of this is the Baptistery of St. John. Diocletian built it as Jupiter's temple. Later it became the Mausoleum of Diocletian.
You can still see the original Roman structure although it has been altered and encroached upon by medieval buildings.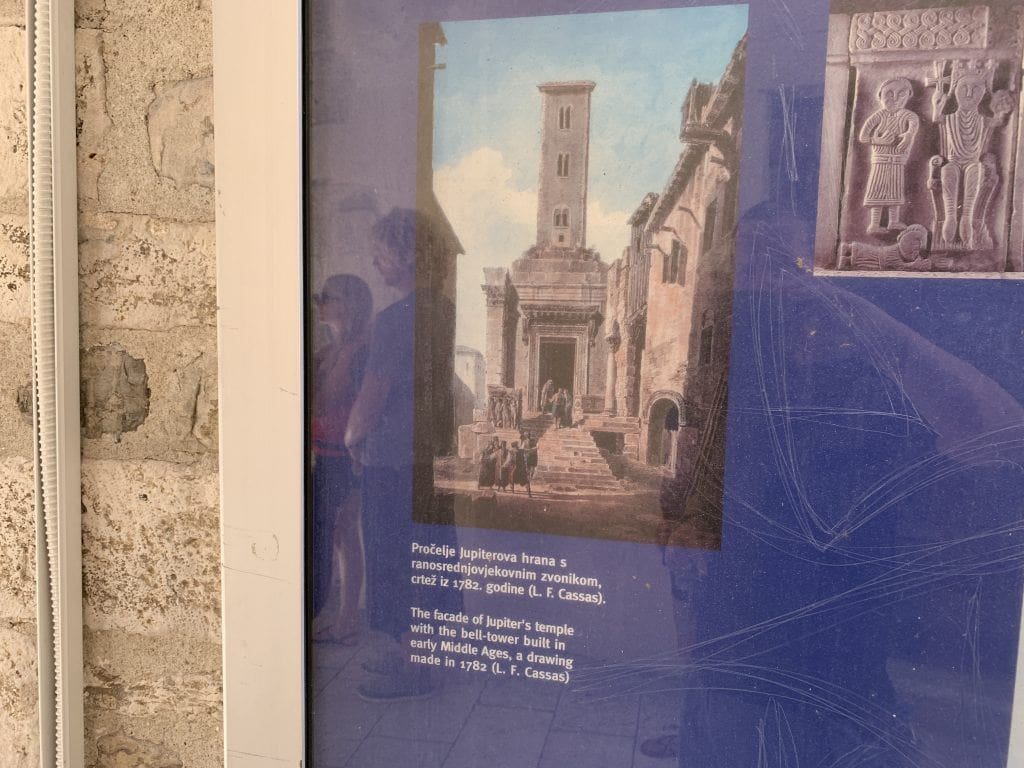 The Baptistery is also a great place to see one of the surviving 3500-year-old granite sphinxes that Diocletian brought from Egypt to adorn his palace. Only three survive. One is still on the Peristyle, the second sits headless in front of Jupiter's temple, and a third is in the city museum.
Later, French Emperor Napoleon left his mark on the site. His occupying forces constructed a French style promenade just outside the walls of the old city.
Today, old town Split looks like this model. Our walking tour guide is pointing out the south gate of Diocletian's palace.
Walking Tour of Old Town Split Walls and Gates
Our walking tour started just outside the walls of old town Split at the north gate. There are 4 gates into and out of old Town Split. The north gate (Golden Gate), west gate (Iron Gate), south gate (Bronze Gate) which faces the sea, and the east gate (Silver Gate).
To this day these gates remain the way into and out of old town Split. The south gate faces the sea. And you access it through a cellar under Diocletian's Palace.
Between these gates are the famous walls of old town Split.
Here again, you can see the way that medieval residents built onto, around and even into the walls as they used every possible inch of space to remain inside their protection. Today there is a modern hotel built into the south wall.
Walking Tour of Old Town Split
Old town Split's narrow streets open up into a series of smallish squares lined with restaurants and cafes.
The narrow streets provide constant shade and keep the old town considerably cooler in the summertime.
Our walking tour guide pointed out the evolving nature of the architecture and gave us a deep appreciation for the evolving cultural, religious and political history of old town Split.
Walking Tour of Diocletian's Palace
But the palace is the highlight of the Split walking tour!
Diocletian's Palace is relatively well preserved.
Little is preserved at the site of the emperor's apartment other than a mosaic and a few corridors.
However, the Vestibule, a large rotunda where visitors waited for the presence of the emperor, is very well preserved. And it makes for some amazing photographs!
The Peristyle (monumental court) has the bell tower of the Cathedral of Saint Domnius looming over it. It's the heart of old town Split. And a popular gathering place for cocktails or coffee in the evening.
Bottom Line – Walking Tour of Split Croatia
Our walking tour of Diocletian's Palace and old town split gave us a great understanding of the history and culture of Croatia's second largest city.
In just under 2 hours we saw Diocletian's Palace, the wall and gates of old town Split, and the old city itself.
We really enjoyed learning about Diocletian's contributions to the Roman empire as well as the region that is now Croatia.
And we were fascinated to hear AND SEE how the area was repurposed through the medieval times all the way to the present.
If you visit Split Croatia, a walking tour of old town Split should be at the top of you list of things to do!