Living a life of full time upscale travel means having a long term travel packing list.
Deciding to permanently live out of a 22-inch Osprey Ozone Convertible Wheeled carry-on – which we consider to be the best long term travel bag -comes with certain wardrobe consequences and requirements.
It means accepting that clothes will be worn and re-worn and re-re-worn. And it means carefully curating clothes as well as electronics and accessories.
The best piece of advice we got on building a digital nomad packing list came from digital nomads Erin and Simon at https://www.neverendingvoyage.com/ (their blog is a must-read for anyone thinking about adopting this lifestyle). They wrote:
"Lay everything out and ask yourself what you plan to use it for. If it's for a 'just in case' scenario, then ditch it. Everything needs to earn its place in your bag by being used regularly. "
We took this advice to heart and it really helped in preparing our long term travel packing list.
Long Term Travel Packing List
Here is my full time digital nomad packing list:
6 t-shirts
2 collared shirts
3 shorts
1 bathing suit
1 Bluffworks quick-dry travel trousers
1 jeans
2 pullovers
8 socks
7 underwear
1 flip flops
1 trainers
1 hat
Here are some more details about the exact clothes that I packed.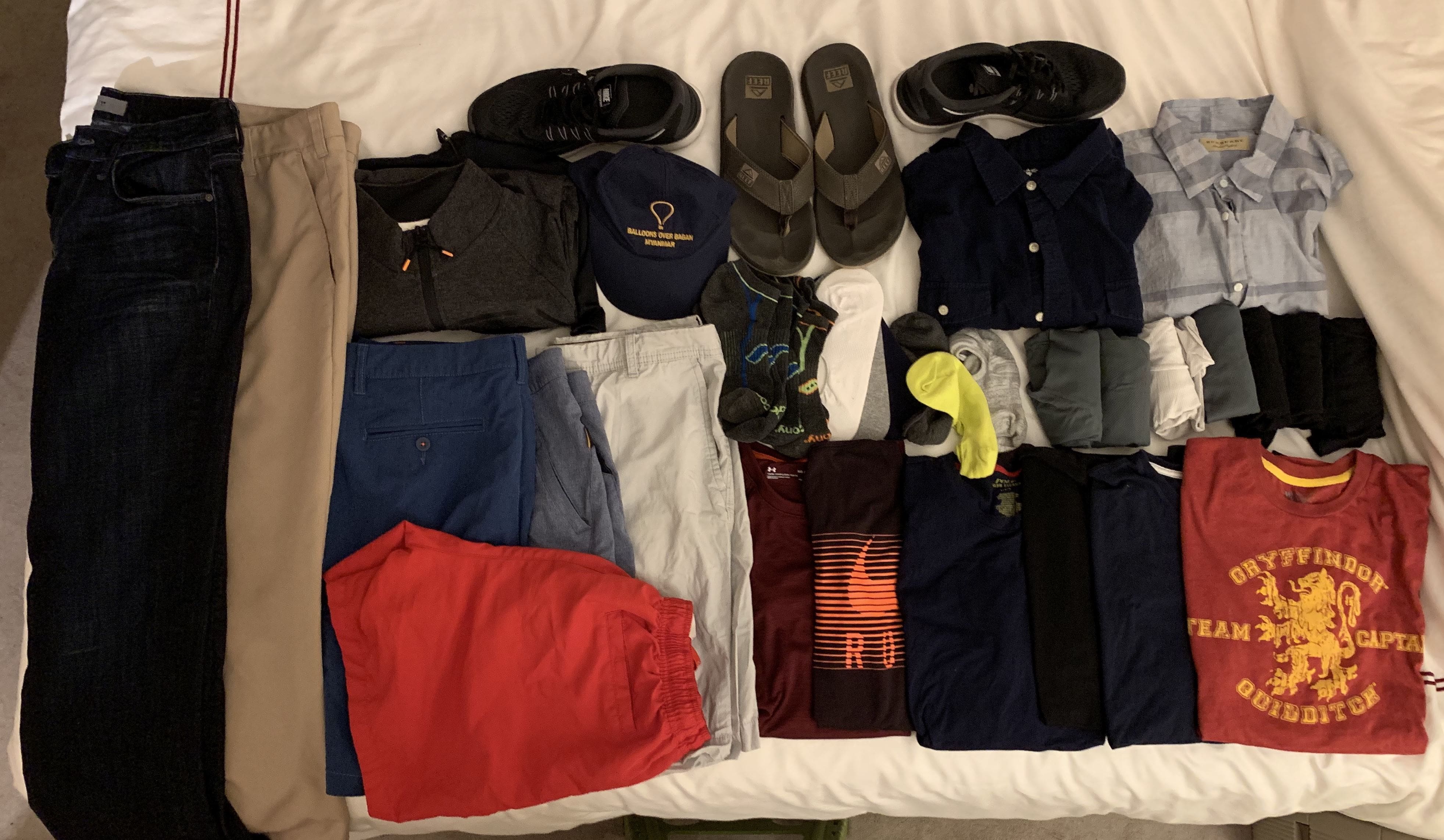 I'm no math genius but I'm pretty sure that means my entire wardrobe is made up of 34 articles of clothing.
After reading infinity reviews and watching some youtube videos of nomad bloggers using them we decided to invest in some Eagle Creek compression packing cubes.
The zipper compression technology does really save some precious space!
I also use of one of Lisa's old Coach zipper bag as my third packing cube. It works!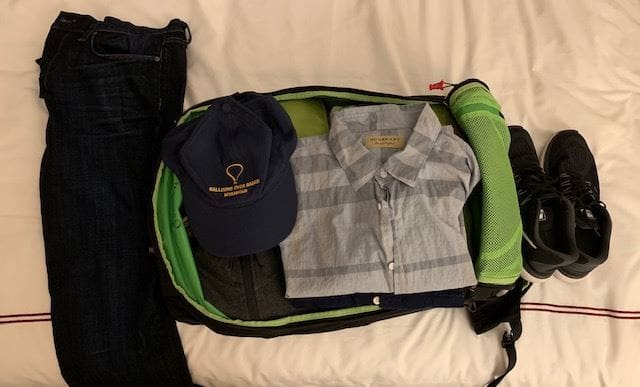 But the hard work of paring down really does pay dividends!
Lisa was equally successful at packing for long term travel – in fact her bag is a few tenths of a kg lighter than mine!
You can check out what she put on her long term travel packing list here.
We don't necessarily live with only these possessions. When we slow travel and spend a few weeks or months in a country we naturally accumulate 'stuff.' But then when it's time to move on we do what we call 'pack tight' and either donate all the 'stuff' we have accumulated, or give it away to local friends or other nomads who are slow traveling.
Bottom Line
Whether you considering a digital nomad lifestyle, an extended trip or just want to pack for vacation light and tight, our long term travel packing list will ensure that you don't overpack or underpack.