Eating a Vietnamese keto diet in Da Nang Vietnam can be a challenge!
Being digital nomads means eating out a lot at restaurants.
To be clear, it's possible to eat for a few dollars a day in Da Nang if you are not on a keto diet.
But we are on a keto diet so we did not for few dollars a day.
We stuck to low carb/keto, meaning we invested in our meals and by extension our health.
And of course we brought along our favorite keto snacks come from Genius Gourmet! They have amazing keto snack chips that travel very well!
Eating a Vietnamese Keto Diet in Vietnam
We did so well sticking to our keto diet in Thailand.
So we thought we'd be fine in Vietnam too.
But eating keto in Vietnam is a bit harder.
In some restaurants it is nearly impossible to find dishes that are not noodle or rice-based.
But as always we do the best we can…and that meant avoiding carby street food and tending toward more expensive meals.
And having lots of travel keto diet snacks!
Our Local Vietnamese Keto Diet Restaurant in Da Nang: CohibaR
Be sure to check out our 7 Tips and Hacks for Eating at Restaurants on the Keto Diet Anywhere in the World
Lisa and I tend to be creatures of habit when it comes to finding a local. When we find a spot with good keto diet food and great people we just keep going back.
In Arlington, VA that's Spirits of '76, which happens to be our favorite bar in the world. If you are ever in Arlington you go to Spirits and ask for Paddy or Matt and tell 'em Matt and Lisa sent you! 🙂
Washington DC? Exiles Bar. Donagh and Brian are the BEST.
And in Da Nang, Vietnam it's CohibaR (I think the capital R is for 'really good keto food.').
And the staff there are just so friendly. The second time we went, the (very shy so doesn't want me to use her name) waitress not only remembered us, she remembered our order: no fries, no rice…no carbs!
We ended up having late lunch at CohibaR about 15 times during our month or so in Da Nang, Vietnam.
Every time we would go somewhere else for late lunch we'd go back to CohibaR the next day because we could get protein and good fats like omelettes with avocado or salt and pepper chicken wings.
They also have dirty keto diet friendly dishes like chef salad (olive oil instead of dressing) and burgers (hold the bun!).
And their side of bacon is the best we've had in Southeast Asia! That's Vietnamese keto diet food: delicious bacon!
Compared to noodles and rice it was a bit pricey for lunch – that keto diet omelette runs 125,000 dong ($5.40US) – but in our opinion well worth it vs the $0.90 bowl of noodles!
Our Favorite Meal in Da Nang
It just so happened, though, that our favorite Vietnamese keto food meal in Da Nang was also our cheapest!
One night we met up with a group of digital nomads and expats for a chicken dinner at this VERY local restaurant:
Unlike most places we ate in Da Nang the staff at this restaurant on the west side of the river spoke no English.
When we all arrived a case of beer and bucket of ice was brought over to the table.
Ice was put in glasses beer was poured on top. Anytime any glass got empty, staff refilled it from the nearest bottle or, if necessary, a new one.
Our digital nomad friend and host for the event, Edwin, runs the Facebook group Digital Nomads in Da Nang.
He speaks enough Vietnamese that he was able to order the house specialty: whole live chickens roasted over a fire with the innards stir fried with vegetables as a side dish. And also enough to point out that his keto friends don't drink beer!
We were offered the opportunity to watch the slaughter, plucking and cooking process. But declined.
In the end the birds were brought to our table and chopped up for eating (that's a picture of a chicken head above in case you missed it! 😮 ).
They were amazingly tasty…and even the fried gizzards were pretty darn good!
With bellies full of chicken and gizzards we were shocked when each person's share of the bill was only 115,000 dong…just under $5US!
Of course, the best part about this dinner was the conversation and getting to meet and get to know other digital nomads and Da Nang expats.
Blowing it out: Olivia's Prime Steakhouse
For a blow-out Vietnamese keto treat we decided to try the premier steakhouse restaurant in Da Nang: Olivia's Prime Steakhouse.
We were not disappointed.
Olivia's is a truly remarkable steakhouse. We started with their version of provaletta (melted cheese served in a hot skillet), our favorite keto-friendly steak night appetizer.
I had a strip steak and lisa had a ribeye. Both were cooked to perfection, and the presentation was great too:
At the end the bill was presented with shots of their decidedly NON-keto friendly homemade chocolate-infused vodka.
You know, to take the edge off of the 4 million dong bill: at $172US this was the most expensive dinner we had since launching as digital nomads…by FAR!
Granted, that was a typical Friday night dinner bill in our old life, but this ain't that!
But the keto diet gods smiled upon that meal!
A Taste of Italy (and Chiang Mai): Limoncello
They just don't do Italian in Da Nang, Vietnam like they do in Chiang Mai, Thailand.
That sound funny but it's true!
We fell in love with Why Not?, an Italian restaurant in Chiang Mai. True Italian food can be VERY keto-friendly: fish with olive oil, meats with olive oil, olives with…olive oil!
Unfortunately, the 'Italian' restaurants in the My An area of Da Nang, Vietnam are actually all just travel keto diet unfriendly pizza joints.
So we took the trek downtown to check out Limoncello, a true Italian restaurant.
And were so glad we did.
The mozzarella on the Caprese was fresh and delicious. And the Spigola Al Cartoccio (sea bass cooked in tin foil) was amazing.
At the end of the meal the chef stopped by to chat and when the bill arrived it was accompanied by…what else…two glasses of keto-unfriendly limoncello!
Moments like that are precisely why we stick to a DIRTY keto diet!
Our Best Vietnamese Keto Food Meal: Market's BBQ
In my non-Vietnam experiences eating in Vietnamese restaurants, there are always plenty of grilled and clay pot options available.
Other than in Hoi An, we struggled to find restaurants in Da Nang that served simple keto-friendly grilled meat or clay pots outside Korean BBQ restaurants.
Market's BBQ was the answer.
It has a variety of both grilled and clay pot meat dishes: perfect Vietnamese keto food.
And their extensive wine room included Vietnamese wines by the glass. After a tasting we chose one that was pretty good (bearing in mind how relative of a statement that is!).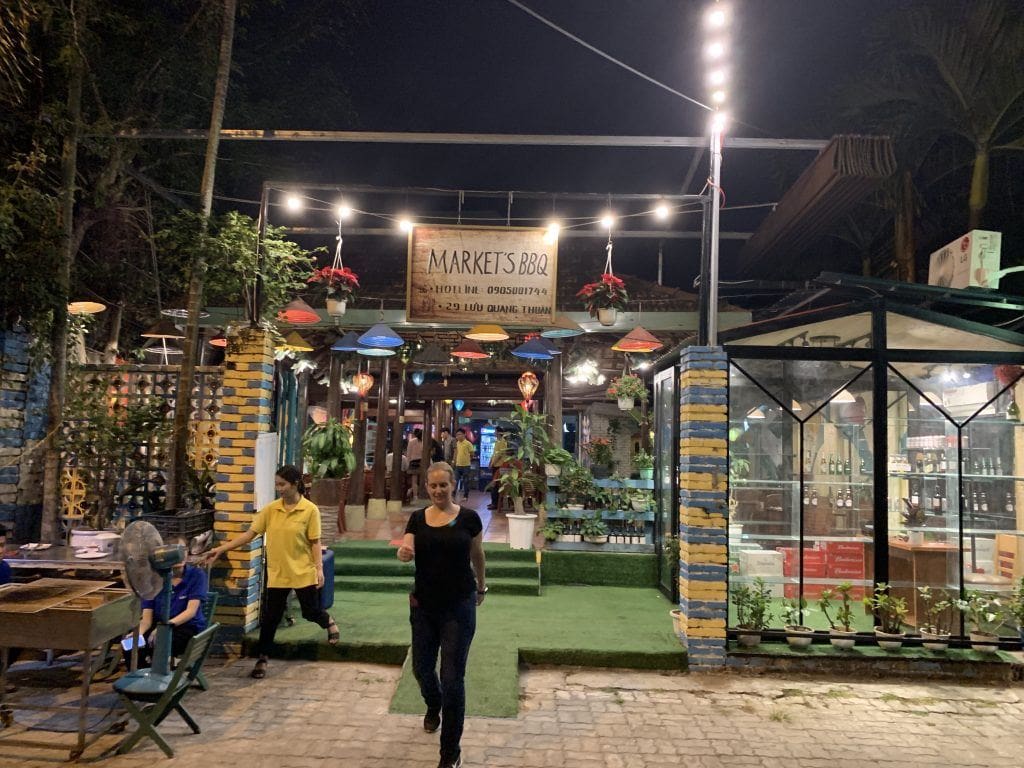 Meet Your Dinner, Eat Your Dinner: Hai San Lang Ca Live Seafood Restaurant
Live seafood restaurants are popular and plentiful in Da Nang.
On our first night in Da Nang we chose one that looked full and had lots of choices: Hai San Lang Ca.
These restaurants have all manner of seafood in tanks for you to browse.
The creatures are sold by the pound and when you are ready you pick out your dinner then it goes off to the kitchen for preparation.
Depending on your point of view, it can be novel and fun or weird and gross to say hello to your dinner before you eat it.
We felt a little bit of both.
Depending on what you choose this can quickly become an expensive meal. Our two big crabs alone cost about 750,000 dong ($32US).
And it's confusing because he the folks standing around the tanks who grab the critters for you didn't speak much English.
And honestly, in the end, the meal was just so-so even if it was totally keto Vietnamese food.
An expensive so-so meal?
We never did repeat the experience, even at the smaller, less expensive versions:
The Girl Next Door: N'Gon Villa
There was an all you can eat concept restaurant right next to our building in Da Nang.
We passed it 3 or 4 times a day and committed to ourselves that we would get there eventually…especially since each night we could hear the violin music playing there from our flat.
On our second to last night in Da Nang we finally made it.
The concept is unlimited small plates for 395,000 dong ($17US) per person. Lots of them were keto diet Vietnamese food.
Seems like an ok deal until we spent 5 times that amount on wine. Sigh.
Great music though:
Expats Delight: Vertigo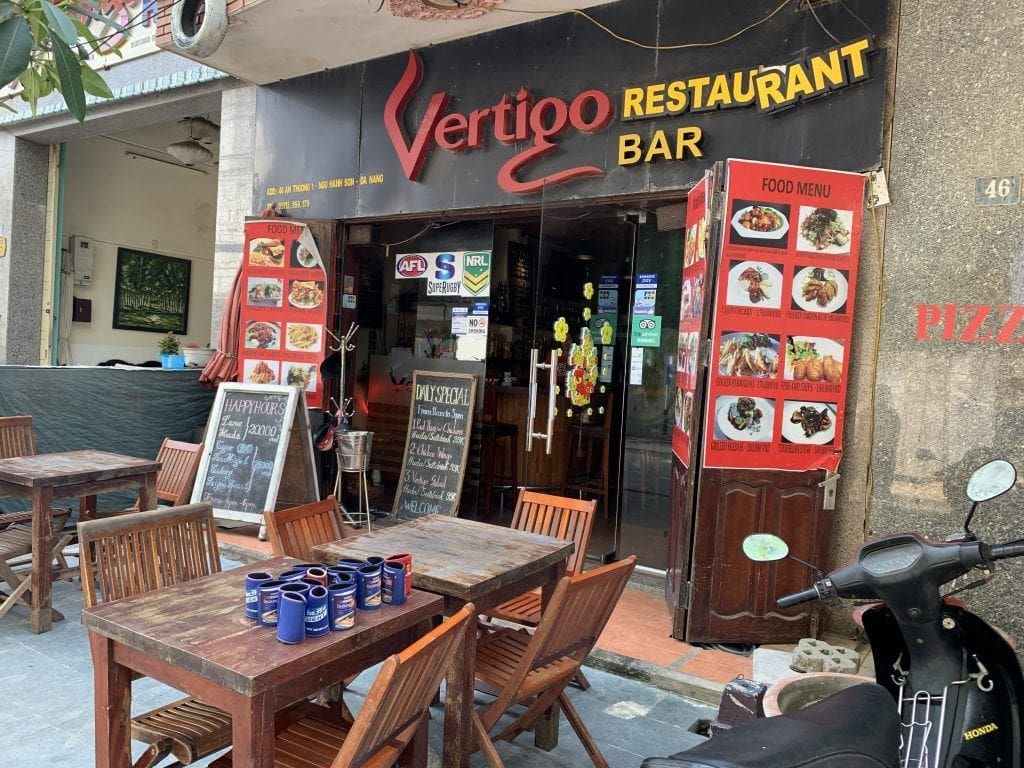 Vertigo has a well-earned reputation as an expat hangout in My An.
Any night of the week you'll find Australians and Brits and Americans sitting both outside and inside the bar swapping stories, drinking beer and eating the bar food menu.
Our favorite was their (hopefully) keto friendly Thai green curry…even though it was red.
True to form, we met an expat biker from eastern Washington at Vertigo and had a great conversation about Sturgiss, Thailand and the merits of the Thai health care system (he'd been in quite a few harrowing motorcycle accidents).
Good times!
A Tale of Two Korean BBQs
Korean BBQ is ubiquitous in southeast Asia, and there are plenty of Korean BBQ restaurants in Da Nang making them a staple of any Vietnamese keto diet.
We tried two VERY different Korean BBQ joints in Da Nang.
BBQ Seomin
BBQ Seomin is a fancy Korean BBQ catering to tourists. Staff not only bring meat, they more or less insist on grilling and cutting it at the table grill.
The result is an easy, hands-off Vietnamese keto dining experience although it's a little awkward eating while the staff are still cooking at your table.
Pallet
Pallet BBQ is the polar opposite. Although it's only a couple blocks away from Seomin, it's in a very different neighborhood.
We were served soju, a grill and raw meat and left to our own devices.
We liked this Vietnamese keto diet experience MUCH better at a fraction of the price!
A Taste of India: Veda's Kitchen
Veda's Kitchen serves very good Indian food right on the main drag in My An. The chicken tandoori was our favorite.
Just like every other restaurant in Vietnam they looked at us funny when we said no rice…and even more askew when we said no naan.
Keto on, baby!
Pho, Pho, Pho
As you would imagine, there are infinity pho restaurants in Da Nang.
We really do love pho.
But with all those noodles pho is about as far from the keto diet as you can get!
When we lived in Washington DC we had a standing order with the local Vietnamese joint for keto pho: keto without noodles but with extra veggies.
But when I asked for pho without the noodles at a pho restaurant in Da Nang it nearly started an international incident!
With the help of the google translate app I was eventually able to clearly communicate my desire for pho without noodles…only to send the entire staff into a tizzy of laughter and banter with each other.
Eventually I got Vietnamese keto diet pho without noodles but we had learned a valuable lesson: just order the pho and take out the noodles ourselves!
This way the staff only look at you funny at the END of the meal when your broth is all gone but a bowl of noodles remain!
We took this approach to getting keto diet pho for the balance of our time in Da Nang and it worked just fine.
Jammin' Darts Bar
We stumbled across Jammin' Darts Bar one night and I just had to include it because WE HAD A BLAST drinking the keto diet cocktail Captain Morgan and Soda while throwing darts.
We really wanted to get a digital nomad get-together at this bar but never did get around to it. Maybe next time!
Bottom Line – Vietnamese Keto Diet
There are so many great restaurants in Da Nang.
But sticking to low carb/keto diet in Vietnam was a challenge.
One that we overcame mostly by throwing money at it!
Be sure to check out our main Travel Keto Diet page for more keto diet tips and hacks!