We flew British Airways business class from Sydney to Singapore as part of our repositioning from Hobart to Penang, Malaysia.
British Airways Business Class and Award Tickets Are Substandard
Like many experienced frequent business class travelers, we typically try to avoid flying British Airways business class.
British Airways is in desperate need of a redesign and refresh of their wide body aircraft business class cabins. The business class seats are among the worst of any significant international carrier.
While the seats go fully flat, it's only with the help of a fold-down footrest which inevitably sags making for a rather uncomfortable bed.
Worse, some of the seats put you in uncomfortably close proximity to neighboring passengers or force you to stare at them the entire flight. Others more or less trap you in your seat against the window or in the middle two of four-across seats – to get out you have to climb over another passenger's legs.
And knowing this, BA has the audacity to charge business class passengers a significant fee for the privilege of selecting seats in advance to avoid the worst seats.
As for substandard award tickets, the UK levies an Air Passenger Duty (APD) as well as other fees on award tickets which can be significant if you have travel originating or terminating in the UK.
This means that, in addition to spending points and miles on a BA award ticket and paying seat selection fees, if you are heading to or from the UK on an award ticket (as one typically does on BA) you will pay upwards of $1,000 US in UK taxes and BA fees. So much for 'free' award tickets!
Wondering how we find cheap business class flights? Check out our Cheap Business Class Fare Guides:

How To Use Google Flights to Find Cheap Business Class Flights (And Cheap Economy Flights Too!)
Sooooo…If British Airways Business Class is Substandard WHY Did We Book It!?
Well…likely because of everything noted above…BA had business class award availability on the day we wanted to travel, whereas superior products on the Sydney to Singapore route like Singapore Airlines and Qantas did not.
And, significantly, BA's flights between Singapore and Sydney are part of an onward service from London to Singapore. This makes it one of the very few British Airways routes that doesn't touch Britain…which means that many of the taxes and fees that make BA award tickets so ridiculously expensive do not apply.
So we booked it and set expectations accordingly.
Purchase British Airways Avios to book you next award ticket!
Check-In
We had checked in for our 2:50 pm flight early that morning before our Qantas flight from Hobart to Sydney.
So we already had boarding passes in hand when we arrived back at Sydney Airport from our dayroom at the ibis Budget Hotel at Sydney Airport.
Qantas Lounge
We made our way to the Qantas International Business Class Lounge in Terminal 1.
It's a lovely lounge with lots of seating and great views of the central business district in the distance.
But it was the start of the spring school holiday in Australia so the lounge was chock-full of families with small children. It wasn't quite romper room, but it wasn't exactly a peaceful scene.
We were very, very glad we had spent a little bit of money to get the dayroom at the ibis hotel during our long layover rather than trying to rest and nap in the bright and noisy lounge with children running about everywhere.
We were hungry after our nap, and the lounge has a large and plentiful buffet on offer with lots of keto friendly options.
Gate and Boarding
When boarding was announced in the lounge we headed to the gate.
When we arrived boarding was well underway and there was a massive line for economy boarding. But the queue for business and first class boarding was very short and in no time we were getting on the big metal bird.
Business Class Seats Sydney to Singapore
As noted, the British Airways business class seats are pretty bad.
Compared to BA's competition in the business class space, they are cramped, claustrophobic and a bit decrepit.
But please don't get me wrong, they are a million times better than economy seats. Especially for sleeping.
Based on our previous business class experiences on BA, we made the most of the situation by choosing window and aisle seats that face each other. This way we can chat and are not staring at strangers.
Flight and Arrival
Pre-Flight and Takeoff
After some initial confusion we were served some sparkling wine to toast our return to slow travel in southeast Asia.
We took off a few minutes late due to some luggage issues, but once up in the air we got to say our final farewell to Sydney and Australia.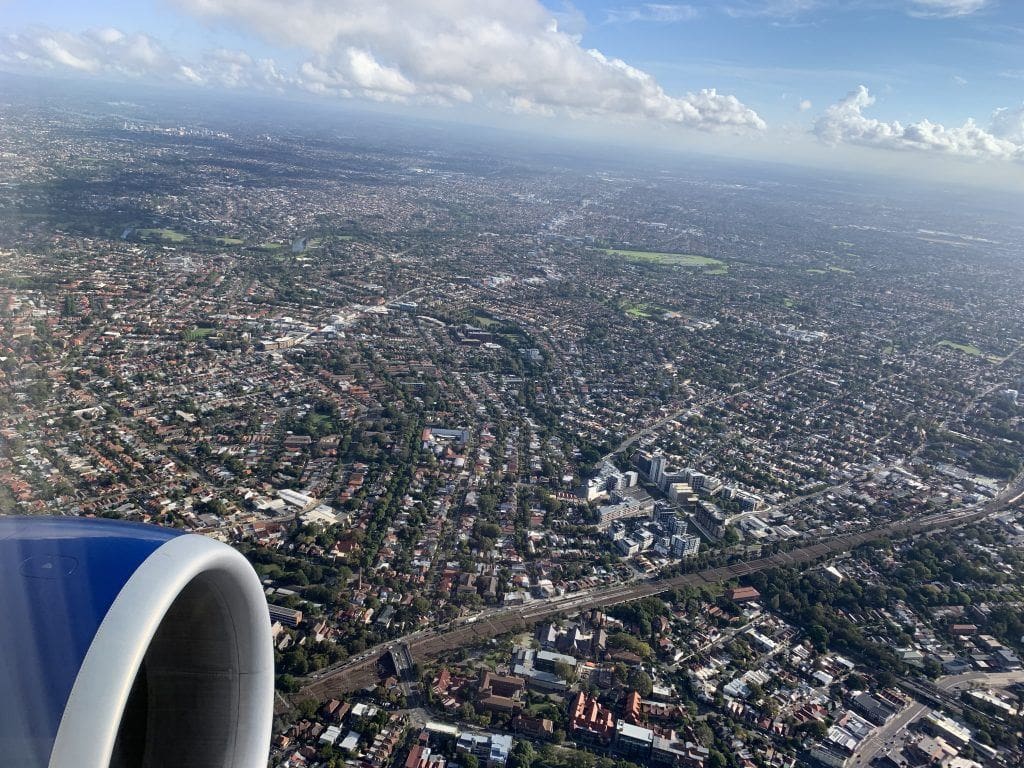 Meal Service
Unfortunately, catering in Sydney forgot to provide business class menus.
This meant a significant delay in the meal service as the crew had to describe every option to each of the 56 business class passengers so they could make their meal selections.
I watched the entire movie Green Book (terrific, by the way!) before the meal service even got underway.
It was nearly three hours into the eight-hour flight when we finally got our appetizers.
And while it was good, at that point it was time for a nap so the rest of the meal service was wasted on us.
Flight and Arrival
We woke up just in time for preparations for landing.
And we had a lovely view of the Singapore harbor on approach.
We were quite happy to be back in Singapore rested and ready for some pepper crabs!!
Bottom Line – British Airways Business Class Sydney to Singapore
Not even our low expectations for British Airways business class were met on this flight.
The seats remain substandard (for business class!) and the meal service was way off on this flight due to their catering error.
But at least we got to fly in business class, have a nice snooze and, at the end of the day, we were in Singapore!