Leaving Australia
We had such an amazing time doing fast travel in Australia. From Sydney to Melbourne to Hobart.
But it was a strain on our budget and we were pretty exhausted from a month of fast travel. After much consideration we decided to head to Penang, Malaysia for a nice period of slow and cheap travel where we could find a routine and focus on the business for a few weeks.
So we booked a Oneworld business class award ticket from Hobart to Sydney connecting to Singapore on British Airways. We'd hang out in Singapore for a couple days then take the short hop up to Penang.
There was just one tiny little problem…
The Layover From Hell
Our Qantas flight departed Hobart at 6:30 am and we would land in Sydney at 8:15 am. But our connecting BA16 to Singapore wouldn't depart until 2:50 pm.
That's reeeeeealllyyyy early for us.
And we learned after some research that there are no good options for resting at the Sydney airport. Unlike, say, Singapore or Bangkok, Sydney a destination airport, not a connection airport. So there are no microtels, sleeping rooms or hotel pods in the terminal.
But using the site dayuse https://au.dayuse.com/ we were able to book 5 hours at a day-use room at the ibis Budget Sydney Airport which is walkable from SYD domestic terminal for $65AUD.
Problem solved.
Wondering how we find cheap business class flights? Check out our Cheap Business Class Fare Guides:

How To Use Google Flights to Find Cheap Business Class Flights (And Cheap Economy Flights Too!)
Hobart Airport Transfer and Check-In
We arranged for a taxi from 13 Cabs to pick us up at 5am. Ouch.
It was still dark. And cold.
It was so early that Lisa could barely remember where we were headed!
Because we were on a complicated award ticket (combination of Qantas and BA metal using American Airlines points) we had to check in with a human rather than online or at a kiosk. But because we were in business class checking in at the business class counter was a breeze.
With the long layover we decided to carry on our luggage. The business class allowance was more than enough, although we both noticed that our Osprey wheeled backpack bag contents had each increased in weight from 8kg to 10kg.
We passed security and made our way to the Qantas Club lounge. We struggled to stay awake by drinking water and eating a couple of keto friendly hard boiled eggs.
Boarding and Seats
We made our way to the gate around boarding time.
Once again we walked across the tarmac to board the plane…butunlike in Sydney, this time I didn't try to video the process and get yelled at by Qantas ground staff.
The seats in business class on the Boeing 717 (actually operated by Qantas Link) were typical domestic first class seats. Plenty comfortable for the two-hour flight.
We were still bundled up from the dark and cold morning air.
In Flight Meal
Breakfast was a hot egg and sausage dish. By picking around the potatos in the eggs we were able to keep it keto-friendly!
Flight
We made our way out of Hobart over the countryside that we had explored on our wine tour and visit to Bonorong Wildlife Preserve.
We watched the sun slowly rise over Tasmania.
And a couple hours later we were landing in Sydney.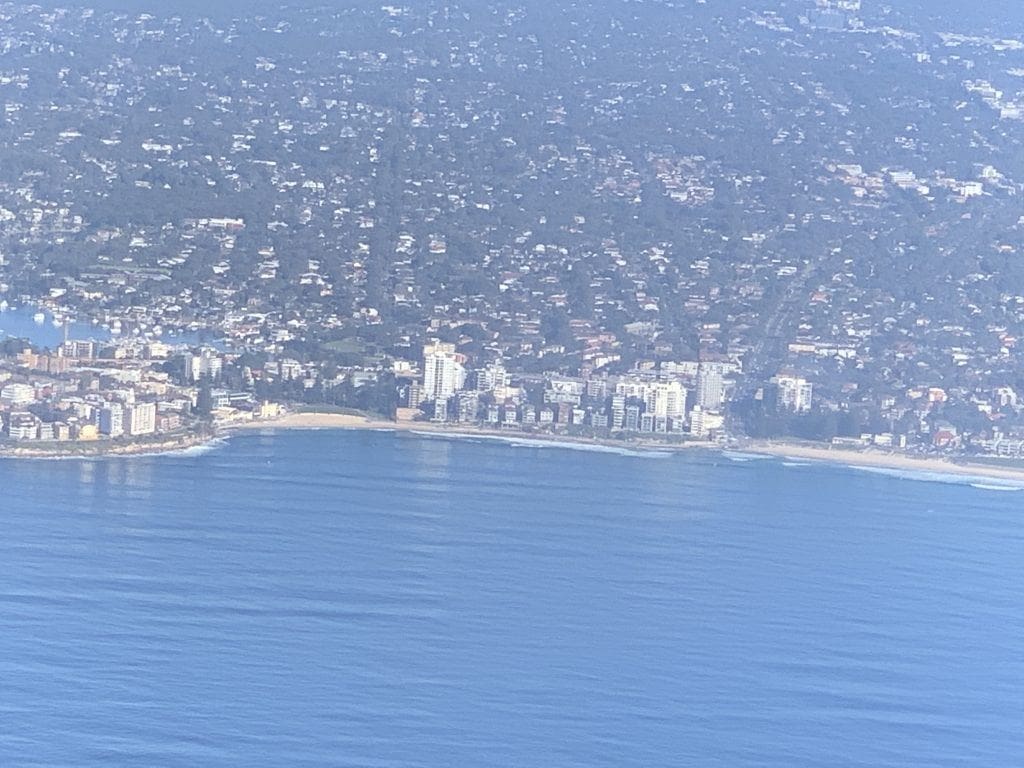 Layover in Sydney
It was about 8:30 am when we stepped out of the Sydney domestic terminal.
We turned left and walked. As we went we found ourselves peeling off layers of clothes. It was about 20 degrees F warmer in Sydney than it had been in Hobart.
After a 15 minute walk we arrived at the ibis Budget Hotel.
Checking in on our day-room rate took a few minutes but soon enough we were in our small utilitarian room.
One small touch that I really appreciated – even though we didn't use it -was how they made the TV USB and HDMI jacks readily available.
One needs access to those to watch American TV while traveling and in many hotels and flats it can be a pain to plug in the HDMI cord, especially on wall-mounted TVs.
When I say this room was small, I mean the 'closet' consisted of a hook on the wall with the outline of a dress so you could know that that was your closet!
Also, we were in the new portion of the hotel. Which was nice as it had just opened. But as a result there was no wifi available yet.
None of that mattered, though! We were there for one thing and one thing only: a nice comfortable bed and blackout curtains. And that's what we got!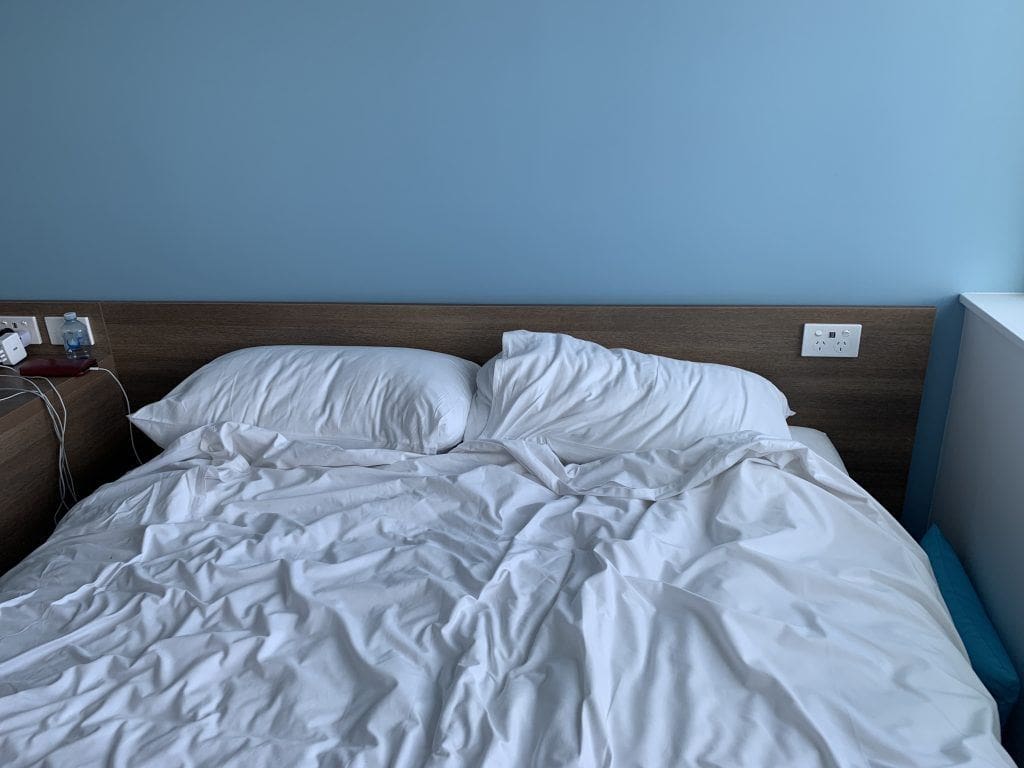 After a glorious nap and a quick shower we headed out. While we had walked from the Sydney domestic terminal, it was quite a bit further to the international terminal so we inquired about the hotel shuttle. We were informed that not only is it not free, it stops running at 11am.
So they called a taxi which arrived in about 2 minutes. 10 minutes and $10AUD later we were headed to the Qantas lounge to await our British Airways flight to Singapore!
Fare Thee Well, The Hobart Jacket
When we launched our time in southeast Asia we packed for southeast Asia climate.
We did have pullovers which were good enough for the cold snap in Hanoi.
But when we decided to spend some time in Tasmania we knew we were not properly equipped for the much cooler weather.
So Lisa swing by an H&M and bought a really nice zipper jacket:
It's really stylish and cute, right!?
I took a more, um, DIGITAL NOMAD approach to the problem.
In Melbourne I popped into a Salvo (Salvation Army) thrift shop.
And that's where I found her.
The Hobart Jacket cost $9AUD. She was purchased as a 'disposable' jacket for our time in Tasmania…there was no way I could keep her after that given how tightly we had packed.
But he Hobart Jacket served me well and true on the cooler days in Tasmania.
And it served Lisa even better on the truly cold nights when I would (chivalrously, if I do say so myself) offer her The Hobart Jacket on our walks home from dinner.
But the warm walk from the Sydney domestic terminal to the ibis hotel had sealed her fate. It was time for us to part ways with The Hobart Jacket.
She stayed behind at the ibis. I told the housekeeping staff on our way to the elevator that she was in there, hoping she might find a new home.
Peace out, The Hobart Jacket!