We have visited Singapore many times. So when we arrived this time we knew exactly what to do in Singapore for 48 hours: food, shopping and Marina Bay!
Spending a couple days in Singapore was the crowning jewel of a month of fast travel across Indonesia and Australia before we settled down in Penang, Malaysia. We arrived on a British Airways flight from Sydney and set our sights on our very favorite things in Singapore.
To us, Singapore is all about the food and the shopping. But there are some interesting things to see as well.
Here are our walking, eating, shopping and cool things to see recommendations for Singapore.
Accomodation
For the sake of convenience we rented a flat on Booking.com right across the street from the famous Lau Pa Sat Food Court.
This would put us very close to the MRT (subway) and walking distance from the Boat Quay riverwalk, Marina Bay and the Gardens By the Bay.
Singapore can be expensive, but Booking.com is a great way to stay in Singapore on the cheap:
This was the flat we booked. Nice apartment with great views!
It also has a swimming pool so we were able to keep up our swimming habit!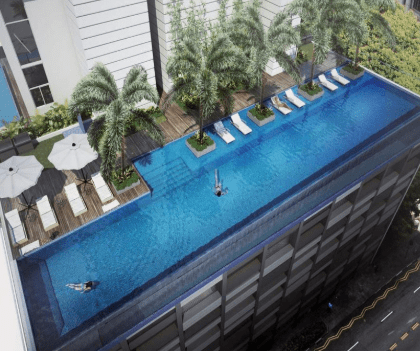 There were some 'No AirBnB' signs in the lobby of the building but there was no staff in the building…and besides, we had booked on Booking.com, not AirBnB!
In any case, we were not soft-evicted the way were were in Penang.
First Order of Business: Boat Quay and Pepper Crabs!
Boat Quay
Boat Quay is a little slice of restaurant and nightlife heaven right in the Singapore CBD.
It's an area upstream from the mouth of the Singapore River on its southern bank, stretching from UOB Centre to the Elgin Bridge.
Formerly part of the Port of Singapore, the shophouses on it have been carefully conserved and now house various bars, pubs and restaurants. There is also a pedestrian mall on Boat Quay road.
Boat Quay is a lovely redeveloped riverfront area right in the financial center of Singapore and well worth a visit.
Pepper Crabs
We love Singapore Chile Crabs. The only thing we love more is Singapore Pepper Crabs!
So after arriving at Boat Quay we immediately made our way to and JUMBO Seafood for some pepper crabs!
I was so excited that I sang a song!
Bonchon!
We also stumbled upon the Singapore Bonchon location.
When we lived in Arlington, Virginia, the Bonchon there doubled as our favorite Korean chicken joint as well as one of our favorite bars run by our favorite Bulgarian, Emiliya. It's because of Emiliya's amazing descriptions of her home country that we visited Bulgaria for a couple months.
Anyway, it was fun to see this version.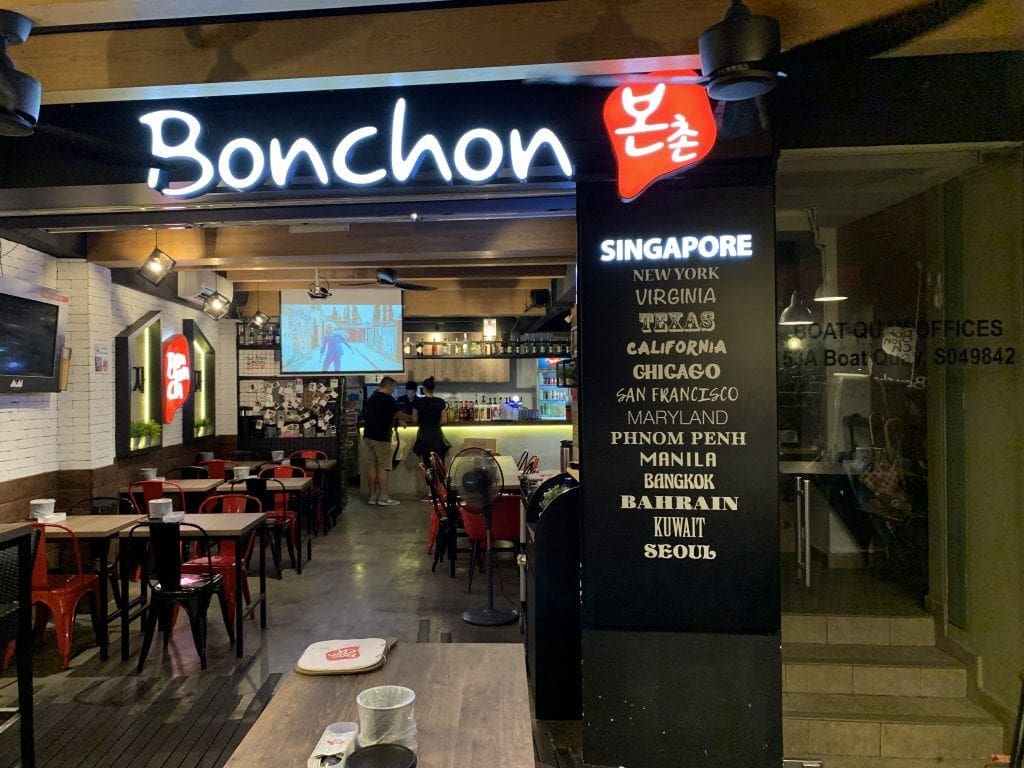 Lau Pa Sat
Lau Pa Sat is in the heart of the central business district.
Contained in one of the oldest existing victorian building in Asia – designated world heritage site – is a 24-hour hawker center (local food court) that feeds hoards of hungry office workers and tourists all day and night.
Lau Pa Sat is equally about the food as well as the setting. It's a must-visit during a visit to Singapore for breakfast, lunch, dinner or anything in between!
We missed Thai food so had some green curry and sai ua sausage!
Hot Pot
Hot Pot, Mala Hot Pot, Steamboat…whatever you call it, Singapore is chock full of amazing restaurants where you cook your own food.
Hot Pot restaurants offer a simmering pot with your choice of soup stock at the dining table.
A fire or coils under the pot keep it simmering while you add the ingredients you have ordered to your pot.
Typical hot pot dishes include thinly sliced meat, leaf vegetables, mushrooms, wontons, egg dumplings, tofu, and seafood. The cooked food is usually eaten with a dipping sauce that you also create for yourself.
Because you have so much control over exactly what goes in the pot, hot pot makes a perfect keto friendly meal: lots of meats and veggies, zero carbs or sugar!
We chose City Hot Pot at Raffles Center for the sake of convenience. We split our soup stock between a mild chicken for Lisa and a hot mala for me.
Delicious.
Orchard Road
Singapore's most famous shopping district is Orchard Road. From luxury retail to world-class international cuisines, Orchard Road defines a shopper's delight.
So of COURSE Lisa had to re-visit it!
We took the MRT (subway) to Orchard Road. Like nearly everything in Singapore, the MRT is clean and efficient.
We arrived and Lisa was in heaven:
We shopped for a few hours but, given our packing situation, bought nothing.
For me, this seemed rather pointless. But Lisa was beyond happy just to 'shop', so I just went with it! 🙂
Long Night Walk
It can be hot in Singapore. And we say this as people who have spent 5 months in southeast Asia at a time.
So we like to take a long walk at night in Singapore when the temperatures are cooler and the sun is not baking us.
Our favorite is to start around Boat Quay and walk all the way to the Super Tree forest. It's a very long walk but there are lots of cool things to see along this route at night.
Spectra at Marina Bay Sands
Spectra at Marina Bay Sands is a famous light show that takes place over the Marina Bay from the iconic building.
We took in the show before continuing east. It's a lot cooler than this photo and video make it seem.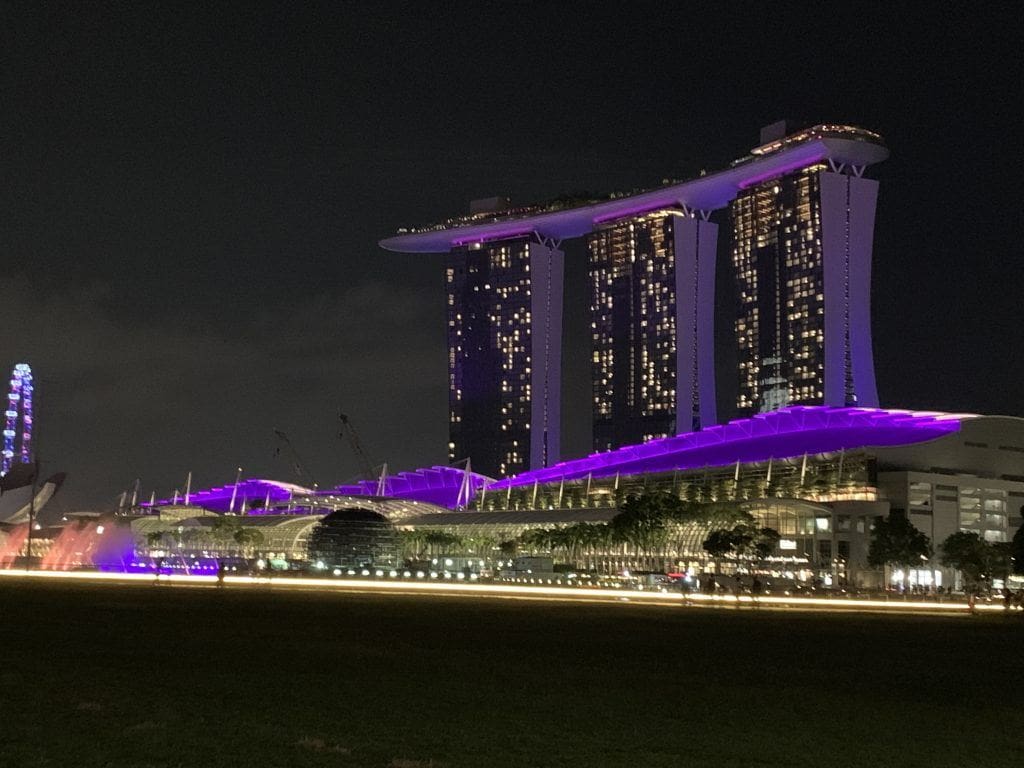 Bayfront Event Space
Continuing east past the bay you run into the Bayfront Event Space. In the Spring this space hosts the Marina Bay Carnival. But there is just about always something going on in the space.
When we were there it was a food fiesta that featured hawkers food stalls and some live music.
Gardens by the Bay
Still further east you reach the Gardens by the Bay, one of the most popular tourist attractions in Singapore.
Gardens by the Bay is a huge park built on reclaimed land just beyond Marina Bay.
Its Flower Dome is the largest glass greenhouse in the world. Cloud Forest replicates a the cool moist conditions of a tropical mountain region in a giant glass-enclosed structure.
And Supertree Garden is made up of a grove of enormous (80-160 foot-tall) 'Supertrees': tree-like structures that are, in reality, vertical gardens.
The Supertrees are planted with ferns, vines, orchids and other plants. They contain technologies that mimic real trees such as solar energy collectors, rainwater collectors and air intake. In other words, they are pretty freaking cool.
There is also an elevated walkway, between two Supertrees. I hate heights so we passed on that.
On our walk I was so excited that I sang a song about them:
We were not disappointed.
In all, our night walk in Singapore covered about 3 kilometers over the course of about 2.5 hours.
At that point we were beat so made our way back to the Bayfront MRT station through a hall of mirrors.
Then back to our flat for a good night's sleep.
We were headed to Penang, Malaysia the next day on AirAsia Premium Flex tickets!
Bottom Line
Singapore is an amazing city with so much to offer. But top of any to-do list in Singapore is enjoying the food, shopping and sites around Marina Bay.