Very Sad News: As of February, 2020, Air Italy will cease operation. It's a real shame because Air Italy had an amazing business class product. For more information click here.
We flew Air Italy business class from Milan Italy to New York JFK.
Air Italy business class is awesome.
If you've never heard of Air Italy don't feel bad. Neither had we until a $1,300 business class fare popped up on our cheap business class fare search matrix.
Wondering how we find cheap business class flights? Check out our Cheap Business Class Fare Guides:

How To Use Google Flights to Find Cheap Business Class Flights (And Cheap Economy Flights Too!)
We immediately googled Air Italy and quickly decided to try it.
Air Italy is a privately owned Italian airline. It's the second largest airline in Italy, following Italy's flag carrier Alitalia – but only the 40th largest airline in Europe by number of passengers.
Air Italy actually traces its roots to 1963 when Alisarda was created to provide a fast and reliable air service from the newly-created resort of the Costa Smeralda to Italian and European destinations. In 2013 it became part of Meridiana.
The current iteration of Air Italy was established early in 2018 when Meridiana airline and its subsidiary, the original Air Italy, were merged to create the new Air Italy.
Qatar Airways now owns 49% of Air Italy and Alisarda owns 51%. Together they rebranded the airline as the new Air Italy effective March 1, 2018.
The new company also introduced a new Qatar Airways-inspired brand image. This makeover includes a new cabin experience, new airport lounge and new destinations.
The idea is to provide an upscale middle eastern carrier business class experience on a European airline. Cynics say that it's really just an attempt by Qatar Airways to break into the European and US markets…but let's leave politics to politicians!
Whatever the motivation, the results are fantastic.
The Air Italy business class cabin is terrific and the service, food and beverages are absolutely brilliant.
Air Italy Terminal at Milan Malpensa MXP
Air Italy flights arrive and depart from Terminal 1 at Milan Malpensa Airport MXP.
Our flight departed at 11:15 am so we spent the night at the Malpensa Airport Sheraton.
The Sheraton is just across the drop-off area from Malpensa Terminal 1.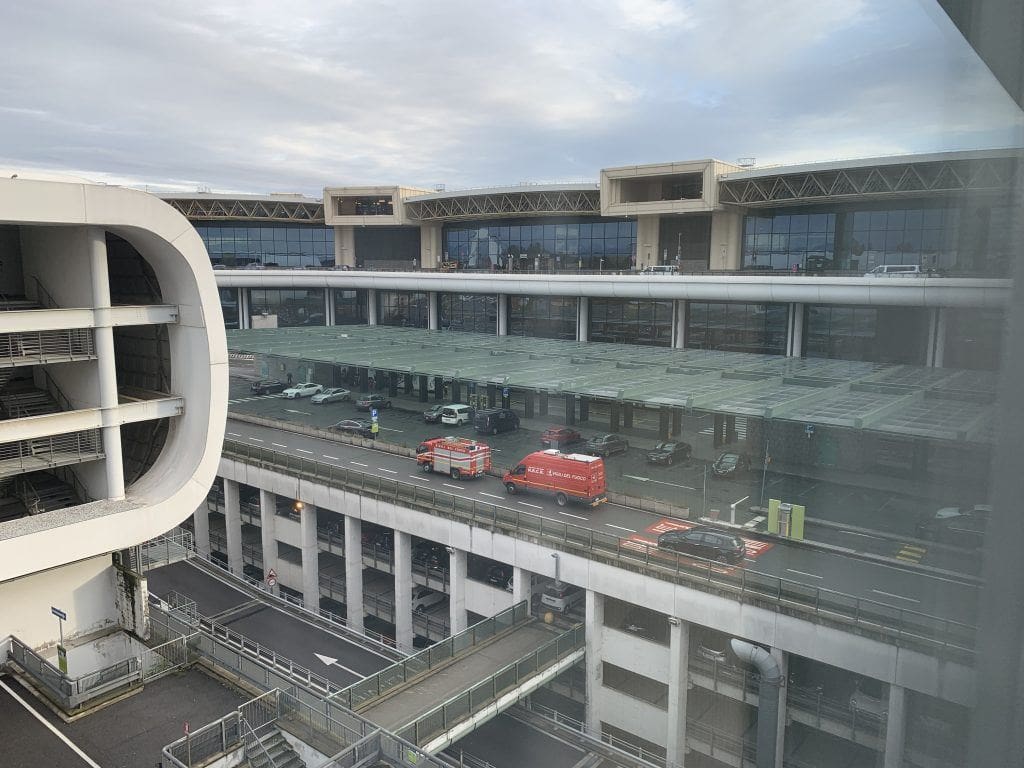 So it's a quick 5-minute walk/escalator ride from the Sheraton to the large Air Italy check-in area of Terminal 1.
Check-In
We tried to check in online but the Air Italy app insisted we had to visit the check-in desk even though we travel with just carry on bags.
We were the only people anywhere near the Air Italy Business Class desk so check-in took no time at all. Within 2 minutes we had our boarding passes and we walked toward security and passport control.
Lounge
After clearing fast track security (another benefit of Air Italy business class) and passport control, we stopped by the Sala Montale which serves as the airport business class lounge for several airlines including Air Italy. Click here to read our article about how awesome the lounge is!
Looking out of the large lounge windows we could see our Air Italy plane being prepped for our flight.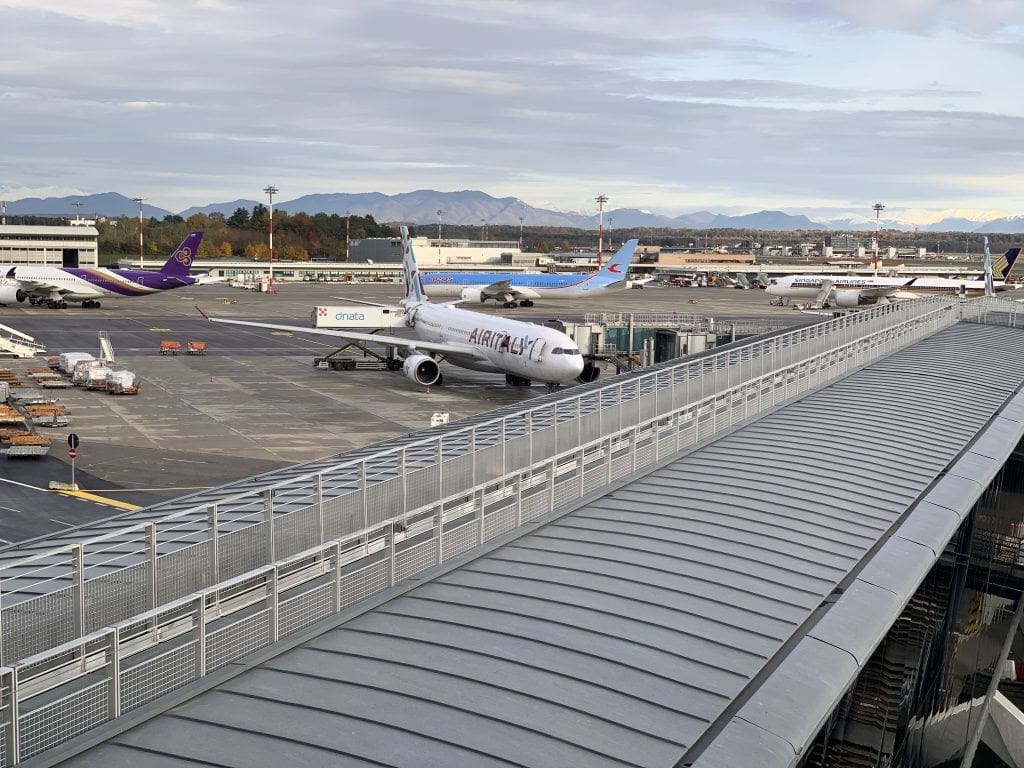 Flight Air Italy Business Class Milan Malpensa MXP to New York JFK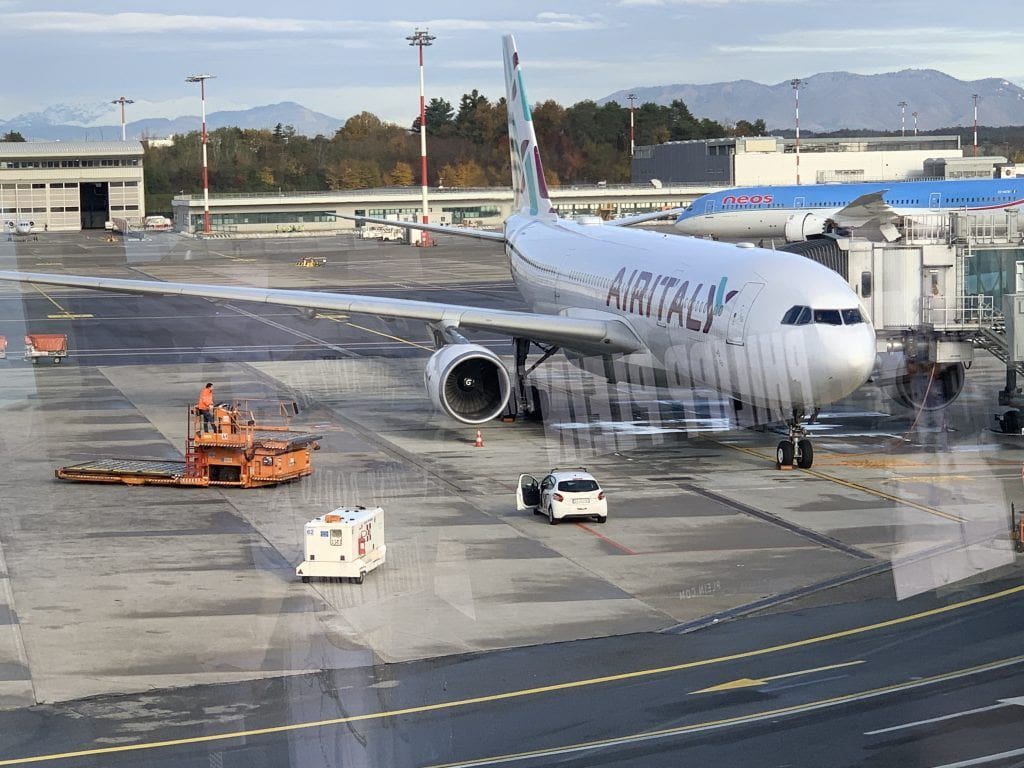 Boarding
We lingered at the Sala Montale Lounge and only made our way to the gate when boarding was announced in the lounge. We walked to the gate to find pre-boarding underway.
In a few moments business class boarding was announced and we walked right on the plane with no queuing at all.
Air Italy Business Class Seats
Air Italy's Business Class on their A330s is a 2-2-2 configuration.
There are 3 rows ahead of the boarding door and one row behind it.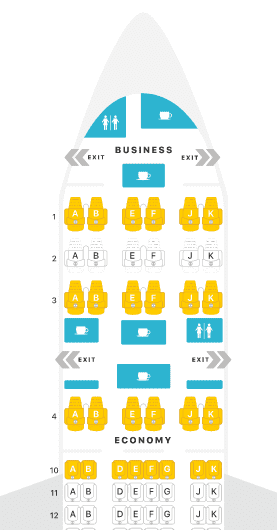 Best Air Italy Business Class Seats
In terms of the 'best Air Italy business class seats,' the larger forward cabin seems like a far better cabin. The one row cabin is quite small and has lavs just in front of them. In addition, all the boarding coach passengers pass your seat during boarding.
Boarding a plane and then turning left is always preferable.
In the front cabin the second and third rows are basically the same.
We chose 2 E and F so we would both have aisle access. However this did mean that we had different meal paces as one flight attendant handles A, B and E and the other handles F, J and K. No biggie!
Row 1 is fine…but the video screen is a bit smaller and built into the seat. So it must be stowed for takeoff and landing.
Air Italy Business Class Cabin and Seats
With so few seats in the cabin it feels very open with lots of legroom. It's hard to describe just how open and spacious the cabin looks and feels. The legroom is basically infinite.
And with only 18 business class seats in the cabin, this has to be one of the lowest seat-to-space ratios in any business class cabin.
Unlike the angled herringbone seats that many airlines are going to in business class, Air Italy's business class seats are perfect for a couple traveling together. And if you want privacy there is a divider between the seats that pulls out half the length of the armrest.
Air Italy business class features 'angled flat' seats. This means they go fully flat but at a slight angle toward your feet.
There are a lot of opinions about whether having a business class seat that goes to 180 degree flat is better or worse than an angled flat seat that goes to flat sloping slightly toward the foot.
Some say flat should be flat. Others point out that airplanes actually fly with the nose slightly angled up so angled flat seats actually provide a flatter experience than 180 degree flat seats where your head may be slightly below your feet due to the angle of the aircraft in flight.
All I know is that the Air Italy angles flat seat was plenty comfortable for sleeping.
There are power ports in the center console between seats and a compartment for shoes or a purse.
Air Italy Business Class Service and Meal
Air Italy Soft Product
But it's the 'soft product' – meaning the service, meals and drinks – that really sets Air Italy business class apart from most carriers. You can really tell that they are working very hard to emulate a business class experience on Qatar or Emirates.
And with so few business class passengers in the cabin we received incredibly personal and personalized service.
As we settled into our seats after boarding the flight attendant introduced himself and offered a choice of champagne, a mint mocktail or water.
We chose champagne and it was served in glass from a tray with a hot towel and menus.
This elevated level of service lasted the entire flight. A million small touches that make all the difference.
Even the meal itself is bespoke. As opposed to the perfunctory service we've become used to on the likes of United and British Airways, Air Italy offers a 'bespoke dining experience where you define the pace, choices and sequence of the meal.'
You read that right: if you want to start your meal immediately on takeoff they will rush it to you. If you want to eat your main meal 4 hours into the flight they'll accommodate that.
We didn't take advantage of this and just went with the normal pace of service, but it's another of the million small touches that make Air Italy's business class a cut above the competition.
And here's something you never see on upgrade-happy US carriers: empty seats in business class!
Because Air Italy wants to build value in their premium product they are not willing to put someone in it who hasn't paid for it. Which only makes the service for that those who pay for it even better!
The food and beverage selections are impressive.
And they include another nice touch: bespoke aperitifs.
Since it was Air Italy, we both went for the Aperol Spritz!
Air Italy Meal
We both started with the mushroom soup which we agreed was one of the best dishes either of us have ever eaten on an airplane.
It was hot, flavorful and delicious.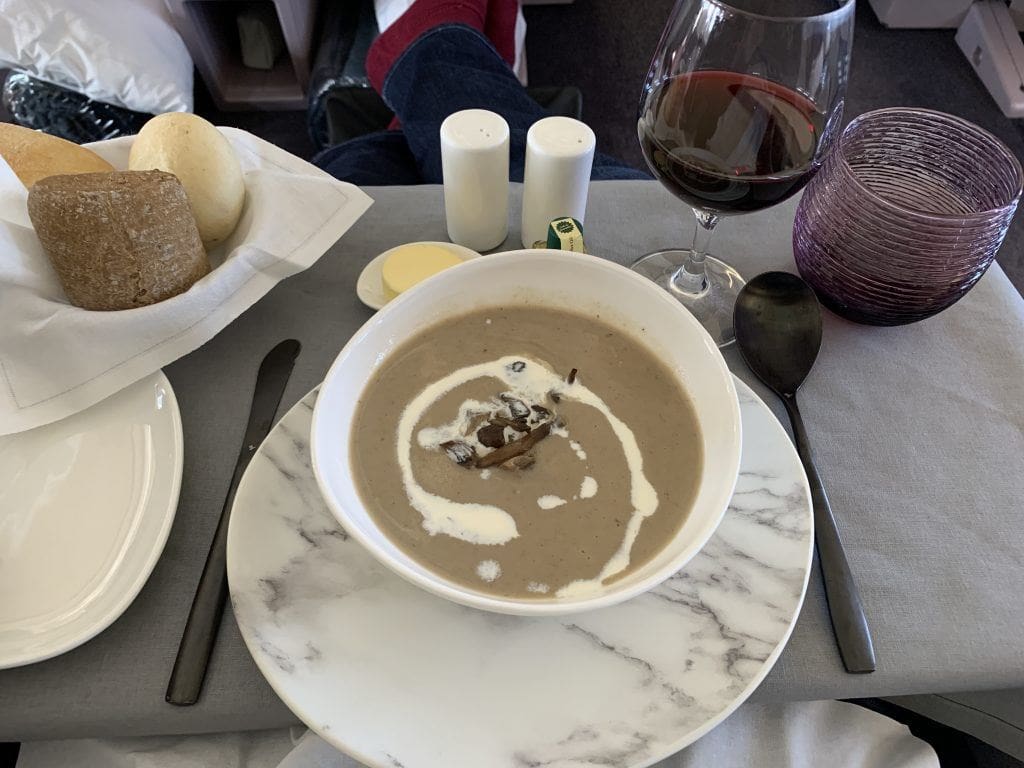 We both ordered the chicken roulade which was very good but, more importantly, adhered to our travel keto diet!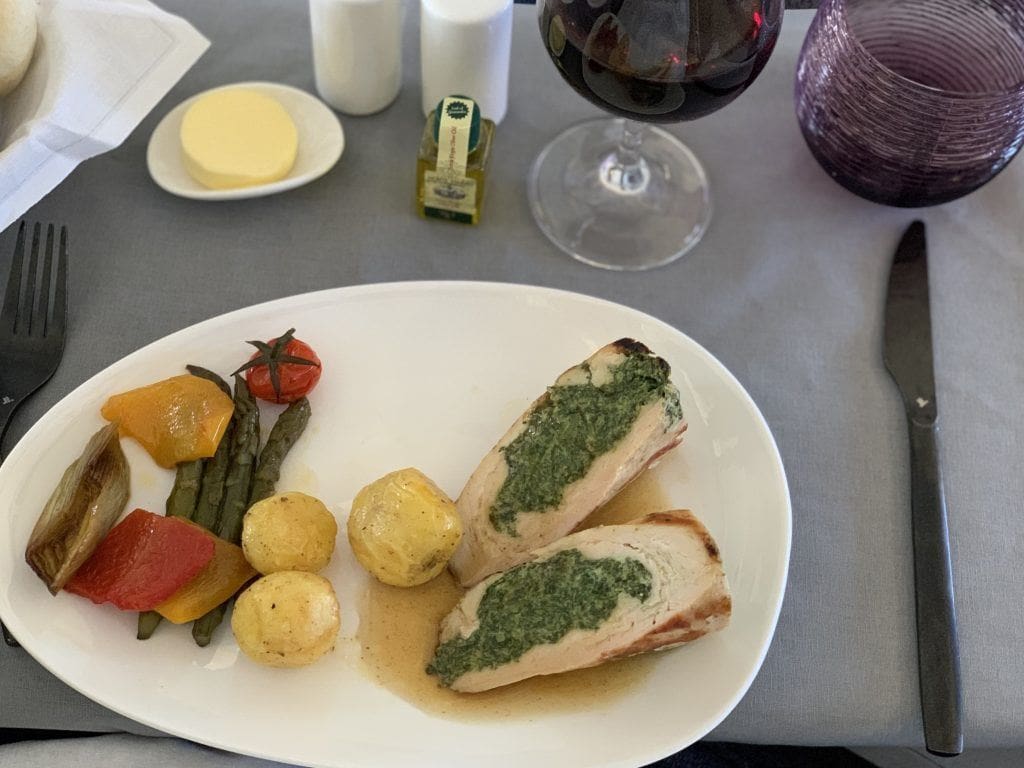 All through the meal service we could feel the influence of Qatar Airways.
The flight attendants serve dishes individually – and never off a cart. They warmly greet you at every interaction and constantly ask if you have everything you wanted. And they never let water or wine glasses get more than 3/4 empty before they refill them.
Taking a closer look at my full wine glass I could literally see Qatar Airways' influence. That's the Qatar logo on the base of my wine glass!!
Flight
After dinner we settled in and took advantage of the Air Italy in flight entertainment system.
There were fewer choices than on many airlines, but enough choices that we were both able to find movies to watch.
Then we put our angle flat seats flat and both took a 3-hour nap.
We woke up a couple hours out of New York and were offered a hot snack, but we weren't hungry.
We spent the last couple hours of the flight chatting, drinking water and goofing around.
Bottom Line – Air Italy Business Class Milan Malpensa MXP to New York JFK
Air Italy has a fantastic international business class product. Inspired and influenced by Qatar Airways, the business class cabin is open and roomy, the service is excellent and the food and beverages are great.
We rate the overall Air Italy business class experience higher than business class on United, American, Delta, British Airways, Brussels Air or even Lufthansa and Swiss across the Atlantic.
It's that good!
Inspired? Pin it!