After an amazing time in Melbourne, it was time to catch our Virgin Australia flight from Melbourne to Hobart in Economy X class.
Lisa designed these clear backpacks. Perfect for travel, work, going to the stadium on gameday or school!
Virgin Australia Economy X
Virgin Australia's Economy X is an upgrade from a standard Economy seat. It gives you added benefits at the airport and on board and only costs a little bit extra.
The perks are extra legroom, expedited security, priority boarding and reserved overhead space.
We paid $102 for each ticket and $45 for Economy X seats for a total of $147 per person one-way.
We chose the bulkhead row at the front of the coach cabin.
Wondering how we find cheap coach and business class flights? Check out our Cheap Fare Guides:

How To Use Google Flights to Find Cheap Business Class Flights (And Cheap Economy Flights Too!)
Getting to Melbourne Airport
Our AirBnB in Melbourne had a 10am checkout time but our flight wasn't until 4pm.
So we packed up our small bags and made our way across the street from our AirBnB to Southern Cross train and coach station which also serves as the city terminal for the Melbourne Skybus.
With so much time to kill that morning we made like digital nomads and set up camp in the Starbucks in Southern Cross station.
After lunch we headed down to the Skybus terminal, bought our tickets at the kiosk and got right onto the next bus to Melbourne Airport.
We were at the airport in a quick 30 minutes.
Checking In
Domestic Australian airport security is similar to pre-9/11 security in the US: no liquid ban, no shoe things, no laptop stuff. So we were a little nervous about the weight of our carry-ons: despite their small size we had them filled with business samples and even some wine.
So we checked in at a Virgin Australia kiosk and headed straight to security without the threat of a bag weigh-in.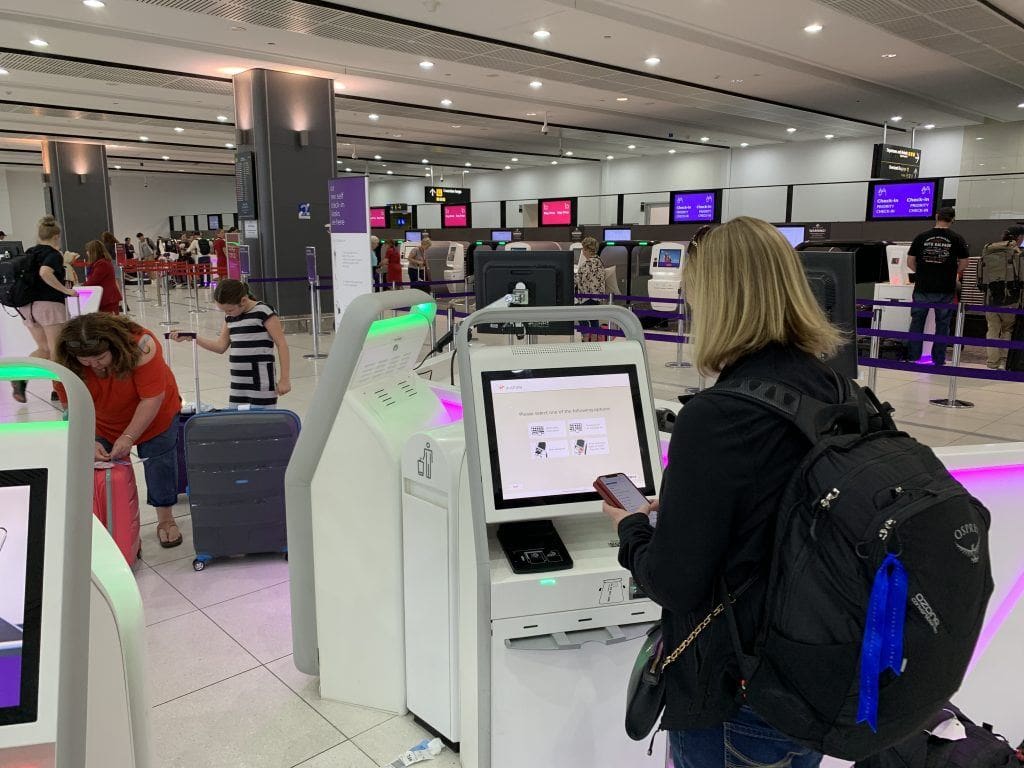 We made our way to our gate and pretty soon our plane arrived.
Boarding and Seats
We were provided with priority boarding…although with the reserved overhead space the rush to get on the plane was far less stressful anyway.
The bulkhead row seats were awesome. More legroom than domestic first class in the US – there is even a cutout. And as luck would have it we had an empty seat between us.
Flight
It wasn't a very clear day but I did manage some goodbye snaps of Melbourne.
Complimentary dry snack and choice of tea, coffee, water or juice were offered.
75 minutes after takeoff we landed in Hobart ready for some fun and adventure.
Bottom Line
Virgin Australia from Melbourne to Hobart, Tasmania in Economy X is a stress and hassle-free way to get from one exciting adventure to another. Whether Economy X is worth the surcharge is up to the individual, but we were pretty pleased.