After a delightful few days in Sydney it was time to fly Qantas Sydney to Melbourne to spend some time exploring Australia's second city and check out the nearby Yarra Valley wine region.
Choosing Qantas Over Virgin Australia and Jetstar
We debated whether to fly Sydney to Melbourne on Qantas, Virgin Australia or Jetstar since the all-in price was similar: around AUD$220 per person. More sticker shock after jetting around southeast Asia on AirAsia and Vietnam Airlines for as little as $32US per person!
In the end we chose Qantas because it has flights between Sydney and Melbourne as often as every 15 minutes during peak hours. We figured if anything went wrong we'd simply be less than an hour late on the next flight.
Wondering how we find cheap coach and business class flights? Check out our Cheap Airfare Guides:

How To Use Google Flights to Find Cheap Business Class Flights (And Cheap Economy Flights Too!)
Terminal
Terminal 3 is the Qantas domestic terminal at Sydney Airport and is dedicated entirely to domestic Qantas flights.
Interestingly, security for domestic Australian flights is 'pre-9/11' style: no ID check, leave your shoes on and carry as much liquid as you please. Proof positive in my mind that the TSA-style security is massive overkill.
But despite this more reasonable approach, the queue for security was quite long and it took us about 30 minutes to get through.
Once through we made our way along the coolest people mover in the world to our gate.
Delayed!
Soon enough our plane pulled up and let off the incoming passengers.
But then I noticed some activity around the plane:
Sure enough a maintenance delay was announced.
After about 20 minutes they were preparing to start moving folks to the next flight on Qantas Sydney to Melbourne, but then the maintenance was completed and it was time to board…as quickly as possible to try to make up for the delay.
Boarding – Matt Gets Yelled At
In order to expedite boarding Australian domestic flights often use both the jet bridge for passengers in the front half of the plane as well as the rear boarding door for passengers in the rear half.
While this means stairs x2 for those in the rear of the plane, it also means getting to walk on the tarmac, which can be fun!
At least until you get yelled at for taking videos while walking across the tarmac (we later learned that this is a big no-no as there are several announcements made about it that I somehow had missed)!
Once on board we quickly made our way to our seats from the back of the plane:
Seats
For AUD$25 each we splurged on exit row seats. It made for a very comfortable 1.5 hour flight.
In Flight Entertainment and Wifi
The in flight entertainment on Qantas Sydney to Melbourne consisted of seat back screens with TV shows, movies and audio entertainment.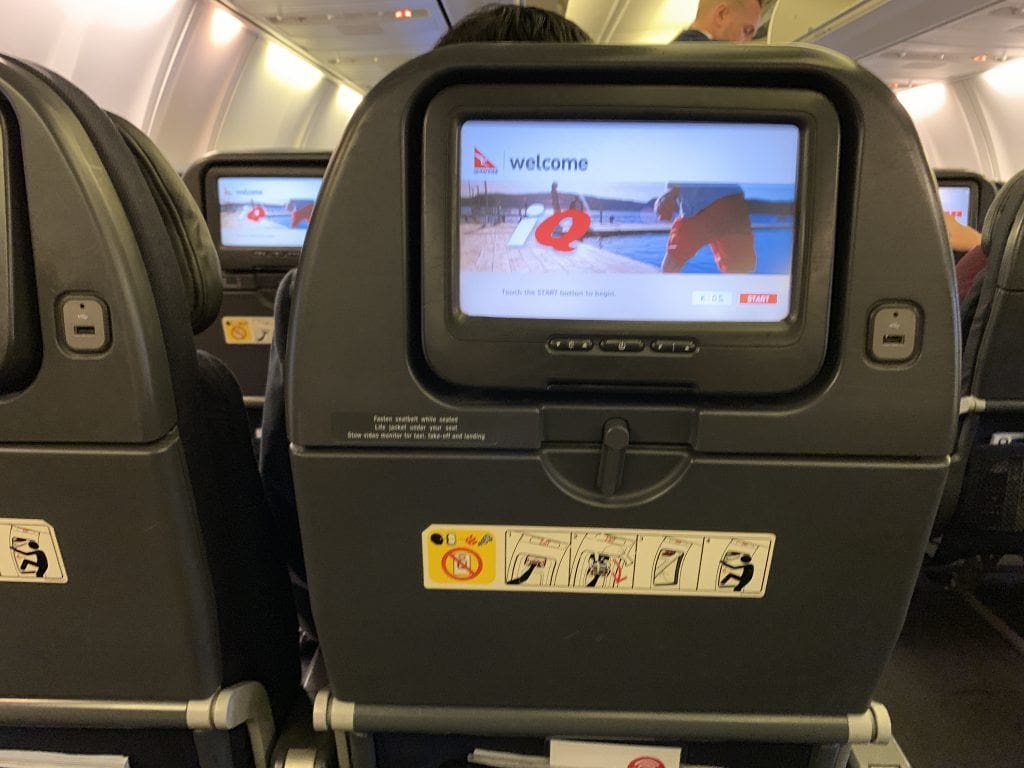 But we mostly just used the free in-flight wifi and watched the map.
Meal on Qantas Sydney to Melbourne
On this short flight we were given the choice of a chicken curry or beef with noodles…neither being keto-friendly we were still able to pick at the protein.
Flight – Bottom Line
I'm glad we got to experience Qantas domestic economy (plus). It's a great product AND we got to board through the rear door! Good flight, good times.