As digital nomads we rely on cheap airfares to help us decide where to go next. So when we found business class tickets on SilkAir and Singapore Airlines Da Nang to Bali for under $500 US we decided the fates had spoken!
Wondering how we find cheap business class flights? Check out our Cheap Airfare Guides:

How To Use Google Flights to Find Cheap Business Class Flights (And Cheap Economy Flights Too!)
SilkAir and Singapore Airlines
Singapore Airlines is famous for excellent premium cabin seats and service.
SilkAir is Singapore Airlines' regional carrier in southeast Asia.
So we were excited to fly in business class on a SilkAir 737-800 from Da Nang to Singapore then a Cathay Pacific A330 from Singapore to Bali.
Da Nang Airport
We arrived at Da Nang airport without a hitch.
Because we were still carrying a lot of product samples for our Amazon store (after a month of hard work in Chiang Mai we now have some exciting new products in production!) we had decided to check bags.
We had the SilkAir business class queue at Da Nang airport all to ourselves!
Lounge at Da Nang Airport
I posted an entire blog article about the CIP Orchard Lounge at Da Nang Airport.
Boarding SilkAir
SilkAir's 737s have three rows of 2-across seating in business class.
We chose row 2:
The seats are an improvement over domestic first class in the US in that the seats not only reclined but have footrests too.
Meal Service
The meal service consisted of a choice between prawns or beef. Neither option was very keto friendly since they had large portions of either rice or noodles. We picked at what would could and made the most of it.
My favorite was the way they made bows out of the lemons for our Coke Zeros!
In Flight Entertainment
There were no seat-back video screens.
Instead, iPads were in the seat-back pocket of every business class seat. Lisa pondered how they kept them charged and from walking off the plane. I enjoyed my iPad without thinking about it too much.
I had just finished reading the Harry Potter series a couple weeks earlier so watched Fantastic Beasts: The Crimes of Grindelwald. I thought it was pretty good, and I can't wait to see Dumbledore and Grindelwald hook up in the sequel – both romantically in flash backs then later as dueling opponents!
Connection at Changi Airport Singapore
We connected at Terminal 2 in Singapore Airport.
We spent most of our time at the Terminal 2 SilverKris lounge.
This lounge has been reviewed to death by others. Here are a couple:
Irish Pub Sighting!
On our way from the lounge to the gate we saw an Irish pub.
No matter where you go there's an Irish pub, Changi!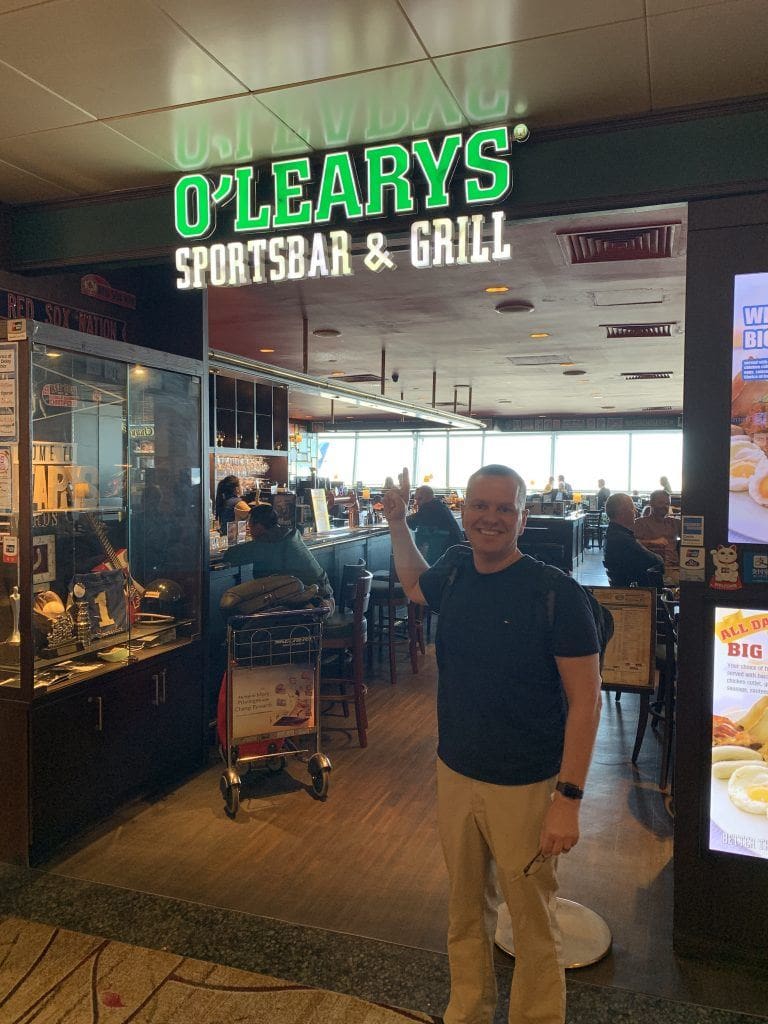 Boarding
When we arrived at the gate boarding was well underway.
But we were able to use the business class boarding kiosk and the separate business class jet bridge to walk right on.
Service and In-Flight Entertainment
We've flown Singapore Airlines in business class a couple times before. But it's always a revelation how the flight attendants and product come together to provide one of the best experiences in the sky.
We had champagne. We snacked. We had more champagne. We watched movies.
I watched First Man, the Ryan Gosling movie about Neil Armstrong. A bit square but then again apparently so was Neil!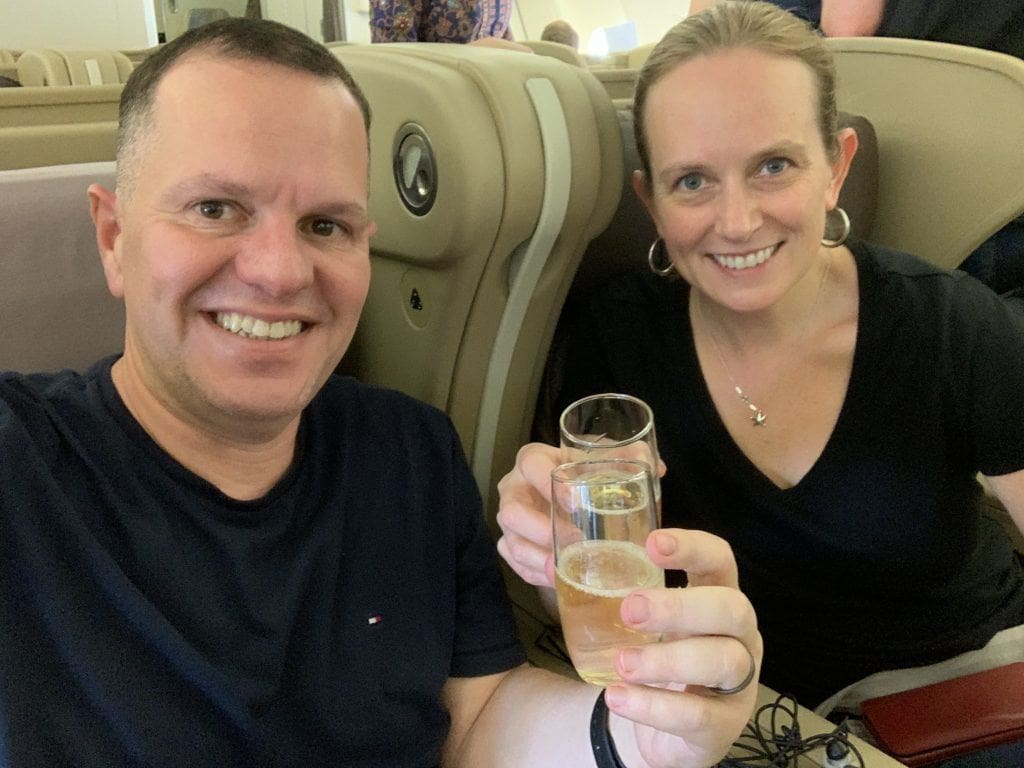 Bottom Line
We flew from Da Nang to Bali in style.
After 2 months of hard work in Thailand and Vietnam growing our business we celebrated into our 'vacation' time in Bali.
It was brilliant!