We paid $32 per person for Vietnam Airlines Economy Lite service from Hanoi to Da Nang.
We set our expectations pretty low based on that fare. Whatever happened, so long as we got to Da Nang, we were getting a bargain.
In the end…well…we got to Da Nang!
Vietnam Airlines or VietJet?
We spent a lot of time going back and forth over whether to fly Vietnam Airlines or VietJet from Hanoi to Da Nang.
VietJet has a mixed reputation. It's a low cost carrier but has a far more functional website than Vietnam Airlines. And, for a fee, they allow you to choose a seat in advance. On the other hand they have a reputation for canceling and consolidating domestic flights that are not full.
On Vietnam Airlines you can only choose a seat at time of check-in 24 hours before the flight. But Vietnam Airlines flights take off whether they are full or not because it is state-owned. Also, Vietnam Airlines has pretty much hourly flights from Hanoi to Da Nang, so we figured even if our flight was canceled we'd be on the next one.
Decision Point: Price
In the end, though, we went with price. We could fly 'Vietnam Airlines Economy Lite' Hanoi to Da Nang for $32 per person. The cheapest fare on VietJet was twice the price.
Vietnam Airlines it was!
Just for fun, we checked the price of a first class ticket on the same Vietnam Airlines flight to see if we could grab some affordable luxury.
We could not: it was over $700US for the one-hour flight!!!
Wondering how we find cheap coach and business class flights? Check out our Cheap Airfare Guides:

How To Use Google Flights to Find Cheap Business Class Flights (And Cheap Economy Flights Too!)
Check-In
After our experiences on AirAsia, we decided to get to the airport early. It turned out to be unnecessary as the queues were quite short at check-in:
In fact, we arrived SO early that we asked about jumping on the earlier flight (as noted, Hanoi to Da Nang is an hourly route for Vietnam Airlines). But Vietnam Airlines Economy Lite fares are heavily restricted: even though there was space on the earlier flight we could not switch to it.
Priority Pass Lounge!
But that was ok because we were so delighted to stumble across a Priority Pass lounge at the Hanoi airport domestic terminal that I wrote a whole blog post about it!
Vietnam Airlines Economy Lite Seats
Vietnam Airlines first class seats are pretty spiffy. I mean, not 24 times the price spiffy, but nice enough. Just like domestic first class in the US except with a footrest:
Economy is more…economical! I'm not a tall guy, thank goodness: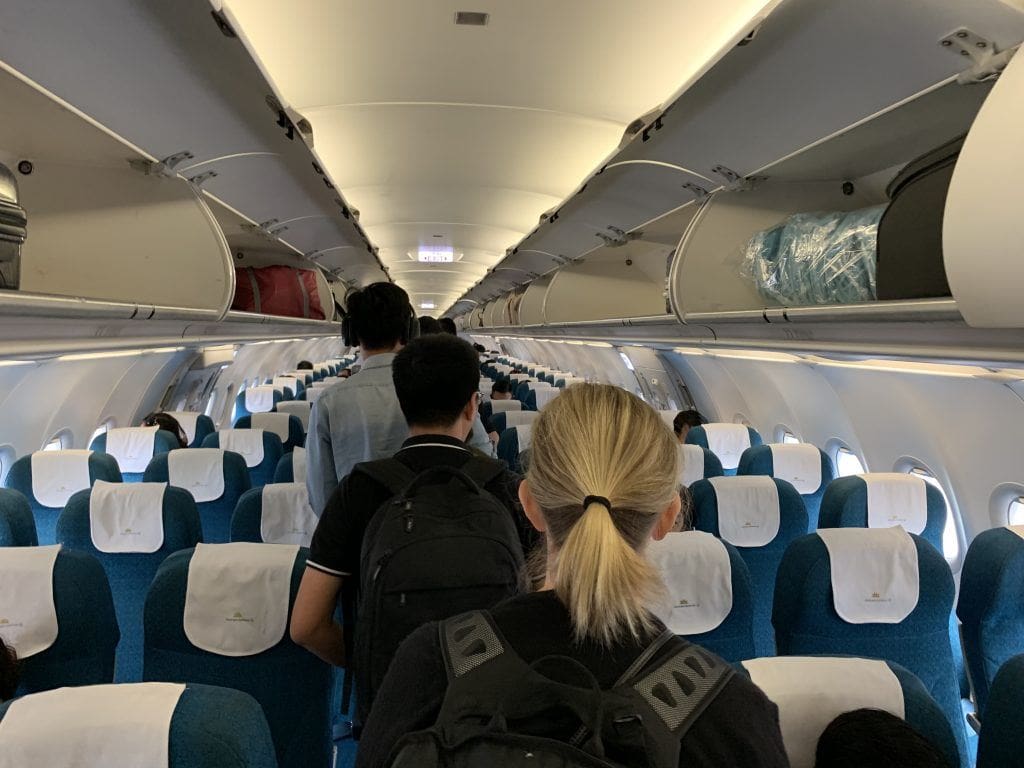 Oh, Ye Fickle Seat Selection Gods!
The Vietnam Airlines Economy Lite fare has an additional restriction: when you can check-in and pick a seat at 24-hours, your seat choices are restricted to the last few rows of coach.
In the scheme of things it doesn't matter THAT much, but when we got to the airport we asked if we could be moved further forward than row 34.
Big mistake. Huge!
She moved us to 28 A and B.
And approaching the seats we could see it was going to be an…interesting…flight. Directly behind my window seat 28 A was an approximately 2-year old boy who was already screaming at the top of his lungs.
Sure enough, the kid screamed and bounced off the walls pretty much the entire flight.
He not only kicked my seat, he literally shook it.
The kid was jumping up and down on his seat and grabbing the back of my seat and shaking it.
He kept reaching around and slamming my window shade up and down.
It was…nuts!
I said something. Lisa said something. It was no use.
Meanwhile, other passengers were openly staring.
The man seated in the row with them found another seat before the plane even took off.
A woman across the aisle had her fingers in her ears from all the kid's screaming (you can see her doing it in the video below!).
Although I would have been PISSED in my old life, I was zen!
Instead, I just smiled and kept telling myself that I paid $32 for this experience.
And that it may well be that the kid has special needs.
I told myself: while I had to endure this for an hour and a half, the child's parent would be dealing with it long after I got off the flight and moved on with my day.
So I am actually the LUCKY one!
Here is a little slice of that joyful time:
Oh, also, we ended up at a remote gate in Da Nang which meant deplaning from both the front and back of the plane. If we kept our seats in row 34 we would have gotten us off the plane faster!
Sigh.
Vietnam Airlines Economy Lite is Fine!
To be clear, none of that is the fault of the airline. The flight attendants did what they could and in no way was that crazy kid reflective of the airline itself.
All in all we thought Vietnam Airlines was just fine. We left on time, landed on time and we paid $32 to fly from Hanoi to Da Nang. That's a good flight!
Plus we were VERY happy to be in Da Nang and out of Hanoi!
Related Content
Suggestions for tours, activities and things to do in Hanoi.
Suggestions for tours, activities and things to do in Da Nang.
#datelife