We went to Penang, Malaysia for slow travel so we could focus on our businesses. But we did take the time to see some must-do sites in Penang including Penang Hill and Penang Hill Funicular, Batu Ferringhi beach and Fort Cornwallis.
In terms of an awesome investment of time, two out of three ain't bad!
This post is about Batu Ferringhi Penang. And we liked it a lot!
Batu Ferringhi Penang
Batu Ferringhi is a beach town northwest of George Town on Penang Island. It is famous for its beaches, water sports and restaurants.
Like all of Penang it's also chock-a-block with hawker stall cafes and other street food. And there is a vibrant seafront night market where clothing trinkets and household goods are sold.
We decided to do a day trip to Batu Ferringhi on our wedding anniversary.
Getting to Batu Ferringhi
Batu Ferringhi is about 12 miles west of George Town.
But traffic out of George Town toward Batu Ferringhi can be a nightmare.
We took a Grab and it took about 45 minutes door to door. First along the congested streets out of George Town then along the slow windy roads along the north side of the island.
But Grab in Penang is cheap, so the ride only cost RM 19 ($4.50 US).
Bora Bora Restaurant and Beach Bar
Bora Bora is a large and somewhat kitschy restaurant in the middle of Batu Ferringhi.
It also has the best beach bar in Batu Ferringhi.
So we started there for some wine and chicken wing appetizer as the afternoon stretched into sunset.
We really enjoyed the laid back atmosphere and the cooling breezes. And the chicken wings were awesome.
Dinner at Ferringhi Garden
Ferringhi Garden in Batu Ferringhi is generally considered to be one of the best restaurants in Penang.
Not necessarily because of the food, mind you. But because of the total experience.
When they say Ferringhi Garden, they mean GARDEN!
The ambience is lush greenery, beautifully landscaped garden and a mini waterfall and koi pond. Every inch of the courtyard dining area is covered in flowering potted plants. There is not a bare spot on the property!
As you can imagine, every patron starts the experience with photos and selfies…and knowing this, the staff are eager to help take photos.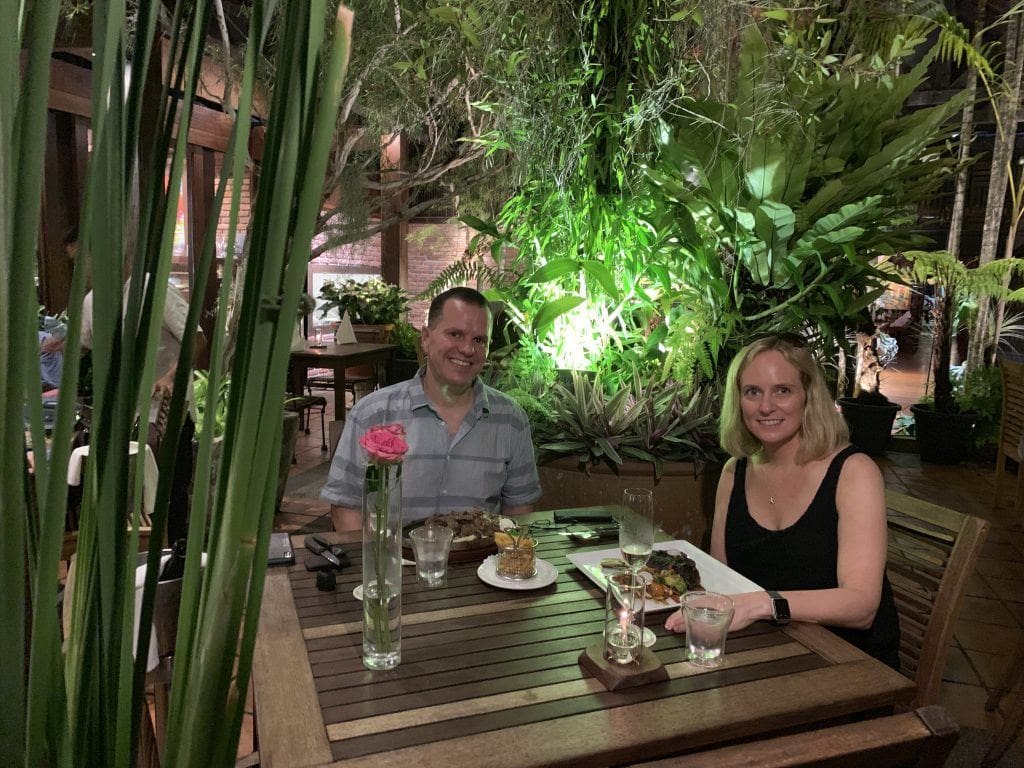 The wine list and menu are both extensive. There are Asian, western and Mediterranean fare on offer.
We were celebrating our anniversary! So we started with some sparkling and a toast (this video also provides a great view of the garden and waterfall ambiance).
And while Ferrenghi Garden is all about the ambiance, the food was great too.
I had sizzling Mongolian Beef and Lisa had the Angus Short Rib. Both were fabulous and very keto-friendly.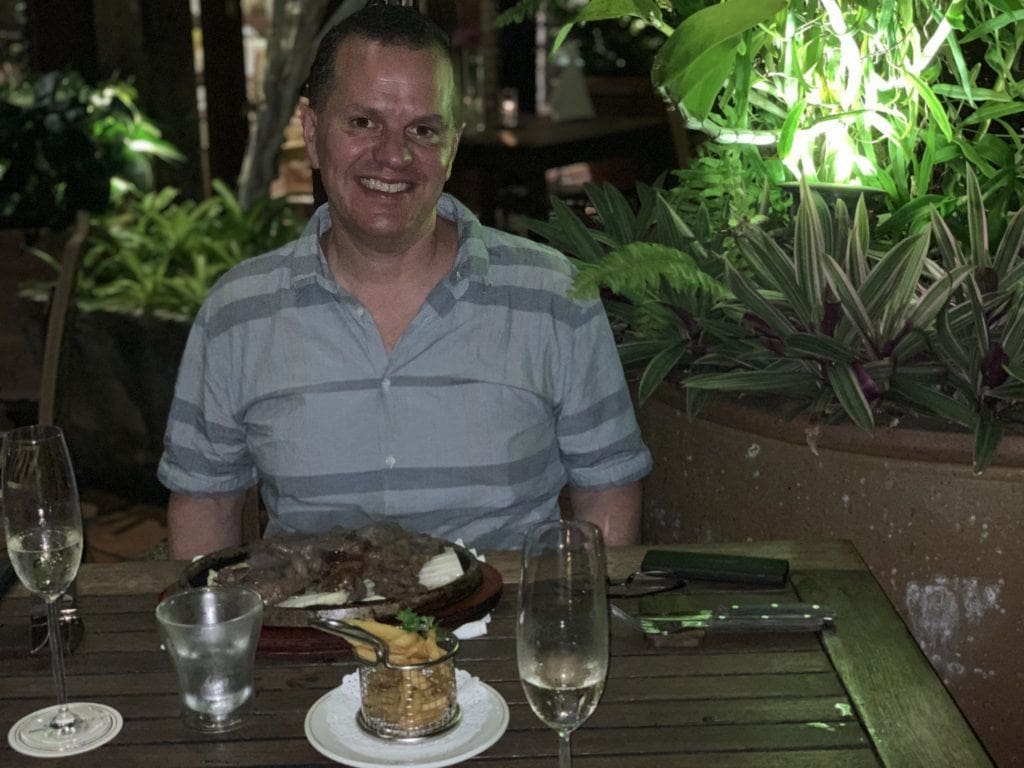 This was the most expensive meal we had in Penang. But at RM 459 ($110 US) it was one awesome affordable luxury experience.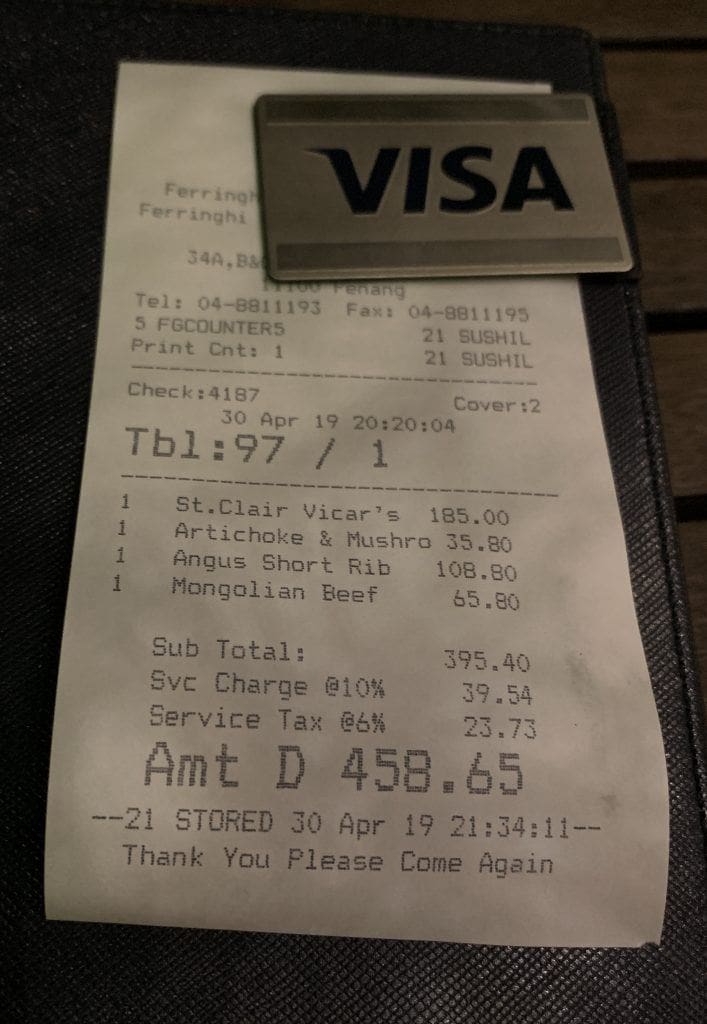 Batu Ferringhi Night Market
After dinner we wandered the night market for a while.
I hate to say 'seen one night market, seen 'em all,' so I won't. But suffice to say that we didn't linger long over the clothing, knock-offs and knick knacks.
Then we jumped in a Grab back to our flat in George Town.
The trip back took half as long but cost the same.
Bottom Line: Batu Ferringhi
We had a wonderful time celebrating our anniversary in Batu Ferringhi.
The beach is lovely, Bora Bora beach bar is perfect, and dinner at Ferringhi Garden is top notch.