Using AirAsia Premium Flex to fly from Penang to Bangkok demonstrated once again that AirAsia provides a solid, reliable and affordable way to hop around southeast Asia.
And they add a touch of affordable luxury travel to each flight.
We had previously flown AirAsia from Chiang Mai to Kuala Lumpur, from Kuala Lumpur back to Chiang Mai, Chiang Mai to Hanoi and Singapore to Penang. Each time we've had a great experience using AirAsia Hot Seats or AirAsia Premium Flex.
So when we decided to head to Hua Hin, Thailand for a quick beach holiday before transiting through the US to Europe, using AirAsia Premium Flex Penang to Bankok was a no-brainer.
Our all-in cost for the flight plus Premium Flex was 770 MYR, or $92.60 per person.
Wondering how we find cheap coach and business class flights? Check out our Cheap Fare Guides:

How To Use Google Flights to Find Cheap Business Class Flights (And Cheap Economy Flights Too!)
Airport Transfer
Grab (Uber for Asia) is super-cheap in Penang.
Our Grab from our flat on Gurney Road in George Town to the airport took about 30 minutes and only cost 22 Ringgit…that's about $5.30 US!
AirAsia Premium Flex Airport and Check-In
We arrived at Penang airport and hopped out by door 1.
It turns out that the AirAsia check-in area at the far end of the terminal. So if you fly AirAsia out of Penang, get dropped at door 4, not 1!
We once again decided to not tempt AirAsia's strict enforcement of carry-on bag weight and check our small bags.
So we approached the AirAsia Premium Flex queue and there were only 2 people in front of us for the single Premium Flex counter.
Unfortunately, the two gentlemen who were at the counter when we arrived at the queue were still there 10 minutes later. So we didn't have the speedy 2-minute Premium Flex check-in service to which we have grown accustom.
Nevertheless, Premium Flex still saved us a ton of time checking in and checking our bags.
Penang Priority Pass Lounge – Plaza Premium Lounge
We made our way through immigration and security. Then headed for the Plaza Premium Lounge which we accessed using Priority Pass.
Click here for my full review of the Penang Priority Pass Lounge at the Penang International Terminal.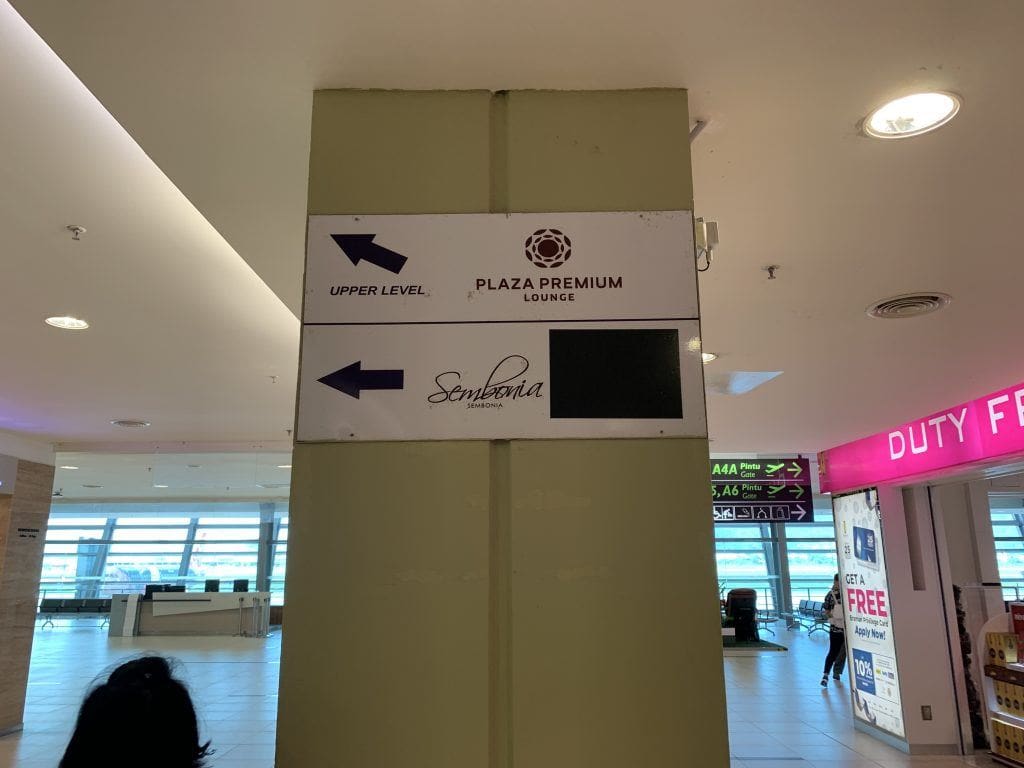 amzn_assoc_linkid = "b9a1556723e05f00b3b144bbf835d9b0";
AirAsia Premium Flex Gate and Boarding
We left the lounge and found our gate about 15 minutes before boarding.
Boarding time came and went but there was still no plane. But we had experienced how quickly AirAsia can turn a plane around so we didn't really think much of it.
Sure enough, the plane arrived about 15 minutes before departure time.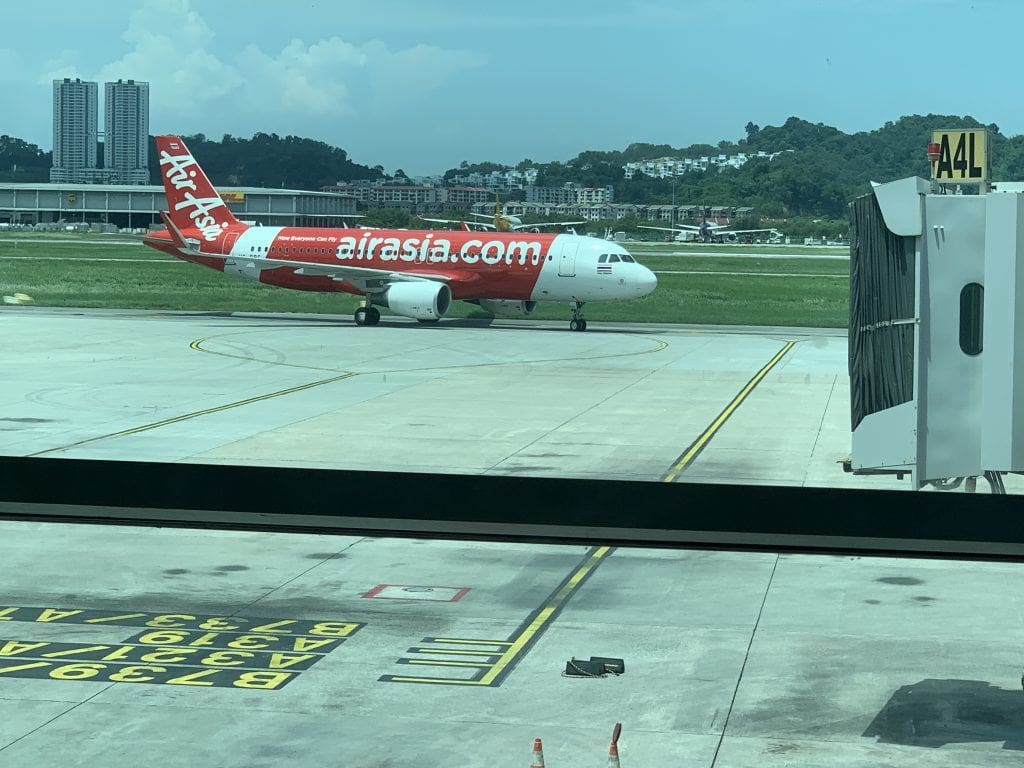 So we queued up in the Zone 1 Premium Flex line.
Typical of AirAsia efficiency, the gate agents used mobile scanners to scan passengers' boarding passes while we were in the queue to board. So when it was time to board we all just walked on the plane.
This made boarding quick and efficient. And thanks to Premium Flex we were the first passengers on the plane.
AirAsia Premium Flex Seats
As I have described in other posts about AirAsia, Row 1 is the best row on AirAsia. But row 1 was taken when we bought our tickets. So we chose the second exit row.
This turned out to be a stroke of luck.
Despite the fact that the flight was completely full, only 4 of the 12 exit row seats were occupied. Even the Hot Seats in the front of the plane were full, but we had lots of space.
And because AirAsia fiercely guards hot seats from seat-poachers these seats remained empty the entire flight.
AirAsia Premium Flex Meal
AirAsia meal service works like this: passengers who are on a Premium Flex booking or who pre-order (and pay ~$3US) get their meal and a cup of water delivered on the first service pass.
The flight attendants have a list of hot seat passengers and pre-orders by seat number. You nevertheless must present your boarding pass to confirm you get the meal. The flight attendant stamps your boarding pass when the meal is delivered.
On all of our previous flights our Premium Flex meal was Uncle Chen's Chicken Rice. So we were pleased when we were handed something different: fried basil with chicken.
The chicken was absolutely delicious. And of course we didn't touch the keto unfriendly rice.
AirAsia Premium Flex Flight
On takeoff we got to say goodbye to Penang. The 1 hour 45 minute flight passed uneventfully and soon we were landing at Bangkok's Don Mueang Airport (DMK).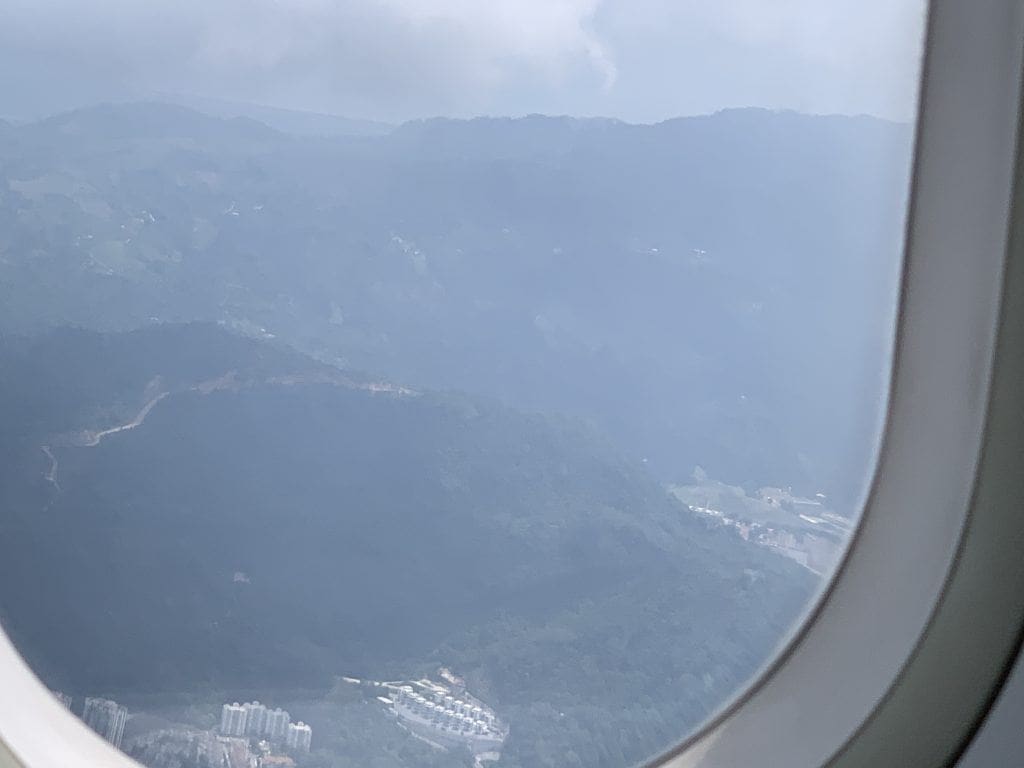 Immigration and AirAsia Premium Flex Checked Bags
This was our first experience at Don Mueang Airport. Every other time we have flown in or out of Bangkok it has been through Suvarnabhumi Airport (BKK).
We had a minor hiccup at immigration because we had put the address of our homestay flat in Hua Hin on our immigration card. The immigration officer wanted to know the name of the apartment complex. But once we got that sorted we were on our way.
Because of the delay at immigration our bags were already on the baggage carousel when we got there. So I can't say if the Premium Flex Xpress Bag service worked or not.
DMK vs. BKK
We had pre-arranged a car for the ~ 3-hour drive from Bangkok to the beach town of Hua Hin.
DMK airport is north of the city rather than west of the city like BKK is. So we were charged a 200 baht ($6.30 US) 'DMK fee'.
But no matter, we were on our way for a week of beach holiday so just sat back and relaxed!
AirAsia Premium Flex Penang to Bangkok Bottom Line
AirAsia Premium Flex is a great way to hop around on short flights in southeast Asia. It's cheap, efficient and Premium Flex makes it comfortable.
This was our sixth and final AirAsia flight before we transition to Europe for the summer. But we will for sure be flying AirAsia again when we return to southeast Asia!