We arrived in Wroclaw, Poland for two days after leaving Cottbus, Germany in the morning and stopping for lunch and shopping in Bolescawiec, Poland The Polish Pottery Town
Our plans were pretty simple: enjoy this quaint little Polish city.
Where to Stay in Wroclaw Poland for Two Days
There are tons of hotels and homestays to choose from in Wroclaw.
Among our requirements were a low floor (didn't want to have to deal with a sixth-floor walk-up homestay!) and close to the Wroclaw Market Square.
We chose Art Hotel rather than a homestay as it best met our requirements.
As you can see below, Art Hotel is just two blocks from the Market Square.
And since we were in Wroclaw for the weekend, it was very convenient to have the 14th century St. Elizabeth's Church between us and the square so Jake and Marlene could attend Mass on Sunday.
Wroclaw, Poland
Wroclaw is best known for its Market Square, lined with elegant townhouses and featuring a modern fountain. Adjacent is the smaller Salt Market Square.
Like the entire region of Poland, Wroclaw was passed around by various empires and countries over the centuries.
When Wroclaw was part of Germany they called it Breslau. Before that, the Bohemians called it Vratislav. When the Mongols passed through they called it plunder-town. Then again, they called every place plunder-town.
But today it's Wroclaw.
How Do You Pronounce Wroclaw?
When we were planning for this adventure with Lisa's parents, we referred to the town as "War-claw," even though we knew that was really very wrong.
The pronunciation of Wroclaw is closer to Vrohts-wahf. Not too far off from the old Bohemian name of Vratislav.
So there you have it: Vrohts-wahf. It helps if you can trill the Vr a little too.
We all spent a lot of time learning and practicing the pronunciation…and then forgetting it.
Just try not to call it War-claw. 🙂
Wroclaw, Poland Market Square
Market Square
Market Square was established between 1214 and 1232. Now it's the heart of a pedestrian zone and is one of the largest ongoing market areas in Europe.
The buildings around the square have different styles. The middle part of the ring is occupied by a block of buildings consisting of the Old City Hall and the New City Hall.
During World War II the market was damaged by the Red Army as it passed through on its way to Berlin. But most of the buildings have been restored as closely to their pre-war state as possible.
We spent a lot of time over our two days in Wroclaw, Poland walking around the square.
The Market
Shopping in the Market is fantastic. Marlene was in shopping Nirvana perusing all the Polish crafts, food and knick knacks on offer.
Jake's favorite from the market was the cotton candy!
The Secret to Having a Good Time in Wroclaw
Marlene was partial to the ice cream. She spent a lot of time choosing the exact right scoop from the exact right shop with Lisa in tow.
So Jake and I spent plenty of time milling about aimlessly in the square waiting for them.
So much so that at one point a beautiful woman in a revealing dress walked up to Jake and me and and asked "Do you boys want a friend? You look like you need a friend – for a small price."
We laughed and politely declined.
She pointed to a brown door on the square and said "If you change your mind, just press the second buzzer down. Now you know the secret to having a good time in Wroclaw!"
And now you know the secret too! 🙂
Anonymous…and Confusing
The weirdness continued when these Anonymous protests set up shop. It was never really clear what they were protesting. But they looked pretty cool doing it!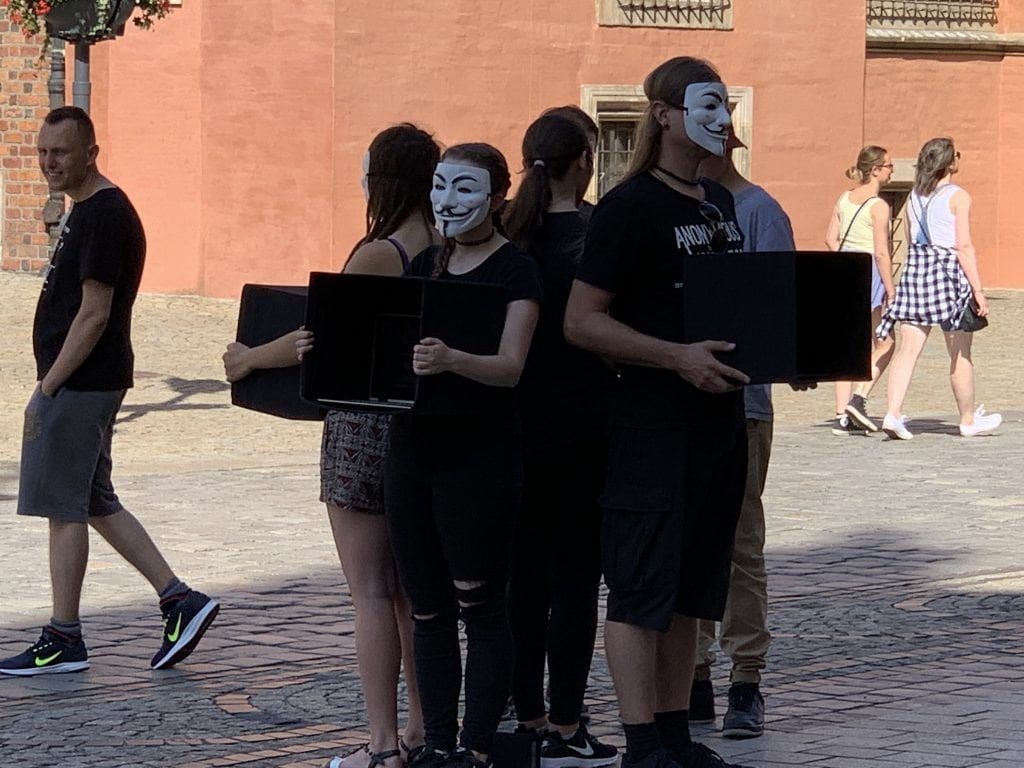 Gnomes
Another charming feature of Wroclaw are the gnomes.
These cheeky gnomes have taken over Wroclaw. They are EVERYWHERE!
Cute as they may be, each statue is a nod to the Orange Alternative, an anti-Soviet resistance movement that helped bring down Poland's oppressive communist regime in the 1980s.
This one was Jake's favorite after we decided he was a golfing gnome.
Golf Cart Tour of Wroclaw, Poland
Adjacent to the Market Square is the smaller Salt Market Square.
The Salt Market was built quite early in the city's history, most likely in 1242 while Wroclaw was being reconstructed after the Mongol invasion.
Today it is home to a 24-hour flower market.
We were looking around the smaller square when a charming Englishman approached. He inquired if we would like to take an hour-long tour of Wroclaw in a golf cart type vehicle.
We did!
So we embarked on a great little tour where we learned a lot of the information I am including in this post! Our tour guide was great at his job. He made the history and stories of Wroclaw interesting and fun.
But halfway through the tour our driver had a confession to make: he wasn't English at all. He was, in fact, a Pole who had never been outside of Poland.
Apparently he lost a bet while drinking with a friend the night before. And his side of the bet was that he had to speak with an English accent the entire next day.
His English accent was wonderful so I asked where he picked it up. Answer: watching Top Gear on BBC!
Anyway, it turns out we could have saved money AND been picked up at our hotel by booking the tour in advance. Live and learn! We highly recommend it.
Wroclaw Cathedral
We saw all the important sites in Wroclaw on the tour. The Square, of course. The University. The island that the city sold to the Catholic Church way back in the day to make ends meet. And the Panorama of the Battle of Raclawice.
But most impressive to us was the Cathedral of St. John the Baptist.
Jake and Marlene were impressed with the Cathedral's architecture and imposing size.
I was fascinated by its history.
And one detail in particular: an unexploded Red Army shell had embedded itself in a spire of the cathedral.
The bomb was disarmed and left in the spire as a reminder of how close the Cathedral came to utter destruction during WWII.
Nevertheless, the Cathedral did not escape the war unscathed. A massive renovation took place after the war.
We went inside where Lisa and Marlene lit candles and generally did the Catholic thing.
Back outside our tour guide took two of the few photos of all four of us from this trip.
Where to Eat in Wroclaw, Poland
We mostly ate at the restaurants on Market Square. We were able to get keto friendly dishes anywhere.
For a great overview of Polish food in Wroclaw we recommend the Wroclaw Food Tour. This tour is about more than just food. As you walk, talk, and eat, your guide regales you with stories of the cultural traditions and history around Polish food. Expect to sample about a dozen different polish dishes!
And while you're at it, you might as well check out a Wroclaw Polish Vodka tasting to wash it all down!
Konspira
But a restaurant called Konspira, just off the Salt Market Square, was our most interesting dinner in Wroclaw.
The restaurant recreates 1980s Poland with Soviet newspapers, political cartoons, posters, and other era imagery.
Konspira calls itself a 'Centre for Historical Education,' illuminating Wroclaw's role in the Polish Solidarity movement. The food menu is also the exhibition guide and provides historical information.
It also does a fine job of dishing out enormous portions of tasty local food. We sat in the beer garden which is full of trees and interactive exhibits.
After dinner we checked out the 'hidden room.' You walk through a wardrobe to discover a recreation of a 1980s Polish apartment might have looked like. Very Cool.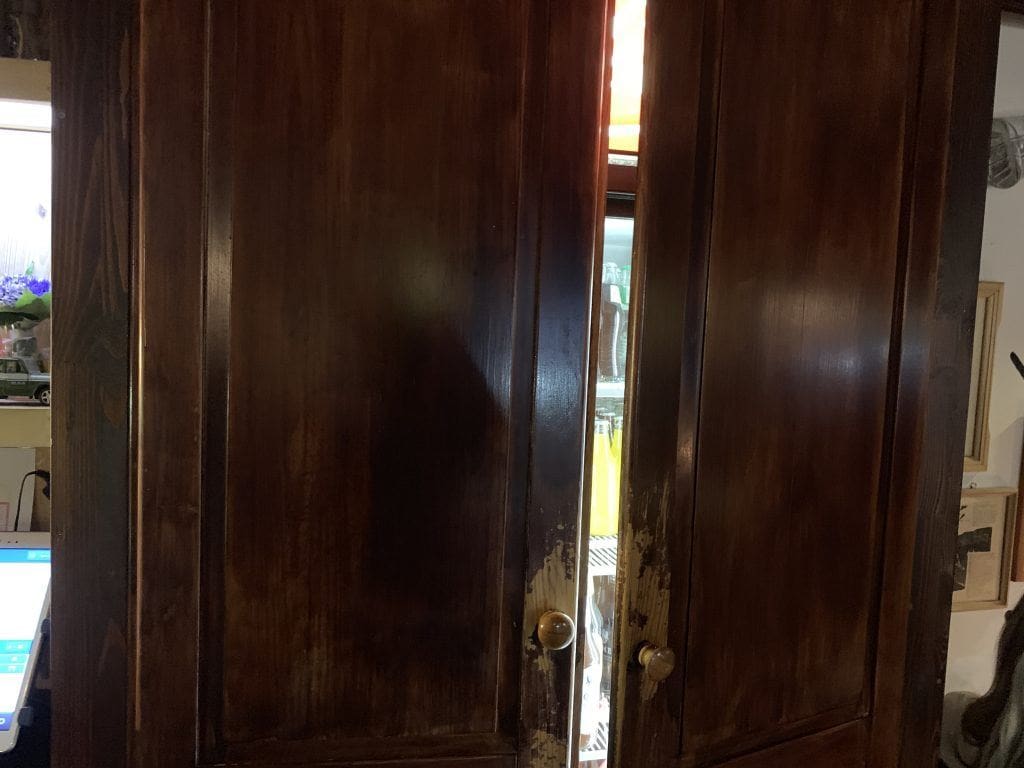 Bottom Line – Wroclaw, Poland for Two Days
We had an amazing time in Wroclaw, Poland for two days.
It's fun, gorgeous and very walkable. Great food and beer. Jake and Marlene got to attend Mass at a 14th century church.
And, thanks to a nice lady, we even discovered 'the secret to having a good time in Wroclaw, Poland'! 😀
But we had placed to go and things to see.
So we packed up the wagon and kept heading East with our sites set on the little town of Opole, Poland!