Hobart and MONA are becoming synonymous. No trip to Hobart Australia is complete without a visit to the Museum of Old and New Art!
Tasmania is the land under down under…here's what we would do in Hobart, Tasmania for three days of affordable luxury travel.
Day 1: Exploring Hobart and MONA – The Museum of Old and New Art *THIS POST*
Heading to Australia? You'll want to bring this adapter along!
Why Tasmania?
Tasmania has always be on both my and Lisa's bucket lists.
For me the reason is simple: Warner Brothers. I grew up on this guy:
Lisa has a harder time articulating her desire to go to Tasmania. Some combination of the remoteness, the latitude and the frontier aspect to it. Whatever the origins of the desire it needed to be addressed.
So when we decided to do some fast travel in Australia we both knew Tasmania had to be on the itinerary.
And so it was!
Affordable Luxury Lodging in Hobart
We found an awesome affordable luxury flat in desirable Battery Point, just a few steps (stairs, really) from Salamanca Market and the waterfront.
As you can see by clicking on the map below, lodging is a LOT less expensive than in Melbourne or Sydney.
Day 1: Exploring Hobart and MONA – The Museum of Old and New Art
We started off in Hobart the way we do in most new cities, by taking a long walk.
Hobart is a very walkable city with wide sidewalks.
But there are other tours that you can take that don't involve as much walking as we prefer.
Waterfront
The waterfront is a major attraction. Hobart lies nestled beside the wide and deep River Derwent. The city is located in the estuary of the river where the seawater meets the freshwater flowing from Lake St. Clair 190 km to the northwest. It is said to be the deepest protected harbor in the southern hemisphere.
Since the commercial port of Hobart has moved east, the downtown waterfront has been redeveloped into an attractive mix of restaurants, bars and attractions.
Salamanca Place and Kelly's Steps
Salamanca Place is a cobblestone square that consists of rows of sandstone buildings adjacent to the downtown waterfront. Once the stomping ground for sailors and whalers, Salamanca Place was infamous for its saloons and whorehouses. Sailors would drink themselves into a stupor, pay for the comfort of a woman, then sometimes find themselves shanghaied into service on a ship!
Today it's home to a vibrant cultural scene with shops, restaurants and a Saturday market that fills the entire area with vendors and shoppers.
Kelly's Steps is an architectural landmark adjacent to Salamanca Place.The steps connect the suburb of Battery Point where we stayed to Salamanca Place, so we walked these stairs several times a day.
When James Kelly constructed the steps in 1839, Battery Point was on a cliff that overlooked the waterfront. The steps were cut into the stone of the cliffs. The sandstone buildings that line Salamanca Place were built with stone quarried from the cliffs. From Salamanca Place you walked down Kelly's Lane, up the stairs to Kelly Street. JK put his name on EVERYTHING!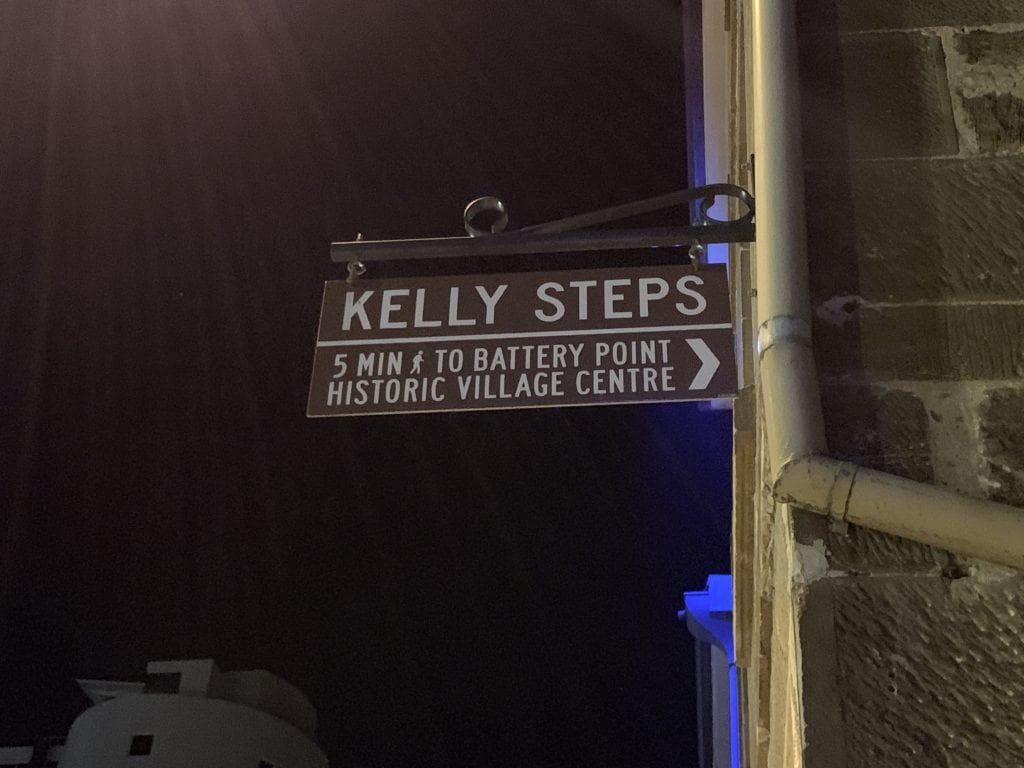 Downtown Hobart
We wandered north from Salamanca and the waterfront into the central business district.
We were struck with a sense of deja vu that we only resolved when we realized how similar the look and feel of Hobart is to Anchorage, Alaska. Perhaps it's the light, the materials used in construction or just knowing we were so far south/north, but we agreed the two cities share the same vibe.
MONA – The Museum of the Old and New
After getting the feel for Hobart by foot, we made our way back to the waterfront for the MONA experience.
In our post about wine tasting in Tasmania, we discussed how David Walsh, a card counting math nerd and native Tasmanian, bought a winery across the river from his house as a place to showcase his collection of ancient Egyptian relics in its Roy Grounds-designed modernist architectural buildings.
In the late 2000s Walsh moved his collection from the Moorilla buildings to the new private MONA Museum of New and Old Art.
Walsh spent $75 million AUD building this amazing showcase, which officially opened in 2011.
Getting To MONA
MONA is located about 11 km north of downtown Hobart. The most famous way to get to the gallery is on a bespoke fast ferry.
The fast ferry departs from the Brooke Street Pier on the Hobart waterfront.
The ferry, which costs $50AUD round trip ($20 more for 'posh class' that includes lounge chairs and a glass of sparkling wine), departs from the downtown waterfront pier and lands directly at the gallery about 20 minutes later.
The ferry is nearly as whimsical as the gallery: you can sit on sheep and other animals on the deck and, of course, there is a bar.
It's a fantastic way to see the city from the river as you make your way out of the waterfront and up the gallery.
And when I say fast ferry, I mean FAST!
Upon disembarking the ferry you climb about 100 steps to the top of a cliff to find the entrance to the gallery.
Or Combine Your MONA Experience with a Moorilla Wine Tasting
Another option is to combine MONA with a wine tasting at the co-located Moorilla winery!
MONA Gallery and collections
Many people refer to MONA and its collections as either 'transformational' (in a good way) or 'weird' (in a bad way).
What's clear to me is that David Walsh is simultaneously a very dark but very whimsical man, and the gallery's collections reflect this dichotomy.
Entering MONA
You enter ($20AUD admission fee if you are not a Tassie) and proceed down a seemingly endless spiral staircase into the dark depths of the cliff you just climbed.
At the bottom of the stairs is….a bar. Because Australia, I suppose! 🙂
After the bar you collect your 'The O' Device. There are no labels or informational plaques in MONA. Instead, MONA uses a digital tool called The O to provide proximity-based artwork listings.
We had downloaded the app to our iPhones so didn't need the device.
Honestly, though, standing around reading about the art we were looking at on our phones was awkward and a bit of an eye strain. So we pretty quickly decided to just look at and enjoy the exhibits rather than studying up on them as we looked at them.
Exhibits Hobart and MONA
The first exhibit we saw was a temporary exhibition called Eat the Problem. The exhibition includes feasts, performances, and treatments.
After being told to remove our shoes we were encouraged to interact with the pieces. So we did.
But suddenly, when I pulled a chair out at the long vertical table, the staff yelled at me to stop. I'm not sure if that was part of making us part of the exhibit, but it did make me laugh.
Moving on, we found what we thought was the coolest piece in the gallery: a random word of water wall.
We moved on to Snake, a mural made of 1600 individual photos.
Then there were some exhibits that featured strobe lighting which made them impossible to photograph or video. The combination of the lighting and sounds create a sense of disorientation which was interesting for a moment but then very annoying.
And then there was the 'poop machine' that uses a series of large vessels to create an artificial human digestive system that eats and poops. Rather than posting a photo I'll just provide a link. 🙂
Eventually we arrived at pulse lights and Fat Porsche that are perhaps the best-known exhibit at MONA:
Our Thoughts on MONA
MONA is certainly…interesting. As I said, there is a juxtaposition of darkness and whimsy that is both confusing and amusing.
It didn't change our perception of art, as some claim that it will. But it did challenge our conception of it. It's an experience that I would recommend to anyone visiting Tasmania, but I would not travel to Tasmania just for this experience as many have.
Bottom Line – Hobart and MONA
Our first day in Tasmania was chock full of exploration and mind-bending fun.
Day 1: Exploring Hobart and MONA – The Museum of Old and New Art *THIS POST*