For me, figuring out how to watch American TV while traveling was an absolute requirement for the digital nomad lifestyle.
I love great TV.
I freaking LOVE great TV!
Lisa strongly prefers TV to be…off.
So this one is all me.
The Wide World of Streaming
Although cable TV is sometimes available where we stay, I do not rely on it.
Luckily there is a broad ecosystem of streaming content from various providers.
Here's a recent visual of them by the Wall Street Journal: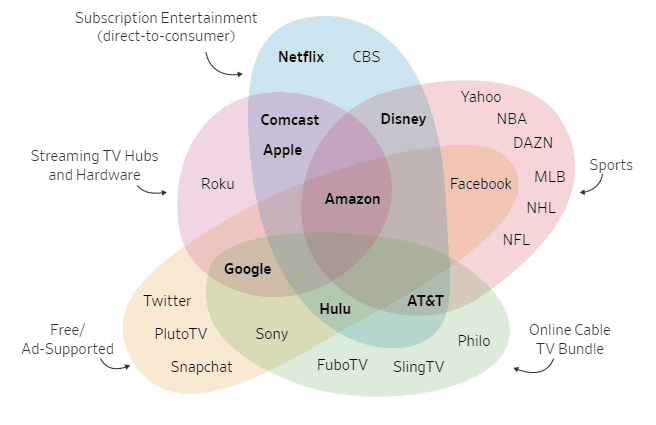 That's a SERIOUSLY complicated Venn Diagram, right!?
How and what to choose?! And what platform to use!?
I'll try to make it simple: 1) you need a platform/medium to watch on, and 2) you need to choose your streaming service(s).
Platform
This one is actually really, really easy. Traveling internationally there is only one practical choice for watching American TV: online straight from the internet.
In our old life we had an Amazon Fire Stick which we could use to get to Amazon content as well as Netflix, Hulu and other streaming services. This is a GREAT solution that I highly recommend if you are based in one place!
But hardware devices like the Amazon Fire Stick and Roku behave strangely when you travel internationally. That's because they are smart.
I brought our fire stick with us thinking it would be a good TV hub/platform for travel. But they will change your Amazon account from US-based to Asia or Euro-based if you try to use the Fire Stick in other countries.
This can mean no ESPN…no live college football! TRAVESTY! And even recent episodes of shows like You're the Worst will return an error saying 'This content not available in your area.' Not cool.
And that's if they work at all.
So the trick is to stick with one platform: the internet. That is, Amazon.com, Hulu.com, Netflix.com, etc.
But that's not enough. You ALSO have to convince those services that you are in the US or else the streaming services will get location-specific strange on you on the internet the same way they do when using a Fire Stick or Roku.
That's where VPN comes in!
VPN – As Simple As I can Make it
A VPN, or virtual private network, is a secure 'tunnel' between your device and the internet. VPNs are used to protect your online traffic from snooping, interference, and censorship.
Critically, VPN 'tunnels' can come out anywhere in the world on the other end.
So if we are in Thailand, I can set my VPN tunnel to come out in, say, Atlanta, Georgia.
So…when streaming services like Hulu, Amazon and Netflix look at me while my VPN is on they see that I am emerging from Atlanta, Georgia rather than Thailand – and they don't behave strangely as a result. They give me the same content I used to get in the US!
VPN Services
There are lots of VPN services out there.
I use VPN Unlimited by KeepSolid.
Lisa bought the VPN Unlimited Lifetime service a few years ago which works on up to five devices at a time…FOREVER. No monthly or annual fees: we are set for LIFE with VPN Unlimited Lifetime service on five devices that we can change on a regular basis.
As I said: Lisa doesn't care about the TV side of things. But she insists on using VPN Unlimited when she is working on her FBA business to keep her business information and dealings secure and private.
So there is that benefit too! Well, actually, Lisa would say that's the whole point of VPN…but what does she know!? 😉
Here's a video about the service:
VPN Blocking – Another Reason to Use VPN Unlimited
Critically, streaming services don't like you to watch their content using VPN. They want you watching content tailored for and licensed to the region you are physically in. That's why we need VPN in the first place!
So streaming services are constantly blocking VPN nodes.
But VPN Unlimited does a great job of keeping streaming portals in the US open.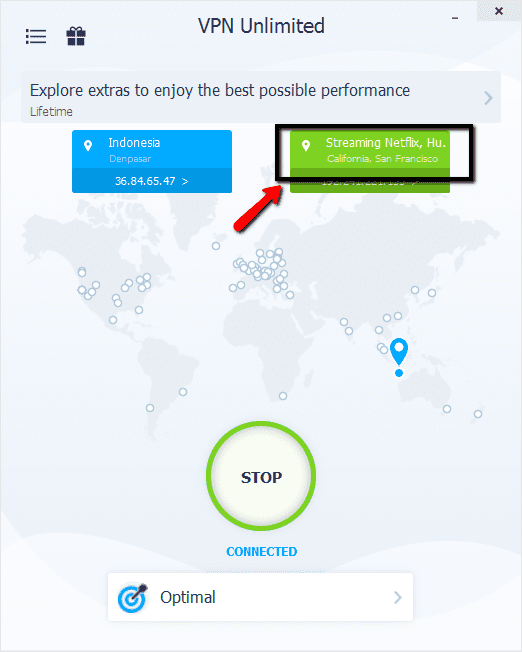 VPN Unlimited feels like a great deal: it is fast, it's a lifetime subscription, it keeps Lisa's work secure and and most importantly: IT WORKS TO GET ME AMERICAN TV SHOWS!!
But I Want to Watch TV on a TV, Not a Tiny Laptop or Tablet Screen
MEEEE TOOOOO!!!!!
That's why I brought along a short HDMI cable that I run from the back of the TV in our apartment/hotel room/VRBO/AirBnB to my laptop so we (ok, I, mostly) can watch my favorite TV shows on a bigger screen by playing them on my laptop and mirroring it to the TV.
This is what it looks like: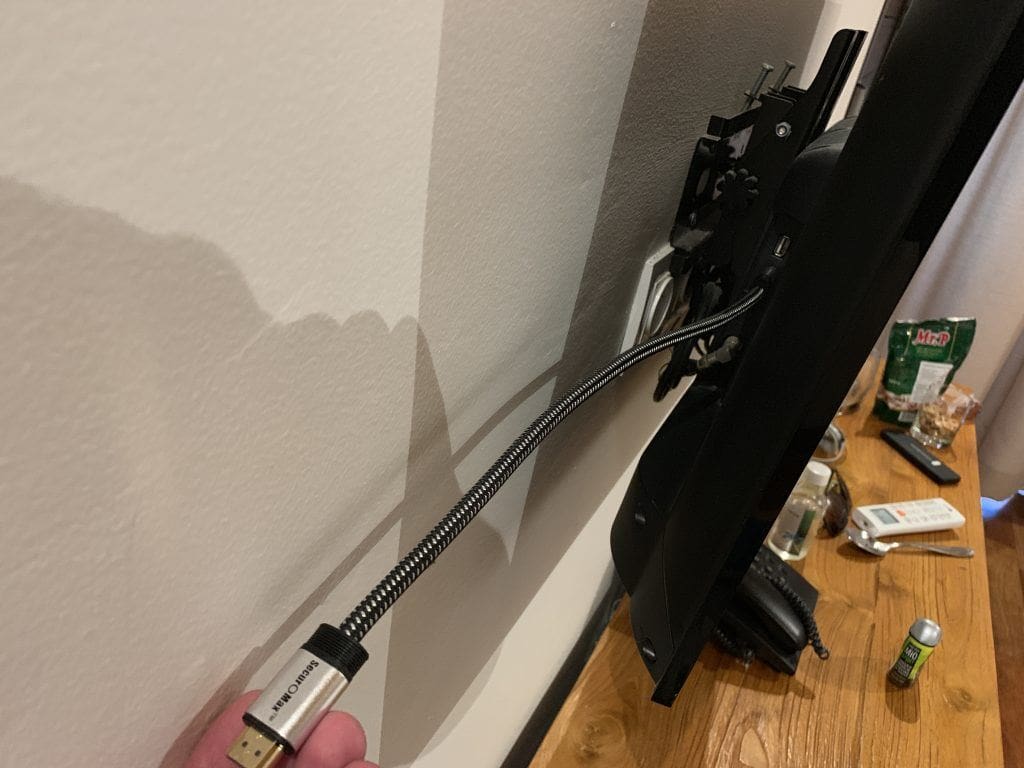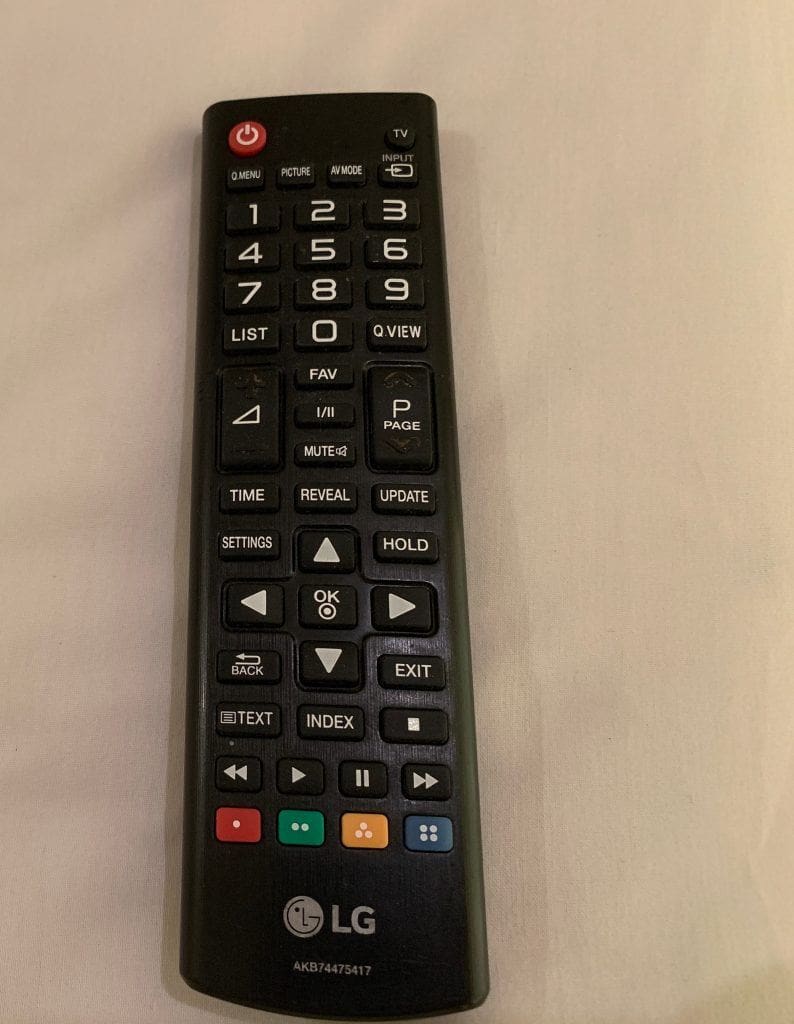 Easy peasy lemon squeezy!
Which TV Streaming Services?
So now that the streaming services will treat me like I am in the US and give me access to the programs I want to watch – and I am ready to watch them on a big TV – the question becomes…what do I want to watch!?
I pay for four services because they each provide something different that I really want:
Amazon Prime Video
Amazon Prime Video – Try it for free
This is a bit of a no-brainer.
As Amazon sellers AND buyers we know the value of Amazon prime and have been members for years.
As such, we get lots of great content included – including Amazon originals like Man in the High Castle, Jack Ryan and The Marvelous Mrs. Maisel.
We also subscribe to HBO NOW via Amazon. That way I can watch Game of Thrones all day and all night on HBONOW.com This is very important because, well, winter is coming!
I also rent or buy digital content (movies and TV shows) from Amazon so I can download them to my iPad and watch them on airplanes and other places with no internet connection.
Amazon Prime Video – Try it for free
Hulu
Hulu has a very impressive library of on-demand content including old and current TV shows and movies that are included in the subscription fee.
But I subscribe to Hulu for one really critical feature: LIVE TV.
With Hulu Live TV I can watch live college football, MLB and NFL. This is the Holy Grail of TV Streaming for US digital nomads!
And with Hulu Live you can watch recent TV shows soon after they air (with the non-Live version you can typically only see recent season episodes, not current season episodes).
If you care about live TV streaming as a digital nomad or international traveler then Hulu Live is the streaming service for you!
CBS All Access
CBS All Access – Try it for free
CBS was always my favorite TV network. Even today I like to watch Survivor and The Amazing Race whenever I want. And CBS All Access gives me that.
But CBS All Access has more than just classic and current CBS TV series.
They also provide classic episodes of TV shows you probably associate with other networks including Beverly Hills 90210, Cheers, Family Ties and Twin Peaks.
CBS All Access also provides subscriber-only original Series like The Twilight Zone, Star Trek: Discovery, The Good Fight, Tell Me A Story, One Dollar, Strange Angel, No Activity and Why Women Kill.
Speaking of Star Trek, for a science fiction nerd like me CBS All Access is Nirvana. Yes, you get access to the new series Star Trek: Discovery. But they also give you access to all TV Star Trek: Star Trek the Original Series, Star Trek the Animated Series, Star Trek the Next Generation, Star Trek Deep Space Nine, Star Trek Voyager and Star Trek Enterprise!
You can also use CBS All Access to stream your local live broadcast including live NFL on CBS games!
CBS All Access – Try it for free
Netflix
Netflix is the utility outfielder of my streaming lineup.
It covers all the ground that Amazon and Hulu do not.
This includes their deep movie catalogue and original programming like After Life, Black Mirror and The Umbrella Academy.
But Netflix is the service I use least and if things got tight it would be the first to go.
Bottom Line
It took me weeks of research to figure out how to feed my TV addiction while traveling full time as a digital nomad.
If you already subscribe to your favorite streaming service(s) like we had then all you'll need is VPN to watch your favorite streaming services online. And enjoy them even more with an HDMI hookup to a TV.
I hope this post helps you figure out how to watch American TV while traveling!
Related Content
11 Brilliant Travel Accessories and Travel Hacks