Hoi An Vietnam is the perfect example of an affordable luxury travel destination!
Deciding to Visit Hoi An Vietnam
After a couple weeks in Da Nang we decided on a quick side trip to Hoi An.
Hoi An is an ancient city about 18 miles (30 kilometers) south of Da Nang.
Luckily for the city (and its many visitors), the Thu Bon River silted up at the end of the 1700s and lost its status as an important trading port to Da Nang. This spared it the ravages of revolts and wars over the past couple hundred years.
Despite its reputation for being 'too touristy,' the combination of the well-preserved ancient city and the proximity to gorgeous An Bang beach put Hoi An pretty squarely on any Vietnam tourist must-do list.
Getting to Hoi An Vietnam
It's a short and fairly quick trek from Da Nang to Hoi An.
Our first thought was to rent a motorbike in Da Nang as we had in Chiang Rai, Thailand. We could use it to get down to Hoi An and then also have convenient transport to the beach, which is 3 miles (5 kilometers) from the old city.
There is also a bus that runs regularly between Da Nang and Hoi An for 20,000 dong (under $1US) each way.
But, after thinking about the logistics of the bike rental process and our backpacks (the best long term travel bags in the world!) and so forth, we instead decided a taxi would be easier.
You can just hail a taxi in Da Nang and they will take you to Hoi An (again, it's only 18 miles!).
But for the sake of affordable luxury we hired a private sedan.
This way we got to ride in a nicer car than a taxi. And it cost approximately the same price: 340,000 dong ($15US) each way.
Where to Stay in Hoi An Vietnam for Affordable Luxury
There are two basic approaches to visiting this little part of Vietnam: a beach stay at An Bang with city excursions to Hoi An or a city in stay in Hoi An with beach excursions to An Bang.
Since we found a flat that is about 4 blocks from the beach in Da Nang, we chose to do a city stay with beach excursion for our two days in Hoi An.
After our typical approach to planning travel (Lisa digs deep then bounces ideas off of me), we chose the Vinh Hung Old Town Hotel.
It is located right in the heart of the old city, but just far enough off of the main night market – about a half a block – to avoid being noisy and annoying.
It's a beautiful hotel that, importantly, has a swimming pool that is perfect for swimming laps. We swam twice during our 2-night stay!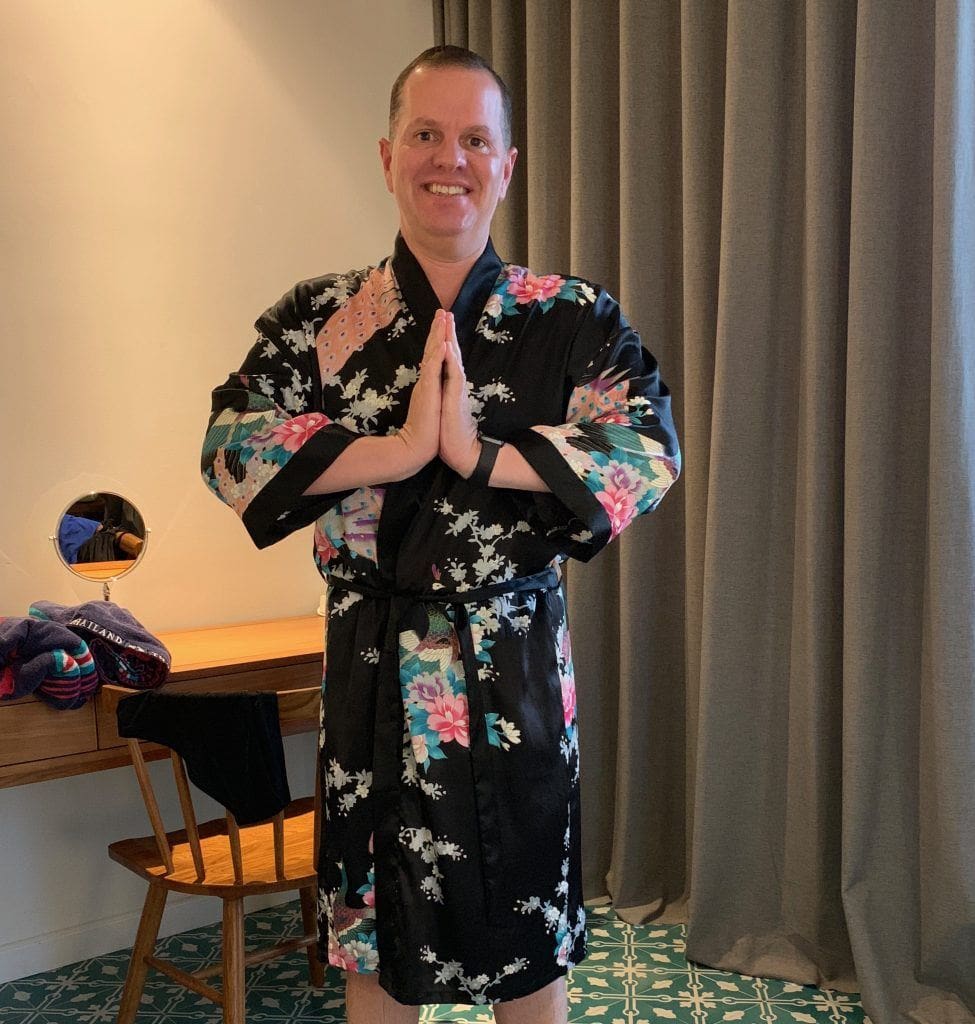 This gem of an affordable luxury hotel is an oasis in the middle of the old city.
It has large, bright rooms and excellent service including a small bar with happy hour cocktails for those so inclined.
They even provided his and her robes for our use during our stay – a nice affordable luxury touch!
Lisa said she thought this was the 'hers' robe, but I dunno…I kinda liked it!
If you are looking for a luxury vacation then for sure check out the Four Seasons Hoi An.
But if it's affordable luxury travel you seek, the Vinh Hung Old Town Hotel is for you!
Hoi An
Evening Touring in Hoi An
We spent our first evening and our second day touring Hoi An.
It's easy to see why this place is such a tourist mecca.
The buildings are gorgeous and the city is relatively walkable – the river and night market areas are closed to all but pedestrians and bicycles at night, although during the day scooters and motorbikes are apparently permitted – even across the 'pedestrian' bridge.
The busy night market is on the south side of the river and each bank of the river is lined with restaurants, bars and shops.
The streets north of the river are lined with colorful lanterns.
The center of the night action is the pedestrian bridge connecting the north and south banks of the river.
Between 5 and 10 PM it is teeming with tourists who watch as lanterns and other tourists pass along the lazy river in small boats:
When I say the city is teeming with tourists at night, I mean PACKED. Nevertheless, it's a very cool experience.
Daytime Touring in Hoi An Vietnam
We took advantage of our hotel being in the heart of it by also walking around Hoi An for a few hours during the day.
Hoi An is a different city during the day.
The streets look very empty with the night market stalls put away. The restaurants and bars are fairly empty and employees eagerly offer you their services.
We were able to shop and see the sites free from the crowds that flock in during the evening.
Eating and Drinking in Hoi An
Hoi An is famous for its concentration of great restaurants.
Its former status as a trading port introduced many different cuisines that influence dining in Hoi An in a way very distinct from nearby Da Nang.
From our low-carb/keto perspective this was a Very Good Thing.
Less reliance on noodles and rice and a greater emphasis on grilled meats and clay pots meant a greater variety of choices for us.
We chose both of our dinner experiences based on finding keto friendly restaurants and having a meal with a view.
The Hoianian
Our first evening we dined at The Hoianian Wine Bar & Restaurant. It featured 'contemporary Vietnamese' food. We asked to be seated on the second floor balcony where were able to eat and watch the action below.
It was a full-service meal with complimentary pre-dinner splash of sparkling wine and an amuse bouche. The highlight was a banana leaf salad that we loved. By the time it was over we had spent 2 hours enjoying the food and the amazing view.
Bep 1919
The second evening we ate at a restaurant recommended to us by a fellow digital nomad Tom called Bep 1919.
Bep 1919 is closer to the river and also features a dining balcony on the second floor overlooking the tourist action below.
One of their featured cocktail is Death in the Afternoon: Champagne and Absinthe. Scary! I passed.
We had another lovely meal with a view.
Shamrock Irish Pub Hoi An
Our second evening of our two days in Hoi An happened to be St. Patrick's Day, so we dutifully sought out the local Irish Pub.
One day I will write a blog post about something I have been trying to prove for the past 15 or 20 years: no matter where you go there's an Irish pub!
If you follow me on facebook you know what I am talking about! 🙂
We had a blast celebrating a very Vietnamese St. Patrick's Day!
An Bang Beach
Getting There and Back Again
We spent our first full day in the area at An Bang Beach.
Many guidebooks and blogs recommend using bicycles for the 5 kilometer trek back and forth between the city and beach.
I do not.
We saw loads of people doing it and they looked hot and miserable cycling along the busy road that connects Hoi An with An Bang. Cars, trucks, busses and motorbikes swarmed around the bicyclers as they labored along the hot pavement.
We used metered taxis to and from the An Bang and ride was about 70,000 dong ($3US) each way. 🙂
The Beach
The beach at An Bang is beautiful and accessible.
We are lounge/shade beach-goers (as opposed to, say, towel on the sand in the sun beach-goers), and An Bang is set up as a series of lounge and umbrella restaurants/beach service-providers.
If you order lunch – as we did – or drinks there is no charge for using the loungers in front of the establishments. If not, you can still use the chairs and shade for a nominal fee.
We had a fairly good Vietnamese lunch right on the beach and then really enjoyed relaxing, unwinding and reading for a few hours.
I grew up spending a month in Jamaica every year so I'm a LOT more ocean-oriented than Lisa. I jumped the really fun surf while Lisa worked on her tan:
Bottom Line – Hoi An Vietnam for Affordable Luxury
We loved our quick two days in Hoi An and An Bang.
It's just such a quick and easy trip to see a very different side of Vietnamese history and culture.
Plus the beach is nicer than in Da Nang.
Related Content